Joe Biden's 50 Year Road To The White House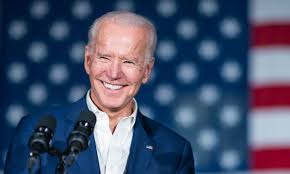 Munyaradzi Chikomba, 21/01/2021
He is the man of the moment and he is now one of the most powerful man in the world by virtue of being the president of the United States of America which is a world leader in global politics and economics.
Biden's rise to become the 46th president of America is a privilege that only 45 other men have enjoyed in this global political heavyweight among the nations of the world.
He became a president at older age compared to his predecessors, a feat which has given him at least 50 years of experience in the political field serving in different portfolios from Senate, vice presidency etc.
Joseph Robinette Biden Jr was born November 20, 1942, in Scranton, PA, being the first of four siblings.
In 1953, at the age of 13, the Biden family moved from Pennsylvania to Claymont, DE.
He grew up suffering from speech impairment resulting in being a mockery to other kids in the community but, however, he overcame his challenge by memorizing and reciting poems practicing them in front of the mirror.
Joe attended St Helena High School until being admitted into the Archemere Academy, a highly-rated educational institution where he graduated in 1961 and then proceeded to the University of Delaware.
In some instances Joe had to clean the windows of the school and weeding the school gardens so that he could help his family with the school tuition.
As an American football player, Joe was described by his former coach as one of the good pass receiver he has coached in 2 decades despite his skinny stature.
He graduated from the University of Delaware before getting his law degree at Syracuse Law School in 1968 and in 1970 he was s elected as a Councilor at New Castle County Council.
At age 29, he became the youngest person ever elected to the U.S. Senate at that time but however, just weeks after the election, tragedy struck the Biden family when Joe Biden's wife, Neilia, and their 1-year-old Daughter, Naomi, were killed and their two young sons critically injured in a car accident.
Biden was sworn in to the U.S. Senate at his sons' hospital bedsides and began commuting to Washington every day by train, a practice he maintained throughout his career in the Senate.
In 1977, he married Jill Jacob who holds a Ph.D. in education and is a lifelong educator.
As a Senator from Delaware for 36 years, Joe Biden established himself as a leader in facing some of the USA most important domestic and international challenges.
While being the chairman of the Senate Judiciary Committee for 17 years, Biden was widely recognized for his work on criminal justice issues, including the landmark 1994 crime law and the Violence Against Women Act.
More-so, as the Chairman of the Senate's Foreign Relations Committee for 12 years, he played a critical role in shaping U.S. foreign policy where he has been at the forefront of issues and legislation related to terrorism, weapons of mass destruction, post-cold war Europe, the Middle East, and Southwest Asia.
As the 47th Vice President of the United States, serving under Barrack Obama. Joe Biden continued his leadership on important issues that America faced.
He was tasked with implementing and overseeing the US$840 billion stimulus package in the American Recovery and Reinvestment Act, which helped to rebuild the US economy and lay the foundation for a sustainable economic future.
Biden drew upon his years in the U.S. Senate to work with Congress on key issues including the 2013 re-authorization of the Violence Against Women Act.
As a longtime advocate against sexual assault and domestic violence, he was appointed the first-ever White House Advisor on Violence Against Women.
He was also tasked with convening sessions of the President's Cabinet and leading interagency efforts, particularly to reduce gun violence and raise the living standards of middle class Americans in his role as chair of the Middle Class Task Force.
As Obama's deputy, he advised his boss on international issues.
The 46th President of the United States of America was a leading architect of the U.S. strategic vision of a Europe is whole, free, and at peace of which during his time in the Senate, Biden led the effort to enlarge NATO to include the Former Warsaw Pact countries of Eastern and Central Europe after the collapse of the Iron Curtain.
In February 2015, he laid out a vision for how to revitalize NATO, strengthen democratic institutions in Europe, prioritize investments to bolster energy security, and grow trade and investment ties across the Atlantic.
He also led the administration's effort to support a sovereign, democratic Ukraine, visiting the country three times in 2014.
In the Middle East, The new US President was deeply involved in shaping U.S. policy toward Iraq, visiting the country several times and met with the leaders from around the Middle East and championed Israel's security.
The new President also played an active role in supporting the administration's rebalance to the Asia-Pacific where he developed deep relationships with the region's leaders, demonstrating U.S. commitment to high level, face-to-face diplomacy.
As a Vice President Biden, he was the administration's point person for diplomacy within the Western Hemisphere where he worked to realize his vision of a hemisphere that is ''middle class, secure, and democratic, from Canada to Chile and everywhere in between.''
In the same capacity, he led the administration's regional efforts to address economic, social, governance, and citizen security challenges and represented the US in every region of the world, traveling to more than two dozen countries including: Afghanistan, Belgium, Brazil, China, Colombia, Egypt, Germany, Guatemala, Israel, Japan, Kenya, Mexico, Pakistan, Poland, Singapore, South Africa, South Korea, Turkey, and Ukraine.
After serving with distinction under Barack Obama the 44th President of the United States of America, Biden was honored with the Presidential Medal of Freedom in 2017.
In April 2019, Joe Biden officially announced his candidacy and ambition to serve as the president of the United States of America and by June 2019, he had secured the threshold needed to secure a nomination.
He launched a robust campaign that was highlighted by inclusiveness, tolerance and acceptance regardless of race, religion and culture and he appointed Kamala Harris as his running mate in August 2020.
Through Kamala, a woman of color and with an Indian background, Joe proved to be a person who believes in inclusivity and tolerance and after highly heated campaigns with his competitor Donald J Trump, Biden won the United States of America election on the 8th of November.
He secured the required college votes and he also received the highest ever popular vote than any other president in US history.
Despite the Corona Virus pandemic, he managed to triumph over Trump and the 20th of January 2021 will remain as a day that the world saw another man who came from humble beginnings to be inaugurated as the 46th President of the United States of America.
From weeding gardens to supplement his tuition to the Oval Office, waiting for his time for over 5 decades including serving as vice president to Obama, a person 20 years younger than him.
Even though Biden waited for so long to realize his dream and despite his shortcomings like any other human, he has shown us what a life of service means as he arrives at the helm of the highest office in world politics.
His experience will go a long way in shaping the trajectory of the world politics in the coming four years.
Munyaradzi Zindi Chikomba (The Social Architect) is a Co-founder & Executive Chairperson of Shanduko Foundation. He is a content creator and serial columnist who writes articles on social commentary and social affairs. He is passionate about building and shaping society through digital advocacy and media. He is a Editor In Chief at Peach Media Trust.