Zimbabwe State' Capture – Fact or Fiction?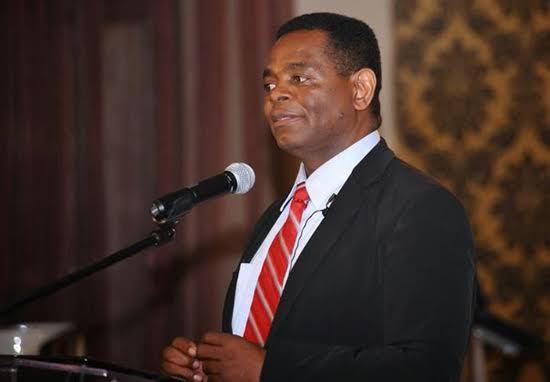 Mutumwa Mawere, 10/02/2021
Mark Heywood, editor of the DailyMaverick which published a report on the alleged state capture in Zimbabwe asserted as true and fact that this untested report 'provides a post mortem of the cancer that killed the Zimbabwean dream of freedom and independence'.
To what extent is this report based on empirical evidence is a question that cannot easily be answered but it is clear that like sanctions, its impact on Zimbabwe public policy choices will always be a subject of disputes.
The mere fact that this report has been cited by the US Senate is problematic on its own as further international spotlight on Zimbabwe from external sources is unlikely to change the attitude of Zimbabwe's public officer bearers especially when the facts supporting the conclusions of the report are speculative at best.
Against a backdrop of a divided nation, the risk of this report being regarded as a regime change project is high especially having regard that the South African government is not convinced that corruption is the driving force behind the Zimbabwean crisis
Is it not ironic that SADC and the AU have not recognized and accepted that state capture is a real problem as was the case in South Africa in relation to former President Zuma's administration?
What if in Zimbabwe the approach to the state capture issue is that it is a ploy sponsored by white monopoly capture to take control of the state under the guise of restoration of the rule of law through partisan anti-corruption campaign?
It is unmistakable that there exists no shared understanding of what state capture is and is not in South Africa to allow this new morality to be exported to a country like Zimbabwe.
The identity and personality of cartels in Zimbabwe as is the case in South Africa has taken a partisan approach and this is not helpful where people are divided and polarized.
Has state capture been weaponized to achieve regime change?
It has been argued that a project to unconstitutionally unseat Zuma as President was couched as an anti-corruption enterprise but regrettably the frontiers of corruption have not been reduced in the post-Zuma era.
Does this report whose release has opened new wounds on the future of Zimbabwe and South Africa, truly and impartially expose the alleged destructive effects that elite cartels play in robbing the country's future or it is yet another misguided project to build walls between citizens?
It is significant that Mnangagwa, who credits himself as an anti-corruption champion, is himself fingered in the report as being one of the bosses who run lucrative cartels in a wide range of commodities at the expense of the average Zimbabwean.
Does any rational mind think that in the quietness of his time, Mnangagwa considers himself as a villain in relation to the Zimbabwean economic and political quagmire? Obviously not.
On Tuesday, 9 February 2021, the report was raised by Republican US Senator Jim Risch, member of the US Senate Foreign Relations Committee retweeted a Daily Maverick tweet on the Zimbabwe report.
"State capture and corruption in #Zimbabwe continue to be a concern of mine. A timely report released by @dailymaverick exposes the destructive effects that elite cartels play in robbing the country's future. Our partners, the Zimbabwean people, deserve better. #DemLoot," is very unhelpful to the Zimbabwean cause." Risch tweeted.
It is also self-evident that the report comes at a time when there exists no domestic voice that is speaking to the reality of the facts contained in the report and it is significant that businessman Zunaid Moti's former adviser, Mr. Peter Hain, a British Labour peer, also retweeted the report, saying: "Zimbabwe: Explosive cartel report uncovers the anatomy…@dailymaverick."
What is remarkable is that people like former DA leader Mmusi Maimane, whose locus standi to poke his nose into Zimbabwean matters is controversial and questionable, tweeted as follows: "This exposé by the @dailymaverick is very important for every Africans to read."
Mr. David Coltart, a Zimbabwean, joined the chorus by tweeting as follows: "If you are puzzled why such a wealthy country, with such intelligent, well educated people can be so poor, then read this report published today in @dailymaverick. It explains how and why a network of cartels is plundering #Zimbabawe."
The mere fact that the report was authored in Zimbabwe and published in South Africa creates its own political dynamics.
This is true especially having regard to the reality of the real divisions in the ANC between two extreme narratives that speak to radical economic transformation as the panacea to lift the country out of its challenges and the alternative narrative that speaks to neo-liberal policies as the only promise.
If the authors of the report cannot speak on their feet to substantiate their serious allegations, what should be the probative value of this report?
"It would appear that the report has a defined audience and agenda," said one analyst who is perplexed that this report is trending when the reality on the ground is dire.
Common sense, logic and reason would inform a rational view that corruption by nature is allergic to transparency and openness.
In the premises, where would authentic data be sourced from to substantiate the claims of graft and real smuggling operations?
Gossip that Mugabe was surrounded by a cabal of criminals informed the coup but since 2017, no cogent evidence has been produced to confirm this allegation.
No one has been successfully prosecuted and the so-called anti-corruption have yet to provide any evidence supporting or disputing the allegation that Mugabe was the fulcrum of corrupt activities.
Equally, the Zondo Commission has exposed the fact that corruption was democratically distributed and although the agenda to nail Zuma and humiliate him was the goal, the reality is scary.
Even the Zondo Commission is unlikely to impact on this vice and interestingly, accusations are already galore that it is a project to annihilate certain political actors who are deemed to be undesirable.
If Trump was African, he would not be one in concluding that when one is a populist, the risk of being removed based on trumped up charges is real and high.
Mupasiri v President Mnangagwa CCZ 34/21 – The search for the truth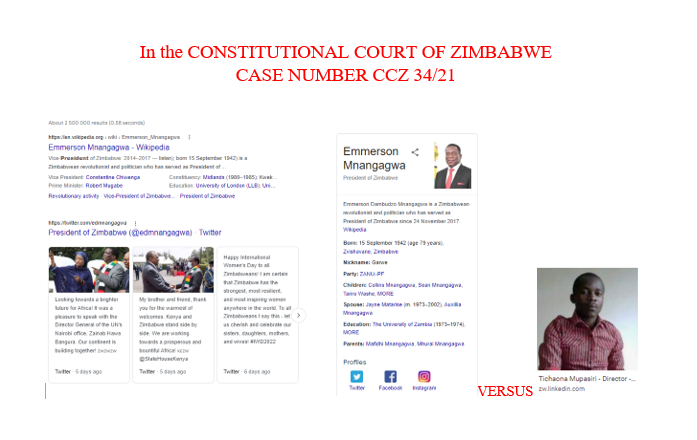 On 17 December 2021, Mr. Tichaona Mupasiri launched a court application in terms of s167(2)(d) as read with s167(3) of the Constitution asking the Constitutional Court of Zimbabwe (CCZ) to determine if President Mnangagwa failed to fulfill his constitutional obligations by failing and/or refusing to respond with facts regarding his state of knowledge and the extent of his personal involvement in the use of the reconstruction law, a law that was specifically created to deal with Mutumwa Mawere, to divest and deprive shareholders and directors of the control and direction of their companies.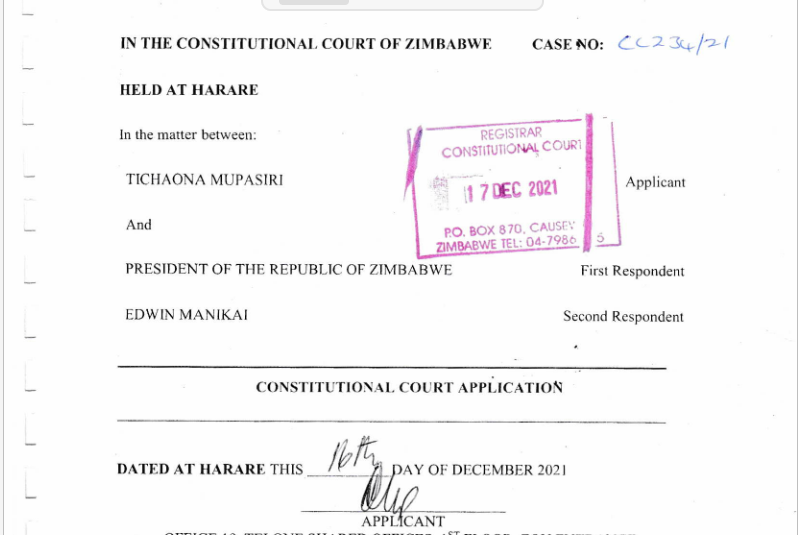 In response to this application, President Mnangagwa states that the facts he deposed to are known to him and are true and correct yet in reality, he discloses nothing known to him although he admits possessing knowledge that should allow the CCZ to determine whether the decision to use the reconstruction act was motivated by any public interest or was triggered by a major political fallout that Manikai, who is the Second Respondent in the matter, said occurred as a matter of fact between Mawere and Mnangagwa.
In this article, we deal with whether the allegation made by President Mnangagwa that it is incompetent on account of the fact that it relates to his alleged conduct prior to the date he became President and as such cannot be scrutinized in terms of the provisions of the 2013 Constitution.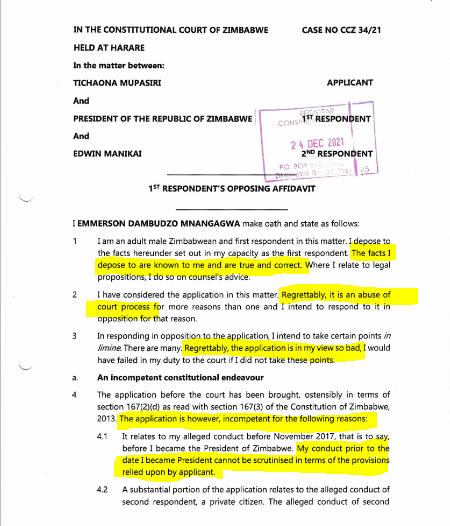 MUPASIRI'S ANSWERING AFFIDAVIT TO THE QUESTION OF WHETHER PRESIDENT MNANGAGWA'S OPPOSITION IS VALID OR NOT AS PER PARAGRAPHS (a)(4 & 4.1):
FIRST RESPONDENT'S ANSWERING AFFIDAVIT
I now turn to deal with the First Respondent's answering affidavit. I do not intent to deal with every averment therein. However, any failure to reply to any specific averment should not be construed as an admission thereof.
Ad paragraph 2
The allegation that my application is an abuse of court process is denied. This Application is intended to test whether the First Respondent's capricious, dismissive, contemptuous, arrogant and judgmental approach to a citizen like me who is searching for the truth regarding the serious and prejudicial remarks made against him by the Second Respondent, is consistent with the obligations imposed upon him by the Constitution.
It is significant that the First Respondent whose duty is to uphold the rule of law has already dismissed my application outside the four corners of the Court.
It is quite evident that the supremacy of the Constitution is not relevant to him,
The First Respondent is not above the law and instead of adopting the posture of being subject to the law by giving his statement of truth detailing his state of knowledge and involvement in the affairs of SMM and the use of public power to create the facts and circumstances of a state-assisted destruction of companies and jobs, he attacks.
It is my submission that the First Respondent enjoys no privilege to protect him from disclosing what he knows and his involvement in this matter that may help to explain his role in giving birth to a morality inherent in the Reconstruction Laws that is inimical to the rule of law and which enjoins the judiciary to refuse to acquiesce to any actions that aids and abets the tyranny underpinning any law that is based on any contracting party to benefit self-help and confirm this barbaric and animalist choices in a court of law.
The active attack on the rule of law should not be tolerated at all lest this creates a new precedent of an unaccountable system of governance.
I am shocked that the First Respondent would have the audacity to attack my application meant to insulate him from a cabal of criminals that include the Second Respondent whose despicable conduct undermines the justice delivery system.
Ad paragraph 3
It is denied that my application is bad in law and fact.
Ad paragraph (a)(4)
It is admitted that my application is confined to the alleged breach of the duty by the First Respondent to fulfil his constitutional obligation to uphold the rule of law by intentionally and knowingly associating himself with scandalous characters like the Second Respondent who has used his name to commit serious and punishable crimes with impunity in the name of SMM reconstruction. It is denied that this application is not what is stated in it. The use of the term "ostensible" is unfortunate.
Ad paragraph 4.1
It is denied that the application is incompetent on account of the fact that it allegedly relates to the First Respondent's conduct before November 2017 or before he became President of Zimbabwe.
The dispute is centred around his conduct in relation to the scandalous allegations of his involvement in giving life to the reality of his refusal and failure to be the guardian in the search of the truth, a central pillar of the rule of law, especially having regard of the causal link between the existence and operation of the Reconstruction Act and its prosecution under his watch. Had this law been offensive to his sense of morality, it would have suffered the same fate like the Indigenisation Law that was repealed without any judicial involvement.
The First Respondent owes a duty to the Rule of Law and not to anything else. To the extent that he possesses knowledge that is essential for this Court to exercise its discretion on the question of his alleged breach of oath, one would expect him to assist this exercise done in the interests of justice to openly and transparently give his own account of his knowledge and involvement.
Clearly, the First Respondent is not denying his involvement in the affairs of SMM as alleged by the Second Respondent.
He is saying that his state of knowledge should be kept out of this justiciable dispute. I am not the one who has fingered him in this scandal but his trusted lawyer, an oath taking person, has already given a version that the First Respondent has no problem borrowing public power for ulterior and personal ends.
It cannot be disputed that in the quest for the truth and accountability, this Court ought to be the final arbiter of what evidence is admissible or not yet in this case, the First Respondent believes otherwise.
It is not clear on what legal authority he asserts that he should not be accountable for refusing or failing to assist the just and proper determination of my application with information that he does not deny he possesses.
It is not my intention to hold the First Respondent accountable for conduct that preceded his assumption of the office of President but to benefit from his own version of what he knows and why he would find my application offensive if in truth and fact, his involvement in relation to the Reconstruction matters was always informed by a public interest.
READ THE ABOVE AND JUDGE FOR YOURSELF.
Justice Makarau Exposed, says Mukoma Masimba from Down Under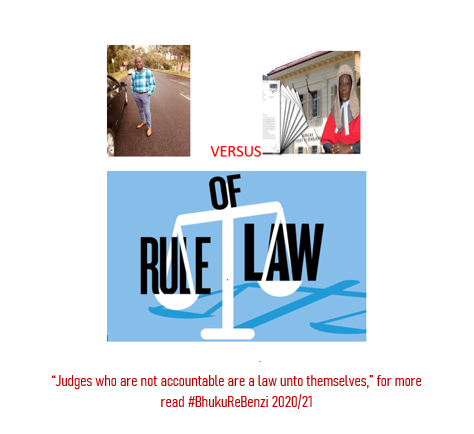 Mukoma Masimba (MM) aka #Benzi RepaFB yeZimbabwe, a member of FOSMM and JUROL, who has been following the Mupasiri v President Mnangagwa & Manikai application that is pending before the Constitutional Court of Zimbabwe (CCZ) under Case # 34/21 is apprehensive that if Justice Makarau refuses, or fails to recuse herself in relation to the application for her recusal in adjudicating the application for leave to intervene in the Mupasiri matter launched by Mr. Mawere and 5 Others.
MM said: "On 14 October 2020, I published an article https://zwnews24.com/justice-makarau-a-big-disappointment-mkoma-masimba-bhukurebenzi/2020/ in which I stated as follows:
"Through my Facebook Live video shows titled #BhukuReBenzi, I seek to provoke people to be vigilant in scrutinizing the conduct of all public office bearers since I have learned that it is not sufficient to complain about life issues without facts.
It is for this reason that I have chosen Judge Makarau decision in relation to THZH, a foreign investor to Zimbabwe, as a case study to expose the corruption in the judiciary using one case study at a time.
Sometime in 2005, a scheme was hatched involving the state-appointed Administrator of SMM Holdings Private Limited (SMM), a company whose control and direction was divested pursuant to a reconstruction order.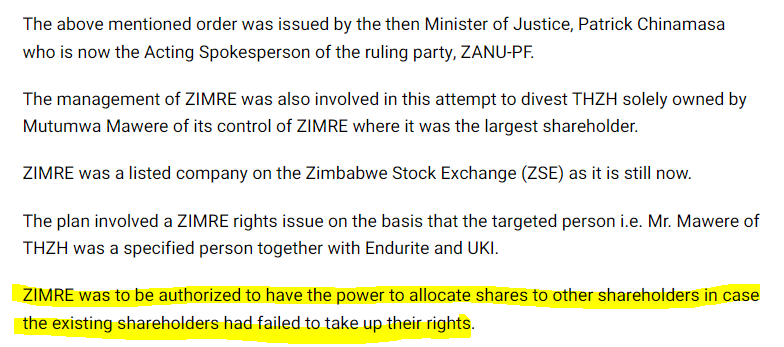 In terms of international, any law that offends public policy is no law at all. I am particularly keen to know how she is going to rule on this tricky one when it is in the public domain that she had no problem in recognizing and enforcing a law that would cause a revolution in a country like Australia where I live.
This application is a precedent that should test the neutrality and impartiality of President Mnangagwa who appoints judges and in this unique case, he has a constitutional obligation to determine the fate of a judge who knowingly and intentionally recognized a right that was created using public power as a substitute for judicial findings based on law and fact.
Gwaradzimba, a creature of statute, issued an order that a judge who is compelled by law to refuse to recognize but in this instance, she did so with impunity.
Notwithstanding this obvious miscarriage of justice, she now sits as a judge in Zimbabwe's apex court.
It is astonishing that he agreed to preside over a matter with which she is familiar and in which she made a ruling that any reasonable person would find offensive and inimical to the rule of law.
If she refused to recuse herself, I intend to impeach the President for allowing this absurdity to take root under his watch."
As Justice Makarau got offended by Mupasiri's court submissions, justice may be the victim
On Thursday, 3 March 2022, Justice Makarau was offended that Mr. Tichaona Mupasiri, the applicant in the unprecedented application to hold President Mnangagwa to account in an honest and transparent manner for his alleged role and knowledge in relation to the facts and circumstances that triggered the use of Presidential Powers (Temporary Measures) as a weapon to attack the rights and freedoms of the shareholders of not only SMM Holdings Private Limited but a host of other juristic entities.
The heated exchange between Justice Makarau followed Mr. Mawere, the Applicant in the matter under Case# CCZ 11/22 for the recusal of the Learned Judge on alleged bias in matters that are cogent in the Mupasiri application.
At issue is whether the allegations made by Manikai, who is President Mnangagwa's close ally and confidant apart from his legal advisor, on 27 March as follows were true and factual but to date, the President has chosen to fully associate himself with Manikai's predicament as a professional lawyer who independently of President Mnangagwa took an oath to promote and protect the Constitution.
"I am perturbed that my President would openly and brazenly associate himself with a judge who in her judgment stated that she did not owe a duty to her oath by knowingly and intentionally refusing to consider the merits of the dispute that was brought before her on the assumption that she was an independent and impartial mind," said Mr. Collins Charumbira.
Mr. Charumbira did not have any good words to say about Manikai, who he claims blocked him following an inquiry about the facts that were shared in the FOSMM group to the effect that Manikai is a person of interest in unpacking the facts and circumstances that led to the demise of SMM in 2004 following the use draconian manner in which public power was used to alienate the shareholders of companies that were providing jobs and income to thousands of Zimbabweans.
Manikai arrogantly told Collins to mind his business and never contact him again alleging that he was sent by Mawere to harass him over what he regarded as some "spilled milk."
Collins said: "I am very encouraged that Mupasiri has taken the search for the truth forward and this dispute has migrated from chat groups to an arena that is provided for in the constitution.
I had no idea what the s167 remedy and I had already surrendered to my comfort after Manikai rebuffed my bona fide attempt to establish how he personally got involved in attacking Mawere, especially having regard to the objective facts that absent Mawere's financial and moral support, the firm that President Mnangagwa is using to defend himself, DMH, would not be a reality.
Manikai tried to use the attorney to client privilege to avoid addressing my questions regarding his seminal role in prosecuting the reconstruction or destruction measures against SMM.
I am following closely this matter but I am increasingly convinced that President Mnangagwa may be a pawn in a game that Manikai authored for political expediency."
The President and Manikai were represented by a junior attorney working for DMH in this application.
At the previous hearing, he told Justice Makarau that he had been instructed to oppose the recusal application by both his clients i.e., the President and Manikai.
Although Mupasiri had sought no relief against Manikai, Manikai has opposed his application.
"What I know is that there can be no justice without the truth in it.
What is troubling me is that no lawful would be blind to obligations imposed upon him or her, to tell the truth. When I wrote a letter to Manikai on 8 November 2021, I naively thought he would welcome my gesture by cooperating with the search for justice under the rule of law, but what I have been able to gather is that he behaves like a warlord who believes that he is UNTOUCHABLE.
It is striking that Manikai like Temba Mliswa believes that President Mnangagwa is the law or he is above the law and as such my application is an attack against the person of President Mnangagwa when he triggered and provoked me to be angry.
The more I learned about the SMM matter, the angrier I got but what has disturbed me more is that there are far too many people who excel at pontificating in chat groups without taking any steps to assert the rights that are enshrined and entrenched in the constitution," said Mr. Mupasiri.
He continued to state as follows in relation to his experience on Thursday when he appeared before Justice Makarau's case: "When Mawere launched his recusal application, I had taken this matter to be a third party cause and as such, all I needed to do was to focus on my application.
I did not oppose the relief Mawere sought because I genuinely believed that the intervention of the parties with knowledge would be helpful and beneficial to the court in resolving my cause of complaint.
I came to court with this understanding and background including my own curiosity as to what interest if any, would a President have in sticking to Justice Makarau as the only judge who can determine the application by Mawere for leave to intervene in my application.
Justice Makarau opened the hearing by establishing from the litigants in what capacity they were in court.
I told her that I was the main applicant and also that I was a self-actor.
Mr. Mawere was the first one to be asked to make his submissions. He was eloquent and on point. I was impressed by his understanding of the rules of court, his submissions regarding his objection to Justice Makarau's involvement in any matter that she has already made judicial findings, and his unique ability to connect the dots."
Mawere was followed by Mr. Gondogwa who appeared on behalf of the Respondents.
This is my first time to appear in court as a self-actor but what happened since Thursday, 25 February 2022 when Justice Makarau gave directions as to how the recusal application would be processed, I was surprised that the lawyers representing the President would proceed to intentionally sabotage the litigation.
The President and Manikai knew that they had to file their answering affidavits by close of business to allow Mawere to respond by close of business on Wednesday.
I was only served the opposing papers on Tuesday afternoon and Mawere was only served the papers on Wednesday morning after protesting to the Presiding Judge.
The explanation that Gondongwa gave that their messenger could not find the address did not make sense but this was meant to frustrate the process.
I was pleasantly surprised that Mawere managed to serve an answering affidavit that dealt with all the allegations made by the Respondent.
Accordingly, I was comforted that the Judge would at the very least reprimand DMH for failing to adhere to her directions but alas she said nothing at all.
I was also a recipient of Mawere's letter to the Registrar to ask if the Learned Judge could postpone the matter to allow him to still get the 2 days allocated for him to respond.
The Learned Judge took the decision to completely ignore the request.
After Mawere's brilliant submissions, Mr. Gondongwa on behalf of the Respondents did his best to divert the court's attention in order for the recusal application to be dismissed, I was then asked by the Learned Judge to indicate whether I wished to say something regarding the recusal application.
The Learned Judge asked me to identify my interest in the dispute. I told her after reading Mawere's application and his oral submissions, I wanted to zero in on two issues.
The first one was regarding the legality and constitutionality of a reconstruction order that was issued by Gwaradzimba in his capacity as the Administrator of SMM under circumstances that clearly offend the rule of law.
Below is the first paragraph in Justice Makarau in relation to the review application that she capriciously dismissed that was launched by the Second Intervening Party or THZ Holdings Limited (THZH), the company that had a direct and indirect shareholding in Zimre Holdings Limited (ZHL) of about +46%, trying to assert its rights in relation to the recognition of Gwaradzimba as an Administrator of Zimre.
I was shocked that Justice Makarau contrary to the version given by President Mnangagwa in his opposition to my application that judges like her had determined the SMM reconstruction disputes in an independent and impartial manner, Justice Makarau had recognized and enforced flowing from Gwaradzimba's purported order that was published in the local press announcing that Zimre, a listed company with other shareholders, was under his control and management.
Astonishingly, Justice Makarau admitted Gwaradzimba pursuant to an order that he authored as a party to the proceedings that should have been limited to parties with bona fide interests in the affairs of Zimre.
Not only did Justice Makarau clandestinely abuse her discretionary powers as a Judge to give the audience to Gwaradzimba, a creature of an act of state, she also gave him an order to control the destiny and fate of Zimre.
Surprisingly, she even had forgotten this travesty of justice that was orchestrated by her inside the court.
This knowledge alone created a real and not some abstract apprehension of bias allowing me to tell her from the bar that she is not fit to preside on the application for leave to intervene if in the part she had illegally given Gwaradzimba rights which no law permitted a judicial manager to possess.
It shocked me that according to Makarau, reconstruction was akin to liquidation when this is false and was solely intended to justify the theft of private assets using crooked judges as instruments or weapons to undermine the rule of law."
The link to the notice referred to in Justice Makarau's judgment is provided here: https://online.flipbuilder.com/mmawere/sdci/.
Below is a link to the full Zimre judgment: https://online.flipbuilder.com/mmawere/sdci/
Either the President knowingly and intentionally orchestrated the corporate coup and used his power and influence to procure fatally defective judgments by judges like Makarau or his power and authority were abused without his knowledge.
Mupasiri has given President Mnangagwa and Manikai to come clean and lift the lid that has been put by Manikai's over the President's head but it would appear that both persons do not believe that they are accountable to the constitution.
[0:27 pm, 05/03/2022] mdmawere1: Holding the powerful accountable
Cover up – hide – it is not just about SMM but about a broken system that will never get better when the sense of morality has shifted to condoning despicable acts.
Mr. Lonely Jeketera, a member of FOSMM and JUROL, who is a Business Consultant specializing in Company Registrations, Tax Advisory, and Human Capital Practice stated as follows: "I attended the recusal hearing before Justice Makarau and I was encouraged by the boldness of Mr. Mupasiri and his eloquence in asserting that the recusal application is key to the just and proper determination of his application that is pending before the court.
I had no idea that the judgments that President Mnangagwa relied upon included Justice Makarau's judgments that she openly admitted were not determined on the facts placed before her court but on other considerations.
I have always wondered how THZH lost its shareholding in Zimre but now I can connect the dots as it is clear that Gwaradzimba used Justice Makarau as his weapon to create a nexus that did not exist to substitute shareholder rights with a creature of statute whose relationship with Zimre was recognized and enforced by the Court disregarding the constitutional rights of the parties involved."
Mr. Tinashe Mpasiri, a director of TAP Building Products Limited (TAP), and a member of both FOSMM and JUROL had this to say:
"I have privilege as a person who corporate and financial knowledge to know that RECONSTRUCTION is not akin to LIQUIDATION as incorrectly asserted by Justice Makarau in her Zimre judgment.
Astonishingly, Justice Makarau is not the only one whose literacy on the legal and constitutional basis in which liquidation takes place and the key distinguishing features of extrajudicial self-help schemes like Reconstruction with liquidation or receivership, as even the Attorney General, Mr. Prince Machaya holds the same views as follows: https://www.herald.co.zw/hands-off-hwange-parly-told/.
It is striking that we have encountered the level of gross illiteracy in Zambia wherein a crooked judge called Kajimanga J (as he was known in 2006) held the same view that reconstruction was akin to receivership and as such he granted a judgment tainted by fraud to his court and fraud he assisted inside his court.
The judgment was used by Gwaradzimba and Manikai to steal about $1 million in Zambia.
When I spoke to Gwaradzimba recently, he like President Mnangagwa sought refuge in the decisions of courts that have been used as vehicles to commit fraud with impunity.
I had no knowledge of how deeply rooted corruption is under the watch of President Mnangagwa until I read his sworn statements in opposition to the litigations pursuant to the Mupasiri application.
As a director of TAP, I am tired of negotiating the end of corruption when the 2013 Constitution is instructive that I have an obligation to lift my voice against judges who abuse the trust bestowed on them by law.
I also have a duty to step forward so that the promise of equal protection before the law and the reality that each person has a right to benefit from the equal protection of the law.
I got the distinct sense from Gwaradzimba that he thinks that the limitations imposed by the Constitution do not apply to him and his political Godfather.
Manikai is bound by the same rules that others are duty bound to follow. It is not in dispute that DMH using the Reconstruction Act as a weapon, instructed a Zambian law firm, Mulenga, Mundashi Legal Partners (MMLP), as a corrupt bridge prosecuted a fraudulent claim that TAP was an associate and is doing, obtained a fraudulent judgment that was used to justify the undisputed payment of $127,346.10 by TAP to MMLP when there existed no legal causa for this unjust enrichment.
The Court has not been furnished with all the pertinent facts to determine who was in and out of this orchestrated state capture enterprise in Zimbabwe.
An incriminating narrative has been made by Manikai, a practicing attorney, that all the judges that handled SMM's reconstruction matters were captured or behaved like robots.
Manikai possesses all the records and it is now common cause that President Mnangagwa who has admitted for the first time that he was fully briefed on the SMM heist and yet he seems to have the protection of the court in keeping mum on what is known to him and disclosing the who is who in the value chains that led to the demise of SMM and other enterprises.
In Zambia, Manikai did not follow the rules but he is not subject to Zambian laws although the crimes against TAP were committed within the borders of the country.
A big lie that Mawere had externalized funds and went to exile with the alleged loot was solely a smokescreen to steal with the knowledge of Zimbabwe's first citizen, President Mnangagwa.
As an active citizen, I was fortified to also step forward and approach the Court on behalf of TAP and my personal behalf to seek to hold Manikai accountable for the invasion of Zambian jurisdictional space, attack the courts of Zambia, and finally obtain a judgment tainted by fraud.
The fraudulent judgment was used to siphon funds from TAP. President Mnangagwa under oath is not ashamed to use a law that poses so gave risk to the integrity of his administration yet pretends to be the champion of anti-corruption initiatives in Zimbabwe.

It is the blatant attempt to defend the indefensible that shakes my sense of knowing what is right or wrong. I am no longer afraid to call Manikai out for who he is. There are far too many people who are gullible enough to believe that reconstruction was triggered by SMM's alleged state-indebtedness when in truth and fact the people who claim to be servant leaders are the authors of a vicious attack on the rule of law.

The discourse that should follow the tone and language adopted by President Mnangagwa is scary to me as it suggests that the whole system of governance has irreparably broken down and I am not prepared to go down and sink with these people.
As I listened attentively to the court submissions in the recusal hearing, I could not help but reflect on the meaning of a President who took an oath to protect and uphold the rule of law intentionally seeking to protect Manikai's actions from public scrutiny.
This to me is a red flag that it will be impossible to unearth and the most unlikely person to seek to conceal the truth from the Court is my President who should suffer no personal prejudice if the truth is openly disclosed he state of knowledge and involvement in the saga.
The refusal and failure by the President not to distance himself from Manikai.

To the extent that the SMM problem just gives us a glimpse of what really takes place in the corridors of public power, this chilling evidence is a pointer to a larger governance national challenge that speaks to a new morality index that violating norms is fine and openly defying tradition, the constitution is perfectly okay and more significantly that the justice system is now an enabler to allow the corrupt to get away with it.
I am concerned that there will never be accountability and transparency if the evidence is constructively placed beyond the ears of the courts as seems to be the case in this matter.
It was clear from the demeanor of Justice Makarau that her court is paralyzed and it is part of a project that involves a conspiracy of many actors in the chain to prevent any investigation from being instituted by President Mnangagwa or by the courts to ensure that the Mupasiri dispute is determined on its merits."