The Great Betrayal: Pursuit of Wide Readership Versus Facts In The Media Industry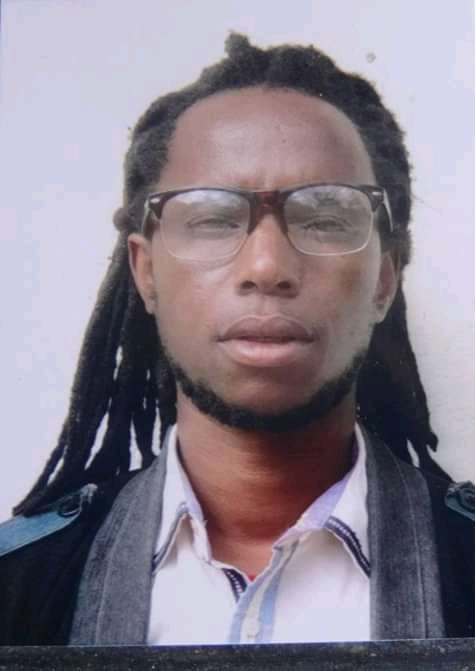 Tapuwa Chitambo, 14/02/2021
Following the publication of an article in the Newsday titled 'SA democracy and Constitutionalism put under spotlight' written by Garikai Mafirakurewa, I took it upon myself to establish the basis on which this title was used.
Initially, when I read in the State controlled media publications on the reasons why SMM was placed under Reconstruction, I naturally believed the version whuch was proffered by the government.
This is because it had long been made to appear that funds due to SMM from its customers and which were transmitted through SAS, its South African based agent, were diverted at the instigation of Mr. Mawere using an alleged fraudulent judgment.
Just like many other people, I had concluded that the decision to issue the Reconstruction Order in relation to SMM was legitimate and in order not knowing the real facts on the ground.
I later on came to realize that the existence and operations of the Reconstruction of State Indebted and Insolvent Companies Act posed a grave risk to the rule of law and constitutionalism not only in South Africa where it was recognized and enforced, but to the whole of the Africa continent.
At first, I had no idea that the SMM dispute had been exported to South Africa by the government of Zimbabwe which had disguised itself as SMM, the company with a corporate legal identity and existence.
As such, when I read Garikai' story in the Newsday, which referred to Mutumwa Mawere as a self-exiled Zimbabwean businessman who had put the South African justice system under spotlight, I was flabbergasted to see that the context of Janice's letter had been twisted, distorted and had taken a diversionary angle.
This is because I personally read the contents of Janice Greaver's letter addressed to the Johannesburg based, Deputy Judge President, Mr. Mojapelo on behalf of the C2C Literacy initiative only to discover that the published article's focus was now on Mutumwa Mawere rather than the rule of law.
Janice's letter was meant to address the legality and constitutionality of the decision to recognize and enforce the consequences of a law that offends South Africa's public policy.
Below is a thread of my conversation with Garikai Mafirakurewa in an attempt to address such a media anomaly.
[1/25, 5:30 PM] Tapuwa Chitambo: [08:06, 25/01/2021] Gandanga: Hi Garikai. My name is Tapuwa Chitambo secretary general of FOSMM and a member of the C2C initiative. How was your article on the South African judiciary received? Any possibilities of continuation of this conversations with your paper?
[11:30, 25/01/2021] Garikai Mafirakureva: Hie how are you? I thought we can continue with the story but Mr Mawere is picking on trivial issues which in my view should be corrected between us than going to town over simple issues
[1/26, 5:33 AM] Tapuwa Chitambo: Is He is the one who coined the self-exiled business man?
[1/26, 1:25 PM] Tapuwa Chitambo: [06:33, 26/01/2021] Gandanga: Are these issues centered around the title self-exiled business man?
[09:43, 26/01/2021] Garikai Mafirakureva: Yaaa those were the issues and I thought in the next article we will correct such issues and continue with our story until we are heard. But he stuck on that? That story was well received by many readers but he killed the fire to continue with the story.
I believe that the approach that Garikai took in the headline and introduction of following story was more centered on pleasing his audience through using a catchy but misleading title rather than to convey news of public interest in way that enlightens the masses on issues of concern to their circumstances.
"SA democracy and constitutionalism put under spot light
Self-exiled Zimbabwean businessman, Mutumwa Mawere, has put to test the South African judiciary system questioning its sincerity in upholding democracy, the rule of law and constitutionalism without risking major diplomatic implications.
The move if not properly handled will poke holes on South African democracy and expose her hypocrisy and judiciary capture.
Janice Greaver, C2C corporate literacy initiative management consultant wrote to the justice department, questioning the role played by the court in promoting and protecting the rule of law when Maweres case was handled, and the part it played in undermining the rule of law in relation to corporate matters…".
It is actually interesting to note that in spite of the following correspondence between Garikai and Mutumwa Mawere to clarify on issues that were not in line with Janice's letter and after highlighting the error of being self-exiled, the article went on to be published as it was.
This on its own shows that the media or journalists in particular can mislead people and brush aside information which is of value to their communities in an attempt to attract the maximum number of readers.
If such a reality is allowed to continue, it means that the media will no longer be playing its oversight role in the affairs of mankind and that fact on its own is enough evidence on the great betrayal of people's confidence by the Fourth Estate.
[11:01 AM, 1/20/2021] mdmawere1: My view is that the story involves C2C and Janice. If this is the case, should this not be the starting point to limit the story to the subjects in it?
[11:03 AM, 1/20/2021] mdmawere1: Do you agree that I pursued all legal options in SA and failed in SA to convince the judiciary that recognizing and enforcing the Reconstruction Act in SA was a violation of International Law?
[11:10 AM, 1/20/2021] mdmawere1: On what basis would be the allegation that "SA democracy and constitutionalism is put under the spotlight?" Who do you allege is putting the SA democracy and constitutionalism under the spotlight? You then state as true and fact that I am self-exiled, where did you get this information? I am not in self-exile. For your information, I have been living and working outside Zimbabwe since 1988. I have no received any mail in Zimbabwe since them. I have been a resident of SA since 1988 and I am only naturalized as a citizen in 2002. The events of SMM started in 2004 when I was already a citizen of SA and a resident since 1998. Where does this allegation of self-exile come from? Perhaps you have better facts to support this. You then state that I have put to test the SA judiciary system questioning its sincerity in upholding democracy, the rule of law and constitutionalism without risking diplomatic implications. In saying this, you do not provide any source of this allegation. It would help the reader if you provided the content and context of the allegation. *SA democracy and constitutionalism put under spot light.
[1:22 PM, 1/20/2021] Garikai Mafirakureva: It won't be of any interest to Zimbabwean readership because they don't who is Janice and what is C2C but they know SMM and Mawere. Why try to kill a story by focusing on an unknown. To make matters worse SMM and Mawere were cited as a case study.
The Truth behind Solomon Chanengeta's intimidation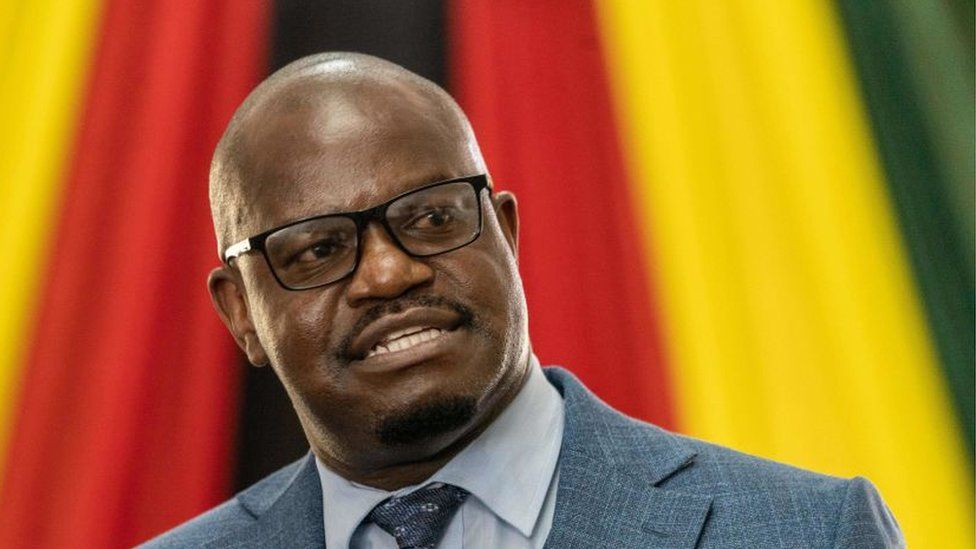 My name is Lovemore Chanengeta, and I am Solomon Chanengeta's younger brother. A false narrative about Solomon's situation is being peddled on Twitter by the handle @nickmangwana, and other faceless Twitter accounts, sharing a fake news article by a nameless reporter from an online publication called Tateguru TV which claims that Solomon is an army deserter. This is false.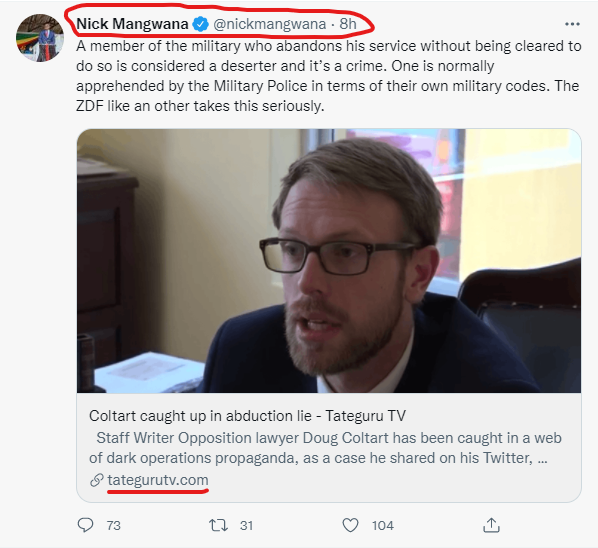 It is shocking and painful to see your brother degraded in this manner based on lies spread by the government instead of protecting its own citizens. When the government spreads fake news, we as citizens become concerned and lose trust because those in positions of power are too lazy to check their facts before speaking or acting rashly and fail to treat citizens as humans who have rights protected by our Constitution.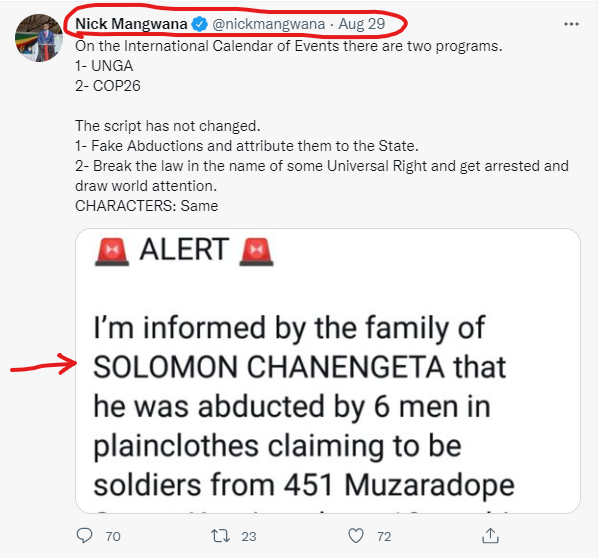 I'd like to set the record straight and to provide facts of the matter in trying to ensure Solomon's safe return home. Solomon is the victim of an unscrupulous and greedy individual who is manipulating our security services for his own personal gain. Solomon is now being held by the military even though he has done nothing wrong.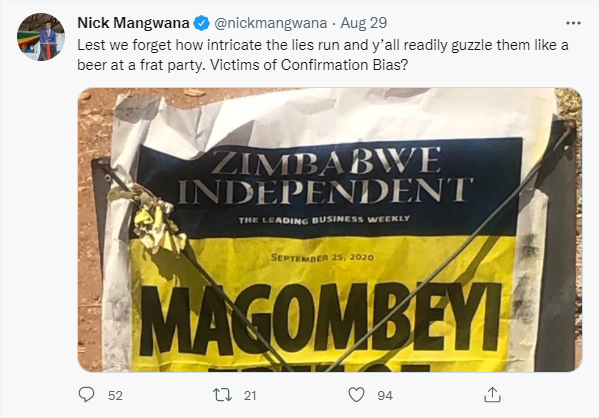 Solomon, like every Zimbabwean, has human rights which are protected by the Constitution of Zimbabwe. Yet for Solomon, it seems his rights are non-existent as evidenced by the horrific manner he was apprehended, on a charge which is not real, based on the malevolence of conniving criminals using law enforcement agencies and the military to terrorize and torment a law-abiding citizen.
Here's a quick rundown of Solomon's history
Solomon joined the ZNA in 2000 and trained at the All Arms Battle 13 Platoon. He was deployed to Masvingo 4th Brigade after training and served his probation period, during which he trained as a Bomb Technician at Pomona Barracks north of Harare. He left the military in 2003 after his probation period following proper procedures and has been a civilian citizen ever since. He is not and has never been, an army deserter.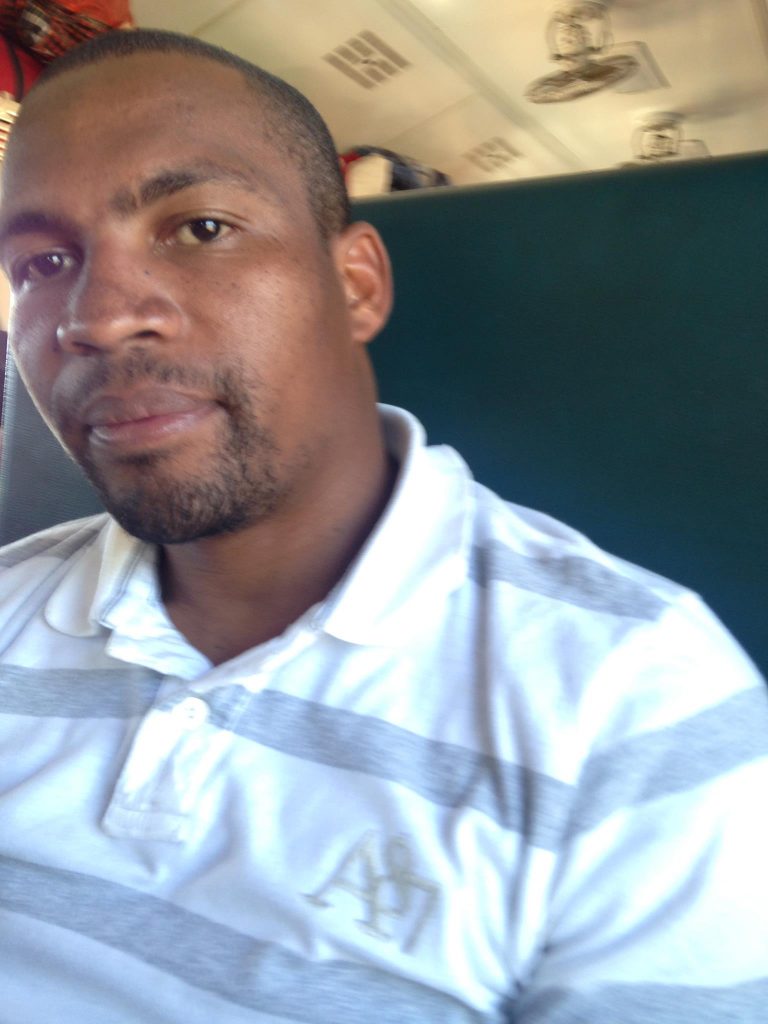 In fact, his status with the military was recently verified just over a year ago. Sometime last year a dispute arose between Solomon and his neighbors at Solomon's plot, and the neighbors called the military, claiming that there is a soldier who deserted within their community. the ZNA Military Police from 2.3 brigade picked him up and released him after validating his status and advising him he was a civilian citizen. That is why it is so shocking that he is being put through this ordeal again so soon after having his status verified. Are all ex-soldiers who leave the ZNA legitimately and in good standing expected to live the rest of their days wondering when next will be that they are bundled into a vehicle and accused of deserting? 
How did Solomon end up in military custody?
Solomon's estranged father, Kenneth Chanengeta (original surname Manyika) is trying to snatch Solomon's home from him and sell it to someone else and. He has threatened to get him out of the house at any cost (more of that later).
His father laid spurious charges against Solomon of malicious damage to property at Solomon's house (which his father claims is his) over an allegedly broken toilet seat (in his own home)!
On Friday, August 27, 2021, ZRP Karoi summoned Solomon to the station to discuss his estranged father's sale of the family home. When he arrived at the station, he was informed that he was being charged with malicious damage to property, and he was immediately locked up and detained overnight.
The alleged buyer of the house and Solomon's estranged father demanded that damages be paid in order for Solomon to be released. After paying the damages for the allegedly broken toilet seat, he was released at around 11am on Saturday, August 28, 2021, and he returned to his residence in Karoi.
Later on Saturday night, Solomon received a call from a good Samaritan (Solomon's ex-wife) inquiring as to what was going on as she had received a call from Solomon's father asking if she was aware of any crimes that Solomon may have committed while serving in the military as he would like to report Solomon to the Military Police.
At around 22:12 that night, while Solomon was still on the phone with her, he received a knock at the door. There was a group of six men in plainclothes who stated that they were military personnel who had come to pick up Solomon. The men entered the house and handcuffed him in his pants and vest with no shoes and asked him to leave his cellphone behind. They bundled him into a Honda Fit and sped off so fast that his wife could not even take note of the registration number.
A relative from the neighborhood informed me that Solomon had been picked up by a group of soldiers in a Honda Fit and that his wife is distraught and terrified for her life as Solomon's father's threats to get Solomon out of the house at any cost had come true.
I called human rights lawyer Doug Coltart and advised him of the situation. At my request, he agreed to put out an alert in the hope that it might save Solomon's life and that we would send people to the police station first thing in the morning to make a report if he was still missing.
The following morning, Solomon was found at Karoi police station. The police refused to give the names of the people who had brought him to the police station. Solomon was not charged with any offence but the police refused to let him go. They said that the people who had brought him to the police station would come and get him. Solomon spent another night in police custody, still without any charges, although his docket had been labeled "Defence Act".
On Monday 30 August 2021, soldiers came to collect him from the police station and took him to 2.3 Brigade in Magunje. He is still in military custody at 2.3 Brigade as the military says that they are still verifying his status.
So what is really going on?
Solomon's father is trying to get Solomon out of his residence because his father "sold" the house to someone else and is now under pressure from the alleged buyer to deliver the house.
In the few hours Solomon spent out of detention prior to the frivolous case of malicious damage to property was when he tried to cool off after a night in the holding cells over fake charges by his father in a bid to keep him away from the property, Solomon was preparing to meet with legal counsel over the property.
The property in question is the house Solomon's mother fought tooth and nail to acquire during a time when Solomon's father was not only an absent father but also a wanted criminal.
After Solomon's father was imprisoned for trading in rhino horns, he became absent when Solomon was an infant. In the absence of Solomon's father, she managed to secure a decent home for the family and settled happily with her children. As a jailbird, Solomon's father spent most of his time in and out of prison for very gruesome and unimaginable acts; hence his recent mental instability prompting him to put up a house on sale that does not belong to him.
When Solomon's father returned from his wanderings, a year or so later, he got lost and went to the old house, where he was directed to the property he is now attempting to sell.
She accepted him back, hoping he'd changed, not realizing she'd become the next victim. She stocked up on cement and dug a foundation as she began a renovation project to expand the property's size and add more space. Solomon's father, the unashamed criminal of a father, decided to sell the cement quickly and vanish.
Solomon's father beat Solomon's mother to a pulp, breaking her ribs, back, teeth, and fracturing her head; she was hospitalized for a while and immediately filed for divorce, which dragged on for years, keeping Solomon's mother in and out of court until the judgement was reached stating that the house was finally placed under Solomon's mother and her children; Solomon's father was banished from this property by the courts.
Solomon's mother died in 2003, and his father did not attend her funeral or any of the processions.
Solomon's father began to show visible signs of mental illness in 1998, when he falsely accused Floyd, Solomon's brother, of stealing an engine that did not exist. Floyd was immediately released after it was discovered that Solomon's father was using the police to intimidate Floyd because he was the stumbling block in selling the property at the time, and now it is Solomon who is the stumbling block.
Solomon's father's mental health issues cause him to take money from people in exchange for a house, despite the fact that he knows he can't sell the house and it doesn't belong to him.
Solomon's father is a war veteran with fake credentials and a member of ZANU PF in Karoi who is now trying to abuse his proximity to power to fight his own personal battles using the military and the police. Our military and police should not be drawn into these unstable and greedy individuals' personal issues.
Conclusion
What we have here is a mentally ill person who is allowed to torture his victims for the rest of their lives using the law, taking advantage of how complicit the government is when it comes to the welfare of its citizens, as evidenced in this case where people act rashly based on word of mouth from those better placed politically to make the decision that can land you in prison without a charge. With their clout, they can entice the military to the party.
Unlike the fake news being peddled by @nickmangwana through Tateguru TV, I spoke with Solomon today, August 31, 2021, and he is still at Magunje 2.3. It's frightening to see how the government's mouthpiece is promoting lies and fake news at the expense of its own citizens.
Because the government lacked due diligence by first verifying his status, a simple matter that requires basic comprehension has taken the entire government, its trolls, and its security services, to direct resources towards assisting a mentally ill ex-convict to harass a law-abiding citizen.
Solomon deserves to be freed now.
Zimbabwe State' Capture – Fact or Fiction?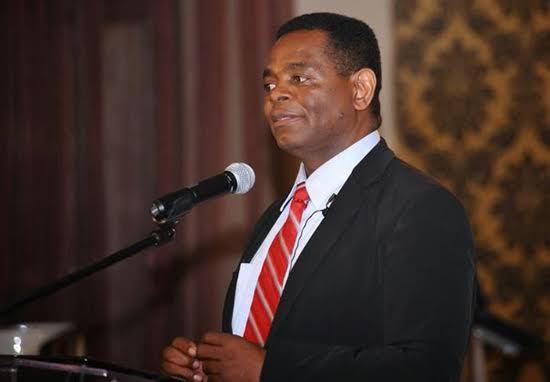 Mutumwa Mawere, 10/02/2021
Mark Heywood, editor of the DailyMaverick which published a report on the alleged state capture in Zimbabwe asserted as true and fact that this untested report 'provides a post mortem of the cancer that killed the Zimbabwean dream of freedom and independence'.
To what extent is this report based on empirical evidence is a question that cannot easily be answered but it is clear that like sanctions, its impact on Zimbabwe public policy choices will always be a subject of disputes.
The mere fact that this report has been cited by the US Senate is problematic on its own as further international spotlight on Zimbabwe from external sources is unlikely to change the attitude of Zimbabwe's public officer bearers especially when the facts supporting the conclusions of the report are speculative at best.
Against a backdrop of a divided nation, the risk of this report being regarded as a regime change project is high especially having regard that the South African government is not convinced that corruption is the driving force behind the Zimbabwean crisis
Is it not ironic that SADC and the AU have not recognized and accepted that state capture is a real problem as was the case in South Africa in relation to former President Zuma's administration?
What if in Zimbabwe the approach to the state capture issue is that it is a ploy sponsored by white monopoly capture to take control of the state under the guise of restoration of the rule of law through partisan anti-corruption campaign?
It is unmistakable that there exists no shared understanding of what state capture is and is not in South Africa to allow this new morality to be exported to a country like Zimbabwe.
The identity and personality of cartels in Zimbabwe as is the case in South Africa has taken a partisan approach and this is not helpful where people are divided and polarized.
Has state capture been weaponized to achieve regime change?
It has been argued that a project to unconstitutionally unseat Zuma as President was couched as an anti-corruption enterprise but regrettably the frontiers of corruption have not been reduced in the post-Zuma era.
Does this report whose release has opened new wounds on the future of Zimbabwe and South Africa, truly and impartially expose the alleged destructive effects that elite cartels play in robbing the country's future or it is yet another misguided project to build walls between citizens?
It is significant that Mnangagwa, who credits himself as an anti-corruption champion, is himself fingered in the report as being one of the bosses who run lucrative cartels in a wide range of commodities at the expense of the average Zimbabwean.
Does any rational mind think that in the quietness of his time, Mnangagwa considers himself as a villain in relation to the Zimbabwean economic and political quagmire? Obviously not.
On Tuesday, 9 February 2021, the report was raised by Republican US Senator Jim Risch, member of the US Senate Foreign Relations Committee retweeted a Daily Maverick tweet on the Zimbabwe report.
"State capture and corruption in #Zimbabwe continue to be a concern of mine. A timely report released by @dailymaverick exposes the destructive effects that elite cartels play in robbing the country's future. Our partners, the Zimbabwean people, deserve better. #DemLoot," is very unhelpful to the Zimbabwean cause." Risch tweeted.
It is also self-evident that the report comes at a time when there exists no domestic voice that is speaking to the reality of the facts contained in the report and it is significant that businessman Zunaid Moti's former adviser, Mr. Peter Hain, a British Labour peer, also retweeted the report, saying: "Zimbabwe: Explosive cartel report uncovers the anatomy…@dailymaverick."
What is remarkable is that people like former DA leader Mmusi Maimane, whose locus standi to poke his nose into Zimbabwean matters is controversial and questionable, tweeted as follows: "This exposé by the @dailymaverick is very important for every Africans to read."
Mr. David Coltart, a Zimbabwean, joined the chorus by tweeting as follows: "If you are puzzled why such a wealthy country, with such intelligent, well educated people can be so poor, then read this report published today in @dailymaverick. It explains how and why a network of cartels is plundering #Zimbabawe."
The mere fact that the report was authored in Zimbabwe and published in South Africa creates its own political dynamics.
This is true especially having regard to the reality of the real divisions in the ANC between two extreme narratives that speak to radical economic transformation as the panacea to lift the country out of its challenges and the alternative narrative that speaks to neo-liberal policies as the only promise.
If the authors of the report cannot speak on their feet to substantiate their serious allegations, what should be the probative value of this report?
"It would appear that the report has a defined audience and agenda," said one analyst who is perplexed that this report is trending when the reality on the ground is dire.
Common sense, logic and reason would inform a rational view that corruption by nature is allergic to transparency and openness.
In the premises, where would authentic data be sourced from to substantiate the claims of graft and real smuggling operations?
Gossip that Mugabe was surrounded by a cabal of criminals informed the coup but since 2017, no cogent evidence has been produced to confirm this allegation.
No one has been successfully prosecuted and the so-called anti-corruption have yet to provide any evidence supporting or disputing the allegation that Mugabe was the fulcrum of corrupt activities.
Equally, the Zondo Commission has exposed the fact that corruption was democratically distributed and although the agenda to nail Zuma and humiliate him was the goal, the reality is scary.
Even the Zondo Commission is unlikely to impact on this vice and interestingly, accusations are already galore that it is a project to annihilate certain political actors who are deemed to be undesirable.
If Trump was African, he would not be one in concluding that when one is a populist, the risk of being removed based on trumped up charges is real and high.