The Royal India Restaurant, Sandton's Flamboyant Food Joint to Host and Support Bhakti Marga South Africa's Ashram Sri Vishwananda Nilaya Project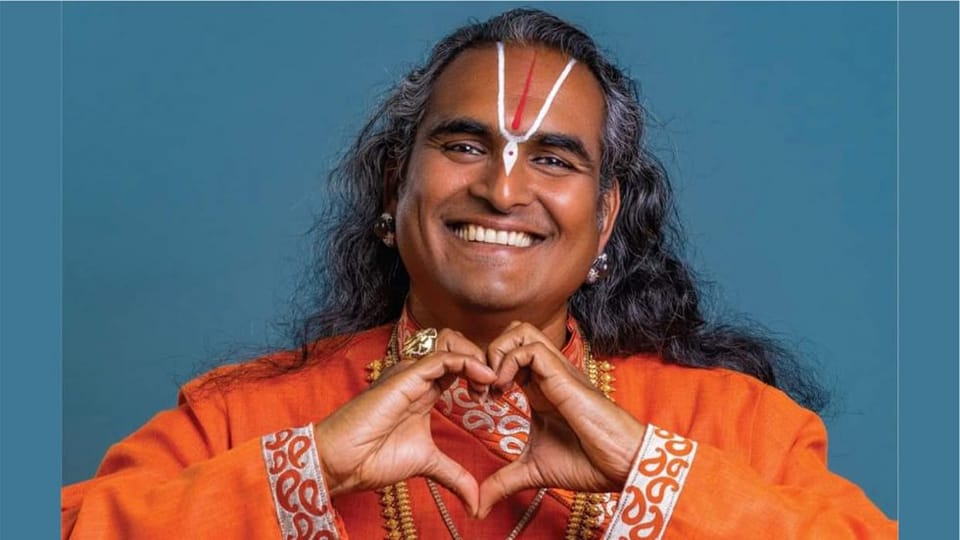 Brian Kazungu, 18/02/2022
The Royal India Restaurant located in Sandton, South Africa, a first-class eatery well known for its delicious northern Indian cuisines and for its massive support of various charity works, will soon host a fundraising event for Bhakti Marga South Africa.
Bhakti Marga South Africa is an international spiritual organisation founded by their Satguru, Paramhamsa Sri Swami Vishwananda, whose message to all is to "Just Love"
Mr. Singh, the owner of The Royal India Restaurant expressed his excitement for having an opportunity to host such a noble cause.
"I am humbled to inform all family and friends that God has chosen The Royal India to participate in this historic event to do the fundraising for this Novel project. To Jai Gurudev Dear Devotees, happy 2022 and all the best." Said Mr. Singh
He also added that it was a rare and wonderful opportunity for him and The Royal India Restaurant to help raise funds for the construction of the Sri Vishwananda Nilaya ashram being built in Kwa-Zulu Natal, South Africa.
The restaurant which has the capacity to accommodate 120 people will sell tickets to the event. All the proceeds from the sale of the tickets will go towards the Ashram project as a donation.
With the main target for the fundraising event being corporates, tickets will be sold as follows: R350 for individuals and R700 for couples.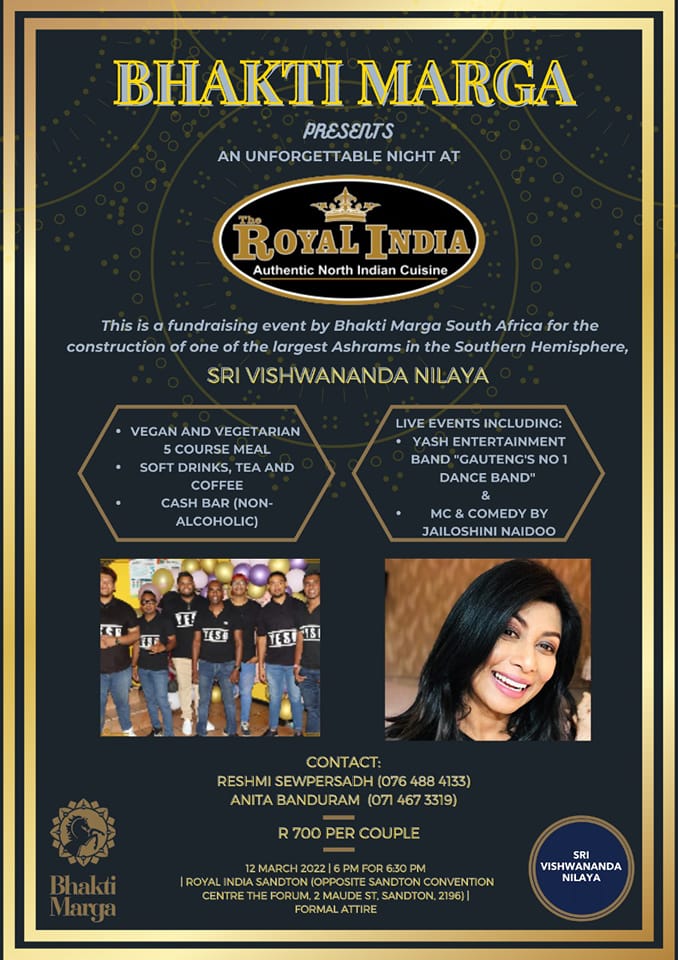 In return for their ticket purchases, attendees will enjoy a sumptuous 5 course vegan/ vegetarian meal as they get entertainment by celebrity MC and comedian Jailoshini Naidoo, as well as live music by Yash Entertainment Show Band (Gauteng's No.1 Dance Band).
People at the event will also be given an opportunity to make a pledge to support the project as well as to share ideas on how to make the project an overwhelming success.
Sri Vishwananda Nilaya is being built on 40 Hectare of lush farmland in the Northen part of Kwa-Zulu Natal. This ashram, an extension of the headquarters for Bhakti Marga will be one of the largest ashrams in the southern hemisphere.
It will be a meeting point of spiritual seekers wishing to enhance their expression of Love and attain their higher reality.
This Sanctuary will be focused on fostering Love, Patience and Unity in South Africans and will attract many Local and International visitors."
The Structure is laid out in the pattern of the sacred sound 'OM', the cosmic sound of creation. The crown jewel, the Temple, is positioned at the Turya point of the geometrical Om and it's conceptualised design is based on the 'flower of life.'
Plans for the ashram include a wellness center, various fruit orchids, goshala, library, vegan/ vegetarian restaurant, and much more.
The Ashram will be built in Phases with the intention of being partially "off-grid" and will implement various feasible green Technologies e.g. Solar, Wind, harvesting of Rain- water and recycling of waste, reflecting the approach to minimize the environmental impact on Mother Earth.
If you would like to support or know of anyone that wishes to be a part of it, you may contact the following people:
Rama dasi JHB – 082 924 1714
Chakradhara das (Project Manager) 082 452 6283
Veera dasi (Fundraising) 076 488 4133
Email: [email protected]