Pieter Willem Botha's Famous Speech
Vaya vasingazivi hunhu hwevarungu,read this
BOTHA'S SPEECH
Pieter Willem Botha (January 12, 1916 – October 31, 2006), he was commonly known as "PW" and Die
Groot Krokodil (Afrikaans for "The Big Crocodile"), was prime minister of South Africa from 1978 to 1984 and state president from 1984 to 1989. Botha was a long-time supporter of South Africa's National Party and a staunch advocate of racial segregation and the apartheid system; however, he engineered a loosening of some of the government's most stringent racial policies toward the end of his career.
Botha speech 1985:
THE FOLLOWING is a speech made by former South African President P.W. Botha to his Cabinet. "Pretoria has been made by the White mind for the White man. We are not obliged even the least to try to prove to anybody and to the Blacks that we are superior people. We have demonstrated that to the Blacks in a thousand and one ways. The Republic of South Africa that we know of today has not been created by wishful thinking. We have created it at the expense of intelligence, sweat and blood. Were they Afrikaners who tried to eliminate the Australian Aborigines? Are they Afrikaners who discriminate against Blacks and call them Nigge*rs in the States? Were they Afrikaners who started the slave trade?
Where is the Black man appreciated? England discriminates against its Black and their "Sus" law is out to discipline the Blacks. Canada, France, Russia, and Japan all play their discrimination too. Why in the hell then is so much noise made about us? Why are they biased against us? I am simply trying to prove to you all that there is nothing unusual we are doing that the so called civilized worlds are not doing. We are simply an honest people who have come out aloud with a clear philosophy of how we want to live our own White life.
We do not pretend like other Whites that we like Blacks. The fact that, Blacks look like human beings and act like human beings do not necessarily make them sensible human beings. Hedgehogs are not porcupines and lizards are not crocodiles simply because they look alike. If God wanted us to be equal to the Blacks, he would have created> us all of a uniform colour and intellect. But he created us differently: Whites, Blacks, Yellow, Rulers and the ruled. Intellectually, we are superior to the Blacks; that has been proven beyond any reasonable doubt over the years. I believe that the Afrikaner is an honest, God fearing person, who has demonstrated practically the right way of being. Nevertheless, it is comforting to know that behind the scenes, Europe, America, Canada, Australia-and all others are behind us in spite of what they say. For diplomatic relations, we all know what language should be used and where. To prove my point, Comrades, does anyone of you know a White country without an investment or interest in South Africa? Who buys our
gold? Who buys our diamonds? Who trades with us? Who is helping us develop other nuclear weapon? The very truth is that we are their people and they are our people. It's a big secret.
The strength of our economy is backed by America, Britain, Germany. It is our strong conviction, therefore, that the Black is the raw material for the White man. So Brothers and Sisters, let us join hands together to fight against this Black devil. I appeal to all Afrikaners to come out with any creative means of fighting this war. Surely God cannot forsake his own people whom we are. By now every one of us has seen it practically that the Blacks cannot rule themselves. Give them guns and they will kill each other. They are good in nothing else but making noise, dancing, marrying many wives and indulging in sex. Let us all accept that the Black man is the symbol of poverty, mental inferiority, laziness and emotional incompetence. Isn't it plausible? therefore that the White man is created to rule the Black man? Come to think of what would happen one day if you woke up and on the throne sat a Kaff*ir! Can you imagine what would happen to our women? Does anyone of you believe that the Blacks can rule this country? Hence, we have good reasons to let them all-the Mandelas-rot in prison, and I think we should be commended for having kept them alive in spite of what we have at hand with which to finish them off.
I wish to announce a number of new strategies that should be put to use to destroy this Black bug. We should now make use of the chemical weapon. Priority number one, we should not by all means allow any more increases of the Black population lest we be choked very soon. I have exciting news that our scientists have come with an efficient stuff. I am sending out more researchers to the field to identify as many venues as possible where the chemical weapons could be employed to combat any further population increases. The hospital is a very strategic opening, for example and should be fully utilized. The food supply channel should be used. We have eveloped excellent slow killing poisons and fertility destroyers.
Our only fear is in case such stuff came in! ! to their hands as they are bound to start using it against us if you care to think of the many Blacks working for us in our homes. However, we are doing the best we can to make sure that the stuff remains strictly in our hands.
Secondly, most Blacks are vulnerable to money inducements. I have set aside a special fund to exploit this venue. The old trick of divide and rule is still very valid today. Our experts should work day and night to set the Black man against his fellowman. His inferior sense of morals can be exploited beautifully. And here is a creature that lacks foresight. There is a need for us to combat him in long term projections that he cannot suspect. The average Black does not plan his life beyond a year: that stance, for example,should be exploited. My special department is already working round the clock to come out with a long-term operation blueprint. I am also sending a special request to all Afrikaner mothers to
double their birth rate. It may be necessary too to set up a population boom industry by putting up centres where we employ and support fully White young men and women to produce children for the nation.
We are also investigating the merit of uterus rentals as a possible means of speeding up the growth of our population through surrogate mothers. For the time being, we should also engage a higher gear to make sure that Black men are separated from their women and fines imposed upon married wives who bear illegitimate children.I have a committee working on finding better methods of inciting Blacks against each other and encouraging murders among themselves. Murder cases among Blacks should bear very little punishment
in order to encourage them. My scientists have come up with a drug that could be smuggled into their brews to effect slow poisoning results and fertility destruction. Working through drinks and manufacturing of soft drinks geared to the Blacks, could promote the channels of reducing their population. Ours is not a war that we can use the atomic bomb to destroy the
Blacks, so we must use our intelligence to effect this. The person-to-person encounter can be very effective. As the records show that the Black man is dying to go to bed with the White woman, here is our unique opportunity. Our Sex Mercenary Squad should go out and camouflage with Apartheid Fighters while doing their operations quietly administering slow killing poison and fertility destroyers to those Blacks they thus befriend. We are modifying the Sex Mercenary Squad by introducing White men who should go for the militant
Black woman and any other vulnerable Black woman. We have received a new supply of prostitutes from Europe and America who are desperate and too keen to take up the appointments. My latest appeal is that the maternity hospital operations should be intensified. We are not paying those people to help bring Black babies to this world but to eliminate them on the very delivery moment. If this department worked very efficiently, a great deal could be achieved. My Government has set aside a special fund for erecting more covert hospitals and clinics to promote this programme. Money can do anything for you. So while we have it, we should make the best use of it.
In the meantime my beloved White citizens, do not take to heart what the world says, and don't be ashamed of being called racists. I do not mind being called the architect and King of Apartheid. I shall not become a monkey simply because someone has called me a monkey. I will still remain your bright star…His Excellency B
Posted by Menina Aleatória at 10:12
When President Mnangagwa signed a document purporting to be his mate, see the reality?
Hopewell Chin'ono's Hypocrisy Exposed by Mr. Tinashe Mpasiri
On 24 November 2022, Mr. Hopewell Chin'ono shared this tweet on his wall: https://twitter.com/daddyhope/status/1595758807392534528?s=20&t=YflO7bnB-32EN89x_0fPfQ with the following message directed to nameless and faceless South Africans:
"What we ask from South African citizens is for your President to STOP sanitizing Corrupt Rule in Zimbabwe and to STOP lying that our economy was destroyed by sanctions Listen to our President speak about the LOOTING in 1996.
Why doesn't your president speak about free elections?"
The above mentioned tweet led to a conversation between Mr. Mpasiri, a member of the Justice Under Rule of Law (JUROL) and Mr. Chin'ono as set out on this link: https://heyzine.com/flip-book/d47b109920.html.
When asked why he had chosen to share a video of 1996 in support of his narrative that President Ramaphosa was guilty of sanitizing the corrupt practices by President Mnangagwa and his administration, Mr. Chin'ono responded as follows:
"ZPF leading Public officials operate with criminal business partners to loot public resources. For all intents and purposes sanctions are not the cause of Zim economic quagmire but ZPF looting public purse thru its puppet business partners from as far back as 1996?"
Advocate Matiza, a member of the Justice Under Rule of Law made the following observations and also a participant in the Banking on Africa's Future (BOAF) – Legal Literacy WhatsApp group, commended as follows: "It is clear from the above that by importing the video in which Mr. Mawere was featured with Minister Mnangagwa as he was known then, Mr. Chin'ono was openly alleging that Mr. Mawere was Mnangagwa's then criminal business partner who was his accomplice in looting public resources of Zimbabwe.
However, when exposed by Mr. Mpasiri, a member of JUROL and BOAF, Mr. Chin'ono backtracked as set out below:
TINASHE MPASIRI v HOPEWELL CHIN'ONO
TM: Good morning Mr Chin'ono.
My name is Tinashe Mpasiri and I am a member of the Justice Under Rule Of Law (JUROL).
I am an avid follower of your posts and exposé and certainly wish that there were more
Zimbabweans like you, working towards a diverse, inclusive, progressive and prosperous future
for all.
I just wanted to greet you and share with you a post that was shared in a group I am a part of,
that you may be able to shed more light on it.
https://twitter.com/daddyhope/status/1595758807392534528?s=08
HC: Thank you. I did an interview last night on the issue. Feel free to share it in your group
Find it here;
https://twitter.com/daddyhope/status/1595853417355784192?s=46&t=6iHx7x2V4i8IiLZyIobk_g
TM: Thank you very much sir.
Just for your information, I belong to a group with officials from Wits University and questions
arose yesterday after your sharing of the video.
I have been asked to communicate with you so I get clarity, so we can share with a proper
context.
Your narrative on the tweet is about president Ramaphosa's failure to act on corruption in
Zimbabwe, but the content of the video, appears nothing to do with the corruption angle.
Kindly assist with the link between the two.
HC: Good morning. Thank you for the question and you can share this audio in your group, you have my permission.
President Ramophosa has been at the forefront of saying incorrectly that the economic crisis in Zimbabwe has been caused by sanctions, which is not true.
The video that you are referencing, is meant to show that the economic crisis in Zimbabwe
started way before sanctions were imposed by western countries.
The economic crisis was authored by looting of public funds by ZANU PF elites and their business surrogates and the plunder of the country's natural resources.
That video shows president Mnangagwa when he was Finance Minister in 1996, speaking at an event in Washington explaining how public funds have been looted.
So my point is that the president of South Africa, Cyril Ramaphosa shouldn't be going around
misleading unsuspecting audiences, by saying that the economic crisis in Zimbabwe is being
caused by sanctions.
So for instance, president Ramaphosa talks about the social services pressures that are exerted by Zimbabweans coming into South Africa to use things like public services like health care. And all hospitals in Zimbabwe, all central hospitals in Zimbabwe, five of them, they only require 50 million to run without any shortages and that will make sure that Zimbabweans don't have to cross the border into South Africa to seek public services that are provided through hospitals but these hospitals in Zimbabwe don't have paracetamol.
The biggest hospital in Zimbabwe, Sally Mugabe hospital does not even have paracetamol, it
doesn't have basic things like bandages and 50 million is only, that's all we need to run our
central hospitals, but it's not being availed to these central hospitals.
Now, ZANU PF by its own admission, says that 150 million USD worth of gold is being smuggled by ZANU PF elites and their surrogates every month. Which means what they steal in one month can run our central hospitals for 3 years.
That is the point that I making that president Ramaphosa is misleading unsuspecting audiences by saying that the crisis in Zimbabwe which is over spilling into South Africa, is being caused by sanctions, it's not true it's caused by sanctions. It's caused by mis-governance. Thank you.
TM: Thank you very much Mr. Chin'ono.
This is very helpful and I believe we can build a shared understanding of only when we engage.
I will share your insights in my circles and beyond.
A number of questions emerge from your audio. By surrogates and having had the benefit to watch the video, who would be the surrogates and especially having regard to the fact that Minister Mnangagwa (as he were then), was speaking to a different subject matter involving empowerment and the role of government in financing it.
I could be wrong, but it is self-evident that he was talking about government programs whose
execution resulted in financial support being diverted to personal use.
Your response to the above would greatly assist.
HC: Surrogates were people like Mutumwa Mawere who was his front until they fell out.
Today surrogates refers to people like Kuda Tagwirei who has been a front for State looting
using his myriad of companies.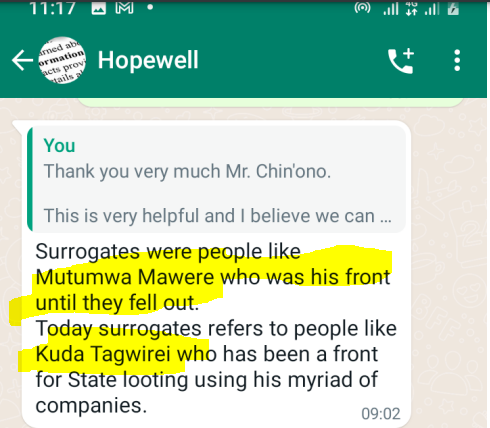 This narrative is similar to the one peddled by Chin'ono's friend and President Mnangagwa's confidante and lawyer, Mr. Edwin Manikai as follows: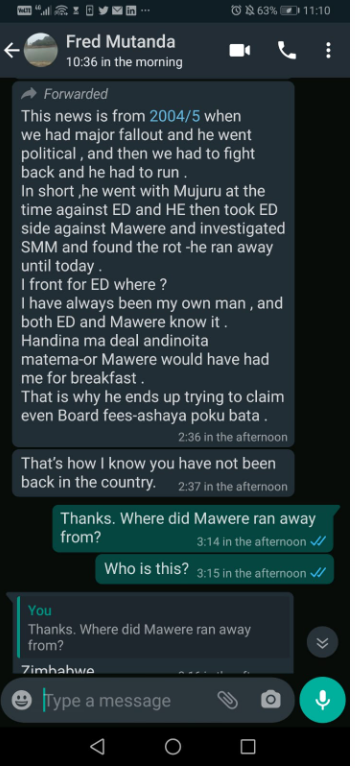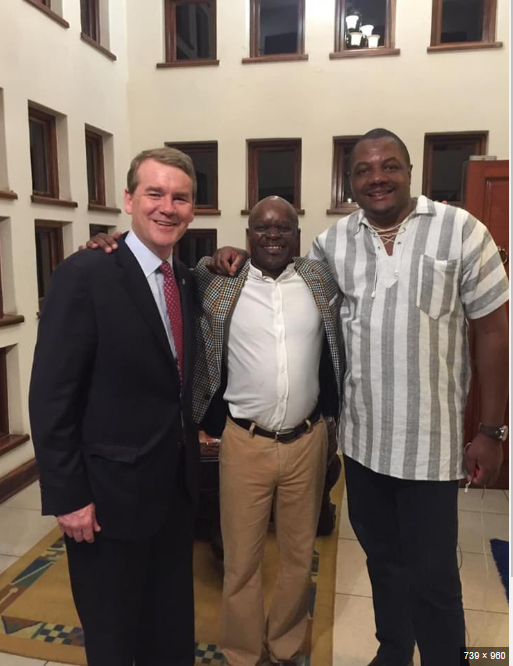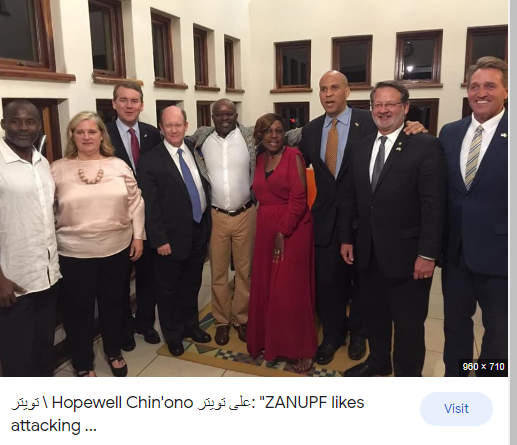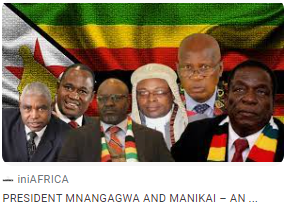 TM: Thank you for the honest response and obviously when I watched the video, I could not make the link between Mutumwa Mawere and the looting.
Perhaps you can share evidence supporting the allegation of surrogacy and the corruption
therefore in, so that I can afford both president Mnangagwa and Mawere to give their own
account of the precise nature of the alleged link between public power and private benefit.
Unfortunately, the video's content does not establish the causal link which is vital in determining any dispute in an Independent and impartial manner.
HC: I didn't say Mutumwa was corrupt.
I said that there were public funds that were doled out which amounted to looting.
You are misinterpreting what I said.
The video has nothing to do with Mutumwa being corrupt, it was meant to illustrate how public funds were looted way before sanctions.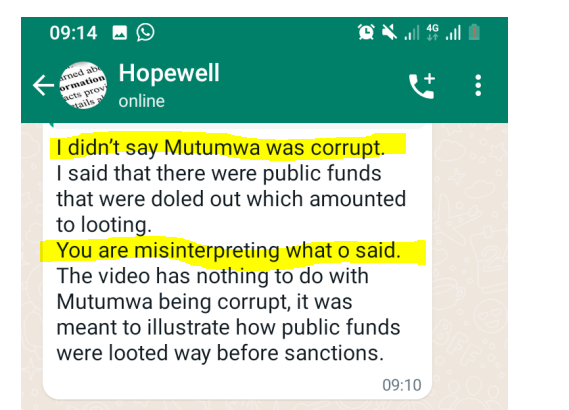 TM: Thank you for clarifying and I am intrigued by your response.
You have asserted as true and fact that Mawere was Mnangagwa front and this aspect is not
evident in the video, suggesting that evidence exists that the alleged fronting you are talking
about, is supported by concrete evidence which is required in any bona fide process, seeking to hold people accountable for their conduct or misconduct. I would be grateful if you can identify in precise terms what Mawere front for Mnangagwa.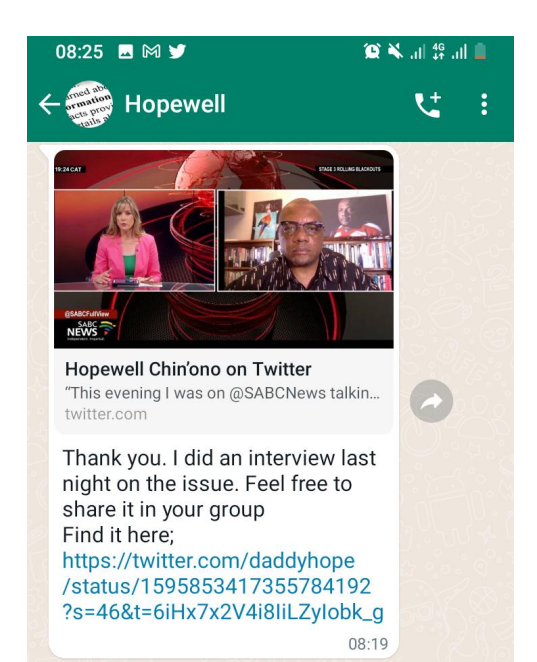 Advocate Jack Matiza who was incensed by Mr. Chin'ono's utterances remarked asked: "How can he be held responsible and accountable for social media post that damage another person reputation? My take is Hopewell is also guilty of selective amnesia he is accusing Ramaphosa of when it comes to sanctions, by stating that Mutumwa Mawere was an front of ED without providing any proof to that. Our self acclaimed award winning journalist and human right defender…ought to know that he who alleges must prove, is he not using or abusing social media or public media platforms to make unfounded statements without allowing the accused an opportunity to air their side of the story is itself an abuse of that person's basic human rights?
To which Mr. Mawere responded as follows: "What if there exists no shared understanding on what are the obligations and rights of citizenship? What Hopewell could be saying is that information that he may possess is true and fact unless proved otherwise because he holds a privileged position in society as a journalist. In this case, affinity politics would compel him to conclude that because I shared the same platform with the current President of Zimbabwe this reality confirms a generally corrupt relationship. You can imagine what the true import of state capture and the legal consequences arising for its existence."
Advocate Matiza by stating as follows: "There is certainly need to actively contribute to development of such shared understanding and common standards."
Mr. Mawere commended as follows: "If asked to explain why the conversation is intriguing, what would be your response?
Mr Chin'ono genuinely believes that CORRUPTION is the elephant in the room.
He hold the view that he occupies a special and exceptional position in relation to the affairs of Zimbabwe.
He has a view on the 1996 video."

When asked by Mr. Mawere, what identified questions arise from the hypocrisy inherent in Mr. Chin'ono's open attack against Mawere and when confronted by Mr. Manikai, he quickly denied what he had stated as true and fact, Advocate Matiza responded as follows:
1. Abuse of the profession of journalism by an acclaimed journalist who has no respect for the truth in his narratives.
2.How should one define a human rights defender especially having exposed Mr. Chin'ono's embarrassing performance by first alleging that Mnangagwa was using Mawere as a front only to backtrack and deny his own bold assertions.

3.In the face of hypocrites masquerading as award-winning journalists, what should be the best response to deal with divisive characters who have captured the profession and are using it as a weapon to advance their ulterior motives?
4. Section 2 of the Constitution of Zimbabwe imposes a binding obligation on every person to ensure that the rule of law is promoted, protected and upheld and in this case, what should be done by ordinary citizens to ensure that people like Mr. Chin'ono are accountable for their conduct which is inimical to the rule of law?

5. Does a person like Mr. Chin'ono know that he is also subject to the constitution and possesses no title or authority to maliciously defame other people. How best can he be held accountable for his reckless and dangerous assertions he makes under the cover that he is a journalist par excellence?
6. Does his conduct based on Mpasiri's excellent interrogation not fall within conduct that is inconsistent with the constitution of Zimbabwe?
Please take notice of this announcement by ZIMRA