Mr. Norman Klein, a retired SA liquidator, exposed in a Mnangagwa-led theft of CFI shares
As background, this matter involves the theft of the entire controlling shareholding that was held in CFI, a diversified Zimbabwean conglomerate that was listed on the Zimbabwe Stock Exchange (ZSE), with Zimbabwean judicial complicity.
This expose is focusing on the role and involvement of Mr. Norman Klein whose appointment as Joint Liquidator was choreographed by President Mnangagwa's hatchet crew led by Mr. Edwin Manikai, who brazenly asserted the rights expropriated from the shareholders and directors of SMM Holdings Private Limited (SMM) in SA courts resulting in the affairs of SA insolvent estates being the conduits for criminality.
Mr. Klein who has since retired as an Insolvency Practitioner refused to respond to questions posed to him to explain his role and involvement in this bizarre and strange series of events and circumstances.
A copy of an application that is pending before the High Court of Zimbabwe under Case Number HC4377/22 in which Professor Mupasiri is seeking a declaratory order against Minister Ziyambi, the Minister responsible for administering the Reconstruction of State-Indebted Insolvent Companies Act confirming that SMM under reconstruction is not a company but an organ of the government of Zimbabwe.
This declaration will clarify the fraud that was prosecuted on SA courts on the guise that SMM under reconstruction is just like an ordinary company.
Mr. Norman Klein, was the only liquidator of the joint liquidators of Southern Asbestos Sales Pty Limited (SAS) who willingly participated in the judicial proceedings in the matter SMM Holdings (Pvt) Ltd v Mawere and Another (20235/2006) [2012] ZAGPJHC 186 (11 October 2012) that Willis J (as he was then) presided.
Mr. Klein knew that this matter involved the relationship between SMM Holdings Private Limited (SMM), a private company that prior to 6 September 2004 was controlled by a board of directors appointed by Mr. Mawere, who was a director of the company's sole parent, SMM Holdings Limited (SMMH), a company incorporated and operating in terms of the laws of the UK, and SAS, a South African company that was liquidated pursuant to a fraudulent claim premised on a non-existent relationship of SMM as a seller of asbestos and SAS as a buyer.
Mr. Klein knew that SMM under reconstruction was a creature that was governed in terms of an extra-judicial order and associated regulations that were given life by virtue of a Zimbabwean decree promulgated by the late President Mugabe.
Recently, in response to the Professor Mupasiri's application seeking President Mnangagwa to bring the Constitutional Court of Zimbabwe (CCZ) to his confidence by disclosing what he knew and his involvement in relation to the facts and circumstances surrounding the weaponizing of the right, power, authority and relationship that the government of Zimbabwe was able to establish with SMM, a private company, to apply such legal relationship in relation to the affairs of SA based companies including SAS; President Mnangagwa admitted under oath that he was the driving force in the theft of shares held by Riverridge Trading Private Limited (RTPL) and Riverridge Private Limited (RPL), in CFI Holdings Limited, a company that was listed on the Zimbabwe Stock Exchange.
In order to create a nexus between SMM under reconstruction and CFI, a scheme was hatched involving President Mnangagwa, Hon. Chinamasa, Gwaradzimba, Manikai, Pieter Colyn, Kirsty Simpson, Advocate Christo Bothma, Norman Klein, Mr. Theo Van Den Heever.
The first step was to divest and deprive Mr. Mawere of the control and management of all Zimbabwean companies using the reconstruction order as the weapon.
This was successfully accomplished on 6 September 2004. Gwaradzimba was appointed extrajudicially to assume the control and management of SMM and related companies.
The Chinamasa decree clothed Gwaradzimba whose appointed was not prosecuted in terms of the laid statutory procedures for procuring services on behalf of the state.
The facts in this matter confirm that the regulations were gazetted on 3 September 2004 and on the following Monday, Gwaradzimba was in charge and his first task was to dismiss the directors of SMM and the rest is history.
SMMH as the sole shareholder was not notified of this action and surprisingly, there was no provision for any judicial involvement in the decree.
Gwaradzimba's Appointing Authority was the Minister of Justice and as such his duty was to the Minister and not to SMM.
He occupied and continues to occupy after 18 years of purported reconstruction, an Administration position in relation to the affairs of SMM.
He represents the government of Zimbabwe who alienated by law, the shareholders and directors of SMM from the company.
Against this backdrop, a crooked SA judge by the name Epstein AJ (as he was then),
determined without any facts being led before the court that the relationship between SMM and SAS was that of a buyer and seller.
This is an extract from his judgment:

Based on this self-created fact, he then proceeded to grant a liquidation order in relation to SAS in foreign currencies notwithstanding the fact that any trade that takes place in the jurisdiction of SA has to be denominated in the lawful currency of the country i.e. Rands.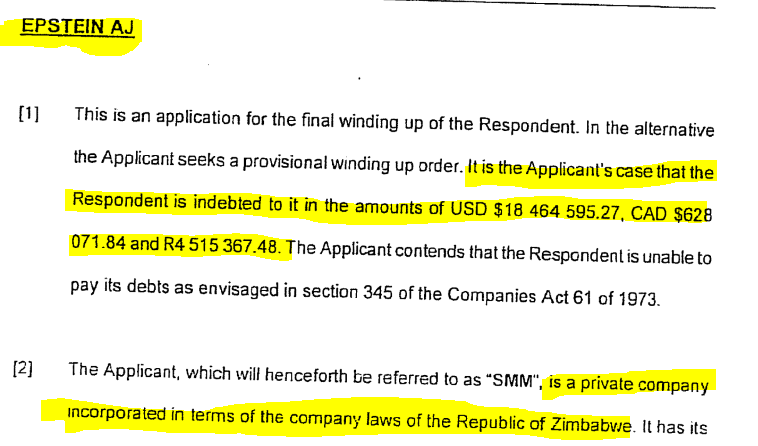 It is significant that Mr. Klein who was the witness on behalf of the government of Zimbabwe in relation to a claim that by virtue of a relationship was that was invented by Epstein AJ in the court to the effect that SAS was indebted to SMM by virtue of an agreement that he imagined in court, knew the implications of him testifying to facts that did not fall in his personal knowledge and the prospect of a double jeopardy involving the enforcement of a judgment per Epstein AJ that was sought and granted by fraud on the basis on a non-existent buyer to seller relationship between SA and SMM, an confirmed in his evidence in which he stated the following as facts:
He falsely stated as true and fact that SMM had supplied asbestos to SAS when he knew that SMM's relationship with SAS did not involve any exchange of physical with cash value.
He falsely informed the Court with a view to inducing the Court to make fraudulently determine the dispute absent facts that SAS sold asbestos it purportedly bought from SMM and invoiced such ghost customers with invoices in its name.
He also falsely stated to the Court that SAS was responsible for non-collection and as such SAS assumed US$ dollar liabilities in relation to the trading of asbestos using its name.
He falsely misrepresented that SAS was entitled to a commission yet he stated under oath that SAS was a buyer and such no buyer is ever entitled to a commission.
Although Klein falsely represented to the Court that SMM sold and delivered asbestos to SAS, he also stated to the same court that SMM was aware of the customers without disclosing which customers would be relevant in transactions involving a buyer and seller as principals.
He also misled the Court into believing that in relation to asbestos sold and delivered to SAS in SA, SMM had access to SAS' debtors and more astonishingly that SAS assumed the default risk in relation to debtors who were known at all material times to SMM.
It is significant that if Mr. Klein was not a Chartered Accountant by profession and conducted business as an insolvency practitioner as well of the reality that claimed in 2012 to have been an insolvency practitioner for approximately 45 years, one would have been tempted to forgive him for misleading the court.
To confirm that he knew about SMM under reconstruction's fraudulent intent, he confirmed to the Court that the summons, together with the particulars of claim in the action instituted by the plaintiff against SAS had been served on him and that he had been duly subpoenaed in about November/December 2011 and he had also been subpoenaed to appear at the last set-down of the trial for October 2011.
In addition, he informed the Court that: "Upon receiving the summons (re-establishing the SMM under reconstruction claim against the estate of SAS following the rejection of the same claim by the Master of the Court) , the liquidators consulted with their attorneys and sought advice from counsel. They took steps to file a notice of intention to defend. The matter was then dealt with by Mr. Vincent Matsepe, a joint liquidator. They received a formal opinion from Advocate Johan Smit but Norman Klein did not attend the consultation with him. They filed a plea that was a bare denial because there were not sufficient facts and documents to give full details of a defence. The bare denial plea was submitted because the liquidators did not want default judgment to be issued against them. After the plea had been delivered, a consultation was held on 3 November 2006 between Mr Matsepe, representing the joint liquidators, Advocate Johan Smit, the first defendant and the second defendant, along with the instructing attorney, Mr Gewer.
Accordingly, Klein knew that Goldstein that the judgment granted per Goldstein J in favour of the purported Plaintiff, SMM Holdings (Private) Limited, a company represented by an organ of a foreign state, who never bothered to comply with the law on locus in relation to a representative of a foreign claimant in relation to assets domiciled in SA, he did nothing between 2007 and the date of the hearing to examine the claim that was established through court processes and was denominated in dollars as follows: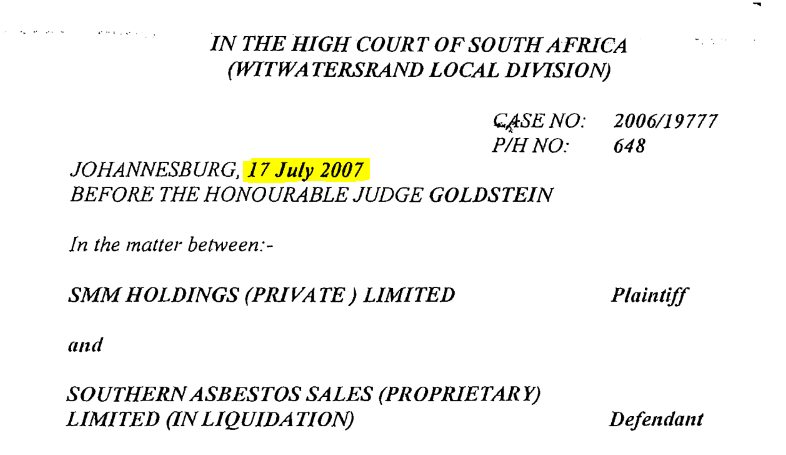 Below is the judgment granted to SMM under reconstruction with the knowledge and complicity of Klein and his fellow liquidators.

It will be noted that on paragraph 31 of Willis J judgment, it was fraudulently stated as follows:

Mr. Klein knew and ought to have known that although SMM's alleged claim for goods sold and delivered in SA to SAS, was US$18 million, SMM acting arbitrarily chose to recover purported assets of SAS in form of purported loan advanced made by SAS in relation to the acquisition of shares held by Rayberry International Limited (Rayberry), the ultimate beneficial shareholder of the RPL and RTPL shares in CFU without complying with any law or authority.
For more information on the CFI shareholding matters, please follow: https://heyzine.com/flip-book/b7934a19dc.html.
In relation to the SAS matter, Gwaradzimba stated as follows that as a matter of fact, SAS was indebted to SMM in foreign currency, without exchange control approval being required in relation to the asbestos exchange for a claim in the jurisdiction of South. He proceeded to asset that such a claim could be settled in foreign currency or could be converted from foreign currency to South African Rand for payment. Notwithstanding this misrepresentation, Klein and his fellow SAS liquidator have never stepped forward to pronounce their investigation in relation to the validity and lawfulness of a claim or judgment denominated in forex in relation to exchange that allegedly took place in SA.

With respect to authority to represent SMM, Gwaradzimba openly stated in his affidavit that was served on Klein that his authority to arose from the Reconstruction Order and it would follow that such an order would not apply in relation to a company in the ordinary sense.

With respect to the complicity of Klein in the theft of CFI shares using the instrumentality of the default claim judgment, this is what Gwaradzimba openly admitted to:
It is clear from the above that in relation to the fraudulent claim per Goldstein order, the government of Zimbabwe using the agency of DMH unlawfully deducted an amount of US$4,646,445 from the purported claim after he (GWARADZIMBA) became aware of the fact SAS had made payments of such amount on behalf of SMM under reconstruction.
Please read Gwaradzimba's evidence: https://heyzine.com/flip-book/411e70c4ea.html.
The facts of this matter show that SMM became an organ of the government of Zimbabwe with effect from 6 September 2004 and accordingly its affairs were governed in terms of the decree.
It will be noted that Gwaradzimba and his associates knew of the existence and operation of a UK-registered entity that was not linked to SAS under reconstruction that was involved in Rayberry acquisition yet Klein cooperated in the fraud against Rayberry resulting in the RPL and RTPL shares being divested using the Goldstein J judgment as a weapon: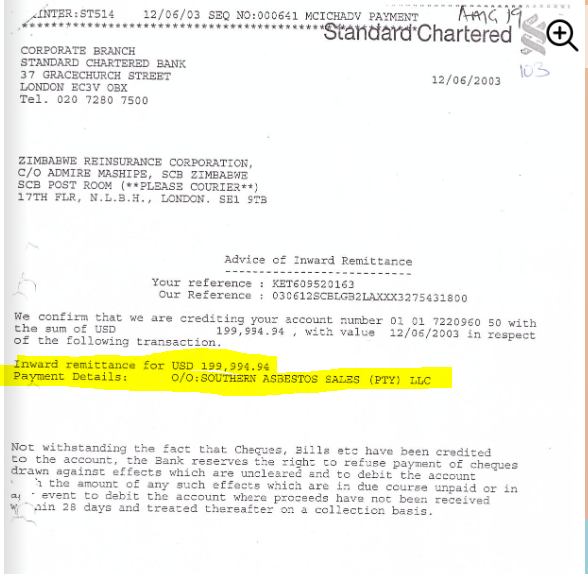 The link between the litigations in South Africa and the confiscation of the control of SMM by the government of Zimbabwe is a direct one and the following inescapable conclusions can be drawn:
SMM's control was decisive in triggering the SA litigations.
SMM under reconstruction had no legal nexus with SAS and the reconstruction created no nexus at all.
SMM under reconstruction was a different animal to SMM, the company, whose relationship with SAS was that of seller and an agent of seller in relation to marketing and collection of amounts from SMM's customers.
No asbestos was sold and delivered to SAS by SMM in SA.
SMM under reconstruction was de facto a creature of the government of Zimbabwe and a claim against SAS was effectively a claim by the government of Zimbabwe in SA against SAS, a juristic SA company.
It is a principle of law that no law has extra-territorial application. Gwaradzimba confirms that his authority to authorize SMM to litigate in SA was derived from his Zimbabwean appointment.
With respect to CFI shares to the extent that SMM under liquidation was the Petitioning Creditor in the liquidation of SAS, it follows that after the liquidation judgment was granted and it had supported the appointment of a Klein as liquidator, the involvement of SMM in the affairs of SAS could not be done without the knowledge and consent of SAS Liquidators in terms of allowing a set-off in relation to the preposterous construction that SAS funds were used to acquire shares in the BVI in relation to CFI, and such funds constituted SMM's claim against SAS, and therefore, SMM had title and authority to deduct as a preference what SAS is alleged to have owed to SMM.
This theft was done using the SA courts with the complicity of SAS liquidators.
When President Mnangagwa signed a document purporting to be his mate, see the reality?
Hopewell Chin'ono's Hypocrisy Exposed by Mr. Tinashe Mpasiri
On 24 November 2022, Mr. Hopewell Chin'ono shared this tweet on his wall: https://twitter.com/daddyhope/status/1595758807392534528?s=20&t=YflO7bnB-32EN89x_0fPfQ with the following message directed to nameless and faceless South Africans:
"What we ask from South African citizens is for your President to STOP sanitizing Corrupt Rule in Zimbabwe and to STOP lying that our economy was destroyed by sanctions Listen to our President speak about the LOOTING in 1996.
Why doesn't your president speak about free elections?"
The above mentioned tweet led to a conversation between Mr. Mpasiri, a member of the Justice Under Rule of Law (JUROL) and Mr. Chin'ono as set out on this link: https://heyzine.com/flip-book/d47b109920.html.
When asked why he had chosen to share a video of 1996 in support of his narrative that President Ramaphosa was guilty of sanitizing the corrupt practices by President Mnangagwa and his administration, Mr. Chin'ono responded as follows:
"ZPF leading Public officials operate with criminal business partners to loot public resources. For all intents and purposes sanctions are not the cause of Zim economic quagmire but ZPF looting public purse thru its puppet business partners from as far back as 1996?"
Advocate Matiza, a member of the Justice Under Rule of Law made the following observations and also a participant in the Banking on Africa's Future (BOAF) – Legal Literacy WhatsApp group, commended as follows: "It is clear from the above that by importing the video in which Mr. Mawere was featured with Minister Mnangagwa as he was known then, Mr. Chin'ono was openly alleging that Mr. Mawere was Mnangagwa's then criminal business partner who was his accomplice in looting public resources of Zimbabwe.
However, when exposed by Mr. Mpasiri, a member of JUROL and BOAF, Mr. Chin'ono backtracked as set out below:
TINASHE MPASIRI v HOPEWELL CHIN'ONO
TM: Good morning Mr Chin'ono.
My name is Tinashe Mpasiri and I am a member of the Justice Under Rule Of Law (JUROL).
I am an avid follower of your posts and exposé and certainly wish that there were more
Zimbabweans like you, working towards a diverse, inclusive, progressive and prosperous future
for all.
I just wanted to greet you and share with you a post that was shared in a group I am a part of,
that you may be able to shed more light on it.
https://twitter.com/daddyhope/status/1595758807392534528?s=08
HC: Thank you. I did an interview last night on the issue. Feel free to share it in your group
Find it here;
https://twitter.com/daddyhope/status/1595853417355784192?s=46&t=6iHx7x2V4i8IiLZyIobk_g
TM: Thank you very much sir.
Just for your information, I belong to a group with officials from Wits University and questions
arose yesterday after your sharing of the video.
I have been asked to communicate with you so I get clarity, so we can share with a proper
context.
Your narrative on the tweet is about president Ramaphosa's failure to act on corruption in
Zimbabwe, but the content of the video, appears nothing to do with the corruption angle.
Kindly assist with the link between the two.
HC: Good morning. Thank you for the question and you can share this audio in your group, you have my permission.
President Ramophosa has been at the forefront of saying incorrectly that the economic crisis in Zimbabwe has been caused by sanctions, which is not true.
The video that you are referencing, is meant to show that the economic crisis in Zimbabwe
started way before sanctions were imposed by western countries.
The economic crisis was authored by looting of public funds by ZANU PF elites and their business surrogates and the plunder of the country's natural resources.
That video shows president Mnangagwa when he was Finance Minister in 1996, speaking at an event in Washington explaining how public funds have been looted.
So my point is that the president of South Africa, Cyril Ramaphosa shouldn't be going around
misleading unsuspecting audiences, by saying that the economic crisis in Zimbabwe is being
caused by sanctions.
So for instance, president Ramaphosa talks about the social services pressures that are exerted by Zimbabweans coming into South Africa to use things like public services like health care. And all hospitals in Zimbabwe, all central hospitals in Zimbabwe, five of them, they only require 50 million to run without any shortages and that will make sure that Zimbabweans don't have to cross the border into South Africa to seek public services that are provided through hospitals but these hospitals in Zimbabwe don't have paracetamol.
The biggest hospital in Zimbabwe, Sally Mugabe hospital does not even have paracetamol, it
doesn't have basic things like bandages and 50 million is only, that's all we need to run our
central hospitals, but it's not being availed to these central hospitals.
Now, ZANU PF by its own admission, says that 150 million USD worth of gold is being smuggled by ZANU PF elites and their surrogates every month. Which means what they steal in one month can run our central hospitals for 3 years.
That is the point that I making that president Ramaphosa is misleading unsuspecting audiences by saying that the crisis in Zimbabwe which is over spilling into South Africa, is being caused by sanctions, it's not true it's caused by sanctions. It's caused by mis-governance. Thank you.
TM: Thank you very much Mr. Chin'ono.
This is very helpful and I believe we can build a shared understanding of only when we engage.
I will share your insights in my circles and beyond.
A number of questions emerge from your audio. By surrogates and having had the benefit to watch the video, who would be the surrogates and especially having regard to the fact that Minister Mnangagwa (as he were then), was speaking to a different subject matter involving empowerment and the role of government in financing it.
I could be wrong, but it is self-evident that he was talking about government programs whose
execution resulted in financial support being diverted to personal use.
Your response to the above would greatly assist.
HC: Surrogates were people like Mutumwa Mawere who was his front until they fell out.
Today surrogates refers to people like Kuda Tagwirei who has been a front for State looting
using his myriad of companies.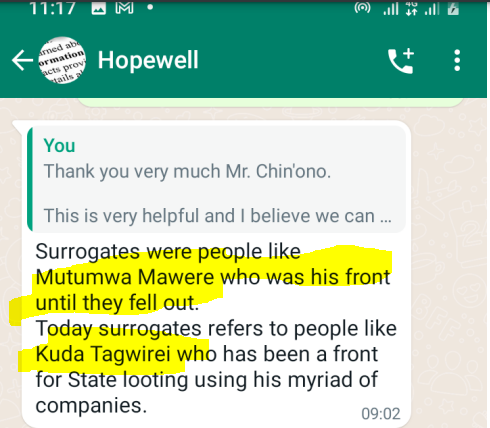 This narrative is similar to the one peddled by Chin'ono's friend and President Mnangagwa's confidante and lawyer, Mr. Edwin Manikai as follows: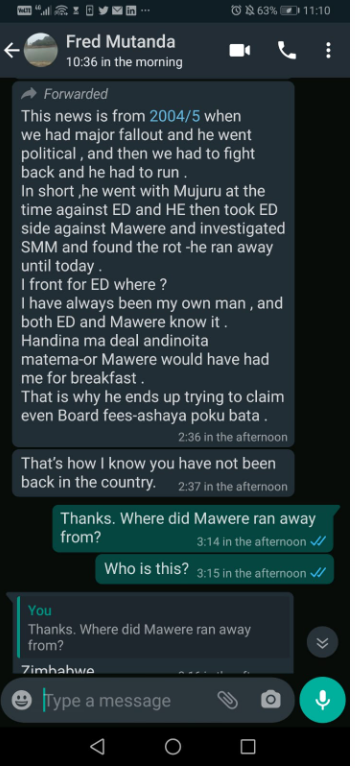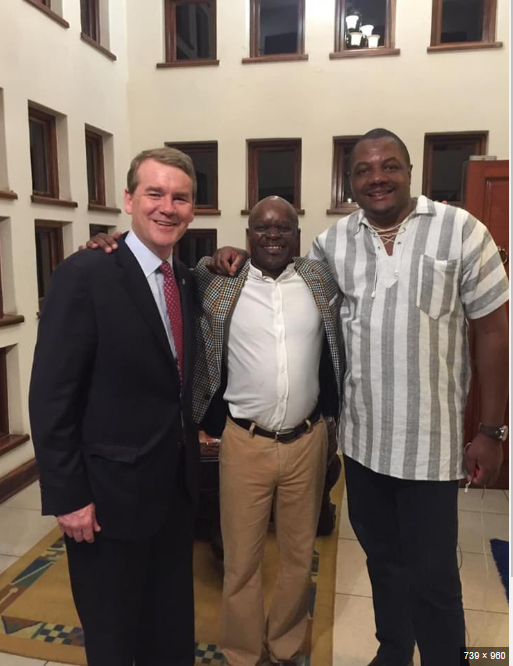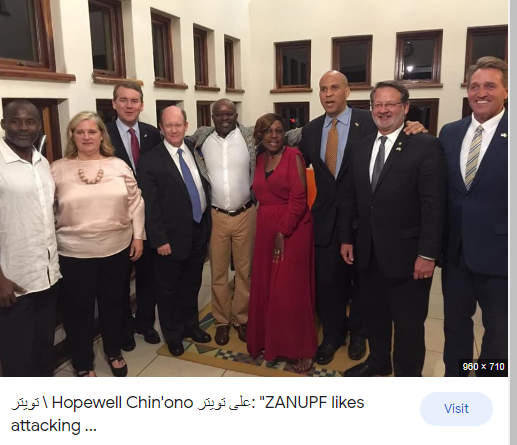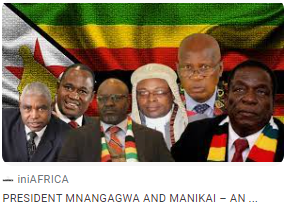 TM: Thank you for the honest response and obviously when I watched the video, I could not make the link between Mutumwa Mawere and the looting.
Perhaps you can share evidence supporting the allegation of surrogacy and the corruption
therefore in, so that I can afford both president Mnangagwa and Mawere to give their own
account of the precise nature of the alleged link between public power and private benefit.
Unfortunately, the video's content does not establish the causal link which is vital in determining any dispute in an Independent and impartial manner.
HC: I didn't say Mutumwa was corrupt.
I said that there were public funds that were doled out which amounted to looting.
You are misinterpreting what I said.
The video has nothing to do with Mutumwa being corrupt, it was meant to illustrate how public funds were looted way before sanctions.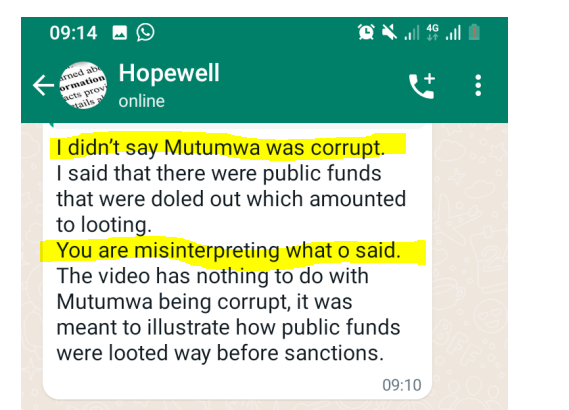 TM: Thank you for clarifying and I am intrigued by your response.
You have asserted as true and fact that Mawere was Mnangagwa front and this aspect is not
evident in the video, suggesting that evidence exists that the alleged fronting you are talking
about, is supported by concrete evidence which is required in any bona fide process, seeking to hold people accountable for their conduct or misconduct. I would be grateful if you can identify in precise terms what Mawere front for Mnangagwa.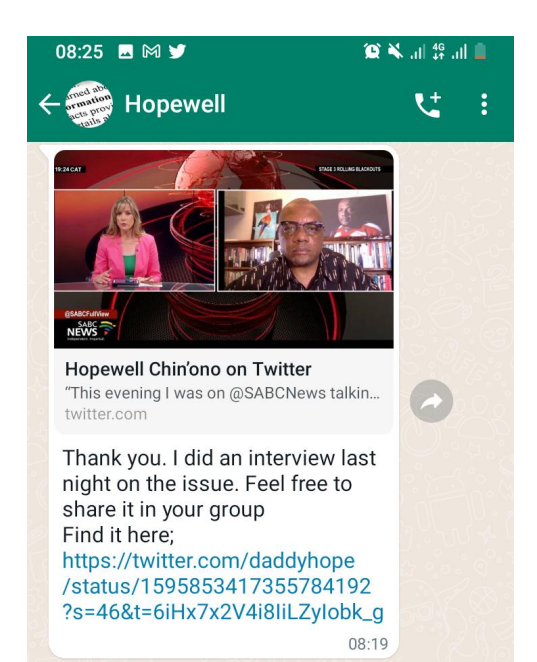 Advocate Jack Matiza who was incensed by Mr. Chin'ono's utterances remarked asked: "How can he be held responsible and accountable for social media post that damage another person reputation? My take is Hopewell is also guilty of selective amnesia he is accusing Ramaphosa of when it comes to sanctions, by stating that Mutumwa Mawere was an front of ED without providing any proof to that. Our self acclaimed award winning journalist and human right defender…ought to know that he who alleges must prove, is he not using or abusing social media or public media platforms to make unfounded statements without allowing the accused an opportunity to air their side of the story is itself an abuse of that person's basic human rights?
To which Mr. Mawere responded as follows: "What if there exists no shared understanding on what are the obligations and rights of citizenship? What Hopewell could be saying is that information that he may possess is true and fact unless proved otherwise because he holds a privileged position in society as a journalist. In this case, affinity politics would compel him to conclude that because I shared the same platform with the current President of Zimbabwe this reality confirms a generally corrupt relationship. You can imagine what the true import of state capture and the legal consequences arising for its existence."
Advocate Matiza by stating as follows: "There is certainly need to actively contribute to development of such shared understanding and common standards."
Mr. Mawere commended as follows: "If asked to explain why the conversation is intriguing, what would be your response?
Mr Chin'ono genuinely believes that CORRUPTION is the elephant in the room.
He hold the view that he occupies a special and exceptional position in relation to the affairs of Zimbabwe.
He has a view on the 1996 video."

When asked by Mr. Mawere, what identified questions arise from the hypocrisy inherent in Mr. Chin'ono's open attack against Mawere and when confronted by Mr. Manikai, he quickly denied what he had stated as true and fact, Advocate Matiza responded as follows:
1. Abuse of the profession of journalism by an acclaimed journalist who has no respect for the truth in his narratives.
2.How should one define a human rights defender especially having exposed Mr. Chin'ono's embarrassing performance by first alleging that Mnangagwa was using Mawere as a front only to backtrack and deny his own bold assertions.

3.In the face of hypocrites masquerading as award-winning journalists, what should be the best response to deal with divisive characters who have captured the profession and are using it as a weapon to advance their ulterior motives?
4. Section 2 of the Constitution of Zimbabwe imposes a binding obligation on every person to ensure that the rule of law is promoted, protected and upheld and in this case, what should be done by ordinary citizens to ensure that people like Mr. Chin'ono are accountable for their conduct which is inimical to the rule of law?

5. Does a person like Mr. Chin'ono know that he is also subject to the constitution and possesses no title or authority to maliciously defame other people. How best can he be held accountable for his reckless and dangerous assertions he makes under the cover that he is a journalist par excellence?
6. Does his conduct based on Mpasiri's excellent interrogation not fall within conduct that is inconsistent with the constitution of Zimbabwe?
Please take notice of this announcement by ZIMRA