Week 7 – The Death of Chitepo
WEEK 7: THE DEATH OF CHITEPO
Source: Special Commission on the Assassination of Herbert Whiltshire Chitepo, published in Lusaka in March 1976 by the government of Zambia.
Bishop Abel Muzorewa in Lusaka
As already stated, on the 8th March, 1975, Chitepo returned to Lusaka alone without his two colleagues, namely Hamadziripi and Chigowe. Immediately on arrival, he reported to the DARE about the events in Malawi following their trip there on the 4th March, 1975.
In his interview with His Excellency President Kaunda on Sunday the 16th March, 1975 (two days before he was killed), Chitepo told him that the situation in ZANU had got out of control and that his life (Chitepo's) was in danger. He told the President that he was being followed closely by his colleagues.
The President, according to the evidence, asked Chitepo a direct question on who was the greatest threat to his life. In answer, Chitepo named Chigowe, Tongogara and Hamadzirpi (Karangas), as the greatest threat to his life. Chitepo again availed himself of this opportunity and earnestly solicited the intervention of President Kaunda in requesting the Malawi Government to release Chigowe and Hamadziripi.
On Monday the 17th March, 1975, Bishop Abel Muzorewa arrived in Lusaka, from Zimbabwe. He was met at the International Airport by Chitepo, Chikerema and other ANC members. Together they drove to State House, where they had a preliminary meeting up to about 1700 hours that day. Bishop Muzorewa had come to Lusaka, among other things, to make a special broadcast on Radio Zambia.
At the State House meeting, according to the evidence of Chikerema, Chitepo was flanked by his former ZANU colleagues in DARE who were virtually telling him what to say. He did not express any independent views even where the occasion demanded it. Chitepo's loss of character was clearly noticeable at this meeting. According to the evidence, the bishop said to Chitepo, 'Why can't you speak your mind directly?'
Having worked out an agenda for a series of meetings to be held with the bishop the next day, the meeting adjourned. Relating what happened following the adjournment, Tongogara said, 'We all left. Mudzi left in the Chairman's car. Gumbo, Kangai and myself left in Gumbo's car. We all went to the Chairman's place in Chilenje South. We got there and had a consultative meeting. Since we were going to have e meeting at 2:30 we wanted to get down some points. It did not take us long. Between 7:30 and 8:00 p.m. the meeting was over. So, we all left and left the Chairman there. That was the last time we saw the Chairman.'
This is supported by the evidence of Gumbo, Kangai and Mudzi. Chitepo was left in his house together with his bodyguards, Shamiso, Sadat and Dovi. Not long after his colleagues had left, Chitepo went out together with Sadat in Chitepo's Volkswagon Saloon Car, Registration No. EY 7077, leaving both Shamiso and Dovi behind. The time was after 2000 hours. He visited two places that night; first he went to Remba's house and then to Lorry's house. Sadat, who accompanied Chitepo on this occasion said that at both houses, he (Sadat) remained in the car. He added that they returned home at about 2100 hours.
Chitepo parked his car in the car port of his house, locked the gate and went to bed. Sadat also went to bed. The evidence before the Commission is that Chitepo did not go out again that night; so, all seemed to have been quiet in Chitepo's house for the rest of the night.
Planting of the Bomb
After initial difficulties, the Commission got concrete evidence as to how the bomb was planted on to Chitepo's car. The decision to kill Chitepo was taken by the High Command under the Chairmanship of Tongogara on Saturday the 15th March, 1975. This decision was endorsed by the members of DARE who were present in Lusaka at that time. These were Mudzi, Gumbo, Kangai and Tongogara. These often met without Chitepo after the events of December, 1974.
The return of Chitepo from Malawi alone, the arrest of Hamadziripi and Chigowe, the possibility of Chitepo having met Mutambanengwe in Malawi, Chitepo's meetings with Zambian Government Officials without any of his colleagues being present and the report of imminent arrest of ex-ZANU leaders (Tongogara said that on the 15th March he heard that he and other ex ZANU leaders were going to be arrested by the Zambian Authorities) were the immediate reasons for the decision to kill Chitepo. The High Command and DARE also feared that Chitepo would reveal the mass executions of suspects which took place before, during and after the Chimurenga General Council at Chifombo.
After the decision to kill Chitepo had been taken by the High Command and the DARE, two men were sent to a ZANU Croat cane on the 15th March, 1975, 'to bring a "'parcel" from Rex Nhongo' The two were Charles Dauramanzi and Patrick Mpunzarima. They returned on Monday, the 17th March, 1975, with the 'parcel'. On this day, Tongogara gave Chimurenga, Rudo and Short 'a special mission'. In his statement to the police, Sadat said that while he was at the Liberation Centre Chimurenga gave him a parcel containing an unconnected bomb at 1600 hours on Monday the 17th March, 1975. Chimurenga told Sadat that the parcel contained a bomb which was to be used to kill Chitepo and warned that if Sadat revealed anything before the mission was accomplished Sadat would be killed.
. 196. When he got to Chitepo's house, Sadat hid the bomb in the Kitchen. Later that night, after he and Chitepo had returned from visit to the houses of Remba and Lorry, Sadat woke up, and, using another key, unlocked the gate to enable Chimurenga to enter any time that night.
When Chimurenga knocked at his window, Sadat woke up and handed the bomb to Chimurenga. He saw Chimurenga lying under the driver's side of the vehicle. Chimurenga told Sadat that the bomb would explode after driving for 90 meters and that Sadat should come out after a distance of 45 meters. While closing the gate, Sadat saw Rudo and another man who he could not identify.
Another witness confirmed that the High Command (of which he was a member) had decided to kill Chitepo and that on Monday, the17th M arch, 1975, Manyika was instructed by Tongogara to go to Chitepo's house that night to check whether Joseph Chimurenga, Rudo and Short were going to be there. Manyika went there and saw these three men 'busy on the car'. He reported back to Tongogara but did not inform the Zambian Authorities or Chitepo. He feared that he might himself be killed if he reported the matter.
In his evidence to the Commission, Chimurenga confirmed that he had been given a special mission to commence at 1600 hours on 17th March, 1975, together with Rudo and Short. The special mission involved the use of explosive chemicals, though he emphasized that the mission had nothing to do with the death of Chitepo. He vehemently denied being involved in any way or taking any part in the death of Chitepo. Chimurenga, however, admitted that the meeting of the High Command on the 23rd March, 1975, although it lasted the whole day, did not discuss who or what could have killed Chitepo. All the members of the High Command knew how Chitepo had died. He told the Commission that even he (Chimurenge) 'knew that 'it was Chitepo's political colleagues who were responsible for Chitepo's death. He outlined the motive as being Chitepo's suspected involvement in the Nhari uprising, the arrest of Hamadzinpi and Chigowe, and the rumored arrest of ex ZAN U leaders. What he denied, however, was personal involvement in Chitepo's death and he was indignant about some people who were placing responsibility for Chitepo's death on him.
Chitepo Killed in Bomb Blast
On Tuesday morning, the 18th March, 1975, at about 0800 hours, Chitepo entered his car and while reversing it, an explosion occurred which killed him and his bodyguard Shamiso, who was sitting beside him. A Zambian boy, Sambwa Chaya, who was playing at the adjacent house, also died as a result of the injuries he suffered from the explosion.
After the bomb incident at Chitepo's house, the house was sealed off from the public. An investigating team of bomb disposal officers led by Sandford Mwenda, visited the scene. They found that extensive damage was caused by the explosion. Windows of nearby houses, including those of Chitepo's house were shattered. The explosion caused a crater of about 20 cm deep and 35 cm wide.
In his evidence before the Commission, Mwenda said that when they got to the place, they found two bodies which were identified as those of Chitepo and Shamiso. Sadat had already been taken to hospital by the police. As a result of the explosion, Chitepo was thrown to the rear of his VW car and killed. Shamiso was thrown to the left side of the car and was also killed.
In his findings, Mwenda outlined the damage to Chitepo's car as follows:
(a) The right front wheel, wheel-drum, axle, steering rod, and the rod connecting the steering box with the wheel-drum were damaged.
(b) The steering rod had pop marks on the right side facing the right wheel fender
(c) The front axle had some pop marks on the side facing the explosion.
(d) The boot cover was ripped off and had pop marks in the right upper part next to the refueling point above the right fender.
(e) The fuel tank was punctured immediately below the refueling tube.
(f) The ventilator panel had pop marks on the right side immediately above the right fender.
(g) The right wheel fender was completely destroyed.
(h) The roof was ripped off.
(i) The front part of the driver's seat was depressed.
On the basis of his findings, Mwenda assumed that 'the charge or bomb was placed inside the right front wheel fender, close to the boot wall, towards the cab adjacent to the brake, accelerator and clutch pedals, and immediately below the fueling tube'. According to his findings, the bomb used to blast Chitepo's car was an 'improvised' one, which could be constructed in one's backyard and taken to the scene. He said that the bomb was 'pre-prepared', that is to say, it was brought to the target having been prepared elsewhere and was fixed by the use of magnets. Other possibilities were the use of rubber bands, wires or strings, but he discounted this, having regard to the nature of the charge. In his view, therefore, magnets were used to fix the charge.
From their investigations, Mwenda and his team came to the conclusion that the explosive used in the construction of the bomb was TNT(Trinitrotuleune), a very powerful explosive. Considering the damage caused, it was concluded by the expert that the explosive used was about 1.6 kg. The charge was constructed in a brass metallic container which provided the fragmentation effect.
According to Mwenda, the bomb was initiated (set off) by a pull release fuse incorporated with a safety fuse to provide the time delay. Other means of initiation were also taken into account by the team, such as chemical delay, mechanical time delay, lead fuse and others; but they were thought inapplicable in the circumstances.
Finally, Mwenda in his concluding statement to the Commission said, 'The bomb in this case seems to be similar to the one that took place at the ZAPU residence here in Lusaka at Emmasdale. The construction is about the same. We feel that this could have been an inside job within the ZANU circles, considering that these people have basic knowledge in such matters.'
According to Sub-Inspector Judah Mulomba of Zambia Police who arrived at the scene seconds after the explosion, he found three people lying on the ground. He rushed back to collect blankets from the Chilenje South Police Station, a distance of 150 meters from Chitepo's house. When he returned and while covering the bodies, he noticed that one of the three people, Sadat was still alive and arranged for him to be taken to the hospital immediately.
Sub-Inspector Mulomba disputed the claims made to the Commission by Dovi that Dovi had helped Sadat out of the car and that Dovi had collected blankets from Chitepo's house to cover the bodies. To emphasize his point, Sub-Inspector Mulomba said, 'I do not know but it sounds like he (Dovi) was trying to amuse the people here (the Commissioners). The state in which he was; he had no power to touch any- thing.'
As to whether a person could have been in Chitepo's car and at the same time survive, both Mulomba and Inspector Abiya Siwiti (another witness before the Commission) held the view that this was possible, taking into account the extent of the damage to the car.
However, in the opinion of Mwenda, the bomb expert, the possibility 'existed for Sadat to have survived the explosion if he had been in the car, since the back seat was not damaged. Mwenda argued that it was not possible for Sadat to have been standing outside the car when the explosion occurred. He said, 'If he had been standing at the door (door of Chitepo's house) he would have died in the same way that the Zambian child died.' In Mwenda's view, Sadat was protected by the two bodies of Chitepo and Shamiso in front of him. The injuries on Sadat according to Mwenda were more consistent with his having been in the car at the time of the explosion than outside it. He said, 'Some of the pieces that hit Sadat in the stomach show that he had been in the car because most of the injuries were on his right side.' Mr Mwenda said further, 'My response as to whether or not Sadat was in the car is based on the analysis of the injuries he suffered."
Stay tuned for next Friday's installment – Chapter 8 – The Aftermath of Chitepo's Death
Source: Special Commission on the Assassination of Herbert Whiltshire Chitepo, published in Lusaka in March 1976 by the government of Zambia.
When President Mnangagwa signed a document purporting to be his mate, see the reality?
Hopewell Chin'ono's Hypocrisy Exposed by Mr. Tinashe Mpasiri
On 24 November 2022, Mr. Hopewell Chin'ono shared this tweet on his wall: https://twitter.com/daddyhope/status/1595758807392534528?s=20&t=YflO7bnB-32EN89x_0fPfQ with the following message directed to nameless and faceless South Africans:
"What we ask from South African citizens is for your President to STOP sanitizing Corrupt Rule in Zimbabwe and to STOP lying that our economy was destroyed by sanctions Listen to our President speak about the LOOTING in 1996.
Why doesn't your president speak about free elections?"
The above mentioned tweet led to a conversation between Mr. Mpasiri, a member of the Justice Under Rule of Law (JUROL) and Mr. Chin'ono as set out on this link: https://heyzine.com/flip-book/d47b109920.html.
When asked why he had chosen to share a video of 1996 in support of his narrative that President Ramaphosa was guilty of sanitizing the corrupt practices by President Mnangagwa and his administration, Mr. Chin'ono responded as follows:
"ZPF leading Public officials operate with criminal business partners to loot public resources. For all intents and purposes sanctions are not the cause of Zim economic quagmire but ZPF looting public purse thru its puppet business partners from as far back as 1996?"
Advocate Matiza, a member of the Justice Under Rule of Law made the following observations and also a participant in the Banking on Africa's Future (BOAF) – Legal Literacy WhatsApp group, commended as follows: "It is clear from the above that by importing the video in which Mr. Mawere was featured with Minister Mnangagwa as he was known then, Mr. Chin'ono was openly alleging that Mr. Mawere was Mnangagwa's then criminal business partner who was his accomplice in looting public resources of Zimbabwe.
However, when exposed by Mr. Mpasiri, a member of JUROL and BOAF, Mr. Chin'ono backtracked as set out below:
TINASHE MPASIRI v HOPEWELL CHIN'ONO
TM: Good morning Mr Chin'ono.
My name is Tinashe Mpasiri and I am a member of the Justice Under Rule Of Law (JUROL).
I am an avid follower of your posts and exposé and certainly wish that there were more
Zimbabweans like you, working towards a diverse, inclusive, progressive and prosperous future
for all.
I just wanted to greet you and share with you a post that was shared in a group I am a part of,
that you may be able to shed more light on it.
https://twitter.com/daddyhope/status/1595758807392534528?s=08
HC: Thank you. I did an interview last night on the issue. Feel free to share it in your group
Find it here;
https://twitter.com/daddyhope/status/1595853417355784192?s=46&t=6iHx7x2V4i8IiLZyIobk_g
TM: Thank you very much sir.
Just for your information, I belong to a group with officials from Wits University and questions
arose yesterday after your sharing of the video.
I have been asked to communicate with you so I get clarity, so we can share with a proper
context.
Your narrative on the tweet is about president Ramaphosa's failure to act on corruption in
Zimbabwe, but the content of the video, appears nothing to do with the corruption angle.
Kindly assist with the link between the two.
HC: Good morning. Thank you for the question and you can share this audio in your group, you have my permission.
President Ramophosa has been at the forefront of saying incorrectly that the economic crisis in Zimbabwe has been caused by sanctions, which is not true.
The video that you are referencing, is meant to show that the economic crisis in Zimbabwe
started way before sanctions were imposed by western countries.
The economic crisis was authored by looting of public funds by ZANU PF elites and their business surrogates and the plunder of the country's natural resources.
That video shows president Mnangagwa when he was Finance Minister in 1996, speaking at an event in Washington explaining how public funds have been looted.
So my point is that the president of South Africa, Cyril Ramaphosa shouldn't be going around
misleading unsuspecting audiences, by saying that the economic crisis in Zimbabwe is being
caused by sanctions.
So for instance, president Ramaphosa talks about the social services pressures that are exerted by Zimbabweans coming into South Africa to use things like public services like health care. And all hospitals in Zimbabwe, all central hospitals in Zimbabwe, five of them, they only require 50 million to run without any shortages and that will make sure that Zimbabweans don't have to cross the border into South Africa to seek public services that are provided through hospitals but these hospitals in Zimbabwe don't have paracetamol.
The biggest hospital in Zimbabwe, Sally Mugabe hospital does not even have paracetamol, it
doesn't have basic things like bandages and 50 million is only, that's all we need to run our
central hospitals, but it's not being availed to these central hospitals.
Now, ZANU PF by its own admission, says that 150 million USD worth of gold is being smuggled by ZANU PF elites and their surrogates every month. Which means what they steal in one month can run our central hospitals for 3 years.
That is the point that I making that president Ramaphosa is misleading unsuspecting audiences by saying that the crisis in Zimbabwe which is over spilling into South Africa, is being caused by sanctions, it's not true it's caused by sanctions. It's caused by mis-governance. Thank you.
TM: Thank you very much Mr. Chin'ono.
This is very helpful and I believe we can build a shared understanding of only when we engage.
I will share your insights in my circles and beyond.
A number of questions emerge from your audio. By surrogates and having had the benefit to watch the video, who would be the surrogates and especially having regard to the fact that Minister Mnangagwa (as he were then), was speaking to a different subject matter involving empowerment and the role of government in financing it.
I could be wrong, but it is self-evident that he was talking about government programs whose
execution resulted in financial support being diverted to personal use.
Your response to the above would greatly assist.
HC: Surrogates were people like Mutumwa Mawere who was his front until they fell out.
Today surrogates refers to people like Kuda Tagwirei who has been a front for State looting
using his myriad of companies.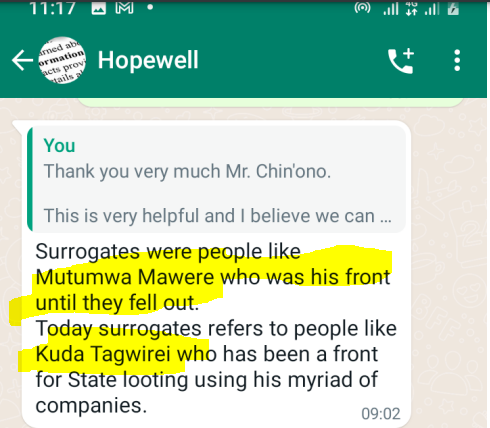 This narrative is similar to the one peddled by Chin'ono's friend and President Mnangagwa's confidante and lawyer, Mr. Edwin Manikai as follows: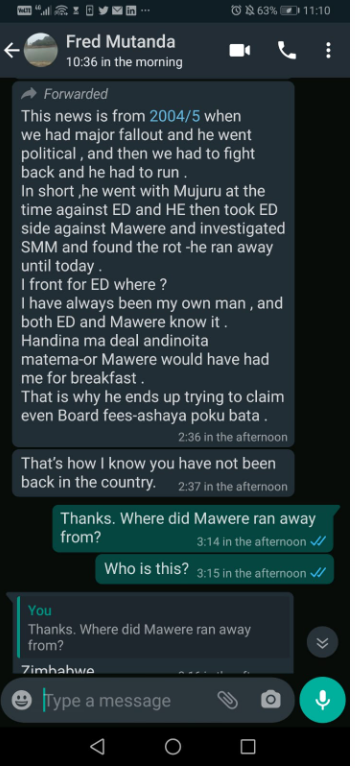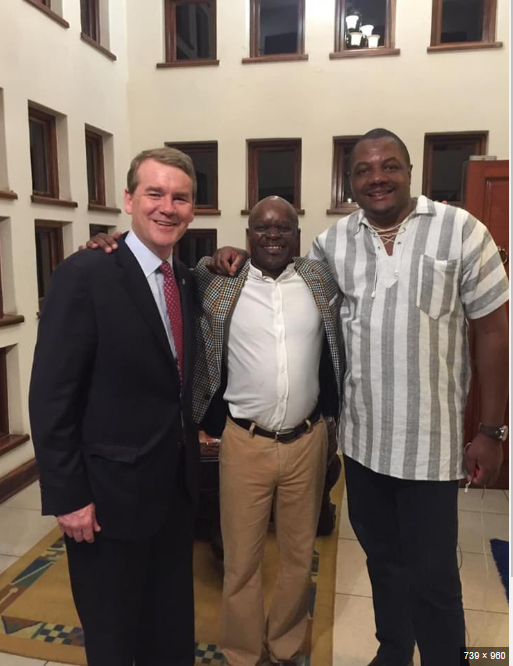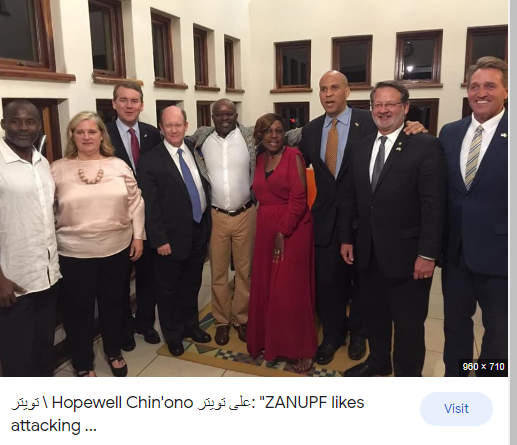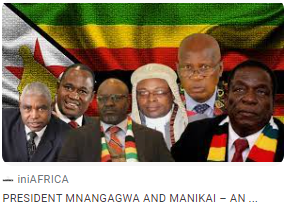 TM: Thank you for the honest response and obviously when I watched the video, I could not make the link between Mutumwa Mawere and the looting.
Perhaps you can share evidence supporting the allegation of surrogacy and the corruption
therefore in, so that I can afford both president Mnangagwa and Mawere to give their own
account of the precise nature of the alleged link between public power and private benefit.
Unfortunately, the video's content does not establish the causal link which is vital in determining any dispute in an Independent and impartial manner.
HC: I didn't say Mutumwa was corrupt.
I said that there were public funds that were doled out which amounted to looting.
You are misinterpreting what I said.
The video has nothing to do with Mutumwa being corrupt, it was meant to illustrate how public funds were looted way before sanctions.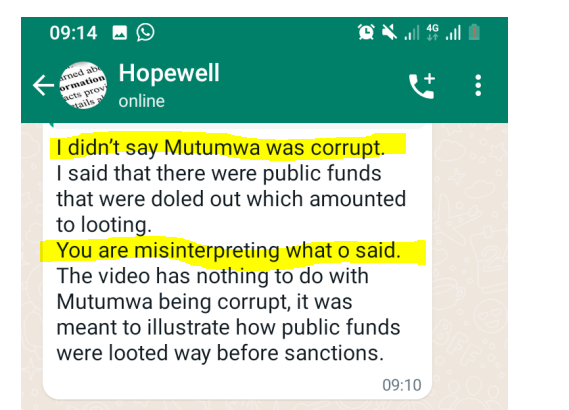 TM: Thank you for clarifying and I am intrigued by your response.
You have asserted as true and fact that Mawere was Mnangagwa front and this aspect is not
evident in the video, suggesting that evidence exists that the alleged fronting you are talking
about, is supported by concrete evidence which is required in any bona fide process, seeking to hold people accountable for their conduct or misconduct. I would be grateful if you can identify in precise terms what Mawere front for Mnangagwa.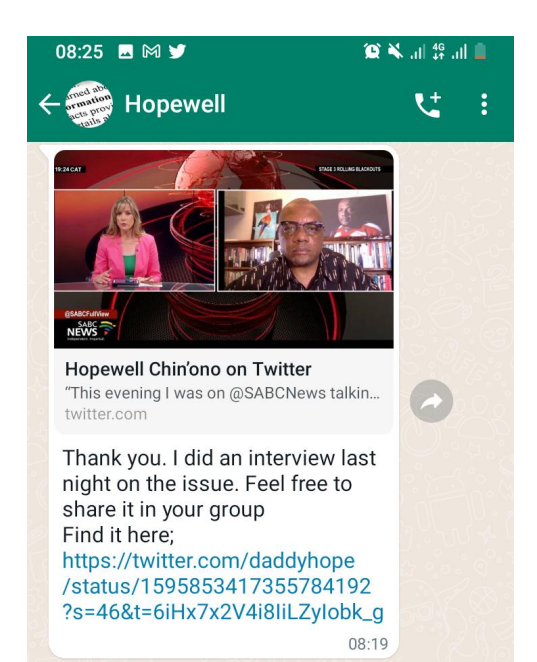 Advocate Jack Matiza who was incensed by Mr. Chin'ono's utterances remarked asked: "How can he be held responsible and accountable for social media post that damage another person reputation? My take is Hopewell is also guilty of selective amnesia he is accusing Ramaphosa of when it comes to sanctions, by stating that Mutumwa Mawere was an front of ED without providing any proof to that. Our self acclaimed award winning journalist and human right defender…ought to know that he who alleges must prove, is he not using or abusing social media or public media platforms to make unfounded statements without allowing the accused an opportunity to air their side of the story is itself an abuse of that person's basic human rights?
To which Mr. Mawere responded as follows: "What if there exists no shared understanding on what are the obligations and rights of citizenship? What Hopewell could be saying is that information that he may possess is true and fact unless proved otherwise because he holds a privileged position in society as a journalist. In this case, affinity politics would compel him to conclude that because I shared the same platform with the current President of Zimbabwe this reality confirms a generally corrupt relationship. You can imagine what the true import of state capture and the legal consequences arising for its existence."
Advocate Matiza by stating as follows: "There is certainly need to actively contribute to development of such shared understanding and common standards."
Mr. Mawere commended as follows: "If asked to explain why the conversation is intriguing, what would be your response?
Mr Chin'ono genuinely believes that CORRUPTION is the elephant in the room.
He hold the view that he occupies a special and exceptional position in relation to the affairs of Zimbabwe.
He has a view on the 1996 video."

When asked by Mr. Mawere, what identified questions arise from the hypocrisy inherent in Mr. Chin'ono's open attack against Mawere and when confronted by Mr. Manikai, he quickly denied what he had stated as true and fact, Advocate Matiza responded as follows:
1. Abuse of the profession of journalism by an acclaimed journalist who has no respect for the truth in his narratives.
2.How should one define a human rights defender especially having exposed Mr. Chin'ono's embarrassing performance by first alleging that Mnangagwa was using Mawere as a front only to backtrack and deny his own bold assertions.

3.In the face of hypocrites masquerading as award-winning journalists, what should be the best response to deal with divisive characters who have captured the profession and are using it as a weapon to advance their ulterior motives?
4. Section 2 of the Constitution of Zimbabwe imposes a binding obligation on every person to ensure that the rule of law is promoted, protected and upheld and in this case, what should be done by ordinary citizens to ensure that people like Mr. Chin'ono are accountable for their conduct which is inimical to the rule of law?

5. Does a person like Mr. Chin'ono know that he is also subject to the constitution and possesses no title or authority to maliciously defame other people. How best can he be held accountable for his reckless and dangerous assertions he makes under the cover that he is a journalist par excellence?
6. Does his conduct based on Mpasiri's excellent interrogation not fall within conduct that is inconsistent with the constitution of Zimbabwe?
Please take notice of this announcement by ZIMRA