Meet Mr. Shaine Kamhungira, one of 10,000 positive stories why immigration of Africans to SA is not all negative.
Africa is divided into nation-states, tribes, clans, families and individuals but above all, the address of the power to reason and freewill is the individual or the grain in the sand of fellow human actors.
It is the human actor who is mobile and possesses the power of causation and agency. Today, we present, Mr. Shaine Kamhungira, a Zimbabwean born aspiring film maker who decided to leave Zimbabwe to prosecute his craft and secure a better life than what he perceived Zimbabwe to offer.
Mr. Kamhungira, was born on 14 April 1988, and he describes himself as an aspiring script writer and film producer.
"I was introduced to the world of content creation in the year 2016 when I was a producer presenter for a radio program called, Mubanha Nhamo Show. The show aired on Diamond FM, a community radio station in the eastern border city of Mutare. The show focused on promoting entrepreneurship and would invite start up business owners to come on radio and share their experiences with listeners
I left Diamond FM to pursue my longtime dream of being a film producer and produced my first documentary film called Entreprenuer.com and some of its episodes were broadcasted on the Zimbabwe national broadcaster, ZBC.
I came to South Africa two years ago, and so far I have done two productions as follows: (1) Life Beyond Borders that I host on my YouTube Channel. Life Beyond Borders highlights some of the challenges that foreign nationals face when they arrive in South Africa.
I have also written and produced a documentary feature film titled Zimbabwe's untold story. The film highlights the reasons why there is massive migration of Zimbabweans into South Africa.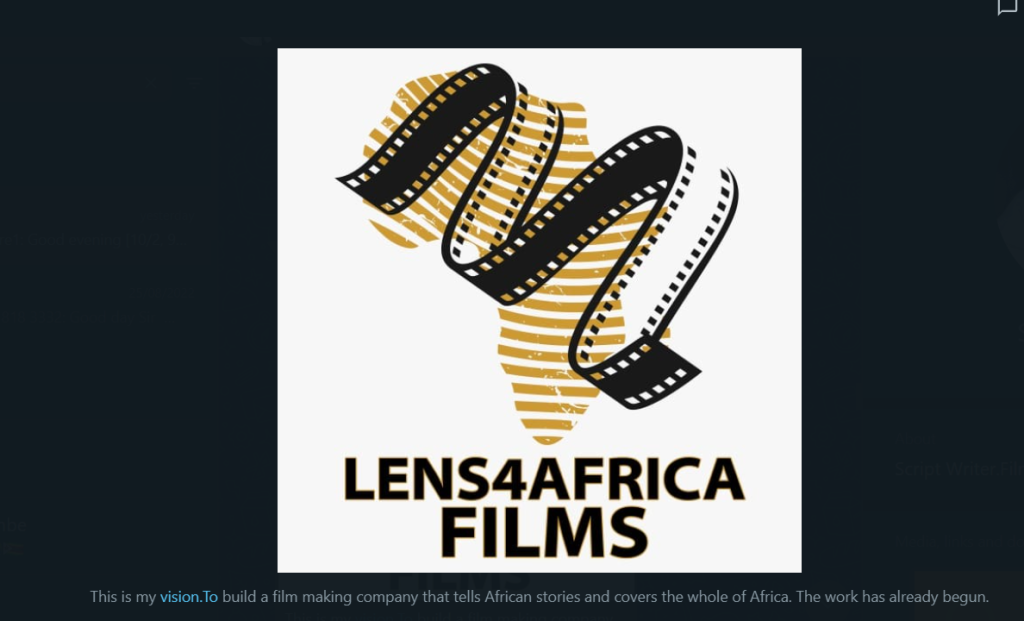 I am passionate about film making, I am hardworking and honest and I am always willing to learn new skills," said Mr. Kamhungira.
Set out below is a chat between Mr. Kamhungira and a member of the Banking on Africa's Future (BOAF) – 10,000 POL campaign to identify, profile, showcase, and salute the lives of diverse migrants on a digital platform as a way of raising awareness that not all migrants choose South Africa as a destination to undermine the rule of law and to interfere with the opportunities that documented persons are privileged to access.
Mr. Koomson, Director of Social Inclusion at the Africa Heritage Society (AHS) powered BOAF campaign said, "It does not occur to me that if all foreigners were exterminated or deported, SA citizens will be better for it.
I was talking to a number of undocumented workers in the hospitality industry and I posed a rhetorical question on who their employers were.
All of them identified the firm that presumably employed them. When I asked a further question as to whether they serve customers or the customers, they all said they served the customers. I then asked if they differentiated the customers by the tips they get for service or whether they were documented or not. They responded affirmatively saying that they serve food and beverages and this is what customers pay for. I then said, what if the hospitality industry coming from the covid19 factor need tourists to protect jobs and incomes in the industry, should these undocumented service providers be deported without any consideration to the customers who does not need to be South African born.
They all responded by saying that the issue of Identity Politics if not handled with care, can be counterproductive not least because customers when stripped of choice by law or administrative measures, can simply refuse to visit South Africa is they are foreign and this will adversely affect the country's prospects.
I am, therefore, excited that a script writer and documentary film producer chose South Africa as a base to produce content that may provoke, ignite and inspire tourists to choose to visit and also for the root causes of unmanaged and uncontrolled migration to be known and hopefully for lasting solutions to be found."
ENJOY THE CHAT AND IF YOU LIKE THIS ONE STORY OUT OF 10,000 STORIES TO COME UNDER THIS PROJECT, PLEASE CONTACT +27745182620
[10/2, 10:07 AM] POL00012: Are you originally from Zimbabwe? If yes, when and why did you choose SA as a place to live and work?
[10/2, 10:09 AM] SHAINE KAMHUNGIRA: I was born and spent most of my adult life in Zimbabwe. I have been in SA for 2 years' now
[10/2, 10:10 AM] SHAINE KAMHUNGIRA: South Africa is the closest country to Zimbabwe that has a modern and sophisticated economy. So I reckoned it was the best place for me to seek opportunities
[10/2, 10:12 AM] POL00012: Would I be correct to conclude that distance is what drove you to go south or the quest for a better life?
[10/2, 10:13 AM] SHAINE KAMHUNGIRA: Distance yes and easy access. If I could go to Australia, I could but I have no access to go there
[10/2, 10:14 AM] POL00012: Why would you choose to leave a place of birth to a place with no support system and hostility?
[10/2, 10:17 AM] SHAINE KAMHUNGIRA: To pursue my vision of becoming a film producer. My place of birth has limited opportunities
[10/2, 10:22 AM] POL00012: Why is it that your country of birth has limited opportunities?
Did you consider that your selfish decision to cross the border is a cost to South Africans who also may want to become film producers?
[10/2, 10:26 AM] SHAINE KAMHUNGIRA: There are limited opportunities because of the economic, political and social environment
I produced for ZBC and I did not get a cent for my efforts
How are you supposed to grow if you are donating content to a broke national broadcaster?
[10/2, 10:27 AM] POL00012: How long did you produce in Zimbabwe and kindly share your pathway to the point you chose to cross the border?
[10/2, 10:28 AM] SHAINE KAMHUNGIRA: Filming making is based on creativity. It's an intellectual thing. I don't see where I have taken an opportunity from South African
[10/2, 10:29 AM] POL00012: Do you agree that what you see in your self-interest need not be seen using your eyes by another?
[10/2, 10:31 AM] SHAINE KAMHUNGIRA: I produced for about 4 years. When I realized I was not growing I had an idea of doing it here in South Africa
[10/2, 10:31 AM] SHAINE KAMHUNGIRA: ??
[10/2, 10:33 AM] POL00012: Do you agree that there are South Africans who believe that their citizenship and right to use SA as an address to advance their interests is superior to you right or privilege?
[10/2, 10:36 AM] SHAINE KAMHUNGIRA: Yes, definitely. All foreigners are looked down upon. No matter how intelligent you are.
But the challenge is mainly from black South Africans
Whites are more receptive
[10/2, 10:37 AM] POL00012: Why choose to generalize instead of talking to lived experiences?
[10/2, 10:38 AM] POL00012: Have you been exposed to any prejudices since you arrived in SA?
[10/2, 10:38 AM] SHAINE KAMHUNGIRA: You can see it in the work place. Black South have a superiority complex
[10/2, 10:39 AM] POL00012: Is it all blacks or the few that you have come across?
[10/2, 10:42 AM] SHAINE KAMHUNGIRA: I work in restaurants
There is way that South Africans view people who come from other countries who are also African
It becomes better if you learn their language. If you act like them.
They will accept you as one of them
[10/2, 10:44 AM] SHAINE KAMHUNGIRA: I think we do it as well
There is a way we view other foreign nationals
For example, there is this norm of looking down on people from Malawi
Because of their English etc etc
We then feel more superior to them
[10/2, 10:44 AM] POL00012: Are you suggesting that on between your two ears, is the universe of all black South African experiences in relation to Zimbabweans?
[10/2, 10:47 AM] SHAINE KAMHUNGIRA: No some of them are good people
[10/2, 10:47 AM] SHAINE KAMHUNGIRA: But we will always be a threat to their existence
[10/2, 10:48 AM] POL00012: Let us turn to your chosen career, film production, imagine it was midnight and you were asked to identify 5 film producers who you think stand out as shinning stars, who would they be?
[10/2, 10:49 AM] POL00012: Why should you compound yourself with unknown others?
[10/2, 10:52 AM] SHAINE KAMHUNGIRA: There is a lady called Nakai Tsuro from Zimbabwe she is doing good productions
Tsitsi Dangarembga is also a seasoned film maker from Zimbabwe
Ben Mahaka
Steven Spielberg
Quenton Tarantino
[10/2, 10:55 AM] POL00012: Thanks. Who would you want to be like?
[10/2, 10:56 AM] SHAINE KAMHUNGIRA: On this list?
[10/2, 10:56 AM] SHAINE KAMHUNGIRA: Or my personal vision
[10/2, 10:56 AM] POL00012: It is your choice.
[10/2, 11:06 AM] POL00012: Who do you regard as your personal role model?
[10/2, 11:07 AM] SHAINE KAMHUNGIRA: You are one of them
[10/2, 11:08 AM] POL00012: Say so and explain why?
[10/2, 11:14 AM] SHAINE KAMHUNGIRA: If you could establish a business empire
[10/2, 11:14 AM] SHAINE KAMHUNGIRA: Then surely it's possible for me to establish a film production company
[10/2, 11:18 AM] POL00012: Can you tell us about the documentary that you recently produced and what inspired it?
[10/2, 11:28 AM] SHAINE KAMHUNGIRA: The documentary features Cde Margaret Dongo
The late ZAPU Chairperson Cde Mark Mbayiwa
And an author Trymore Chiguvare
They all give an account of Zimbabwe's socio-economic and political environment since independence to the current
It talks of Gukurahundi and the land redistribution program
And how all these anomalies have led to the migration of Zimbabweans into SA
[10/2, 11:29 AM] POL00012: Do you agree that a decision to leave Zimbabwe or any country of birth, is a personal one?
[10/2, 11:35 AM] SHAINE KAMHUNGIRA: Yes, it's personal
[10/2, 6:00 PM] SHAINE KAMHUNGIRA: Maswera sei
[10/2, 6:01 PM] POL00012: Was the Q&A helpful?
[10/2, 6:46 PM] SHAINE KAMHUNGIRA: It was very helpful
[10/2, 6:47 PM] POL00012: When can we finish the last part?
[10/2, 6:56 PM] SHAINE KAMHUNGIRA: Even today
[10/2, 6:56 PM] SHAINE KAMHUNGIRA: I have some questions for you as well sir if you don't mind
[10/2, 6:56 PM] POL00012: Ok
[10/2, 6:57 PM] SHAINE KAMHUNGIRA: The initiative is meant for Zimbabweans only
[10/2, 6:57 PM] SHAINE KAMHUNGIRA: Or it is meant for all foreigners
[10/2, 6:58 PM] POL00012: What came to mind when the campaign to convert undocumented to documented human beings who are already living and working in South Africa from different African addresses?
[10/2, 7:03 PM] SHAINE KAMHUNGIRA: I thought is this achievable
And I thought what could be my role in this campaign
I realized film could be a tool to achieve this
[10/2, 7:06 PM] POL00012: Do you think this campaign should be limited to people of Zimbabwean heritage or be part of nation building on the back of the idea that diversity is strength.
[10/2, 7:10 PM] SHAINE KAMHUNGIRA: I think it should go across all foreign nationals.
However, to get the ball rolling and to get the campaign on the go it is easier to start with Zimbabweans
[10/2, 7:13 PM] POL00012: Do you agree that immigration is an inherently divisive issue and assume you were inducted to the 10,000 Points of Light Hall of African Famers, what would be your key questions that you think need to be popularized to raise awareness that SA is better if you were assimilated into it?
[10/2, 8:06 PM] POL00012: ?
[10/2, 8:31 PM] SHAINE KAMHUNGIRA: How can foreign nationals not belong in South Africa,are they not Africans?
If South Africa is one of the most sophisticated economy on the continent, why then is it a challenge that it attracts immigrants from other countries?
[10/2, 8:38 PM] POL00012: You ask how can foreign nationals not belong to SA when the reality of anti-foreign African immigrants is alive and well.
Are you suggesting that natives of South Africa have no right to limit or stop the conversation of undocumented foreign immigrants into documented residents and citizens?
[10/2, 8:48 PM] SHAINE KAMHUNGIRA: They have every right. However, it's the way they question
Obviously there should be some form of order and control when dealing with immigrants' no one is disputing that
Immigrants should get access to documentation. People don't just leave their country of origin for no reason.
There are push factors and pull factors. So at the end of the day saying to someone you don't belong here it sounds inhuman
[10/2, 9:01 PM] POL00012: Should people who by virtue of birth and place of birth in SA not enjoy a better claim to exclude foreign born persons from belonging or assimilating?
When President Mnangagwa signed a document purporting to be his mate, see the reality?
Hopewell Chin'ono's Hypocrisy Exposed by Mr. Tinashe Mpasiri
On 24 November 2022, Mr. Hopewell Chin'ono shared this tweet on his wall: https://twitter.com/daddyhope/status/1595758807392534528?s=20&t=YflO7bnB-32EN89x_0fPfQ with the following message directed to nameless and faceless South Africans:
"What we ask from South African citizens is for your President to STOP sanitizing Corrupt Rule in Zimbabwe and to STOP lying that our economy was destroyed by sanctions Listen to our President speak about the LOOTING in 1996.
Why doesn't your president speak about free elections?"
The above mentioned tweet led to a conversation between Mr. Mpasiri, a member of the Justice Under Rule of Law (JUROL) and Mr. Chin'ono as set out on this link: https://heyzine.com/flip-book/d47b109920.html.
When asked why he had chosen to share a video of 1996 in support of his narrative that President Ramaphosa was guilty of sanitizing the corrupt practices by President Mnangagwa and his administration, Mr. Chin'ono responded as follows:
"ZPF leading Public officials operate with criminal business partners to loot public resources. For all intents and purposes sanctions are not the cause of Zim economic quagmire but ZPF looting public purse thru its puppet business partners from as far back as 1996?"
Advocate Matiza, a member of the Justice Under Rule of Law made the following observations and also a participant in the Banking on Africa's Future (BOAF) – Legal Literacy WhatsApp group, commended as follows: "It is clear from the above that by importing the video in which Mr. Mawere was featured with Minister Mnangagwa as he was known then, Mr. Chin'ono was openly alleging that Mr. Mawere was Mnangagwa's then criminal business partner who was his accomplice in looting public resources of Zimbabwe.
However, when exposed by Mr. Mpasiri, a member of JUROL and BOAF, Mr. Chin'ono backtracked as set out below:
TINASHE MPASIRI v HOPEWELL CHIN'ONO
TM: Good morning Mr Chin'ono.
My name is Tinashe Mpasiri and I am a member of the Justice Under Rule Of Law (JUROL).
I am an avid follower of your posts and exposé and certainly wish that there were more
Zimbabweans like you, working towards a diverse, inclusive, progressive and prosperous future
for all.
I just wanted to greet you and share with you a post that was shared in a group I am a part of,
that you may be able to shed more light on it.
https://twitter.com/daddyhope/status/1595758807392534528?s=08
HC: Thank you. I did an interview last night on the issue. Feel free to share it in your group
Find it here;
https://twitter.com/daddyhope/status/1595853417355784192?s=46&t=6iHx7x2V4i8IiLZyIobk_g
TM: Thank you very much sir.
Just for your information, I belong to a group with officials from Wits University and questions
arose yesterday after your sharing of the video.
I have been asked to communicate with you so I get clarity, so we can share with a proper
context.
Your narrative on the tweet is about president Ramaphosa's failure to act on corruption in
Zimbabwe, but the content of the video, appears nothing to do with the corruption angle.
Kindly assist with the link between the two.
HC: Good morning. Thank you for the question and you can share this audio in your group, you have my permission.
President Ramophosa has been at the forefront of saying incorrectly that the economic crisis in Zimbabwe has been caused by sanctions, which is not true.
The video that you are referencing, is meant to show that the economic crisis in Zimbabwe
started way before sanctions were imposed by western countries.
The economic crisis was authored by looting of public funds by ZANU PF elites and their business surrogates and the plunder of the country's natural resources.
That video shows president Mnangagwa when he was Finance Minister in 1996, speaking at an event in Washington explaining how public funds have been looted.
So my point is that the president of South Africa, Cyril Ramaphosa shouldn't be going around
misleading unsuspecting audiences, by saying that the economic crisis in Zimbabwe is being
caused by sanctions.
So for instance, president Ramaphosa talks about the social services pressures that are exerted by Zimbabweans coming into South Africa to use things like public services like health care. And all hospitals in Zimbabwe, all central hospitals in Zimbabwe, five of them, they only require 50 million to run without any shortages and that will make sure that Zimbabweans don't have to cross the border into South Africa to seek public services that are provided through hospitals but these hospitals in Zimbabwe don't have paracetamol.
The biggest hospital in Zimbabwe, Sally Mugabe hospital does not even have paracetamol, it
doesn't have basic things like bandages and 50 million is only, that's all we need to run our
central hospitals, but it's not being availed to these central hospitals.
Now, ZANU PF by its own admission, says that 150 million USD worth of gold is being smuggled by ZANU PF elites and their surrogates every month. Which means what they steal in one month can run our central hospitals for 3 years.
That is the point that I making that president Ramaphosa is misleading unsuspecting audiences by saying that the crisis in Zimbabwe which is over spilling into South Africa, is being caused by sanctions, it's not true it's caused by sanctions. It's caused by mis-governance. Thank you.
TM: Thank you very much Mr. Chin'ono.
This is very helpful and I believe we can build a shared understanding of only when we engage.
I will share your insights in my circles and beyond.
A number of questions emerge from your audio. By surrogates and having had the benefit to watch the video, who would be the surrogates and especially having regard to the fact that Minister Mnangagwa (as he were then), was speaking to a different subject matter involving empowerment and the role of government in financing it.
I could be wrong, but it is self-evident that he was talking about government programs whose
execution resulted in financial support being diverted to personal use.
Your response to the above would greatly assist.
HC: Surrogates were people like Mutumwa Mawere who was his front until they fell out.
Today surrogates refers to people like Kuda Tagwirei who has been a front for State looting
using his myriad of companies.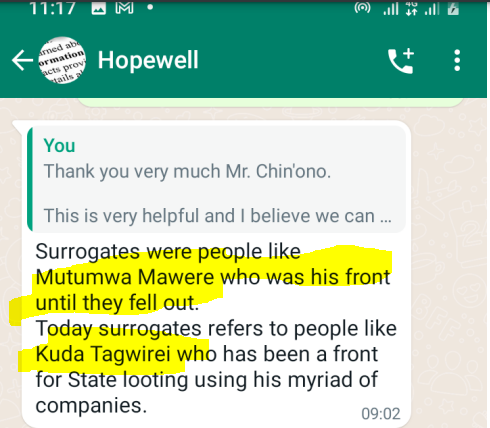 This narrative is similar to the one peddled by Chin'ono's friend and President Mnangagwa's confidante and lawyer, Mr. Edwin Manikai as follows: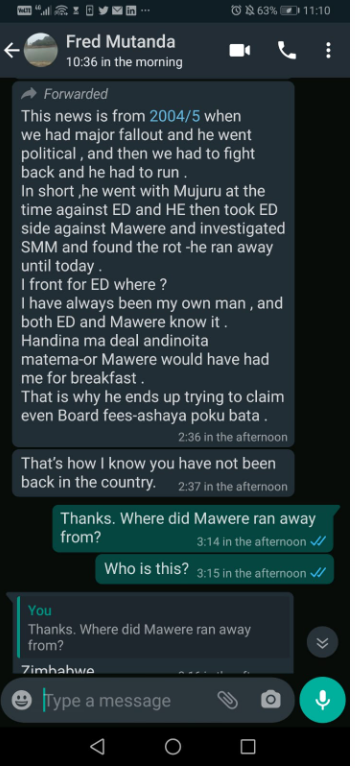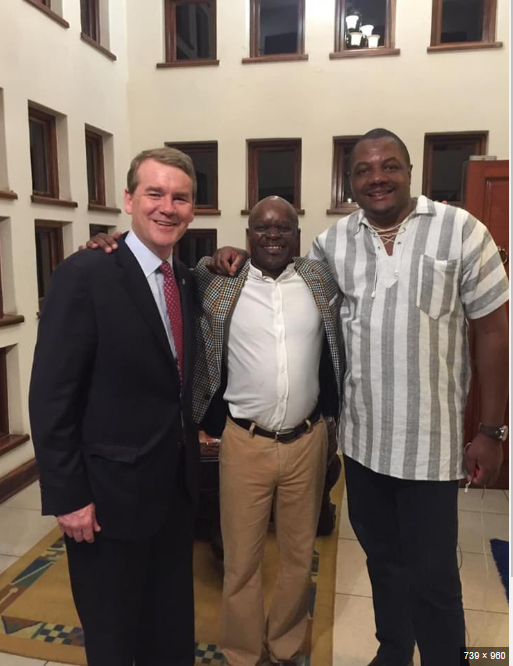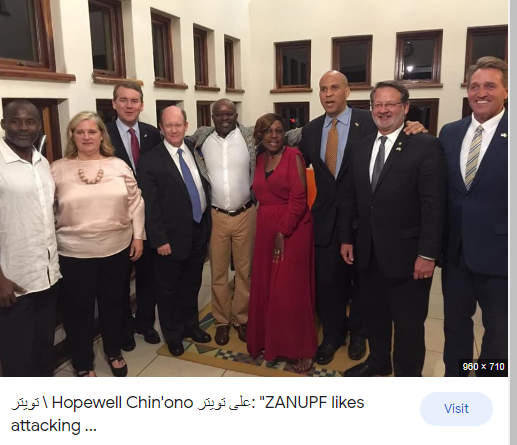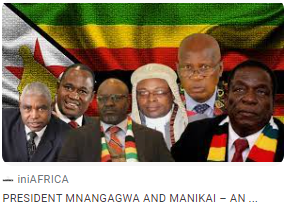 TM: Thank you for the honest response and obviously when I watched the video, I could not make the link between Mutumwa Mawere and the looting.
Perhaps you can share evidence supporting the allegation of surrogacy and the corruption
therefore in, so that I can afford both president Mnangagwa and Mawere to give their own
account of the precise nature of the alleged link between public power and private benefit.
Unfortunately, the video's content does not establish the causal link which is vital in determining any dispute in an Independent and impartial manner.
HC: I didn't say Mutumwa was corrupt.
I said that there were public funds that were doled out which amounted to looting.
You are misinterpreting what I said.
The video has nothing to do with Mutumwa being corrupt, it was meant to illustrate how public funds were looted way before sanctions.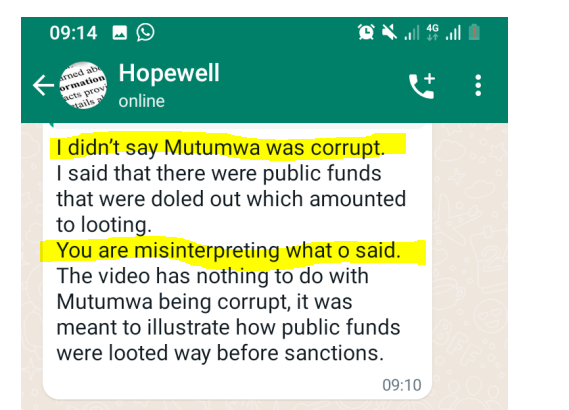 TM: Thank you for clarifying and I am intrigued by your response.
You have asserted as true and fact that Mawere was Mnangagwa front and this aspect is not
evident in the video, suggesting that evidence exists that the alleged fronting you are talking
about, is supported by concrete evidence which is required in any bona fide process, seeking to hold people accountable for their conduct or misconduct. I would be grateful if you can identify in precise terms what Mawere front for Mnangagwa.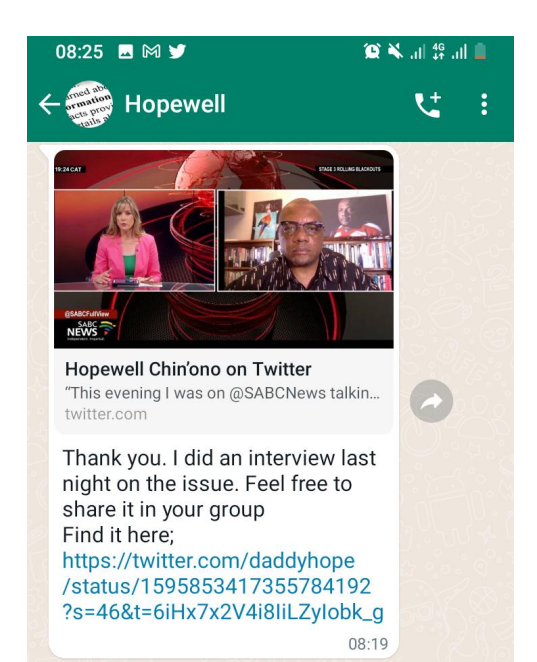 Advocate Jack Matiza who was incensed by Mr. Chin'ono's utterances remarked asked: "How can he be held responsible and accountable for social media post that damage another person reputation? My take is Hopewell is also guilty of selective amnesia he is accusing Ramaphosa of when it comes to sanctions, by stating that Mutumwa Mawere was an front of ED without providing any proof to that. Our self acclaimed award winning journalist and human right defender…ought to know that he who alleges must prove, is he not using or abusing social media or public media platforms to make unfounded statements without allowing the accused an opportunity to air their side of the story is itself an abuse of that person's basic human rights?
To which Mr. Mawere responded as follows: "What if there exists no shared understanding on what are the obligations and rights of citizenship? What Hopewell could be saying is that information that he may possess is true and fact unless proved otherwise because he holds a privileged position in society as a journalist. In this case, affinity politics would compel him to conclude that because I shared the same platform with the current President of Zimbabwe this reality confirms a generally corrupt relationship. You can imagine what the true import of state capture and the legal consequences arising for its existence."
Advocate Matiza by stating as follows: "There is certainly need to actively contribute to development of such shared understanding and common standards."
Mr. Mawere commended as follows: "If asked to explain why the conversation is intriguing, what would be your response?
Mr Chin'ono genuinely believes that CORRUPTION is the elephant in the room.
He hold the view that he occupies a special and exceptional position in relation to the affairs of Zimbabwe.
He has a view on the 1996 video."

When asked by Mr. Mawere, what identified questions arise from the hypocrisy inherent in Mr. Chin'ono's open attack against Mawere and when confronted by Mr. Manikai, he quickly denied what he had stated as true and fact, Advocate Matiza responded as follows:
1. Abuse of the profession of journalism by an acclaimed journalist who has no respect for the truth in his narratives.
2.How should one define a human rights defender especially having exposed Mr. Chin'ono's embarrassing performance by first alleging that Mnangagwa was using Mawere as a front only to backtrack and deny his own bold assertions.

3.In the face of hypocrites masquerading as award-winning journalists, what should be the best response to deal with divisive characters who have captured the profession and are using it as a weapon to advance their ulterior motives?
4. Section 2 of the Constitution of Zimbabwe imposes a binding obligation on every person to ensure that the rule of law is promoted, protected and upheld and in this case, what should be done by ordinary citizens to ensure that people like Mr. Chin'ono are accountable for their conduct which is inimical to the rule of law?

5. Does a person like Mr. Chin'ono know that he is also subject to the constitution and possesses no title or authority to maliciously defame other people. How best can he be held accountable for his reckless and dangerous assertions he makes under the cover that he is a journalist par excellence?
6. Does his conduct based on Mpasiri's excellent interrogation not fall within conduct that is inconsistent with the constitution of Zimbabwe?
Please take notice of this announcement by ZIMRA