BOAF – THE AFRICA I WANT – THE MENTORSHIP PROMISE AND CHALLENGE
I have been a participant of a WhatsApp group that was created in 2017 as follows: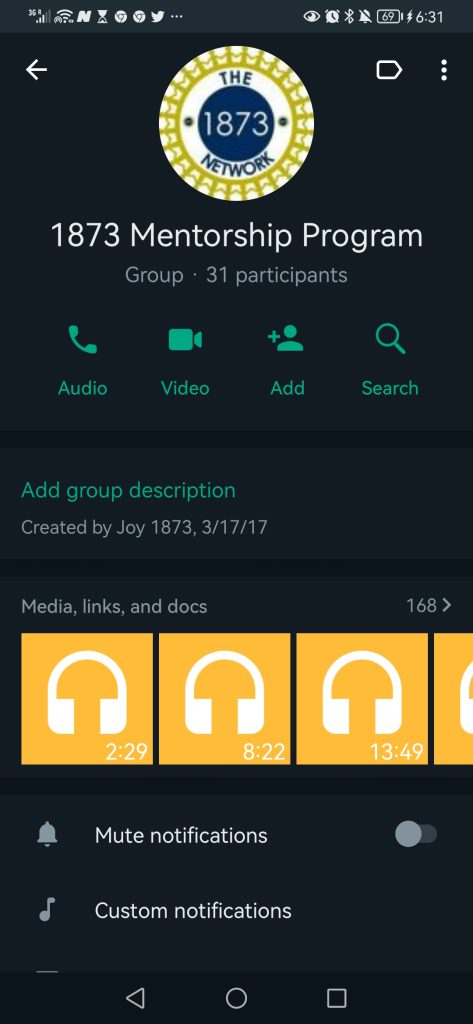 As can be seen above, we are 31 participants and I have been quite all along trying to figure out what the group was for but what provoked me to join was the mentorship aspect in the promise.
I was inspired by Mr Mawere's association with the group and his presence in this group.
I thought I could use my participation to learn from him and I was disappointed that he refused, failed and neglected to give up time to help my cause and interest until this morning, when another participant shared his take on a conversation he had with Mr. Mawere and provided the raw content in form of audios that I have had the privilege of listening to.
I was so provoked by the content and context of what I consider to be a paradigm shifting perspective on what mentorship can be like to best secure the outcomes that life can deliver if only we acted as human beings even in the context of WhatsApp groups.
Should you want to be part of building the target 10,000 bank whose currency are the people who share a common interest that mebtirship on a one to one basis imposes a cost to the mentors, please follow this link: https://chat.whatsapp.com/Hw4spKBzT9i9dwez5UZRuz.
I had no idea that Mr. Mawere has 34,000 followers and the maximum 30 000 connections on LinkedIn and as a person in business development, all I could think of is how best I can bridge myself to his community on this important professional platform.
I have found the answer from the audios
[1/17, 11:53 PM] +44 7832 520480: I was on call with Mr Mutumwa Mawere earlier today, and I was privileged to get his insights on a few topics which included the following:
Mentorship and network in general
Importance of membership and structures in network platforms
Sharing ideas in platforms and translating them to bankable projects
Taking advantage of platform membership (numbers) to finance projects and ideas
Key takeaways:
Network sessions and mentorships are about ideas
If your platform is structured, then you have a voice. An example is the diaspora remittance, a big number but not as effective as it can be because it lacks a structure
The bigger the membership of your platform, the more visible it is
Project scoping is very important. People need to learn this
Understanding project financing and how money works in different lifecycles of a project is key
1873 Network and Africa Heritage Society are examples of successful platforms registered as NPO's in South Africa, and membership is open worldwide
I'm sharing some audios of our call below. Please feel free to comment or engage
[1/18, 6:26 AM] mdmawere1: Good morning. Sharing is caring. My take is similar to yours with the following inclusions for a wider debate in this 1873 Mentorship WhatsApp group that was created to provoke, ignite, and inspire the conversion of connections into community power.
We have been connected in this group for a long time.
I had no idea that we actually had met physically in SA at the launch of one of my books WHEN MINDS MEET.
What the triggered you to comment in the group?
It was an audio that I shared in the group.
You must have listened for you to say INTERESTING which comment prompted me to take notice.
This narrative speaks to the initiative powered in the name of BOAF – 10,000 POL.
You have distinguished yourself as a POINT OF LIGHT on the future of Africa that is comprised of actors that are connected, equipped and inspired to solve problems as an organized crowd.
What interested you on the SOLAR CHALLENGE is the idea that crowd funding could be one of the missing dots in responding to the increasing frontiers of poverty, inequality and unemployment whilst connections are being abused to lament about the role of ghosts in the yesteryears in creating the triple challenges.
So #1 challenge was answered by you in the affirmative when you said I AM IN THE ROOM because you believe in being the change one individual at a time.
I send you the link to join and pay your membership fee.
I hope you will live up to your promise because nothing delivers nothing but humans make choices that they have to act upon to produce outcomes.
TALK IS CHEAP.
You can always rate the quality of the content share.
If someone were to ask to rate on a scale of 1 to 10 in terms of relevance to you and your worldview, what would be your ratings.
Incidentally, how many segments were recorded?