JUSTICE MAHUBE BETTY MOLEMELA NOMINATED FOR JUDGE PRESIDENT OF THE SUPREME COURT OF APPEAL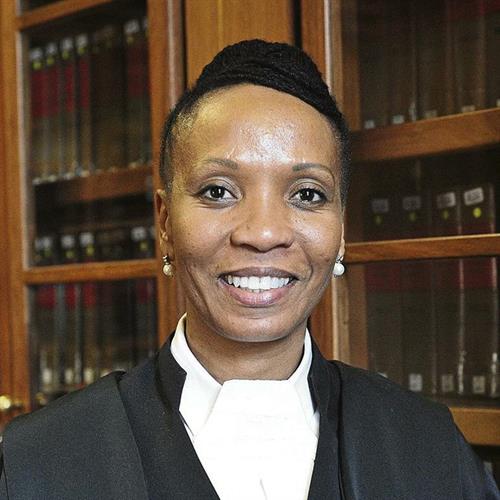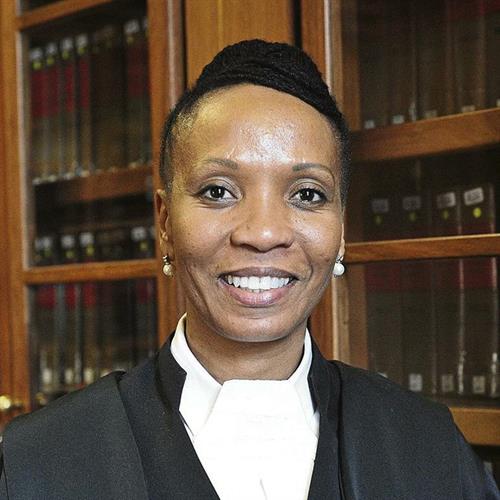 President Cyril Ramaphosa has informed Chief Justice Raymond Zondo of his consideration to appoint Justice Mahube Betty Molemela as Judge President of the Supreme Court of Appeal.
The President has, through the Chief Justice, invited the Judicial Service Commission, to advise on the suitability of Justice Molemela to hold the office of the President of the Supreme Court of Appeal.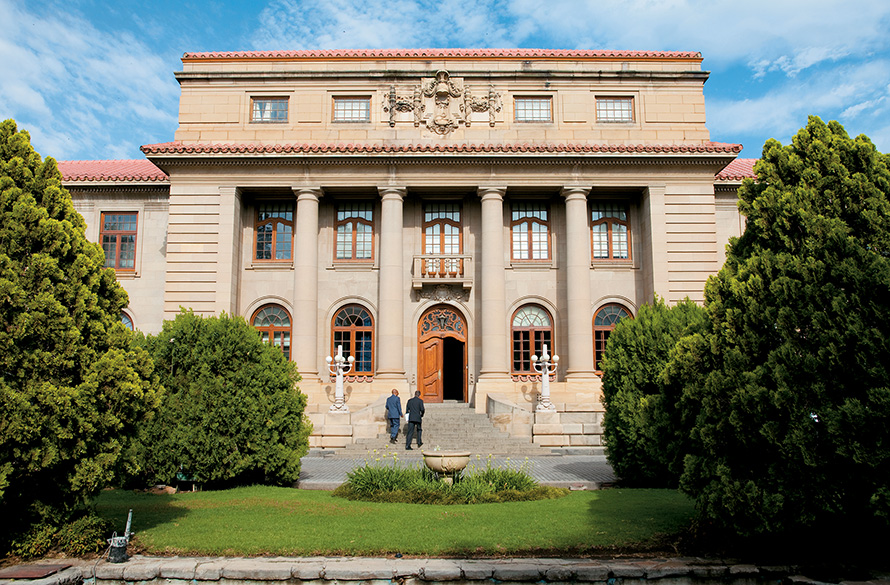 The President has undertaken this consultation in terms of Section 174(3) of the Constitution.
This constitutional provision sets out that the President, as head of the National Executive – and after consulting the Judicial Service Commission and the leaders of parties represented in the National Assembly – appoints the Chief Justice and Deputy Chief Justice. After consulting the Judicial Service Commission, the President appoints the President and Deputy President of the Supreme Court of Appeal.
The position of the President of the Supreme Court of Appeal has been vacant following the appointment of Justice Maya to the position of the Deputy Chief Justice of the Constitutional Court with effect from 01 September 2022.
Justice Molemela is currently a Judge of the Supreme Court of Appeal.
She has established an illustrious judicial career spanning over 15 years, having first been appointed as a Judge of the Free State Division of the High Court in 2008.
During her 15 years on the Bench she served as a Judge President of the Free State Division of the High Court for three years before her elevation to the Supreme Court of Appeal in 2018.
She has also served as a Judge of the Labour and Labour Appeal Court, Acting Judge of the Competition Appeal Court and Acting Judge of the Constitutional Court for two terms in 2015.
She holds a B.Proc degree (University of Fort Hare); LLB, LLM and LLD (Honoris Causa) (all three from the University of Free State).
TOWARDS SECURING THE FUTURE I WANT – PART ONE WITH BRIGHTON MUTONGWIZO
On 1 January, 2023 when I reached put to Mr. Mutumwa Mawere simply to extend my best wishes and compliments for this year, I had no factual and legal knowledge of the facts and circumstances of the legal, political, and financial saga surrounding his relationship with SMM HOLDINGS PRIVATE LIMITED (SMM) from acquisition of its UK registered sole parent in March 1996 by Africa Resources Limited (ARL), a company incorporated in the British Virgin Island (BVI).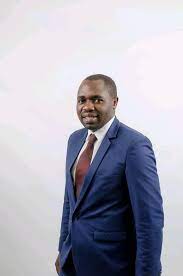 Like many people who had followed the saga that ensued leading to the extrajudicial divestment and deprivation of the relationship between SMM and its sole shareholder, SMM HOLDINGS LIMITED (SMMH), a company incorporated in terms of the laws of the UK, without any notice or knowledge of the use of a decree preceding the action.
The process leading to the placement of SMM under reconstruction is aptly described in the affidavit deposed by the then Minister of Justice, Legal & Parliamentary Affairs, Mr. Patrick Chinamasa, as set out in the screenshot below: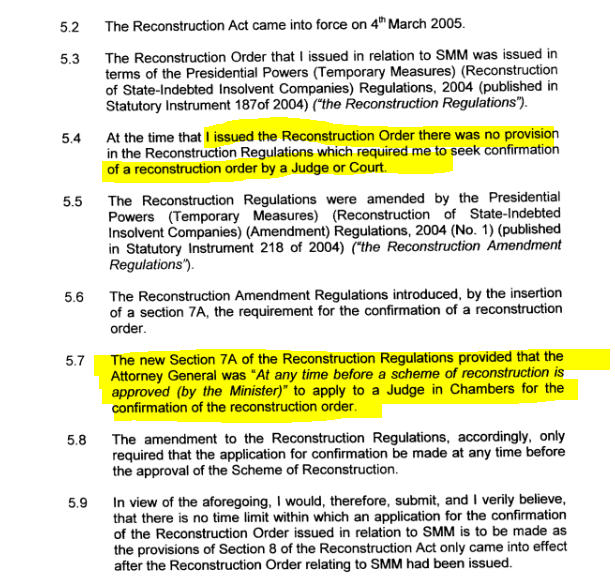 I had no personal knowledge of the facts surrounding the reconstruction of SMM but suffice to say that as a Zimbabwean citizen, I have a binding duty as set out to ensure that the obligations to uphold, obey, respect and defend the Constitution of Zimbabwe as the supreme law are fulfilled.
The supremacy of the constitution of Zimbabwe as set out in s2(1) provides that any LAW, PRACTICE, CUSTOM AND CONDUCT that is inconsistent with the constitution is invalid to the extent of its inconsistency.
I am a non-resident member in good standing of the Institute of Chartered Accountants of Zimbabwe, the longest established and the largest Zimbabwean professional accountancy organization.

This is body corporate is now a creature of statute that traces its origin to 11 January 1918 in terms of Ordinance 14 of 1917 when fourteen founder members created it. 
It now a statutory body incorporated in terms of the Chartered Accountants Act [Chapter 27:02] and, therefore, it is trite that this law establishing this professional body falls within the ambit of s2(1) of the Constitution of Zimbabwe.
It cannot be disputed that acting in the public interest is the foundation of the universal accountancy profession and laid down and in the case of ICAZ, it is entrenched and enshrined in the above-mentioned Act.
In the premises, an obligation is placed upon every CA to take individual responsibility for the maintenance of the highest standards of ethical principles enshrined in the ICAZ Code of Ethics.
It is important that every CA must place ethical leadership at the heart of their professional responsibilities individual CA, but also their organization.
Following on my reaching out to Mr. Mawere on 1 January 2023, I was introduced to the Africa Heritage Society (AHS) initiative, Banking on Africa's Africa (BOAF) initiative to promote, protect, defend the RULE OF LAW by raising awareness through real life case studies of the importance of civic literacy to provoke, ignite and inspire citizens to play their part in ensuring that any conduct, law, practice and custom is exposed through active citizenship on the premise that NO ONE IS ABOVE THE LAW.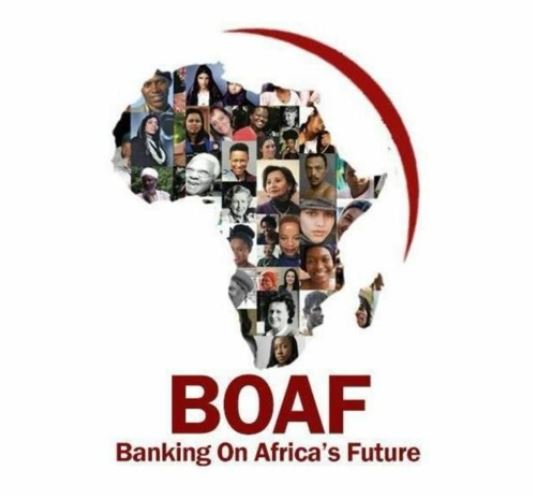 It is in this context that I have become aware of the true nature of the content and context of the SMM SAGA.
Having acquainted myself with the facts of the decree used to divest and deprive SMM's sole shareholder, SMMH, of its relationship with SMM pursuant to the decree set out below, I took a personal interest in this dispute because of the constitutional duties imposed on every person – natural and juristic, to ensure that the rule of law is promoted, protected and upheld.
To this end, having confirmed that Mr. Afaras Mtausi Gwaradzimba, a fellow member of ICAZ, was appointed by a Minister, a member of the Executive Branch of government of Zimbabwe, I naturally was interested to establish from ICAZ, the implications of a professional CA and a member, being party to the prosecution of a law that is inconsistent with the Constitution of Zimbabwe as the supreme law.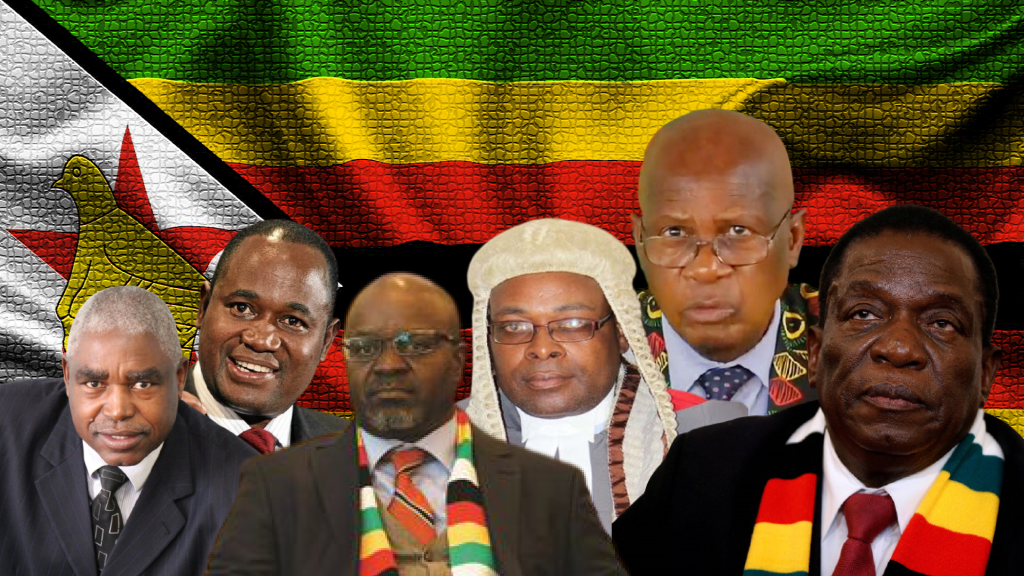 In this matter, the facts are not in dispute that Mr. Gwaradzimba was appointed as Administrator of not only the affairs of SMM and what is referred to as associates being separate and distinct juristic entities.
It is also not in dispute that in terms of the decree above, Mr. Gwaradzimba's appointment was strictly limited to the affairs of SMM, a juristic entity, yet Mr. Gwaradzimba issued his own notice purporting to extend his jurisdiction to the affairs several other juristic entities that he used the purported delegated authority to exercise jurisdiction over as set out in Annexure BOAF1.
It is also chilling and astounding that Mr. Gwaradzimba was officially appointed on 14 September 2004 yet he commenced his duties in relation to affairs of SMM and other targeted entities on 6 September 2004.
There exists no record as to how Mr. Gwaradzimba could have anticipated his appointment by the Minister whose relationship with SMM was created and established by the force of a law that offends public policy and was solely invented to alienate the targeted companies from their bona fides shareholders and directors to pave the way for Mr. Gwaradzimba to assume the unfettered control and management of the firm.
The question that arises is whether the conduct of Mr. Gwaradzimba in willing and knowingly accepting to be involved in this penal, confiscatory and corrupt enterprise whose direct effect was to substitute bona fide shareholders and directors with Gwaradzimba using a new law as weapon.
It is trite it is the Companies Act, a law of general application that creates a company and regulates the its affairs yet the effect of the Reconstruction Act was to remove the targeted companies from the jurisdiction of the Companies Act and place it under the provisions of the Reconstruction Act on the purported absurd construction that this repugnant law created a novel and new law to regulates the affairs of a new juristic entity called A COMPANY UNDER RECONSTRUCTION which in terms of the laws of Zimbabwe is a nullity.
It is my understanding that a nullity is incapable of creating something of value.
In this case and to the extent that the Reconstruction Act created nothing, the fate of Gwaradzimba's authority and incumbency in relation to the affairs, a CA, is a dispute that falls within the ambit of ICAZ's competent jurisdiction.
I need not highlight that society is compelled to judge ICAZ harshly for failing or refusing to take due notice of the travesty of justice inherent in the appointment of Gwaradzimba as Administrator of hijacked and captured juristic entities pursuant to the abuse of public power by placing the control of companies using a law that has no relationship with the Companies Act, a law that creates and regulates the affairs of companies.
It is worth highlighting that the Companies Act was not amended to provide for any concurrent application of the Companies Act and the Reconstruction Act in relation to the targeted juristic entities.
The behavior and actions of Mr. Gwaradzimba whose capricious, unconstitutional, arbitrary and unilateral appointment in relation to hijacked companies clearly put the profession into disrepute. Public trust has to be earned.
It cannot be disputed that the reputation of the accountancy profession – how CAs are perceived by the public – is defined by what they do, how they do it, and how they treat other people.
It is trite that CAs must lead and champion the ICAS ethical values – the foundations for trust.
It is also not in dispute that there is a need for every individual CA to demonstrate the highest standards of professional behaviour and ethical standards in order to fulfil their profession's duty to the public interest.
Against the above background, it is disturbing that notwithstanding the above shocking facts, that Gwaradzimba worked for KPMG and SMM was one of his clients and he was assisted to establish AMG Global Chartered Accountants, a firm whose existence would not have materialized without Mr. Mawere's personal involvement including negotiating with KPMG on the approach for Mr. Gwaradzimba to leave the firm on the basis that he would be permitted only to audit selected non-listed companies related to SMM but would not be permitted to provide any services to listed companies including SMM.
This record has yet to be authenticated by Gwaradzimba although it is an important part of the factual matrix to establish how Gwaradzimba was allowed to escape the obvious and natural conflict of interest issues having regard that KPMG was the auditor of SMM and related companies.
THE HOUSE AFFAIR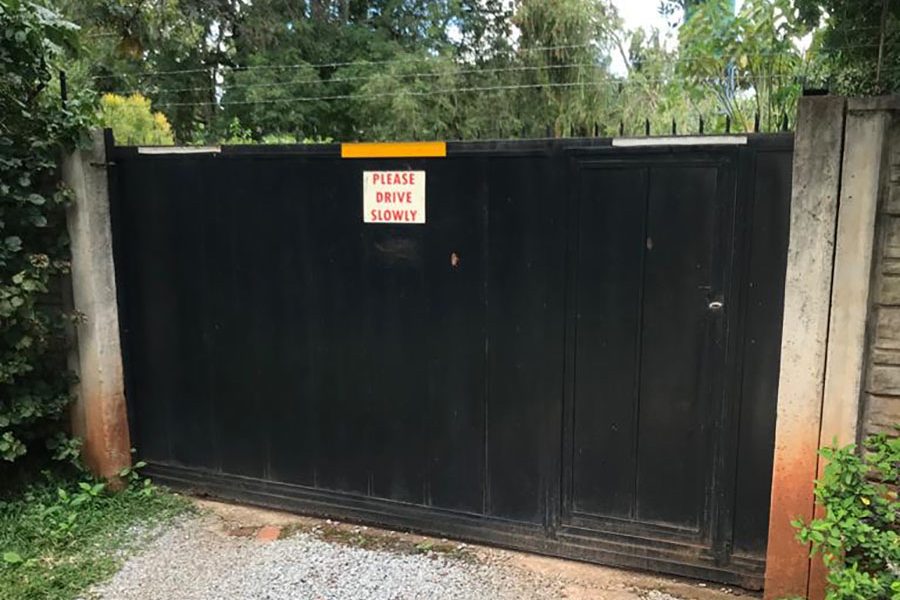 Whether one likes it or not, the factual matrix leads anyone with common sense, logic and reason to arrive at the inescapable conclusion that the involvement of Gwaradzimba in the pretty and post-reconstruction affairs of SMM and related affairs puts the entire CA profession into disrepute apart from raising serious reputational, criminal, corruption, legal and constitutional questions that speak directly to his conduct.
It is common cause that the rule of law principle that NO ONE IS ABOVE the law is exhaustive to allow anyone to escape accountability.
In this case, s62(1) as read with s(2) of the Constitution is instructive as provides as follows:

In terms of s62(1) of the Constitution, it is provided as follows:

In this case, the information, the information held by KPMG, CHINAMASA, GWARADZIMBA including ZACC in relation to SMM and targeted companies that were placed extrajudicially under the control of Gwaradzimba falls within the ambit of s62(1) of the Constitution. 
In terms of s2 of the Constitution, no person – natural or juristic is above the law and it provides for the supremacy of the Constitution as follows:
"2. Supremacy of Constitution


I have since joined BOAF and the related initiative Justice Under Rule of Law (JUROL) in the interests of broadening and deepening the building of an open, transparent, responsible, responsive, accountable future that can deliver the promise of equality, prosperity and employment.
At a meeting of BOAF MEMBERS who have needed the call by Mr. Mucha Mugota, for Mr. Mawere to write memoir, I was elected to spearhead the initiative to participate actively in this project because at the core of the dispute in relation to the affairs of SMM are too individuals whose relationship with government seems to be a key issue as follows:
A: A dark cloud of corruption and deceit was cast on the legal, financial, constitutional basis on the acquisition of SMM's UK parent of 1996 was cast leading to people like Hopewell Chin'ono, an award winning journalist (see annexure BOAF 2) holding asserting that Mawere was President Mnangagwa's surrogate, the role now allegedly taken by Mr. Kuda Tagwirei and his associates like OBEY CHIMUKA who are both on the US targeted sanctions list.
It has and has been alleged that the SMM acquisition was prosecuted with the weapon of a government guarantee.
B: The second version is that Gwaradzimba who is a war veteran and a professional CA was not happy with the SMM acquisition because the main actor, Mawere, was nonresident and lacked credentials to be eligible for the alleged government backing for SMM acquisition. He sought unsuccessfully to lobby President Mnangagwa and Minister July Moyo to throw Masers under the bus as his self-serving version was similar to the one proferred by Hopewell that Mnangagwa was Mawere's puppet master and as such in order to start his accounting firm, he was entitled to demand that Mawere be instructed to surrender all audit work to his firm as he was politically and professionally entitled to the work as he was already handling the SMM audit work under the umbrella of KPMG as his grand plan was torpedo KPMG as the largest global African audit firm starting with blackmailing Mawere into giving work.
When this plan failed, he was allegedly angry.
Mnangagwa and July Moyo who knew the truth about SMM's acquisition refused to acquiesce to this plan, he then worked in cahoots with John Mkushi was the former Chairman of SMM, appointed by Mawere, when Godfrey Gomwe had resigned, and Mr. Edwin Manikai, a lawyer whose firm, DMH Attorneys, Mawere helped establish to clandestinely attack Mawere allegeding that Mawere was a criminal.
When Gono was appointed Governor of the RBZ, in December 2003, it is alleged that using Fortune Chasi, and working with Manikai and Gwaradzimba, they recruited Hillary Munyati, to create a scandal and a cloud around Mawere that Mawere had caused a court order to be granted in SA permitting Southern Asbestos Sales Pty Limited (SAS), a company they alleged was created by Mawere when this was not to true, to pay to Petter Trading Pty Limited (Petter), another alleged Mawere company based in SA that was the supplier of goods to SMM and related companies and is doing prejudiced SMM, a company whose chaired by Dr. William Mudekunye.
Gwaradzimba & Co used the cession affair to campaign vigorously taking advantage of Gono's self-serving agenda to annihilate black-owned banks and causing the criminalization of forex exchange control violations.
It is alleged that Manikai and Gwaradzimba crafted the Reconstruction of State Indebted Companies decree on the basis that Mawere did not pay anything for the acquisition and as such he would suffer no prejudice if the government used the ploy of self-created state-indebtedness to replace Mawere with Gwaradzimba using the invented law as a weapon.
It is clear that the Reconstruction decree was crafted to make Gwaradzimba, Mawere's successor using public power.
The court applications made by Mr. Tichaona starting 17 December 2021 are revealing and instructive.
To the extent that the CA profession was used to enable this corporate coup, it was felt that I may be equipped to help shape as Chairman of the project to use the SMM related facts to establish which of the two transfers of control and management – 1996 and 2004 – was legitimate and lawful so that this protracted dispute can be determined on merits and the memoir challenge that is supported by many can be written as part of a general literacy project to promote active citizenship and accountability for the use of public power on what should be corporate and private matters.
When I and others thought the dispute was limited to corporate matters of SMM, we learned of the Mount Pleasant dispute regarding how the control and management of this house was hijacked indirectly using the Reconstruction Act to allow the house to rented out and used for 17 years without the owner, Mawere's knowledge and involvement.
The chat between Mawere and Gwaradzimba in relation to the house is not only a fascinating expose of untouchable and unaccountable people like Manikai and Gwaradzimba whose proximity to the President give them this status.
I learned that Mawere opened a corruption case with ZACC against Gwaradzimba and Knight Frank Zimbabwe (KFZ) alleging that absent the Reconstruction Act, the hijack of his house would be a non-issue.
He based his complaint on the basis that effective 6 September 2004, SMM and relates entities whose control and management was divested and deprived using the Reconstruction Act, ceased to be a company and as such it was important to investigate whether a hijacked company using the Reconstruction Act is a company or not.
To the extent that the Company was controlled by an Appointee of the Minister, he argued that Gwaradzimba occupied an administrative function in relation to the affairs of the victim companies but did not have any fiduciary role like directors, liquidators or judicial or business rescue practitioners.
It is in this context, that he argued that any direct or indirect involvement of SMM UNDER RECONSTRUCTION was legally and constitutionally invalid and invalid.
In the premises, he alleged that Gwaradzimba who represented that between 6 September 2004 and 9 March 2021, he had no knowledge that SMM under his control had been receiving rentals in relation to the house and paying rates to municipality, had committed a crime of perjury and defeating the ends of justice as there was no basis in law and fact for SMM under his control to be involved in the house matter.
The affidavit of Gwaradzimba to ZACC is now in the public domain.
A reading of it led one of the BOAF MEMBERS TO CONCLUDE AS FOLLOWS:
"…the House issue is like the straw that broke the camels back.?"
CONCLUSION:
If the disclosures above does not provoke, ignite and inspire anyone to play a part in ensuring that the constitution which is the orphan in this matter is protected and is alive. Set out below is an extract of Gwaradzimba's sworn statement to ZACC in relation to the house investigations: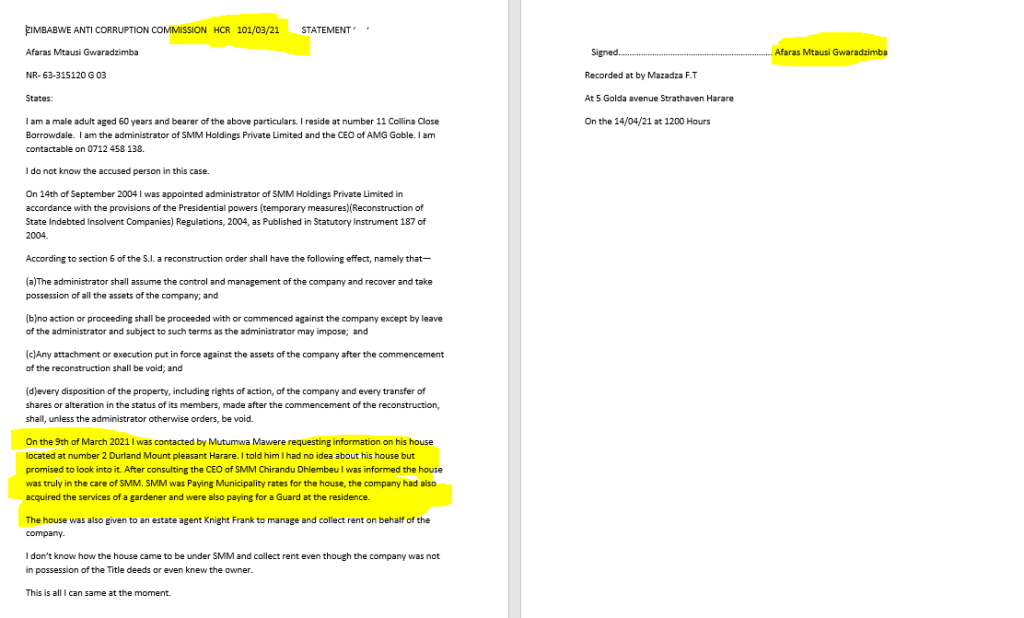 PART 2 – MR SHAYNE KUNDAI'S UNDERSTANDING OF THE SMM STORY IN A CONVERSATION WITH PROF TICHAONA MUPASIRI ON 28 JANUARY 2023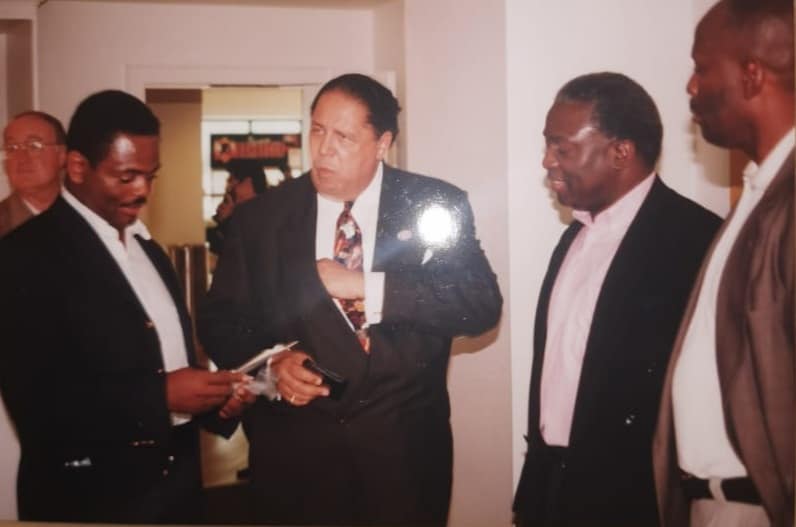 As part of a project to provoke, ignite and inspire fact-bases active citizenship under the Justice Under Rule Of Law (JUROL) initiative, in this story is Mr Shayne Kundai's understanding of the SMM story in a conversation with Prof Tichaona Mupasiri on 28 JANUARY 2028.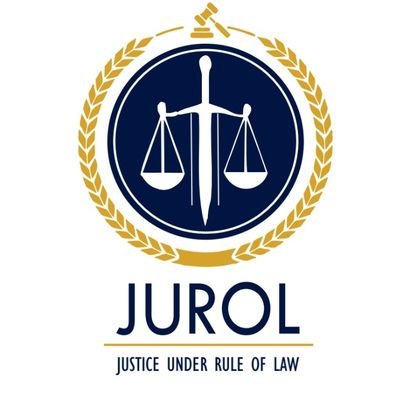 Mr. Chin'ono is a respected journalist and the exchange in Part 1 of this addition to the SMM narrative adds to the confusion that provoked Mr. Mugore to express openly his wish that Mr. Mawere write a memoir to set the record straight hence the involvement of Mr. Kundai.
Mr. Chin'ono stated as true and fact that:
"Surrogates were people like Mutumwa Mawere who was his front until they fell out.
Today surrogates refers to people like Kuda Tagwirei who has been a front for State looting using his myriad of companies."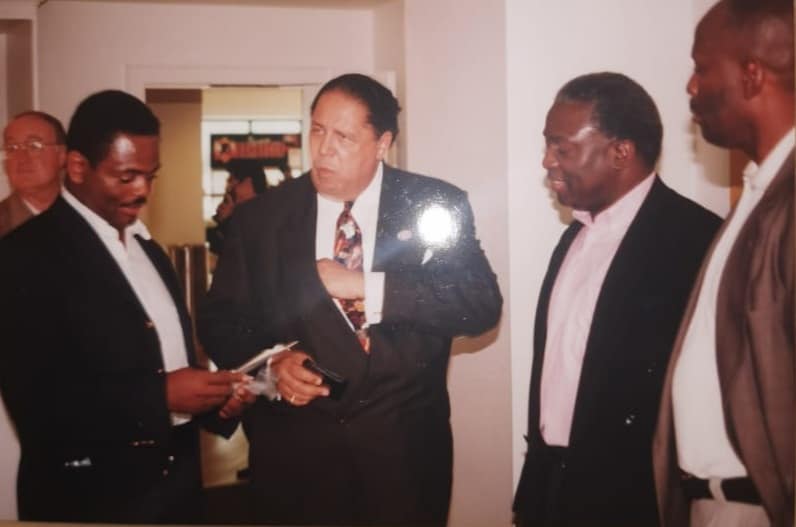 Based on the above and since 1996, the year in which the video relied upon to assert that Mawere was MNANGAGWA'S FRONT, a respectable journalist whose duty is to inform, educate and entertain the public, clearly premised his conclusion that MAWERE was MNANGAGWA's surrogate on the unconnected and untested utterances made by MNANGAGWA in a public platform.
Mr. Mpasiri said: "It is this kind of reckless and malicious trophy hunting type of gutter journalism that provoked me to confront Mr. Chin'ono and his response was chilling as set out below:
"TM: Thank you for the honest response and obviously when I watched the video, I could not make the link between Mutumwa Mawere and the looting.
Perhaps you can share evidence supporting the allegation of surrogacy and the corruption therefore in, so that I can afford both president Mnangagwa and Mawere to give their own account of the precise nature of the alleged link between public power and private benefit.
Unfortunately, the video's content does not establish the causal link which is vital in determining any dispute in an Independent and impartial manner.
HC: I didn't say Mutumwa was corrupt.
I said that there were public funds that were doled out which amounted to looting.
HC: You are misinterpreting what I said.
The video has nothing to do with Mutumwa being corrupt, it was meant to illustrate how public funds were looted way before sanctions.
TM: Thank you for clarifying and I am intrigued by your response.
You have asserted as true and fact that Mawere was Mnangagwa front and this aspect is not self-evident in the video, suggesting that evidence exists that the alleged fronting you are talking about, is supported by concrete evidence which is required in any bona fide process, seeking to hold people accountable for their conduct or misconduct.
I would be grateful if you can identify in precise terms what Mawere front for Mnangagwa."
The above was unfortunately the end of the chat leaving any reader to question the basis on which a person like Hopewell operates.
The view that Mnangagwa uses surrogates to allegedly loot public resources is not unique to Hopewell but to many compelling anyone to probe this question deeper than hitherto.
Mr. Chin'ono was interviewed by the SABC on the subject of the war against corruption in Zimbabawe and he proudly shared the interview on this link with Me. Mpasiri:
Mr. Frederick Koomson, Director of the Justice Under Rule of Law (JUROL) – Investigative Journalism (IJ) initiative said: "I am shocked if this criminality clothed as craft excellence exists and operates through Hopewell, then I shudder to imagine what is left of this glorious profession commonly described as the 4th State.
In this case, Hopewell maliciously imported a video into a narrative that he wished to peddle that Mnanagwa uses surrogates to prosecute corruption.
I have had a look at this interview and the inescapable conclusion Hopewell's activism clothed as journalism poses so grave a threat to the rule of law that if nothing is done to hold him to account for not only putting the entire profession into disrepute but for undermining the public confidence in the profession as a guardian of the practitioners' independence and impartiality."
Hopewell Chin'ono, Award Winning Journalist & Documentary:
Mr. Mpasiri, BOAF's Director of Corporate and Legal Literacy said: "I had a no idea that even after exposing his fraud, Hopewell was blind to what actually had transpired when he sought to unashamedly deny what he had asserted as true and fact that Mawere was in 1996, Mnangagwa's surrogate, only to deny having said this by accusing me of misunderstanding him."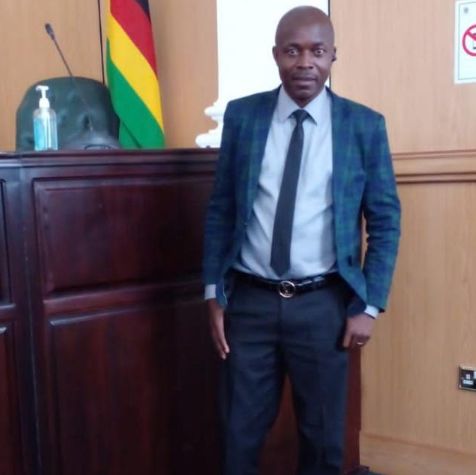 Mr. Kundai them approached Prof Mupasiri, who in a landmark case under Case Number CCZ 34/21 approached the apex court if Zimbabwe seeking President Mnangagwa to account for his state of knowledge and involvement in the facts and circumstances of the reconstruction of SMM using extrajudicial means.
Advocate Jack Matiza, a member of the Friends of SMM (FOSMM), JUROL and BOAF initiatives aimed at promoting, protecting, and upholding the rule of law said: "After watching Hopewell's interview on SABC that Hopewell had encouraged Mr. Mpasiri to watch and share, i understood why the memoir challenge should be a call to action for anyone who had hope that people like Hopewell could be relied upon to shape the personality and character of an open, accountable, transparent and alternative governance system, his conduct which is inconsistent with s2 of the constitution confirms otherwise."
A Judge Occupies a Special Position in Society (BOAF LAW) – Mutumwa Mawere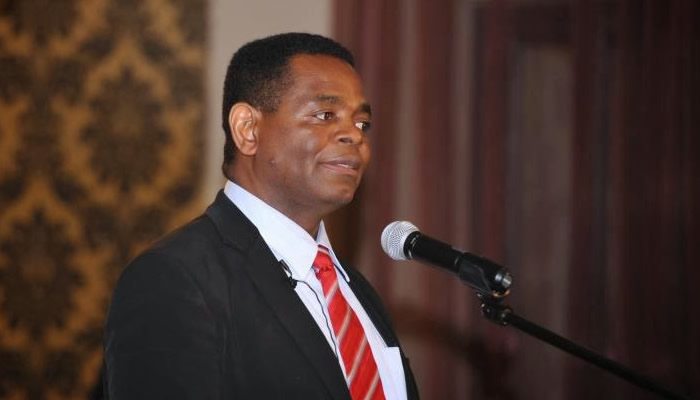 The duty of a judge is to determine disputes based on facts or evidence adduced in court by parties who voluntarily present themselves before what should be an independent and impartial forum.
In many countries, they have a jury system where peers will determine the outcome rather than allow a single person presiding over the matter to be the sole determinant of a dispute.
The plan that we started under BOAF is aimed at promoting active citizenship based on a shared understanding that is premised on literacy.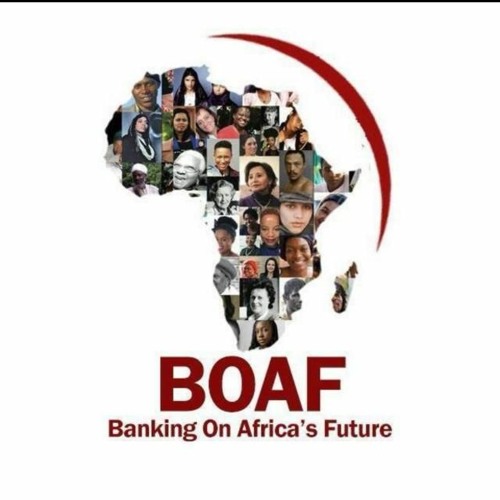 There are far too many people who believe that civics is about the rights of citizenship and zero obligations.
However, Section 2(2) of the current Constitution of Zimbabwe imposes obligations that are binding on every person including you and me to UPHOLD, DEFEND, RESPECT, AND OBEY the constitution as the SUPREME LAW.
As such, any LAW, PRACTICE, CUSTOM, AND CONDUCT that is inconsistent with the CONSTITUTION is invalid to the extent of its INCONSISTENCY.