AFRICA-RUSSIA RELATIONS ESSENTIAL FOR ECONOMIC DEVELOPMENT, SAYS BANKING ON AFRICA'S FUTURE (BOAF) NETWORK MEMBER
JOHANNESBURG – As the 2nd Russia-Africa Summit approaches, Africa's engagement with Russia is poised to take center stage, with a strong focus on mutually beneficial cooperation and partnerships. The summit, which is set to take place in St. Petersburg, the Russian Federation, on 27 and 28 July 2023, is expected to foster robust ties between the African continent and Russia, providing a significant boost to Africa's economic development.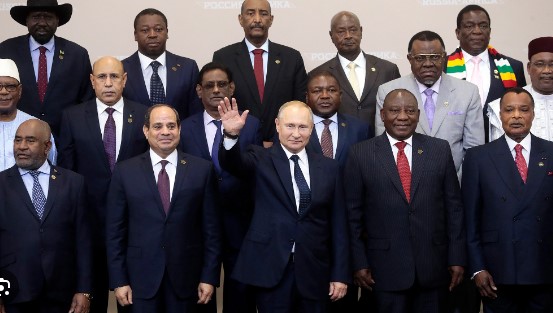 Commenting on the upcoming summit, Mr. Tinashe Mpasiri, a member of the Banking On Africa's Future (BOAF) Network, emphasized the critical role Africa-Russia relations play in advancing economic growth and development across the continent. Mr. Mpasiri stated, "Africa's partnership with Russia is of paramount importance in unleashing the full potential of our economies. The summit provides an excellent platform to explore areas of cooperation such as trade, science, technology, and investment, which can create a win-win situation for both regions."
The 2nd Russia-Africa Summit comes after the initial gathering in October 2019, during which both parties demonstrated a commitment to convene every three years. The upcoming summit aims to further strengthen this commitment through four declarations and a three-year Action Plan, which will be presented for consideration.
One crucial aspect of the summit's focus is the potential for collaboration in politics, security, and humanitarian support. "In today's interconnected world, addressing political and security challenges requires collective efforts. Closer ties between Africa and Russia can lead to enhanced security measures, cooperation in counterterrorism, and prevention of an arms race in outer space," Mr. Mpasiri remarked.
Historically, Russia has played a significant role in the securing of independence and democracy in many African countries. During the Cold War era, African nations sought support from various global powers to break free from colonial rule. Russia, then the Soviet Union, offered support to numerous African liberation movements, contributing to the emancipation of African nations and the establishment of democratic governance.
"Russia's contributions to Africa's struggle for independence should not be overlooked. The political support, military assistance, and educational opportunities provided by Russia were pivotal in shaping the democratic landscape of the continent," said Mr. Mpasiri, highlighting the historical significance of the Africa-Russia relationship.
Apart from the political and security aspects, the summit will explore cooperation in diverse areas such as information technology, education, culture, sports, and the environment. Mr. Mpasiri expressed optimism about the potential benefits of these collaborations, particularly in the context of Africa's rapidly growing youth population.
"The youth are Africa's greatest resource. By partnering with Russia in areas like education, technology transfer, and sports, we can equip our youth with the necessary skills and opportunities to thrive in the modern world. This will not only accelerate our development but also strengthen people-to-people ties between our regions," he explained.
The summit also provides a valuable opportunity for African leaders to engage in talks with Russian President Vladimir Putin on matters of peace and stability, particularly in light of the ongoing conflict between Russia and Ukraine. The African Leaders Peace Mission, represented by several African Heads of State, aims to discuss confidence-building measures that could foster peaceful relations between the two countries.
As South African President Cyril Ramaphosa leads the delegation to the 2nd Russia-Africa Summit, the nation's agenda will also encompass finalizing preparations for the upcoming BRICS summit. The summit background will provide an ideal setting for bilateral engagements with Russia on important economic matters.
In conclusion, Africa-Russia relations hold immense promise for the economic development and prosperity of the African continent. The 2nd Russia-Africa Summit presents a unique opportunity for both regions to deepen their cooperation and forge partnerships that can contribute to a brighter future for millions of people across Africa.
Disclaimer: The views expressed by Mr. Tinashe Mpasiri are his own and do not necessarily reflect the official position of the Banking On Africa's Future (BOAF) Network or its affiliates.