President Ramaphosa Addresses the 2nd Russia-Africa Summit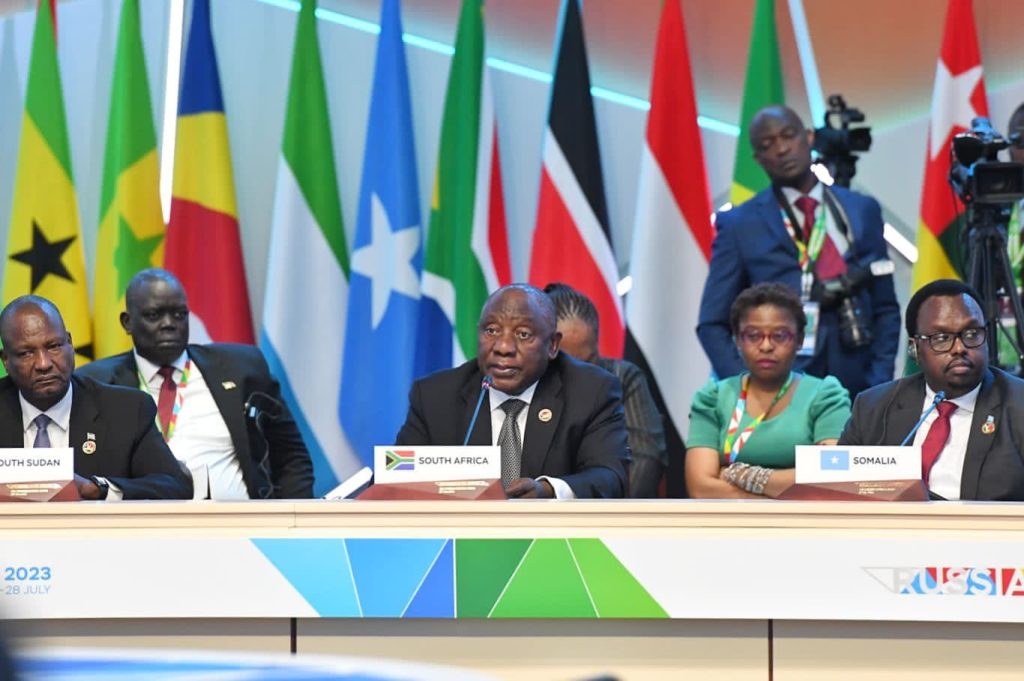 St. Petersburg, Russian Federation – In a plenary session at the 2nd Russia-Africa Summit held in St. Petersburg, President Cyril Ramaphosa expressed gratitude to President Vladimir Putin and the people of the Russian Federation for their hospitality and emphasized the importance of cooperation between Russia and African nations. The summit aimed to foster mutual benefit and serve the interests of both parties while promoting economic recovery, growth, and sustainable development amidst the challenges posed by geopolitical and economic crosswinds and the lingering effects of the COVID-19 pandemic.
President Ramaphosa reminisced on the historical support that the then-Soviet Union offered during South Africa's struggle for liberation, highlighting the continued strong bilateral relationship between the two countries. He reaffirmed South Africa's commitment to collaborating in political, economic, social, defense, and security spheres, both at bilateral levels and within multilateral platforms such as the United Nations, G20, and BRICS.
"The Summit is an opportunity to realize the African Union's Agenda 2063 vision of economic integration and inclusive socio-economic development," said President Ramaphosa. He stressed that South Africa, as a nation and a continent, is determined to shape its destiny and harness its substantial resources for the benefit of Africa, seeking reciprocal trade and investment and promoting Africa's goods and services on the global stage.
Addressing the forthcoming 15th BRICS Summit hosted by South Africa, President Ramaphosa emphasized its significance in enhancing global cooperation to achieve common prosperity for all African nations. He underlined the importance of infrastructure development, supported by the New Development Bank, and the African Continental Free Trade Area, which, once operational, will create opportunities for both African and BRICS countries.
Mr. Tinashe Mpasiri, an expert in international relations, provided valuable insights on the role of such summits in building bridges to opportunity. "A prosperous Africa for all can be secured when we build bridges rather than walls or fences, and it takes a summit like this to make it possible as minds meet on the Africa we all want collectively," said Mr. Mpasiri. He emphasized the importance of promoting investment, developing value chains, and enhancing manufacturing capabilities in Africa through collaboration between Russia and the continent.
President Ramaphosa also called for the reform of existing global institutional mechanisms, including multilateral financial institutions and the UN Security Council, to include greater participation from countries of the Global South. Such inclusiveness and trust-building measures can help address geopolitical tensions affecting countries across Africa and promote peace and stability.
In conclusion, President Ramaphosa expressed hope that the 2nd Russia-Africa Summit would play a pivotal role in supporting African integration, economic growth, peace, and common prosperity. Constructive engagement and negotiation were highlighted as essential elements for resolving conflicts and fostering global cooperation.
The summit provided a platform for African nations and Russia to strengthen their cooperation and forge a path towards shared prosperity, laying the groundwork for a prosperous Africa where bridges to opportunity replace walls or fences. As the summit concluded, leaders expressed their commitment to the principles of the United Nations Charter and peaceful resolution of conflicts, echoing South Africa's own historical experience and dedication to promoting peace on the global stage.