BRICS Chair President Cyril Ramaphosa Calls for a Fair and Just World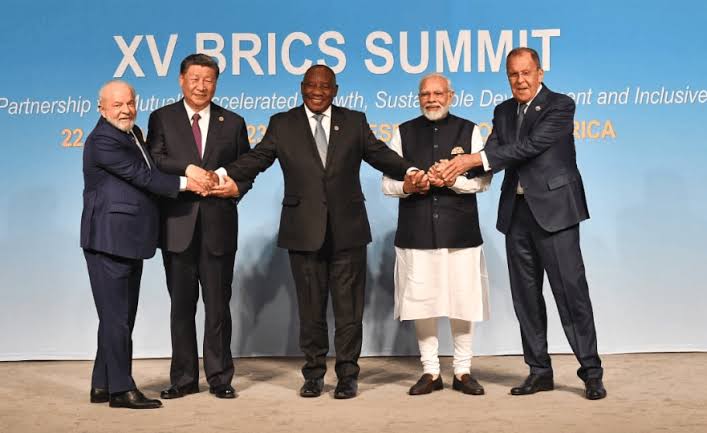 South African President Cyril Ramaphosa has called for a fair and just world in his welcome remarks at the BRICS-Africa Outreach and BRICS Plus Dialogue in Sandton, South Africa on Thursday.
Ramaphosa, who is also the BRICS Chair President, said that the BRICS partnership is a catalyst for global growth and development that responds to the needs of all nations.
He also stressed the importance of fair trade and investment, saying that it is the right of Africa and the entire Global South to fully reap the benefits of these.
Ramaphosa also highlighted the role of the New Development Bank in increasing the resilience of the Global South and bringing fairness to global trading and financial systems.
He called on all countries to work together to reform global economic, financial and political governance, so that we create a conducive environment for fair trade.
"We need to move beyond expressions of solidarity towards inclusion and mutually-beneficial economic cooperation," Ramaphosa said.
He concluded by saying that he trusts that the dialogue will provide leadership, vision and hope as we strive together for a better Africa and a better world.
The BRICS-Africa Outreach and BRICS Plus Dialogue is a two-day event that brings together leaders from BRICS countries (Brazil, Russia, India, China and South Africa), African countries, and global and regional institutions.
The aim of the dialogue is to discuss ways to strengthen cooperation between BRICS and Africa in areas such as trade, investment, infrastructure, and development.
The dialogue is also expected to address issues such as climate change, food security, and security cooperation.
The BRICS-Africa Outreach and BRICS Plus Dialogue is the first major event of the 15th BRICS Summit, which will be held in Johannesburg, South Africa on Friday and Saturday.