BRICS Welcomes Additional Member Countries in a Bid to Strengthen Economic Cooperation
Johannesburg, 24 August 2023 – The XV BRICS Summit concluded yesterday with a groundbreaking announcement that signals a significant expansion of the alliance. Hosted in-person for the first time since the onset of the COVID-19 pandemic, the summit saw the addition of new member countries, cementing the organization's commitment to economic collaboration as a means to enhance the quality of life for all.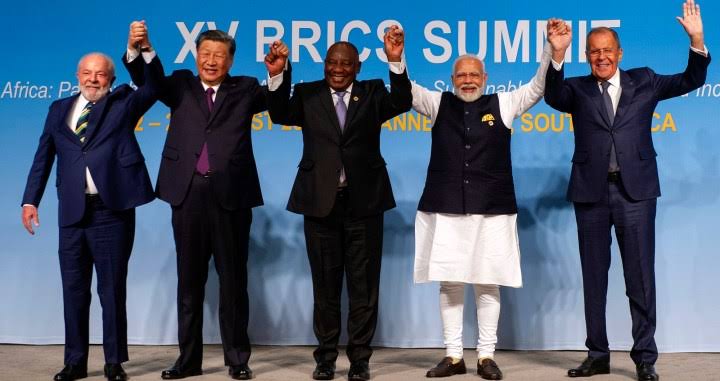 President Cyril Ramaphosa, the Chair of BRICS, stated that the expansion marks a historic moment in the organization's evolution. "BRICS itself is a diverse group of nations. It is an equal partnership of countries that have differing views but have a shared vision for a better world," remarked President Ramaphosa during his media briefing.
The new member countries set to join BRICS include the Argentine Republic, the Arab Republic of Egypt, the Federal Democratic Republic of Ethiopia, the Islamic Republic of Iran, the Kingdom of Saudi Arabia, and the United Arab Emirates. This expansion is slated to take effect from 1 January 2024, marking the beginning of a new phase in BRICS' journey.
The decision to extend membership was underscored by the belief that economic cooperation lies at the heart of delivering a better life for all citizens. President Ramaphosa highlighted that "the BRICS economic partnership [is] to generate tangible benefits for our communities and deliver viable solutions for common challenges faced by the global South."
In line with this sentiment, the Johannesburg II Declaration was adopted at the summit, outlining key messages on global economic, financial, and political matters. The declaration reflects the shared values and mutual interests that serve as the foundation for the cooperation between the five BRICS countries.
Furthermore, the summit emphasized the need for inclusive multilateralism and the upholding of international law, particularly the principles enshrined in the United Nations Charter. Addressing ongoing global conflicts, the leaders stressed their commitment to peaceful resolution through dialogue and inclusive consultation.
Recognizing the need for global financial stability and fairness, the summit also touched upon the rising momentum for the use of local currencies, alternative financial arrangements, and payment systems. The BRICS Finance Ministers and Central Bank Governors were tasked with exploring opportunities to enhance the global financial architecture's stability, reliability, and fairness.
In a world grappling with the uneven recovery from the COVID-19 pandemic, BRICS has positioned itself as a beacon of cooperation and collaboration. The expansion of membership further solidifies its commitment to shaping a world that is equitable, just, and prosperous for all, setting the stage for a promising new chapter in the organization's journey.
As the XV BRICS Summit concluded, President Ramaphosa thanked the participating leaders for their commitment to the summit's success. He expressed his confidence that the expanded BRICS will continue to work towards building a world that is inclusive, fair, and marked by shared prosperity.
Below is a link to the XVth BRICS Summit Jhb II Declaration: https://heyzine.com/flip-book/eefe283b48.html