The Fall of a Despot, a Gripping and Thrilling Novel Fit For A Netflix and Hollywood Blockbuster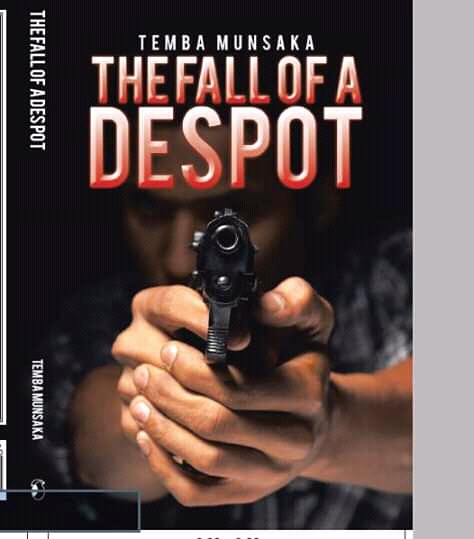 Temba Munsaka's novel, The Fall of a Despot, is a gripping and thrilling story of renegade super military spies that had a fall-off with their superiors, including army generals and the president of a fictitious country called Azambezia.
Temba Munsaka, author of The Fall Of A Despot
The book which is a possible and potential candidate for Netflix and Hollywood blockbusters centres around four special military secret service agents who rebelled against authorities after they realised that their government was no longer serving the interest of the people.
With the plot spanning over several countries including Azambezia, South Africa, Libya and Angola etc., the novel depicts what happens when the issues of unbridled political power goes haywire.
The mind twisting story gets super charged when the renegade spies realised that they were all set up into killing their own parents as part of their initiation into the secret service and this turned them into a rogue super unit that went on a revenge mission against anybody who was involved in the death of their parents.
The storyline and the vividness with which Temba narrates the whole ordeal does usher the book in the same realm of scripts for movies like The Hit Man's Body Guard, The General Commander, Olympus Has Fallen, White House Fallen and Black Hawk Down among others.
Dan is the main character in this novel from start to finish, but his nicknames change with time, from being, The Boy, a childhood nickname and becomes, The Dealer, a super-efficient military sniper who handles big businesses for big people especially in the echelons of military and political power.
Using an exceptional command of military and spy language, Munsaka's story telling ability gives a modern touch to narratives of military escapades in the field of literature in Africa to be general and Zimbabwe to be specific as once witnessed in novels such as Karikoga Gumiremiseve by Patrick Chakaipa in the 1950s.
With the sudden global attention on Africa in social, economic and political issues, the book is likely to be translated into a movie that follows the likes of Queen Sono, also an Afrocentric spy movie featuring actor Pearl Tusi and is directed by award winning Soweto born Kagiso Lediga
Netflix has become one of the prime platforms for movies and its penetration into the African market especially on viewership is substantial as shown in an article in South Africa's techno centred news platform MyBroadBrand which reported a year on year value growth of 110%.
The article titled Massive increase in how much South Africans are spending on Netflix, dated 1 March 2020, reported that according to the bank, FNB, its customers' increase on expenditure on entertainment stood at 110%, 45%, 231% on platforms like Netflix, Showmax and Spotify respectively.
With Africa suddenly becoming the central focus of and for movie content, The Fall of a Despot is likely to be turned into a movie script for a global audience soon especially for its relatable African story.
Movies like Black Panther which also features Zimbabwe's Danai Gurira and Kenya's Lupita Nyongo, with a storyline on Africa and the world's corridors of power, went on to be a successful award winning movie project.