Rutendo Takes Hosting Heaven To Another Level Through Music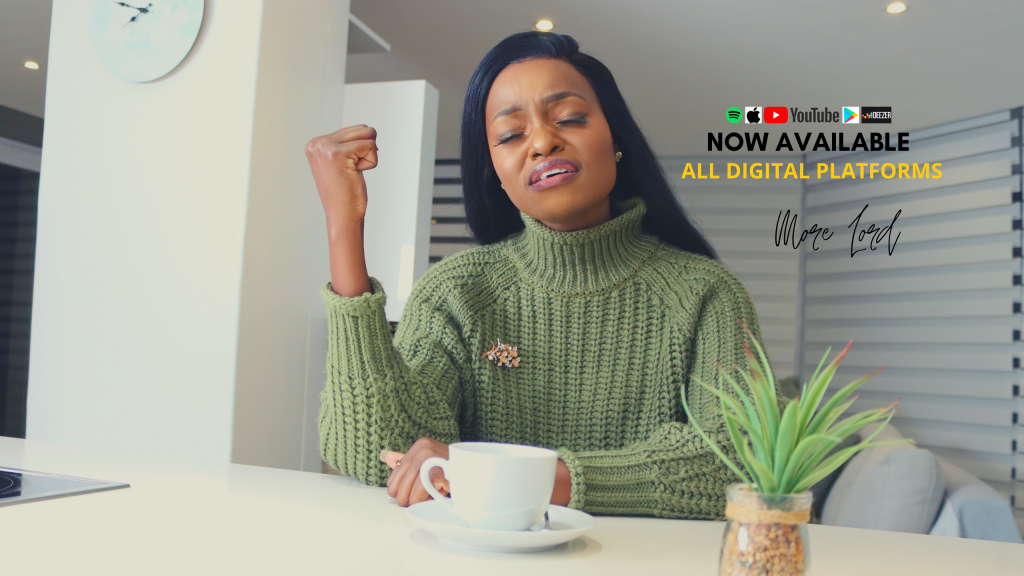 Rutendo Melody Kanguru, the founder of Hosting Heaven, a platform designed to help women bring structure, discipline, clarity, and direction into their spiritual journeys, recently released a worship song that is meant to help people to pour themselves out as they worship the Supreme God who is Heaven.

Describing the track titled 'More Lord', as a song by a hungry soul in search of the outpouring of God's presence on everyone especially in this season, she said that this music was the World's Cry to God in order to encounter him the more now than before.

With the song already now on various music platforms such as Spotify, Amazon, iTunes, Deezer, Google Play, Napster and YouTube, Rutendo is looking forward to having released four songs by the end of 2020, with a song per every quarter of the year.

Even though she started singing at a tender age, Rutendo said that she gave the music a chance at a later stage in high school especially after someone had identified an unusual and peculiar
'texture' in her voice.

zwnews24's Brian Kazungu talked to Rutendo about her recently released track and her music career in the interview below.

zwnews24: You recently released a beautiful Christian track titled More Lord which is receiving so many positive reviews from listeners. Tell us more about this song.

Melody: Thank you for this time, Brian. "More Lord" is the world's cry to God in this season. More of God's presence is what we are in need of right now. This track is a song by a hungry soul. It is what I like to call an 'anthem' for the desperate. We need an outpouring of more of GOD on everyone and everything in this season. The song is talking about how even though we have seen God before, we want more of him, even now!
zwnews24: When and how did you start singing and what is it that inspired you to be a recording artist?

Melody: I was always a singing baby but I started singing more in choirs in the last few years of high school when someone told me I had an unusual texture to my voice which was very peculiar. I did not know what that meant at the time, but this encouraged me. I would then proceed to give music a chance and I started receiving every opportunity I got to minister from then onwards.
zwnews24: Do you look forward to continuing singing and releasing more songs or it's just something temporary? If you are to continue on this music route. When can your listeners expect your next song or album?

Melody: We intend to release a song per quarter this year. That is our goal. Meaning we should have 4 songs by the time the year ends. I am trusting God to make it happen.
zwnews24: I have so far listened to your song on YouTube. Are there other music platforms from which people can find your music?
Melody: The song is also on Spotify, Amazon, iTunes, Deezer, Google Play & Napster
zwnews24: Are there any musicians who have inspired you to become a singer or who inspire you to adopt the way you sing or your music genre? If there is, how has such a person or people influenced you?
Melody: Here in South Africa, I look up to Sinach, Ada Ehi Moses, Victoria Orenze and from my own country, I am highly inspired by the likes of Minister Mahendere and Janet Manyowa. Kim Walker Smith has also played a very important role in helping me become a 'free & liberated' worshipper who is not afraid to just allow the flow of the Spirit of God to move through my worship.
zwnews24: How has been the feedback so far from your listeners regarding the song More Lord and how has that made you feel?
Melody: I have watched with deep encouragement on how people are owning the song as theirs. It seems to resonate with a lot of hearts especially in this space that we are in as a world. The song has also managed to break the barrier of age, it is connecting with everyone, which is what we prayed for. One person said they were listening to the song with their 6-year-old and their 4-year-old and she said if I can quote: "…I'm listening with my girls, 6 and 4 years, they want to listen over and over. My 6-year old says 'mama I love this song, I love the tune'. Lol. I think they can feel the anointing…" I have also been loving reading the testimonies on how the song is ministering to people especially in these times.
zwnews24: What have been some of the challenges that you have encountered in the process of getting your song into the public domain and how have you managed to withstand those challenges?
Melody: I would say that at the moment, we are still very new and learning. We have just recently started the process of knocking on the doors of different radio stations. We are trusting God for uncommon grace and favour to be released on the song so that it can reach as many people as possible.
zwnews24: What can you say to youngsters or even grownups who would like to venture into the music industry but are not quite sure of what must be done to get their voices out there to the very people who need the music in their ears?
Melody: I would say if God gave you the vision, he will bring the provision. I encourage people to walk the uncommon walk of faith and not to wait for things to be perfect. Many times, we do not start simply because we are not sure if what we want to start will succeed. However, God is waiting for us to start so he can lead us in the path of great triumph. So if you want to sing, start! The first step, write a song. God will connect you to the producers who believe in your work and are willing to help.
zwnews24: Besides other musicians who inspire you, who else do you like to acknowledge their input towards the success of your music project?

Melody: I'm blessed with a deeply committed team who have worked tirelessly to make this PROJECT a success. Special mention goes to Music Producer, Dumisani Fortunes who was with us from day one, and Music Director Ngoni G Nyembe who is working tirelessly to get the video to us before the weekends. I am deeply grateful for my friends Timothy & Clara who were onset with me and made sure that I had everything I needed for this project to thrive. To our sponsor, affectionately know as Ms. N, who believed in this project and fully funded it, I'm deeply grateful. And for our spiritual covering, my Pastors, Pastor Femi & Pastor Tim, I'm thankful for giving us their blessing in this project. May this song become the 'anthem' for every yearning and desperate heart seeking God!

To listen to the song click >> https://bit.ly/3c3eKrf