The role of the media in promoting a culture of accountable governance
What is and ought to be the role of the media in building an inclusive, open, accountable, and transparent constitutional state?
The Constitution of Zimbabwe is instructive in providing a framework for holding public office bearers to account for the trust reposited in them.
The President is subject to the constitution. In terms of s90(1) and s90(2)(c) of the Constitution, it is provided as follows: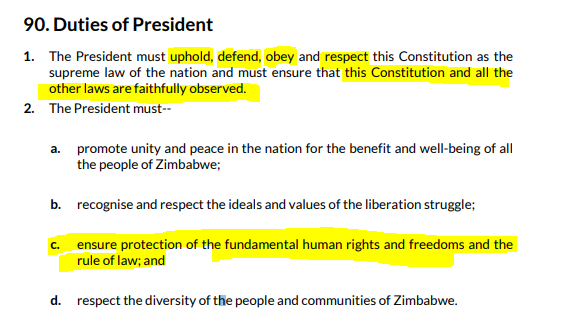 It is also the case that all citizens are bound by the provisions of s2(2) as follows:

It is against the above backdrop that we have allocated space to the Justice Under Rule of Law (JUROL) initiative to raise awareness about the centrality of the rule of law in shaping and defining the personality and character of an aspirational and inspiring nation.
Our contributor in the series – JUROL – Constitutional Literacy 101 is Mr. Tichaona Mupasiri, an inductee of the Banking on Africa's Future (BOAF) – 10,000 Points of Light (POL) Hall of Fame.
He is also a member of FOSMM and JUROL's Director of Public Policy initiative.
As part of the public engagement and awareness promotion, this platform is available for citizens who have something to share on their experiences in the enterprise of building an accountable system of government.
The constitution's s167 remedy is a powerful tool for "effective judicial intervention" as an alternative to a parliamentary impeachment process in holding the President to account for his conduct as prescribed in the Constitution.
It is not in dispute that the ideal concept of public office, expressed by the words, "A public office is a public trust", signifies that a public office bearer has been entrusted with public power by the people; that the officer holds this power in trust to be used only for their benefit and never for the benefit of himself or of a few.
It is the case that citizenship is not free as there are duties associated with it that must be discharged by all in the quest to build a society characterized by checks and balances.
Mr. Tichaona Mupasiri is the applicant in the matter under case # CCZ34/21 which is premised on s167(2)(d) and s167(3) of the constitution of Zimbabwe which provides that the Constitution Court has an exclusive jurisdiction to determine whether the first respondent has failed to fulfill Constitutional duties as set out in s90(1) and s90(2)(c) of the constitution.
Below is his article:
"The role of the media and its actors in promoting open, accountable, and transparent constitutional governance systems cannot be overstated.
After 42 years of independence, Zimbabwe represents an interesting case study of how the promise of a system founded on a general consensus that the respect of the rule of law would be a guarantor of inclusive and prosperous development, has been squandered by the commissions and ommissions of not just public office bearers but also by the eloquent silence of the majority of the citizens.
The propensity to deify individuals as the go-to person's in the quest for sustainable answers to the question of what is required to lift people out of poverty did not end with Mugabe's exit via the soft coup.
Questions have inevitably continued to be asked on the distinguishing features of the Mugabe v Mnangagwa eras but the media has been largely missing in actions.
The leading or shinning stars in the media arena have defaulted into political commissars and in so doing undermine the role of the media in exposing corruption and abuse of public power based on fact and not innuendoes.
Mugabe was deposed unconstitutionally and died a disappointed man yet his grip against his trusted colleagues who orchestrated a palace coup that was sanitized as a project restore enterprise remains misunderstood.
I was excited like many Zimbabwe to see Mugabe gone by any means necessary because it was obvious to me that he bore the brunt of the blame for undermining the rule of law with the support of a small coterie of his enforcers.
Mugabe's relationship with the government of Zimbabwe ended unconstitutionally in November 2017.
The true nature of the separation or alienations had been disguised in the public psyche by the deliberate propaganda that his continued incumbency was detrimental to the quest for good governance and accountable use of public resources and power.
Mugabe was no saint but the facts of his exit that have informed a person like Sybeth Musengezi to use the courts to determine whether the methods used to pass the constitutional muster have inspired me to courageously invoke s167 of the Constitution to test whether the facts and circumstances of the hijack of the power and authority to control and direct SMM Holdings Private Limited (SMM) on 6 September 2004 was not linked to the ZANU-PF ascendancy conundrum.
I search all over for answers to the SMM questions that include:
1. If the reason for divesting and depriving SMM's UK registered shareholder, SMM Holdings Limited (SMMH) was that SMM was hopelessly state indebted, then jurisdictional facts ought to have existed to support the unprecedented use of public power to warrant the use of reserved state of emergency Presidential powers.
2.Was SMM indebted to the state? If so  what is the state and was the state defined as a contracting party capable of asserting any rights including of a creditor in relation to a juristic entity like SMM?
3.Was the due process of the law followed to establish whether a creditor to debtor relationship existed between SMM and the state prior to Chinamasa invoking the Presidential Powers (Temporary Measures) in relation to SMM? If so, what was the quantum of indebtedness? How was this established and by whom?
4.How did the facts reach Chinamasa's, a Minister of Justice at the time, mind? The Minister of Justice in any constitutional republic has no jurisdiction over the financial affairs of the government and ordinarily has no access to contracts of private companies.
5.With respect to allegations that the ultimate beneficial shareholder of SMM, the natural person, Mr. Mutumwa Mawere, a non-resident Zimbabwean born person, had externalized funds led me to question the basis on which an external person could have been subjected to the exchange control regulations of Zimbabwe that is only applicable to residents of Zimbabwe.
The above-mentioned questions including how the solvency test was performed and established in relation to SMM, have continued to challenge my mind.
I looked to the media to find answers and regrettably, my searches provided a scary narrative that President Mnangagwa was the key driver of driving the cause and implementation of the demise of SMM with the active support of Chinamasa and others including Manikai.
The link between the Tsholotsho declaration and the SMM reconstruction was elusive to me until I got information that the actors (both state and non-state actors) were the same with the exception of a few in relation to the removal of former VP Joyce Mujuru who was unceremoniously ejected from the party and government on allegations of corruption.
Since 2014, the nation has been waiting for Mujuru to be convicted but alas she is a free person.
Mugabe was removed because he was alleged to have been surrounded by criminals yet the charge sheets against the targeted people exist not on paper but in the minds of the beneficiaries of her demise who were key players in the SMM affair.
The silence on the illegitimate and illegal use of public power for political and personal reasons is not limited to non-state actors but finds deeper and troubling expression in the very corridors of organs of state like parliament and the courts who have acquiesced to the tyranny of the architects of authoritarianism.
In relation to SMM, it is intriguing that President Mnangagwa told the nation in June 2018 that the government had won 22 out of 23 cases against Mawere.
When properly construed, no public office bearer would be proud in a constitutional republic of hijacking a company and use parliament and the courts to endorse this.
The link between President Mnangagwa and the affairs of SMM's acquisition is well established in the public domain to allow rational people to easily conclude that the use of public power against SMM was justified if Mawere's acquisition of SMM was tainted by corruption.
It is not unusual to hear people saying that Mawere is in exile after diverting the loot from the reach of Mnangagwa who had invested social, economic, and political capital in Mawere to play his part in his political ascendancy.
In June 2021, I chose to join the Friends of SMM (FOSMM) community simply to find answers to the questions above.
Unlike many WhatsApp groups, I found in the FOSMM groups robust and frank exchanges of ideas, experiences, insights, and knowledge that I had been yearning for.
With respect to the SMM issues, I found it refreshing that Mr. Mawere was always ready to provide the facts when requested to do so that led to the inescapable conclusion that public power was used to promote personal interests.
What shocked most was the Mawere house affair. I could not believe that Gwaradzimba could brazenly lie to Mawere that he had no knowledge of the facts regarding the hijacking of Mawere's house using a public law as a vehicle.
The facts are that Mawere's Mount Pleasant house that was purchased prior to his involvement in the SMM affairs was managed in terms of rental billing and collection by SMM staff members.
However, I learned that the effect of the reconstruction order issued in relation to SMM was to create a new creature called SMM UNDER RECONSTRUCTION that had no legal standing of its own as a company but as an organ of state that was created by an act of state.
Gwaradzimba displaced the board of directors of the SMM companies by virtue of a draconian decree.
SMM's relationship with Mawere ended when Gwaradzimba was appointed as Administrator of SMM.
In the premises, there was no legal and constitutional basis for SMM to be involved directly or indirectly in the affairs of Mawere's private property.
When I learned that SMM collected rent and for 17 years, the rent was never paid to the owner of the property, it dawned on me that Zimbabwe had descended into anarchy with the knowledge of the President.
It is striking that since Mawere reported this hijack of his property and the fraud in it, Gwaradzimba has not been arrested.
I learned that he is untouchable because of his direct links to the President.
In the course of the exchanges in FOSMM, I learned that Manikai in one of the chats with Mr. Fred Mutanda, a fellow member of FOSMM, had provided a very interesting narrative confirming the direct role of the President in the SMM reconstruction project.
I was astonished to hear that the allegations that the SMM reconstruction was triggered by an alleged political fallout between Mawere and President Mnangagwa.
As an active citizen, I chose to take the next step of using the courts to test the veracity of Manikai's admissions.
I naively thought that the mainstream media would be persuaded to journey with me to test whether the duty imposed on the courts to determine whether President Mnangagwa has failed to fulfill his constitutional duties can be discharged in an independent and impartial manner.
My experiences since the launch of my court application especially with regard to the media as a vehicle to objectively inform, educate and entertain the public although not exhaustive confirm that tyranny thrives when illiteracy is pervasive on the burning questions of our time.
Governance becomes the victim and tyranny becomes celebrated by the very people who are expected to play a watchdog role in a constitutional democracy."
PRESIDENT CYRIL RAMAPHOSA OPENING REMARKS AT THE OCCASION OF THE REPUBLIC OF NAMIBIA STATE VISIT
Your Excellency and Dear Brother, President Dr Hage Geingob, Honourable Ministers, High Commissioners, Senior Officials, Ladies and Gentlemen, Good Morning. Allow me to begin by thanking you, Your Excellency, for honouring our invitation.
Too many years have passed since the last state visit to South Africa by the Republic of Namibia in November 2012.
A great many things have changed our world since then, including the global COVID-19 pandemic that wreaked havoc across the globe.
The pandemic had a devastating impact on human health, livelihoods and economic activity, and it will take us some time to fully recover. Therefore, as we further cement our strong bilateral relations, we need to work together for a swift economic and social recovery for our respective countries, for the region and for our continent.
It is gratifying that officials from our two countries continue to engage at various levels. The most recent structured engagement was the Senior Officials Meeting of the 3rd South Africa-Namibia Bi-National Commission that took place in Windhoek in March this year.
I am pleased with the work that has been done in preparation for the upcoming BNC, which is scheduled to take place in Namibia later this year.
Yesterday, Namibia's Minister in the Presidency and South Africa's Minister of International Relations and Cooperation had the opportunity to discuss issues of mutual interest. This engagement will be valuable for our discussions today.
As we sign new Agreements and Memoranda of Understanding during this visit, it is important that we conduct an audit of all existing legal instruments between our two countries in preparation for the upcoming BNC.
We need to be certain that they are fit-for-purpose and that they continue to serve our respective developmental goals.
As neighbours with deep historical ties, we share the same aspirations for our people – development, employment, equality and prosperity. We are therefore committed to deepen our cooperation, particularly in the area of trade and investment.
It is unfortunate that, due to other events taking place this week, we were not able to convene a Business Forum on the sidelines of this State Visit. However, we are determined that a South Africa-Namibia Business Forum should take place this year.
It is an opportunity to bring our respective private sectors together to promote investment, trade and potential new areas for cooperation.
Namibia is one of South Africa's top trading partners in the Southern African Customs Union (SACU) and the Southern Africa Development Community (SADC).
We must use our geographic proximity and the close ties between our respective economies for greater mutual benefit. One of the areas to expand cooperation is in energy investment. For example, how do we leverage the growing demand for new, clean technologies like green hydrogen to promote cross-border development?
Both our countries are planning massive hydrogen projects. Such projects are key to the energy security of South Africa and Namibia, and will catalyse economic growth and job creation in both our countries.
We need to look at how we collaborate, as our respective governments, state-owned enterprises and private companies, to seize this great opportunity.
Our shared history enjoins us to pursue a common future. It is imperative that we implement the African Continental Free Trade Area to deepen African economic integration, to develop our economies and to lessen our reliance on imports from outside Africa.
South Africa pledges to continue to work closely with Namibia as current chair of the SADC Organ on Politics, Defence and Security Cooperation to promote regional peace and stability.
Please be assured of our full support during your tenure, including with respect to regional anti-terrorism initiatives in northern Mozambique.
As we strive for peace and stability in our region, we must continue to support the struggle for self-determination and freedom of the Saharawi people.
The declaration and commitments of the SADC Solidarity Conference with Western Sahara, co-hosted by South Africa and Namibia in March 2019, should be fully implemented.
Similarly, all United Nations and African Union resolutions and decisions should be enforced. We must continue to mobilise regional, continental and international support for a sustainable resolution to the Western Sahara issue, and push for the Kingdom of Morocco and the Polisario Front to resume dialogue without preconditions.
At the same time, we should reaffirm our support for the Palestinian cause and for the two-state solution.
The conflict between Russia and Ukraine has exposed the frailties of international systems of governance. South Africa, like Namibia, maintains that the United Nations and the office of the Secretary-General should play an active role in resolving this conflict.
We also agree that the UN in its current configuration needs to be more responsive to the needs and aspirations of the majority of the world's people. We must step up our efforts to change the design of multilateral systems of governance.
One of the most pressing issues facing our respective countries and our region is climate change. L Like Namibia, South Africa is a water-scare country and is thus particularly vulnerable to climate change and its effects on food security, energy generation, and many other sectors.
We need to work together in pursuit of low-carbon, inclusive, climate resilient development, which is critical to the sustainability of our continent.
Your Excellency, I look forward to our deliberations on these and other important matters of mutual interest.
I thank you again for honouring our invitation and warmly welcome you and your delegation to South Africa.
PRESIDENT RAMAPHOSA TO HOST PRESIDENT NIINISTÖ FOR A STATE VISIT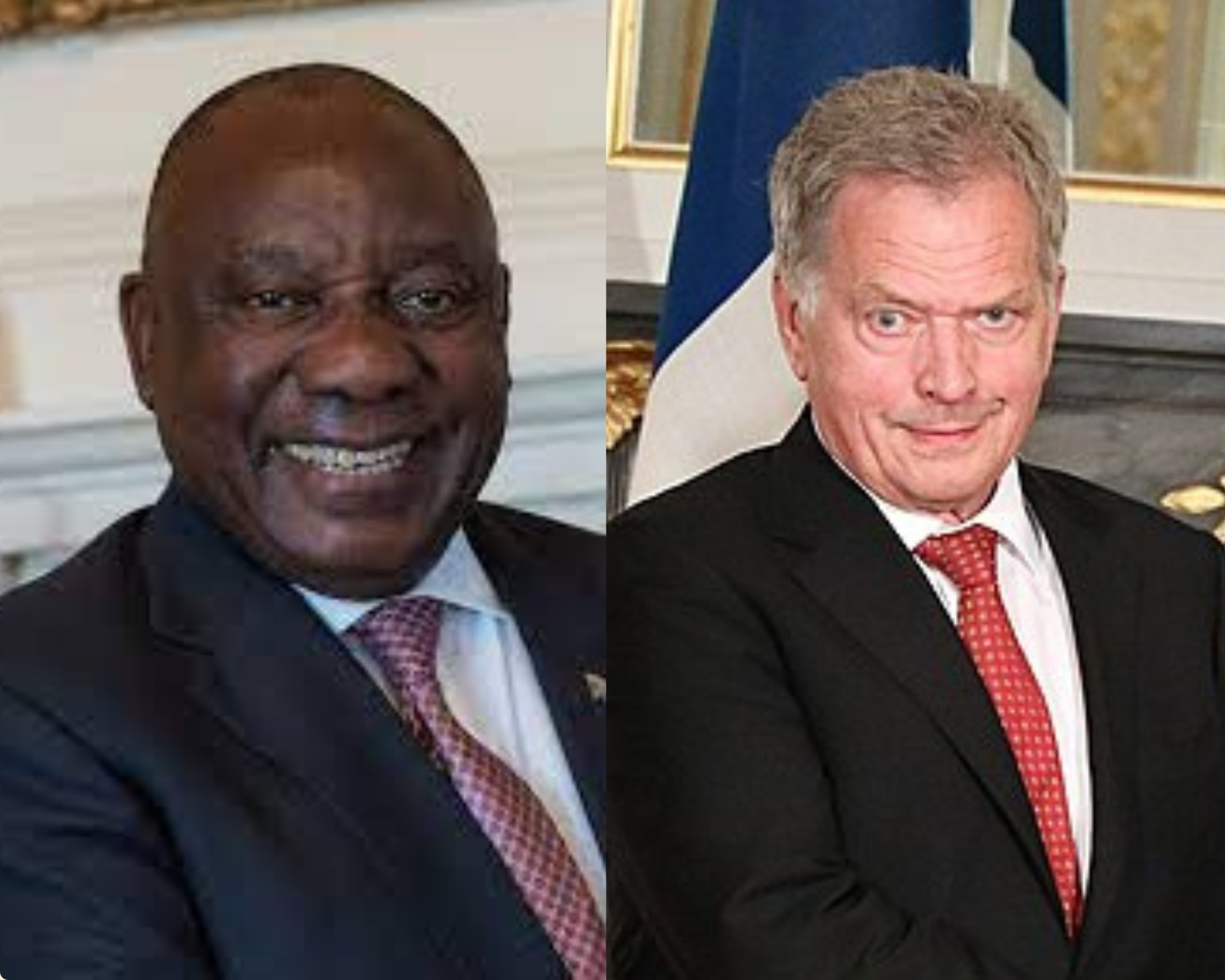 President Cyril Ramaphosa will host His Excellency President Sauli Väinämö Niinistö of the Republic of Finland on a State Visit to the Republic of South Africa.
President of Finland will undertake a State Visit to the republic, from 24 to 26 April 2023, at the invitation of President Ramaphosa. Initially the visit was planned in April 2020, but was postponed due to the Covid-19 pandemic.
The State Visit will be the first by a Finnish President to South Africa in more than twenty years. President Niinistö, however, visited South Africa in December 2013 to attend the funeral of former President Nelson Mandela.
Bilateral relations between Finland and South Africa are deep rooted due to Finnish support for the liberation movements in Southern Africa. Relations have grown since 1994 in all areas of bilateral engagement and Finnish investment is a major priority for both countries, with over R2 billion in new investments in the last 3 years.
President Niinistö will be accompanied by a delegation of Finnish business leaders and a Business RoundTable will be hosted in partnership with the Department of Trade, Industry and Cooperation held under the theme Building Smart, Secure, Sustainable Society Together.
The objective of the session is to strengthen trade and investment relations between South Africa and Finland through the mobilisation and facilitation of new investments, expansion and nurturing of existing Finnish investments in South Africa, as well as exploring opportunities for joint ventures in technology commercialisation in mutual sectors.
Most of the discussions will centre on possible opportunities in renewable energy; Information and Communication Technology; mining technology; packaging and food hygiene, construction and finance, that the South African and Finnish companies can work together in exploring.
The Presidential Round Table will be preceded by a Business-to-Business Matchmaking engagement between the South Africa and Finnish companies. The outcome of the two interactions is expected to be an increase in trade and investment between South Africa and Finland.
Finland is an important partner to South Africa and, despite its small population and territory; it is amongst the most developed countries in the world and provides valuable trade, investment and development cooperation to South Africa. Like the other Nordics, they play an active role in global affairs, are strong advocates for multilateralism, have an excellent capacity and track record for peace and mediation efforts, and are global leaders in innovation.
Since 2010 Finland has been supportive of South Africa's national priorities and continues to be a reliable partner in various sectors including maritime, science and technology, ICT and digitalization, environment, energy, education, skills development, agriculture and water.
President Niinistö will also be conducting a State Visit to Namibia during his Southern Africa visit. Within the SADC context, the Finnish have supported several programmes on sustainable water management. The Finnish engagement with Africa forms part of its strategic objective of increasing partnerships with Africa, including expanding its diplomatic presence, its support for the African Agenda and expanding economic relations. In this regard, Finland has adopted an Africa Strategy.
Finland is also a strong international partner in areas of various global issues such as strengthening multilateralism, international law, peacebuilding and mediation, the advancement of gender and human rights as well as around issues of renewable energy.
PRESIDENT RAMAPHOSA TO HOST PRESIDENT GEINGOB OF NAMIBIA FOR A STATE VISIT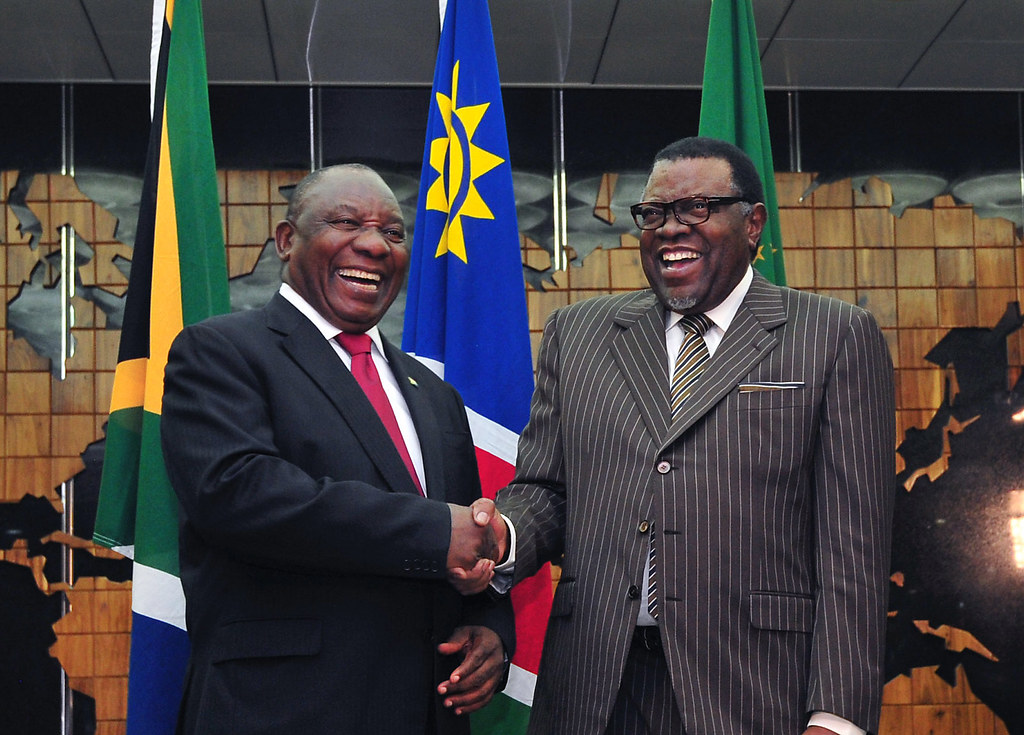 President Cyril Ramaphosa will host His Excellency President Hage Geingob of the Republic of Namibia who will undertake a State Visit to the Republic of South Africa on Thursday, 20 April 2023.
The visit aims to solidify bilateral relations between the two countries and it is expected that President Ramaphosa and President Geingob will discuss political and economic issues including regional, continental and international matters of mutual concern, including exchanging views on the political situation in Eswatini, conflict in Saharawi Arab Democratic Republic (SADR), Palestine and the Russia – Ukraine situation.
South Africa and Namibia enjoy close historic relations and the structural bilateral relations between the two countries is conducted under the framework of a Bi-National Commission (BNC) inaugurated in 2013.
The State Visit by President Geingob will afford the two countries an opportunity to solidify their bonds of friendship through assessing progress made in the implementation of the decisions of their BNC.
The visit will also afford the two countries an opportunity to enhance economic cooperation; explore trade and investment; and identify new areas of cooperation.
In 2022, South Africa imported R16.1 billion from Namibia and in turn South Africa exported R56.5 billion to Namibia.
The second session of the South Africa-Namibia BNC was held in South Africa in October of 2016. The third session is scheduled to be hosted by Namibia and meetings, at senior officials level, are underway planning for this meeting.
The State Visit will be preceded by a bilateral meeting between the Minister of International Relations and Cooperation (DIRCO) of South Africa, Dr Naledi Pandor and Ms Netumbo Nandi-Ndaitwah, Minister of International Relations and Cooperation of the Republic of Namibia on 19 April 2023.
Namibia is a member of the Southern African Customs Union (SACU) and President Geingob Chairs the Southern African Development Community (SADC) Organ on Politics, Defense and Security Cooperation.
The last State Visit to the Republic of South Africa by the Republic of Namibia took place in November of 2012, by former President Hifikepunye Pohamba.