Gehena Harina Moto Script Writer Says He Wants His Writing To Be The Mouthpiece Of The Oppressed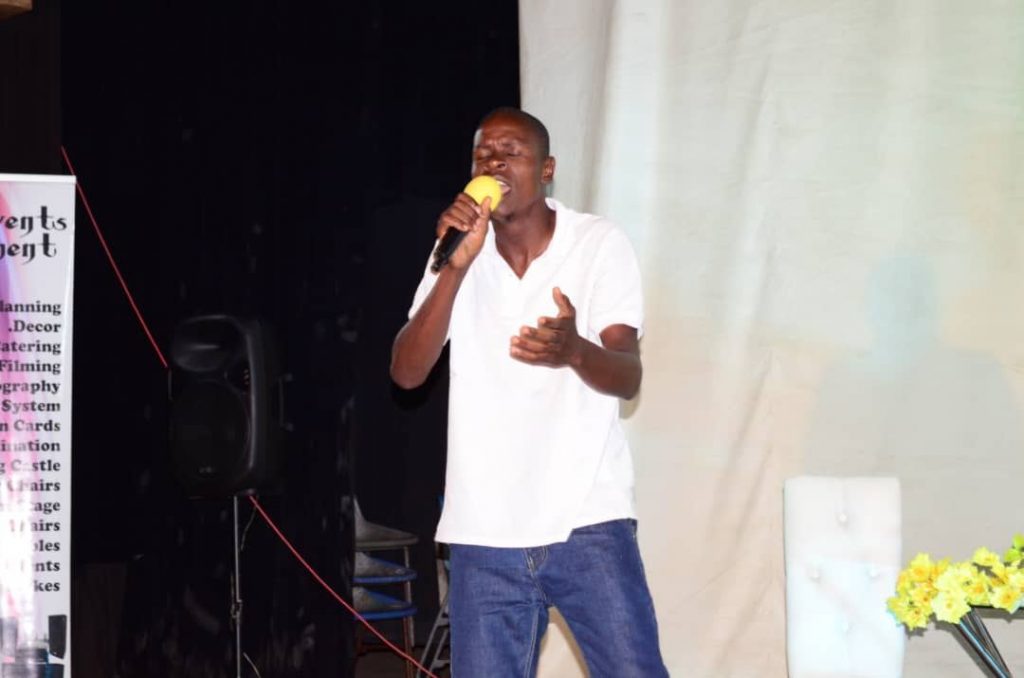 Johannes Mike Mupisa, the scriptwriter for the movie, Gehenna Harina Moto, featuring songbird Pah Chihera, veteran actress Patience Musa as well as Mutare based singers Flotboi and Lisa Afonso, says he wants his writing to be the mouthpiece of the oppressed.
Described by fellow writer Chenjerai Mhondera as the new Hamutyinei, the 31 year old writer from Mwenezi in Masvingo says that his work dwells on women abuse and social ills perpetrated either by politicians or other people of influence in society.
An Archaeology graduate from Midlands State University (MSU), Johannes who has so far co-authored several poetry anthologies, history textbooks and a novel titled Shukukuviri is also looking forward to engage in poetry showcases and seminars to assist aspiring writers.
zwnews24's Brian Kazungu talked to Johannes about his inspiration, experiences and wishes concerning the world of literature.
zwnews24: Briefly describe yourself so that your readers can understand you and your work better.
Johannes: I am a 31 year old male writer from Mwenezi in Masvingo. Writing has always been part and parcel of my life since my school days at Gampu Primary School in Bulawayo. I remember, we would compete to write compositions from as early as Grade Six. My secondary school days at Guiding Star High were dormant in terms of writing, only to reignite the flame when I was at Midlands State University where I was studying for a B.A (Hons) Degree in Archaeology. I have always wanted to make writing a communication platform where I express how I view the world.
zwnews24: What is the motivation behind your writing career? What do you seek to achieve and why?
Johannes: I want my writing to stand as the mouth piece of the oppressed. I wish to publish books that will receive international recognition at the same time promoting the cultural norms and values of being African. I haven't reached these goals as a writer but I feel I will. The voice of the oppressed cannot be suppressed and the African culture cannot be eroded.
zwnews24: When and how did you start writing and what has been the impact of that move on you and on the people around you, including family and friends?
Johannes: I started writing and being inspired to write by the creative books that I read at a very tender age. In primary school, I read Hardy Boys and Nancy Drew detective novels. That inspired me to write stories. I tried to write back then and ended up piling up manuscripts that I would eventually lose within a short time. Writing has made me to lose some of my friends who think I have a mental disorder due to my writing obsession.
zwnews24: What are the titles of the books that you have written so far?
Johannes: So far I have been published in numerous poetry anthologies in my native language, Shona:
Nhava Yenduri(2015) published by Roots Press, Khuluma Izwi/Taura Izwi/ Speak a Word by Secondary Book Publishers – A Starbrite Finalists Anthology (2017), Best New African Poets (2018) – Mwanaka Publishing, Gwatakwata Renhetembo (Secondary Book Press)(ZJC New Curriculum Poetry Set book 2017-2019), Mupakwa Werwendo – Progressive Publishers 2018, Chitungwiza – Musha Mukuru (Mwanaka Publishers 2020), Mukoko Wenduri – Royal Press (2019)
In these anthologies, my poetry dwells on women abuse, the cries of a girl child, and I also lambast social ills perpetrated either by politicians or by influential people in society.
Apart from these anthologies, I published a novel with Pearl Press Media titled Shukukuviri. It is a novel which dwells on the aspects of the heart. It is about the pursuit of romance even in instances where individuals are not welcome.
I also co-authored the following academic textbooks with Secondary Book Publishers:
A Practical Approach to Heritage Studies, Book 4.
A Practical Approach to History Studies, Book 2
The academic texts are streamlined to the new curriculum requirements aimed at nurturing pride and a sense of belonging to an African child.
I also wrote a script for a movie titled Gehena Harina Moto produced by a Masvingo based film production company Don Claude Entertainment. The film features song bird Pah Chihera, veteran actress Patience Musa, Mutare based muscians Flotboi and Lisa Afonso. It is available on https://youtu.be/6JUJ3S4nrbA
zwnews24: If people want to buy your books or invest in your work, where can they find the books and how do they get in touch with you either for feedback on your work or for any other related correspondence?
Johannes: All the books that I published with various publishing companies can be acquired through the respective publishers mentioned above. For the novel, Shukukuviri, readers need to get in touch with me on my cell 0775125488 since I am doing a Print on Demand approach due to soaring printing costs.
zwnews24: What are your guiding values which determine what and how you write? Are there things that you do not write about at all or is there a certain approach to writing which you do not use because of these values? Share your insights.
Johannes: I don't have particular guiding values when it comes to writing. I just listen to the voice within me and then I translate that voice into written words. I feel that writing, especially fiction, does not have to be planned, since it is just the voice within that dictates. As for me, listening to that voice is what gets the best out of a writer.
zwnews24: How did you feel when you got published for the first time and what has been the effect of that moment on your writing career now?
Johannes: When I first got published, I was thrilled but at the same time a bit disappointed since the company that edited our anthology did not do a proper job. However that disappointment gave me the urge to want to network with more seasoned writers like Tinashe Muchuri who was later to become the editor of my debut novel Shukukuviri. I hooked up with other writers on the Writer's International Network platform from whom I have learnt a lot. I also joined Phillip Chidavaenzi's Writers Clinic from where I learnt that writing requires patience and much dedication in order to master perfection.
zwnews24: What has been some of the most cherished and memorable feedback that you have received from your readers so far and how has it impacted you in your pursuit of literature, either as a profession or as a hobby?
Johannes: My editor, Tinashe Muchuri once remarked "You are one of the most promising Shona writers to emerge from Masvingo."
Chenjerai Mhondera, a fellow writer reviewing Shukukuviri said, "After reading Shukukuviri, I believe that another Hamutyinei has been born."
Such feedback has motivated me to write more. That is why I have hordes of manuscripts lined up for publishing.
zwnews24: What are some of the challenges that you face in your writing and what is it that makes you to continue writing regardless of these challenges?
Johannes: The challenge to writing in Zimbabwe is piracy and very high publishing costs. That is the reason why at times, we are tempted to go the self-publishing route. However, even self-publishing is also expensive if you are to hire a good editor who ensures a quality product to your readers. Regardless of all that, I continue writing with the hope that one day the economic turmoil in our country will be history and all the piracy will be gone and that publishing and printing charges will consequently come down.
zwnews24: What are your words of advice and motivation to other writers, both established and aspiring ones in their pursuit of literature, either as a hobby or profession?
Johannes: My advice to established writers is to give the upcoming writers a chance. To upcoming writers, I would want to say, speed spoils. Don't rush to publish material before you are satisfied that it is ready for the market.
zwnews24: What do you think is the relevance and impact of literature in your community, in your country or across the whole world? Do you think literature should be recognized, celebrated and be promoted?
Johannes: Literature is one of the avenues of entertainment in any country. These days' people are reading books that are being shared on various social media platforms online. The impact of such a reading frenzy cannot be ignored although some of the stuff contains some misleading erotic stories which may be harmful to young people. However, there has also been some very good content which is changing lives especially from writers such Rutendo Lovely Nzira, Dr T.M and Ivy Kwaramba among others.
zwnews24: How deep is your passion for literature? What have you already done, what are you planning to do and how far would you go to promote literature in your community, in your country or across the whole world?
Johannes: In Masvingo, I have brought together upcoming poets for a poetry anthology titled Poetry is Life/Nduri Upenyu to be published in the near future. It consists of Masvingo based renowned stage poets Ngoni Paradza Hova, General Fire Collosso and Abel Mauchi. Resources permitting, I would want to engage in community poetry showcases and seminars to assist aspiring writers on where to take their manuscripts and how to develop themselves into reputable writers.
zwnews24: Is there a person, group of people or organization that you know which is helping to develop and promote literature in your community, in your country or across the whole world? Who are they and what is it specifically that they are doing in this context and how is it inspiring you and positively impacting individuals and communities?
Johannes: Organisations that I know of that assist writers and have also assisted me to get to where I am include the Writers Clinic administrated Pastor Phillip Chidavaenzi and the Writers International Network under Beaven Tapureta. These organisations have social platforms that take writers through writing tips and processes.
zwnews24: What has been some of the best works of literature that you have enjoyed so far (Books, blogs, poems etc.)?
Johannes: Sidney Sheldon has it all. He is one of the best writers indeed. Every literature enthusiast has read something from Sidney Sheldon. Sidney Sheldon's Bloodline is quite a pulsating read that will force you to your reading chair.
zwnews24: If you were to give awards in literature, what would be your prizes and the related criteria for selecting recipients and awarding such rewards?
Johannes: If I was to give prizes for literature, I would give writers bursaries to partake in writing and publishing studies.
zwnews24: Are there people or organisations that you would like to acknowledge and credit, be it for their emotional and material input or contribution (support) towards your works of literature?
Johannes: People who have really been there for me are the Zimbabwe Online Writers Association, a brain child of Canada based social worker Sheila Chimuzinga-Charamba. Writers on that platform, notably Tsevetana Dhliwayo, Emmanuel Dhliwayo, Emmanuel Magaisa and Prosper Njeke have always encouraged me to keep my head up and to focus on the future. This wouldn't be enough without mentioning Writers International Network members such as Oscar Gwiriri, Tinashe Muchuri, Lazarus Sauti and others.
The questions in this interview are adapted from the book, General Emeritus – Wisdom, Mysteries and Dark Sayings, a poetry anthology written by Brian Kazungu: https://amzn.to/2T8sEQX