As Justice Makarau got offended by Mupasiri's court submissions, justice may be the victim
On Thursday, 3 March 2022, Justice Makarau was offended that Mr. Tichaona Mupasiri, the applicant in the unprecedented application to hold President Mnangagwa to account in an honest and transparent manner for his alleged role and knowledge in relation to the facts and circumstances that triggered the use of Presidential Powers (Temporary Measures) as a weapon to attack the rights and freedoms of the shareholders of not only SMM Holdings Private Limited but a host of other juristic entities.
The heated exchange between Justice Makarau followed Mr. Mawere, the Applicant in the matter under Case# CCZ 11/22 for the recusal of the Learned Judge on alleged bias in matters that are cogent in the Mupasiri application.
At issue is whether the allegations made by Manikai, who is President Mnangagwa's close ally and confidant apart from his legal advisor, on 27 March as follows were true and factual but to date, the President has chosen to fully associate himself with Manikai's predicament as a professional lawyer who independently of President Mnangagwa took an oath to promote and protect the Constitution.
"I am perturbed that my President would openly and brazenly associate himself with a judge who in her judgment stated that she did not owe a duty to her oath by knowingly and intentionally refusing to consider the merits of the dispute that was brought before her on the assumption that she was an independent and impartial mind," said Mr. Collins Charumbira.
Mr. Charumbira did not have any good words to say about Manikai, who he claims blocked him following an inquiry about the facts that were shared in the FOSMM group to the effect that Manikai is a person of interest in unpacking the facts and circumstances that led to the demise of SMM in 2004 following the use draconian manner in which public power was used to alienate the shareholders of companies that were providing jobs and income to thousands of Zimbabweans.
Manikai arrogantly told Collins to mind his business and never contact him again alleging that he was sent by Mawere to harass him over what he regarded as some "spilled milk."
Collins said: "I am very encouraged that Mupasiri has taken the search for the truth forward and this dispute has migrated from chat groups to an arena that is provided for in the constitution.
I had no idea what the s167 remedy and I had already surrendered to my comfort after Manikai rebuffed my bona fide attempt to establish how he personally got involved in attacking Mawere, especially having regard to the objective facts that absent Mawere's financial and moral support, the firm that President Mnangagwa is using to defend himself, DMH, would not be a reality.
Manikai tried to use the attorney to client privilege to avoid addressing my questions regarding his seminal role in prosecuting the reconstruction or destruction measures against SMM.
I am following closely this matter but I am increasingly convinced that President Mnangagwa may be a pawn in a game that Manikai authored for political expediency."
The President and Manikai were represented by a junior attorney working for DMH in this application.
At the previous hearing, he told Justice Makarau that he had been instructed to oppose the recusal application by both his clients i.e., the President and Manikai.
Although Mupasiri had sought no relief against Manikai, Manikai has opposed his application.
"What I know is that there can be no justice without the truth in it.
What is troubling me is that no lawful would be blind to obligations imposed upon him or her, to tell the truth. When I wrote a letter to Manikai on 8 November 2021, I naively thought he would welcome my gesture by cooperating with the search for justice under the rule of law, but what I have been able to gather is that he behaves like a warlord who believes that he is UNTOUCHABLE.
It is striking that Manikai like Temba Mliswa believes that President Mnangagwa is the law or he is above the law and as such my application is an attack against the person of President Mnangagwa when he triggered and provoked me to be angry.
The more I learned about the SMM matter, the angrier I got but what has disturbed me more is that there are far too many people who excel at pontificating in chat groups without taking any steps to assert the rights that are enshrined and entrenched in the constitution," said Mr. Mupasiri.
He continued to state as follows in relation to his experience on Thursday when he appeared before Justice Makarau's case: "When Mawere launched his recusal application, I had taken this matter to be a third party cause and as such, all I needed to do was to focus on my application.
I did not oppose the relief Mawere sought because I genuinely believed that the intervention of the parties with knowledge would be helpful and beneficial to the court in resolving my cause of complaint.
I came to court with this understanding and background including my own curiosity as to what interest if any, would a President have in sticking to Justice Makarau as the only judge who can determine the application by Mawere for leave to intervene in my application.
Justice Makarau opened the hearing by establishing from the litigants in what capacity they were in court.
I told her that I was the main applicant and also that I was a self-actor.
Mr. Mawere was the first one to be asked to make his submissions. He was eloquent and on point. I was impressed by his understanding of the rules of court, his submissions regarding his objection to Justice Makarau's involvement in any matter that she has already made judicial findings, and his unique ability to connect the dots."
Mawere was followed by Mr. Gondogwa who appeared on behalf of the Respondents.
This is my first time to appear in court as a self-actor but what happened since Thursday, 25 February 2022 when Justice Makarau gave directions as to how the recusal application would be processed, I was surprised that the lawyers representing the President would proceed to intentionally sabotage the litigation.
The President and Manikai knew that they had to file their answering affidavits by close of business to allow Mawere to respond by close of business on Wednesday.
I was only served the opposing papers on Tuesday afternoon and Mawere was only served the papers on Wednesday morning after protesting to the Presiding Judge.
The explanation that Gondongwa gave that their messenger could not find the address did not make sense but this was meant to frustrate the process.
I was pleasantly surprised that Mawere managed to serve an answering affidavit that dealt with all the allegations made by the Respondent.
Accordingly, I was comforted that the Judge would at the very least reprimand DMH for failing to adhere to her directions but alas she said nothing at all.
I was also a recipient of Mawere's letter to the Registrar to ask if the Learned Judge could postpone the matter to allow him to still get the 2 days allocated for him to respond.
The Learned Judge took the decision to completely ignore the request.
After Mawere's brilliant submissions, Mr. Gondongwa on behalf of the Respondents did his best to divert the court's attention in order for the recusal application to be dismissed, I was then asked by the Learned Judge to indicate whether I wished to say something regarding the recusal application.
The Learned Judge asked me to identify my interest in the dispute. I told her after reading Mawere's application and his oral submissions, I wanted to zero in on two issues.
The first one was regarding the legality and constitutionality of a reconstruction order that was issued by Gwaradzimba in his capacity as the Administrator of SMM under circumstances that clearly offend the rule of law.
Below is the first paragraph in Justice Makarau in relation to the review application that she capriciously dismissed that was launched by the Second Intervening Party or THZ Holdings Limited (THZH), the company that had a direct and indirect shareholding in Zimre Holdings Limited (ZHL) of about +46%, trying to assert its rights in relation to the recognition of Gwaradzimba as an Administrator of Zimre.
I was shocked that Justice Makarau contrary to the version given by President Mnangagwa in his opposition to my application that judges like her had determined the SMM reconstruction disputes in an independent and impartial manner, Justice Makarau had recognized and enforced flowing from Gwaradzimba's purported order that was published in the local press announcing that Zimre, a listed company with other shareholders, was under his control and management.
Astonishingly, Justice Makarau admitted Gwaradzimba pursuant to an order that he authored as a party to the proceedings that should have been limited to parties with bona fide interests in the affairs of Zimre.
Not only did Justice Makarau clandestinely abuse her discretionary powers as a Judge to give the audience to Gwaradzimba, a creature of an act of state, she also gave him an order to control the destiny and fate of Zimre.
Surprisingly, she even had forgotten this travesty of justice that was orchestrated by her inside the court.
This knowledge alone created a real and not some abstract apprehension of bias allowing me to tell her from the bar that she is not fit to preside on the application for leave to intervene if in the part she had illegally given Gwaradzimba rights which no law permitted a judicial manager to possess.
It shocked me that according to Makarau, reconstruction was akin to liquidation when this is false and was solely intended to justify the theft of private assets using crooked judges as instruments or weapons to undermine the rule of law."
The link to the notice referred to in Justice Makarau's judgment is provided here: https://online.flipbuilder.com/mmawere/sdci/.
Below is a link to the full Zimre judgment: https://online.flipbuilder.com/mmawere/sdci/
Either the President knowingly and intentionally orchestrated the corporate coup and used his power and influence to procure fatally defective judgments by judges like Makarau or his power and authority were abused without his knowledge.
Mupasiri has given President Mnangagwa and Manikai to come clean and lift the lid that has been put by Manikai's over the President's head but it would appear that both persons do not believe that they are accountable to the constitution.
[0:27 pm, 05/03/2022] mdmawere1: Holding the powerful accountable
Cover up – hide – it is not just about SMM but about a broken system that will never get better when the sense of morality has shifted to condoning despicable acts.
Mr. Lonely Jeketera, a member of FOSMM and JUROL, who is a Business Consultant specializing in Company Registrations, Tax Advisory, and Human Capital Practice stated as follows: "I attended the recusal hearing before Justice Makarau and I was encouraged by the boldness of Mr. Mupasiri and his eloquence in asserting that the recusal application is key to the just and proper determination of his application that is pending before the court.
I had no idea that the judgments that President Mnangagwa relied upon included Justice Makarau's judgments that she openly admitted were not determined on the facts placed before her court but on other considerations.
I have always wondered how THZH lost its shareholding in Zimre but now I can connect the dots as it is clear that Gwaradzimba used Justice Makarau as his weapon to create a nexus that did not exist to substitute shareholder rights with a creature of statute whose relationship with Zimre was recognized and enforced by the Court disregarding the constitutional rights of the parties involved."
Mr. Tinashe Mpasiri, a director of TAP Building Products Limited (TAP), and a member of both FOSMM and JUROL had this to say:
"I have privilege as a person who corporate and financial knowledge to know that RECONSTRUCTION is not akin to LIQUIDATION as incorrectly asserted by Justice Makarau in her Zimre judgment.
Astonishingly, Justice Makarau is not the only one whose literacy on the legal and constitutional basis in which liquidation takes place and the key distinguishing features of extrajudicial self-help schemes like Reconstruction with liquidation or receivership, as even the Attorney General, Mr. Prince Machaya holds the same views as follows: https://www.herald.co.zw/hands-off-hwange-parly-told/.
It is striking that we have encountered the level of gross illiteracy in Zambia wherein a crooked judge called Kajimanga J (as he was known in 2006) held the same view that reconstruction was akin to receivership and as such he granted a judgment tainted by fraud to his court and fraud he assisted inside his court.
The judgment was used by Gwaradzimba and Manikai to steal about $1 million in Zambia.
When I spoke to Gwaradzimba recently, he like President Mnangagwa sought refuge in the decisions of courts that have been used as vehicles to commit fraud with impunity.
I had no knowledge of how deeply rooted corruption is under the watch of President Mnangagwa until I read his sworn statements in opposition to the litigations pursuant to the Mupasiri application.
As a director of TAP, I am tired of negotiating the end of corruption when the 2013 Constitution is instructive that I have an obligation to lift my voice against judges who abuse the trust bestowed on them by law.
I also have a duty to step forward so that the promise of equal protection before the law and the reality that each person has a right to benefit from the equal protection of the law.
I got the distinct sense from Gwaradzimba that he thinks that the limitations imposed by the Constitution do not apply to him and his political Godfather.
Manikai is bound by the same rules that others are duty bound to follow. It is not in dispute that DMH using the Reconstruction Act as a weapon, instructed a Zambian law firm, Mulenga, Mundashi Legal Partners (MMLP), as a corrupt bridge prosecuted a fraudulent claim that TAP was an associate and is doing, obtained a fraudulent judgment that was used to justify the undisputed payment of $127,346.10 by TAP to MMLP when there existed no legal causa for this unjust enrichment.
The Court has not been furnished with all the pertinent facts to determine who was in and out of this orchestrated state capture enterprise in Zimbabwe.
An incriminating narrative has been made by Manikai, a practicing attorney, that all the judges that handled SMM's reconstruction matters were captured or behaved like robots.
Manikai possesses all the records and it is now common cause that President Mnangagwa who has admitted for the first time that he was fully briefed on the SMM heist and yet he seems to have the protection of the court in keeping mum on what is known to him and disclosing the who is who in the value chains that led to the demise of SMM and other enterprises.
In Zambia, Manikai did not follow the rules but he is not subject to Zambian laws although the crimes against TAP were committed within the borders of the country.
A big lie that Mawere had externalized funds and went to exile with the alleged loot was solely a smokescreen to steal with the knowledge of Zimbabwe's first citizen, President Mnangagwa.
As an active citizen, I was fortified to also step forward and approach the Court on behalf of TAP and my personal behalf to seek to hold Manikai accountable for the invasion of Zambian jurisdictional space, attack the courts of Zambia, and finally obtain a judgment tainted by fraud.
The fraudulent judgment was used to siphon funds from TAP. President Mnangagwa under oath is not ashamed to use a law that poses so gave risk to the integrity of his administration yet pretends to be the champion of anti-corruption initiatives in Zimbabwe.

It is the blatant attempt to defend the indefensible that shakes my sense of knowing what is right or wrong. I am no longer afraid to call Manikai out for who he is. There are far too many people who are gullible enough to believe that reconstruction was triggered by SMM's alleged state-indebtedness when in truth and fact the people who claim to be servant leaders are the authors of a vicious attack on the rule of law.

The discourse that should follow the tone and language adopted by President Mnangagwa is scary to me as it suggests that the whole system of governance has irreparably broken down and I am not prepared to go down and sink with these people.
As I listened attentively to the court submissions in the recusal hearing, I could not help but reflect on the meaning of a President who took an oath to protect and uphold the rule of law intentionally seeking to protect Manikai's actions from public scrutiny.
This to me is a red flag that it will be impossible to unearth and the most unlikely person to seek to conceal the truth from the Court is my President who should suffer no personal prejudice if the truth is openly disclosed he state of knowledge and involvement in the saga.
The refusal and failure by the President not to distance himself from Manikai.

To the extent that the SMM problem just gives us a glimpse of what really takes place in the corridors of public power, this chilling evidence is a pointer to a larger governance national challenge that speaks to a new morality index that violating norms is fine and openly defying tradition, the constitution is perfectly okay and more significantly that the justice system is now an enabler to allow the corrupt to get away with it.
I am concerned that there will never be accountability and transparency if the evidence is constructively placed beyond the ears of the courts as seems to be the case in this matter.
It was clear from the demeanor of Justice Makarau that her court is paralyzed and it is part of a project that involves a conspiracy of many actors in the chain to prevent any investigation from being instituted by President Mnangagwa or by the courts to ensure that the Mupasiri dispute is determined on its merits."

PRESIDENT CYRIL RAMAPHOSA OPENING REMARKS AT THE OCCASION OF THE REPUBLIC OF NAMIBIA STATE VISIT
Your Excellency and Dear Brother, President Dr Hage Geingob, Honourable Ministers, High Commissioners, Senior Officials, Ladies and Gentlemen, Good Morning. Allow me to begin by thanking you, Your Excellency, for honouring our invitation.
Too many years have passed since the last state visit to South Africa by the Republic of Namibia in November 2012.
A great many things have changed our world since then, including the global COVID-19 pandemic that wreaked havoc across the globe.
The pandemic had a devastating impact on human health, livelihoods and economic activity, and it will take us some time to fully recover. Therefore, as we further cement our strong bilateral relations, we need to work together for a swift economic and social recovery for our respective countries, for the region and for our continent.
It is gratifying that officials from our two countries continue to engage at various levels. The most recent structured engagement was the Senior Officials Meeting of the 3rd South Africa-Namibia Bi-National Commission that took place in Windhoek in March this year.
I am pleased with the work that has been done in preparation for the upcoming BNC, which is scheduled to take place in Namibia later this year.
Yesterday, Namibia's Minister in the Presidency and South Africa's Minister of International Relations and Cooperation had the opportunity to discuss issues of mutual interest. This engagement will be valuable for our discussions today.
As we sign new Agreements and Memoranda of Understanding during this visit, it is important that we conduct an audit of all existing legal instruments between our two countries in preparation for the upcoming BNC.
We need to be certain that they are fit-for-purpose and that they continue to serve our respective developmental goals.
As neighbours with deep historical ties, we share the same aspirations for our people – development, employment, equality and prosperity. We are therefore committed to deepen our cooperation, particularly in the area of trade and investment.
It is unfortunate that, due to other events taking place this week, we were not able to convene a Business Forum on the sidelines of this State Visit. However, we are determined that a South Africa-Namibia Business Forum should take place this year.
It is an opportunity to bring our respective private sectors together to promote investment, trade and potential new areas for cooperation.
Namibia is one of South Africa's top trading partners in the Southern African Customs Union (SACU) and the Southern Africa Development Community (SADC).
We must use our geographic proximity and the close ties between our respective economies for greater mutual benefit. One of the areas to expand cooperation is in energy investment. For example, how do we leverage the growing demand for new, clean technologies like green hydrogen to promote cross-border development?
Both our countries are planning massive hydrogen projects. Such projects are key to the energy security of South Africa and Namibia, and will catalyse economic growth and job creation in both our countries.
We need to look at how we collaborate, as our respective governments, state-owned enterprises and private companies, to seize this great opportunity.
Our shared history enjoins us to pursue a common future. It is imperative that we implement the African Continental Free Trade Area to deepen African economic integration, to develop our economies and to lessen our reliance on imports from outside Africa.
South Africa pledges to continue to work closely with Namibia as current chair of the SADC Organ on Politics, Defence and Security Cooperation to promote regional peace and stability.
Please be assured of our full support during your tenure, including with respect to regional anti-terrorism initiatives in northern Mozambique.
As we strive for peace and stability in our region, we must continue to support the struggle for self-determination and freedom of the Saharawi people.
The declaration and commitments of the SADC Solidarity Conference with Western Sahara, co-hosted by South Africa and Namibia in March 2019, should be fully implemented.
Similarly, all United Nations and African Union resolutions and decisions should be enforced. We must continue to mobilise regional, continental and international support for a sustainable resolution to the Western Sahara issue, and push for the Kingdom of Morocco and the Polisario Front to resume dialogue without preconditions.
At the same time, we should reaffirm our support for the Palestinian cause and for the two-state solution.
The conflict between Russia and Ukraine has exposed the frailties of international systems of governance. South Africa, like Namibia, maintains that the United Nations and the office of the Secretary-General should play an active role in resolving this conflict.
We also agree that the UN in its current configuration needs to be more responsive to the needs and aspirations of the majority of the world's people. We must step up our efforts to change the design of multilateral systems of governance.
One of the most pressing issues facing our respective countries and our region is climate change. L Like Namibia, South Africa is a water-scare country and is thus particularly vulnerable to climate change and its effects on food security, energy generation, and many other sectors.
We need to work together in pursuit of low-carbon, inclusive, climate resilient development, which is critical to the sustainability of our continent.
Your Excellency, I look forward to our deliberations on these and other important matters of mutual interest.
I thank you again for honouring our invitation and warmly welcome you and your delegation to South Africa.
PRESIDENT RAMAPHOSA TO HOST PRESIDENT NIINISTÖ FOR A STATE VISIT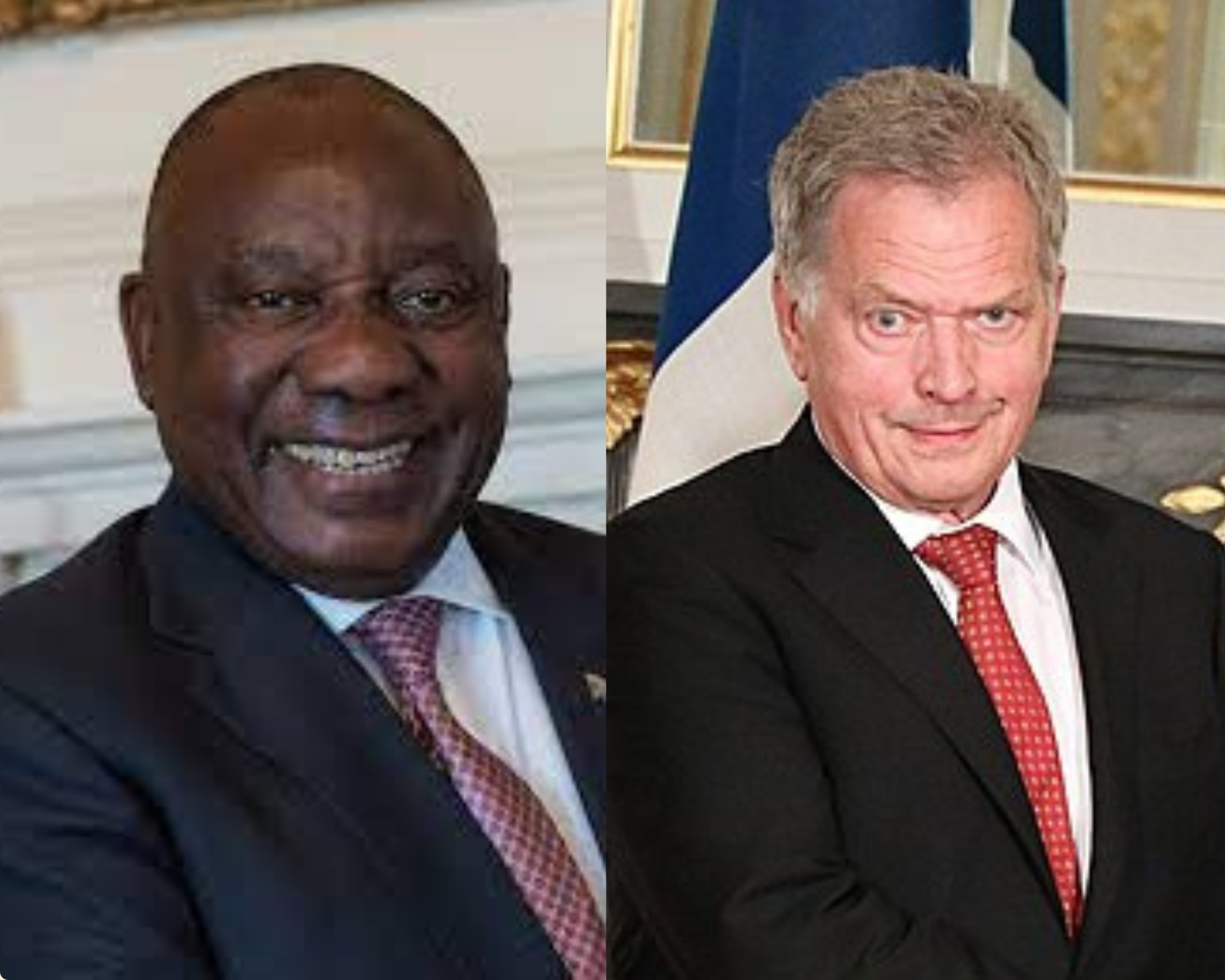 President Cyril Ramaphosa will host His Excellency President Sauli Väinämö Niinistö of the Republic of Finland on a State Visit to the Republic of South Africa.
President of Finland will undertake a State Visit to the republic, from 24 to 26 April 2023, at the invitation of President Ramaphosa. Initially the visit was planned in April 2020, but was postponed due to the Covid-19 pandemic.
The State Visit will be the first by a Finnish President to South Africa in more than twenty years. President Niinistö, however, visited South Africa in December 2013 to attend the funeral of former President Nelson Mandela.
Bilateral relations between Finland and South Africa are deep rooted due to Finnish support for the liberation movements in Southern Africa. Relations have grown since 1994 in all areas of bilateral engagement and Finnish investment is a major priority for both countries, with over R2 billion in new investments in the last 3 years.
President Niinistö will be accompanied by a delegation of Finnish business leaders and a Business RoundTable will be hosted in partnership with the Department of Trade, Industry and Cooperation held under the theme Building Smart, Secure, Sustainable Society Together.
The objective of the session is to strengthen trade and investment relations between South Africa and Finland through the mobilisation and facilitation of new investments, expansion and nurturing of existing Finnish investments in South Africa, as well as exploring opportunities for joint ventures in technology commercialisation in mutual sectors.
Most of the discussions will centre on possible opportunities in renewable energy; Information and Communication Technology; mining technology; packaging and food hygiene, construction and finance, that the South African and Finnish companies can work together in exploring.
The Presidential Round Table will be preceded by a Business-to-Business Matchmaking engagement between the South Africa and Finnish companies. The outcome of the two interactions is expected to be an increase in trade and investment between South Africa and Finland.
Finland is an important partner to South Africa and, despite its small population and territory; it is amongst the most developed countries in the world and provides valuable trade, investment and development cooperation to South Africa. Like the other Nordics, they play an active role in global affairs, are strong advocates for multilateralism, have an excellent capacity and track record for peace and mediation efforts, and are global leaders in innovation.
Since 2010 Finland has been supportive of South Africa's national priorities and continues to be a reliable partner in various sectors including maritime, science and technology, ICT and digitalization, environment, energy, education, skills development, agriculture and water.
President Niinistö will also be conducting a State Visit to Namibia during his Southern Africa visit. Within the SADC context, the Finnish have supported several programmes on sustainable water management. The Finnish engagement with Africa forms part of its strategic objective of increasing partnerships with Africa, including expanding its diplomatic presence, its support for the African Agenda and expanding economic relations. In this regard, Finland has adopted an Africa Strategy.
Finland is also a strong international partner in areas of various global issues such as strengthening multilateralism, international law, peacebuilding and mediation, the advancement of gender and human rights as well as around issues of renewable energy.
PRESIDENT RAMAPHOSA TO HOST PRESIDENT GEINGOB OF NAMIBIA FOR A STATE VISIT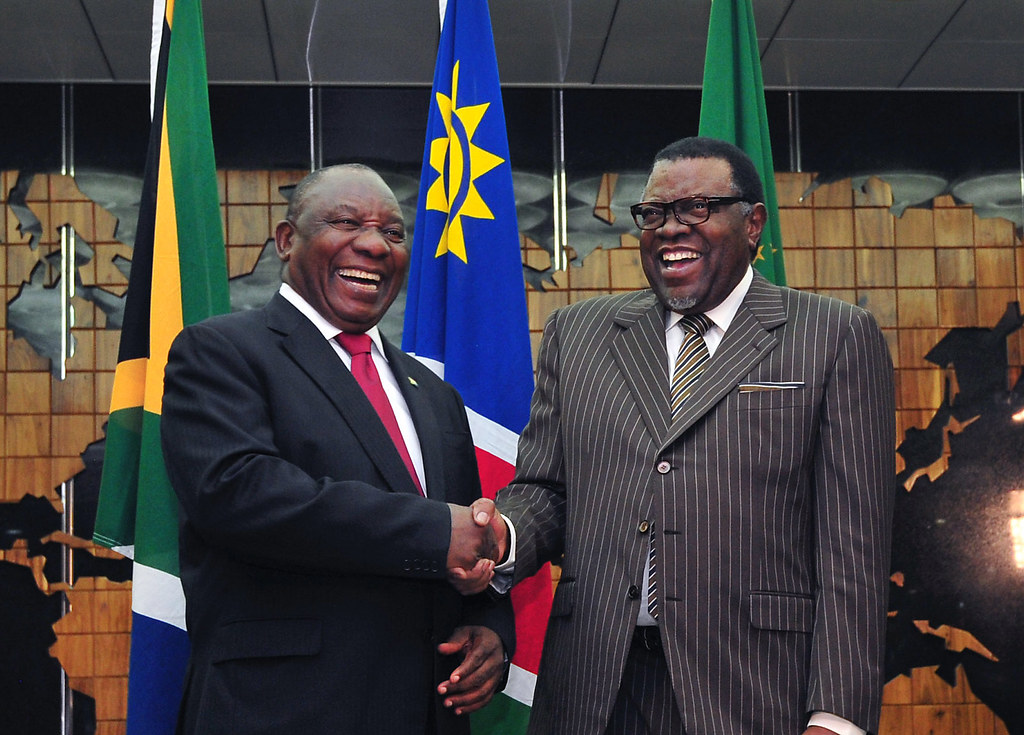 President Cyril Ramaphosa will host His Excellency President Hage Geingob of the Republic of Namibia who will undertake a State Visit to the Republic of South Africa on Thursday, 20 April 2023.
The visit aims to solidify bilateral relations between the two countries and it is expected that President Ramaphosa and President Geingob will discuss political and economic issues including regional, continental and international matters of mutual concern, including exchanging views on the political situation in Eswatini, conflict in Saharawi Arab Democratic Republic (SADR), Palestine and the Russia – Ukraine situation.
South Africa and Namibia enjoy close historic relations and the structural bilateral relations between the two countries is conducted under the framework of a Bi-National Commission (BNC) inaugurated in 2013.
The State Visit by President Geingob will afford the two countries an opportunity to solidify their bonds of friendship through assessing progress made in the implementation of the decisions of their BNC.
The visit will also afford the two countries an opportunity to enhance economic cooperation; explore trade and investment; and identify new areas of cooperation.
In 2022, South Africa imported R16.1 billion from Namibia and in turn South Africa exported R56.5 billion to Namibia.
The second session of the South Africa-Namibia BNC was held in South Africa in October of 2016. The third session is scheduled to be hosted by Namibia and meetings, at senior officials level, are underway planning for this meeting.
The State Visit will be preceded by a bilateral meeting between the Minister of International Relations and Cooperation (DIRCO) of South Africa, Dr Naledi Pandor and Ms Netumbo Nandi-Ndaitwah, Minister of International Relations and Cooperation of the Republic of Namibia on 19 April 2023.
Namibia is a member of the Southern African Customs Union (SACU) and President Geingob Chairs the Southern African Development Community (SADC) Organ on Politics, Defense and Security Cooperation.
The last State Visit to the Republic of South Africa by the Republic of Namibia took place in November of 2012, by former President Hifikepunye Pohamba.