US Mission to South Africa and JCCI Invite Business Leaders to Explore Trade Opportunities
Johannesburg, South Africa – September 1, 2023 — In a bid to bolster economic ties and encourage bilateral trade and investment between the United States and South Africa, the U.S. Mission to South Africa, in collaboration with the Johannesburg Chamber of Commerce and Industry (JCCI), has extended an invitation to business leaders, entrepreneurs, and industry professionals to attend a comprehensive briefing and networking session on September 21, 2023. The event is set to take place from 9:30 AM to 12:00 PM at the JCC House, located on the 7th Floor, 27 Owl Street, corner Empire Road, in the heart of Milpark, Johannesburg.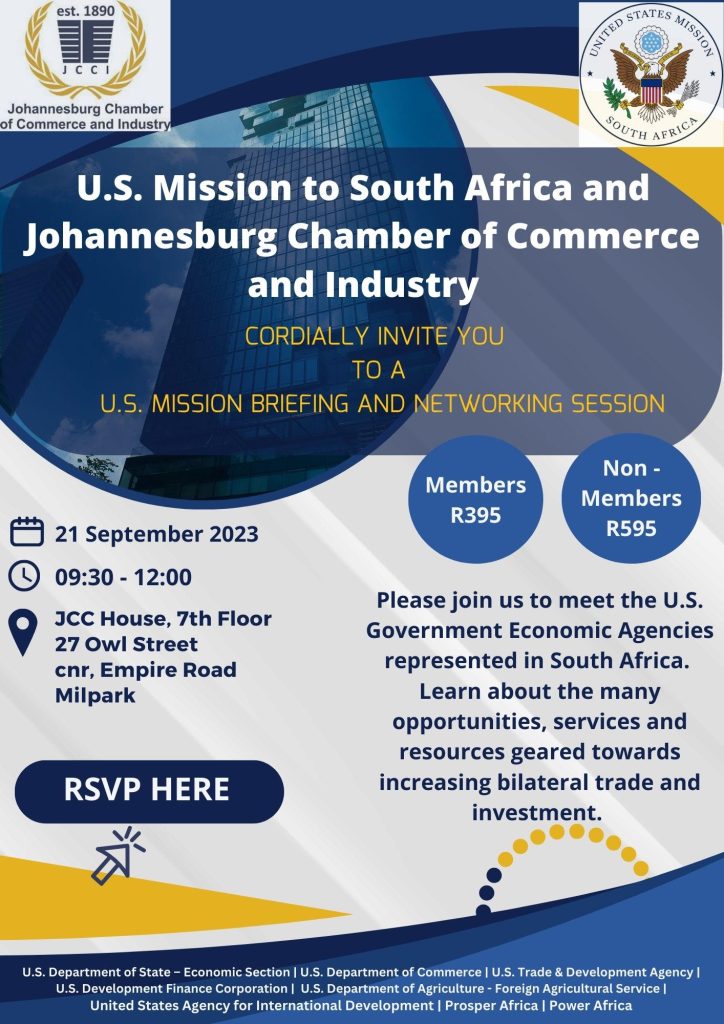 This exclusive gathering aims to provide South African business communities with unique insights into the myriad opportunities, services, and resources available through various U.S. government agencies that are actively engaged in fostering economic collaboration between the two nations. Representatives from key U.S. agencies will be on hand to share their expertise and engage in discussions with local entrepreneurs and investors.
The following U.S. agencies will be in attendance at the event:
U.S. Department of State – Economic Section: The U.S. Department of State's Economic Section plays a crucial role in advancing economic diplomacy. It works to enhance bilateral trade and investment ties by facilitating dialogue, providing market insights, and fostering partnerships.
Department of Commerce: The Department of Commerce promotes U.S. exports, enforces trade laws, and supports American businesses abroad. It offers a wealth of resources and expertise to help South African companies navigate the U.S. market.
U.S. Trade Development: This agency focuses on expanding trade and investment by promoting American exports and creating opportunities for South African businesses to connect with U.S. markets.
U.S. Development Finance Corporation: The U.S. Development Finance Corporation is committed to mobilizing private sector capital for development projects. It can offer financial support to companies engaged in projects with a positive developmental impact.
U.S. Department of Agriculture – Foreign Agricultural Service: This agency provides valuable information and support to promote the export of American agricultural products. It can assist South African importers in sourcing high-quality U.S. agricultural goods.
USAID: The U.S. Agency for International Development (USAID) offers development assistance and partnerships to address global challenges, including projects that promote economic growth and stability in South Africa.
Prosper Africa: Prosper Africa is an initiative aimed at boosting economic growth and increasing trade and investment between the United States and African nations, including South Africa. It offers resources and support to facilitate business transactions.
Power Africa: Power Africa is committed to expanding access to electricity across the African continent. It can provide valuable insights and support for businesses operating in the energy sector.
The U.S. Mission to South Africa and JCCI believe that by connecting South African businesses with these U.S. agencies, they can create a conducive environment for increased trade and investment. The briefing and networking session will allow local entrepreneurs to gain firsthand knowledge about the various programs, grants, and opportunities available, ultimately accelerating bilateral trade between the United States and South Africa.
Attendees can expect informative presentations, engaging panel discussions, and the opportunity to network with representatives from both the public and private sectors. This event promises to be a significant step towards strengthening economic ties between the two nations and fostering growth and prosperity for businesses on both sides of the Atlantic.
Business leaders, entrepreneurs, and all those interested in exploring trade opportunities between the United States and South Africa are encouraged to mark their calendars for September 21, 2023, and register for this important event. Further details and registration information can be found on the JCCI website and the U.S. Mission to South Africa's official channels.
Event Registration Link: https://docs.google.com/forms/d/e/1FAIpQLScgh-C4bAsVra7dn7tPcBiQOSlA-4K6ufEzqY9BGAkAHPM6WQ/viewform