Nelson Chamisa Allegedly Ousted as CCC President in Controversial Letter
Harare, Zimbabwe – In a shocking turn of events, a letter has surfaced, claiming the removal of Nelson Chamisa as the President of the Citizens Coalition for Change (CCC). The letter, which many political analysts and insiders are calling "bogus," is said to be the handiwork of Songezo Tshabangu, who has positioned himself as the Secretary General of the party.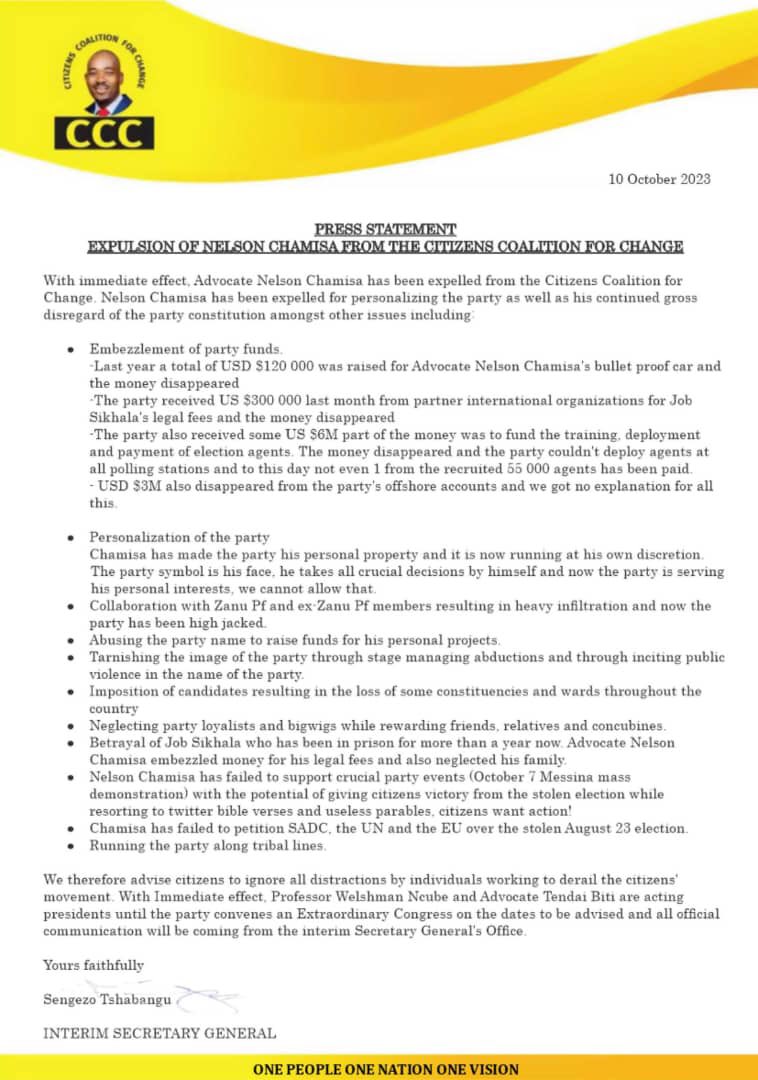 The document doesn't stop at Chamisa's alleged removal. It goes on to state the appointment of Welshman Ncube and Tendai Biti as acting presidents of the CCC. This move, if validated, would mark a significant shift in the political dynamics of the party and the country at large.
Promise Mkhwananzi, the CCC spokesperson, had previously described similar actions as "an attempt to subvert and undermine the will of the people." This sentiment seems to echo within the party ranks and among its supporters, many of whom view this letter with scepticism.
Songezo Tshabangu, the alleged orchestrator behind this letter, is no stranger to controversy. His previous actions and statements have often put him at odds with the mainstream leadership of the CCC and its supporters. However, the audacity of this move – if indeed orchestrated by him – is unparalleled and raises questions about the internal dynamics of the party.
In a recent communication, CCC leader Nelson Chamisa had written to the Speaker of the House of Assembly, Jacob Mudenda, emphasizing that no Members of Parliament elected under the CCC banner had been expelled from the party. This statement seems to be in direct contradiction to the claims made in the controversial letter.
The political landscape in Zimbabwe has been tumultuous, with the CCC facing challenges both externally and from within. The previous recall of Members of Parliament aligned with Chamisa by the MDC-T, led by Douglas Mwonzora, had already sent shockwaves through the political community. This new development, if true, promises to further complicate the situation.
As the story unfolds, it's crucial for the public and stakeholders to approach such developments with a discerning eye, understanding the broader political games at play. The authenticity of the letter, its implications, and the future of the CCC leadership remain to be seen.
For more updates on this developing story, stay tuned.