To Be Famous or to be Significant?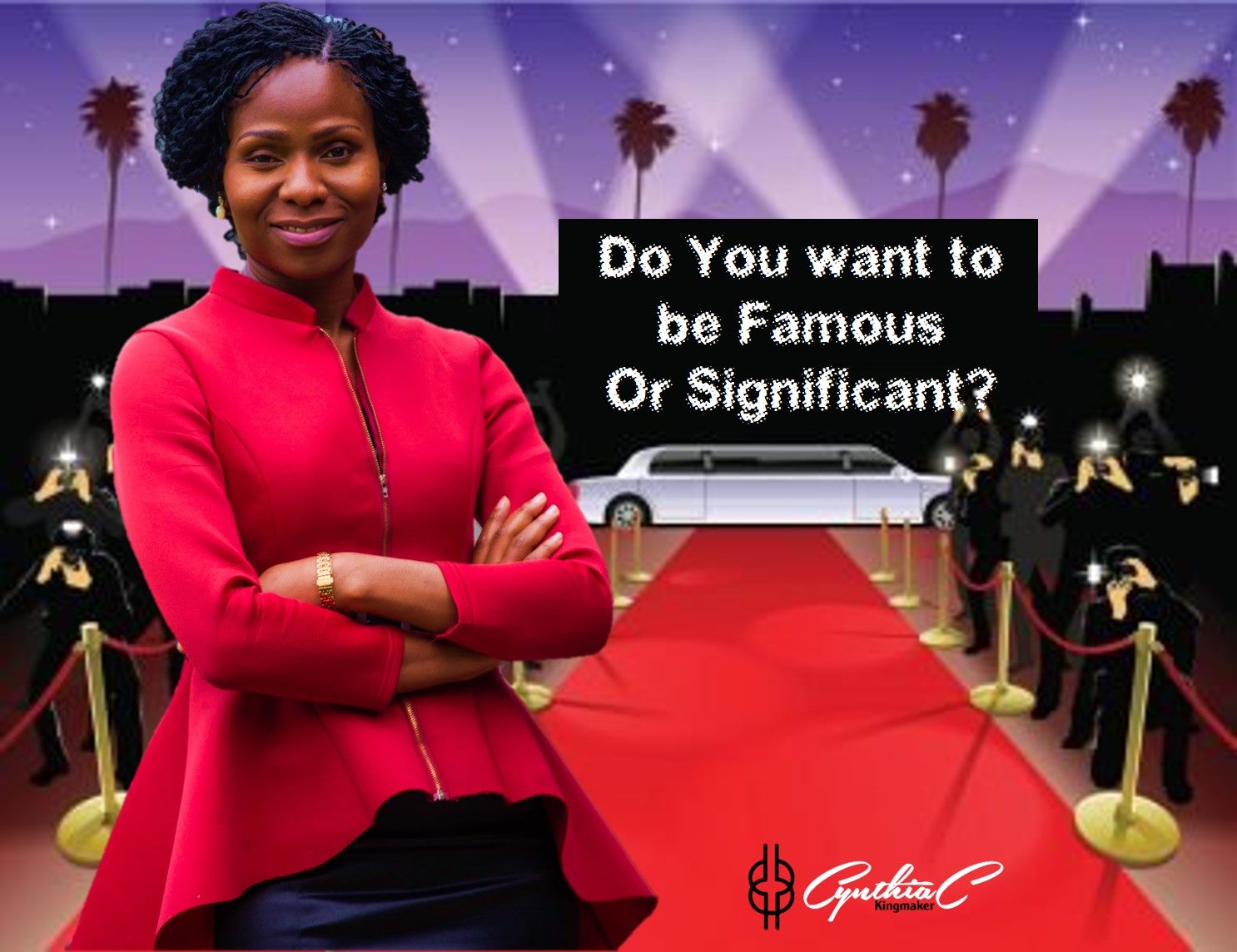 In the recent past weeks we have been discussing how we can measure progress as we edge towards the close of yet another year.
Whilst the focus was on reviewing what has been accomplished, who we have been accountable to and what adjustments we can make going forward, this analysis and introspection would be incomplete without interrogating our motives at the onset.
Many of us are passionately engaged on the road towards success, but if we were to be questioned as to whether or not we are living a life of significance, we may not have an immediate answer to that question.
What is the reason you are in pursuit of the goals you have set? Is it for Fame, Success or Significance?
In Greed of the Glory
Fame brings out some ugly beasts that, if not tamed, can consume a person's life. One taste of the spotlight and greed feeds the desire for more.
The adoration is gratifying until the high wears off. Fame is enticing.
Who does not want to jet-set around the globe with a limitless budget? That would be our version of heaven on earth, would it not? To have it all – popularity, money, adoring fans worshiping our every move.
The problem with this type of lifestyle is that the exhilaration eventually disappears. Stardom is the great deceiver that blinds people into thinking more money or power or prestige will solve their problems.
Robin Williams inspired an entire generation of movie buffs and actors when they were just children. But his tragic end in an apparent suicide has also served notice of the dangers that come with fame.
Williams struggled for years with substance abuse and depression, and his death came just months after that of another huge Hollywood star, actor Philip Seymour Hoffman, who died of a heroin overdose as he relapsed after years being clean.
Dr Tom Nunan, founder of Bull's Eye Entertainment and a professor at the UCLA School of Theater, Film and Television, said Williams' career showed young actors that "they really can do anything. They can perform on broadway, do fundraisers with their talent…"
"He did stretch way beyond what a stand-up comedian does in entertainment," Nunan said. "That's a huge contribution." But the comedian's tragic death also serves as a warning of the need to deal with one's inner demons, he said.
The Pressure of Success
Max Clifford, Britain's most high-profile celebrity publicist, shared with Reuters that stars pressure themselves to succeed.
Clifford stated that "even at the top, celebrities were always worried about who could replace them."
Worry, fear of failure, and the pressure to outperform their last role puts unthinkable weight on artists, which can prompt self-destructive tendencies. Clifford explained, "People assume that fame and success is all about riches and happiness but, as someone who has worked with famous people for 45 years, I know that is not the case."
Clifford claims, "The success becomes like a drug to them that they have to have, and they are always worried about losing it so they push and push and work harder and harder. You have to be competitive in these fields otherwise it will not work."
What makes life worthwhile?
In 1951, at the age of 72, Albert Einstein received a letter. It moved him deeply, and caused him to reflect on what, after seven decades of living, made life worthwhile.
He responded with a revealing letter. Whilst there are thousands of letters recorded, to and from the great scientist -this exchange was new, deeply personal, a rare glimpse into Einstein's judgment on the worthiness of a life well lived.
So what did Einstein write?
On August 24, 1951 Einstein responded: "I was really moved by your letter. It is true that the number of people striving ardently for the right and the worthwhile things is small. But the existence of these few is what makes life worthwhile."
Stop Chasing Success, Seek Significance
Joshua Becker, a writer, speaker, pastor and blogger believes that success is characterised by many limitations.
His blog, Becoming Minimalist, has become a source of inspiration to millions around the world.
Joshua remarks how financial success is a powerful motivator which controls the lives of many, chooses occupations whilst dictating how time, energy, and resources are spent.
"Success influences relationships, schedules, and families. To some, it even becomes an all-consuming passion that leaves broken people and morality in its wake."
He however laments that unfortunately success is not the greatest call we have on our lives because in comparison to significance, it fades quickly.
Here are some limitations of success he shares:
• Success ebbs and flows with the economy. As recent years have proven, financial success is always at the mercy of a national economy and world economy, when the economy takes a downturn, so does net worth.
• Success ends on the day you die. On the day you die, all wealth and possessions will be immediately transferred to someone else.
• Success is never enough. Financial success will never satisfy the inmost desires of our soul. No matter the amount of financial success earned, it always leaves us wanting more.
In his conclusion he compares how success is outweighed by the advantages of significance:
• Significance always lasts. Significance will always outlast you. Even when you are no longer present, your significance will still be yours. And nothing can ever take that away from you.
• Significance carries on and keeps on giving as you positively change the life of another human being who in turn changes the life of another, who impacts the life of another and influences another.
• Significance satisfies our soul. While the thirst for success is never quenched, significance satisfies our deepest heart and soul. It allows us to lay our head on our pillow each night confident that we lived a valuable and fulfilling day.
Joshua concludes that "it is unfortunate that many people spend most of their lives chasing financial success and while some achieve it more than others, almost all find it unfulfilling in the end. When they begin to shift their life focus to significance instead of success, they wonder why they wasted most of their life chasing something different."
Cynthia Chirinda is an Organisational and Personal Development Consultant, a Life Coach, Author, and Strategist. Her published books speak to matters that position individuals and leaders to achieve their significant goals. Looking at improving your career, personal effectiveness, communication skills, relationships, focus, faith and happiness? Wholeness Incorporated Coaching offers you strategies you can implement today to review your progress and achieve your goals. E-mail: [email protected]. LinkedIn: Cynthia Chirinda. Mobile: 263 717 013 206. Website:www.cynthiac.net.
Entrepreneurship Lessons: START WITH WHAT YOU HAVE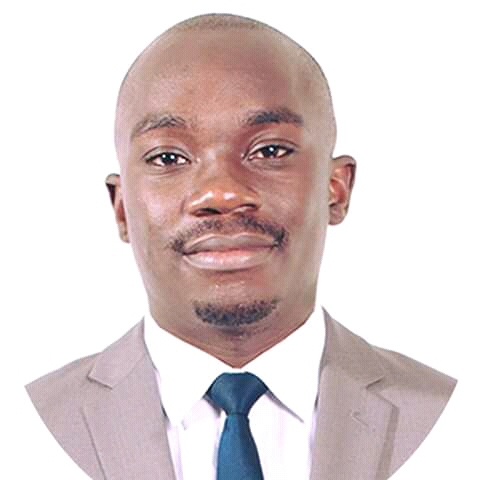 I speak to many aspiring entrepreneurs and they often say to me, "I have a big idea, once I get investment for my idea, I will leave my job and pursue it full time."
The truth is that at stage you are very far from being an entrepreneur. You are even far from being an innovator because the decision to become an entrepreneur is not triggered by having an idea.
Its a choice one makes even without an idea. Entrepreneurship is a career path in itself. Its not something you can successfully do as a side hustle or a hobby.
When you decide to become an entrepreneur, don't wait for the "right time".
Start with what you have, identify your strengths and build your strengths up to an extent that they overshadow your weaknesses.
Start alone and have clarity of vision and foresight.
Believe in your capabilities, before you even think of building a team to help you achieve your goals.
Be willing to get your hands dirty and doing the work.
Start small and build from there, begin to look into ideas that you have and evaluate them.
Choose a handful of ideas to test the market with. If you don't have many, go with the one that you have. However a true entrepreneur will always have quite a number of them.
Pick the best idea and start transforming it into a business.
As your idea grows, it will attract the right people to itself and after that, you can then pick a team that complements your weaknesses to help you sustain the growth.
When you do it right, there comes a time when your business is ready for investment and when that time comes, tthere is a high chance that someone will buy into your idea.
Once you have successfully transformed your idea into a business, move to the next idea, until you are ready to retire.
There is also a 90% chance that your idea won't flourish and so, if that happens, it's also an opportunity to figure out if entrepreneurship is what you really want.
Most aspiring entrepreneurs give up at this stage but true entrepreneurs pick themselves up and move to the next idea until they get it right.
If done properly, entrepreneurship creates the best retirement package for you.
The processes explained above can take 6 months to 3 years per cycle when someone is doing it fulltime and even longer when someone is doing it as a side hustle.
Gilbert Kamusasa is the CEO and co-founder of Divcon Business Solutions (www.divconsolutions.com). Divcon is a technology-based consultancy company that focuses on providing a wide range of solutions to businesses and individuals.
Divcon: Phone: +263715592622 / +2637150071450 | email [email protected] | Website: www.divconsolutions.com | Office: 72 George Silundika Avenue Harare | Social Media: @divconsolutions – FB and @BusinessDivcon – Twitter
Conflict Mastery: Are there True Sides to Every Story?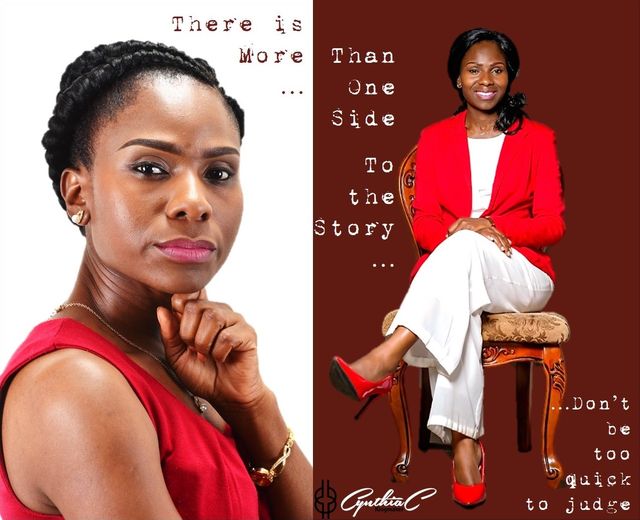 Someone once said, "Beware of the half-truth. You may have gotten hold of the wrong half." In his 2002 film, The Kid Stays in the Picture, Robert Evans narrated that, "there are three sides to every story: your side, my side, and the truth. And no one is lying. Memories shared serve each differently…"
The month of November saw many Zimbabweans glued onto various social media platforms keenly following updates, theories and controversies that followed Michelle 'Moana' Amuli's death.
Moana died in an accident that claimed also the lives of Genius "Ginimbi" Kadungure, Limumba Karim from Malawi and Alichia Adams from Mozambique in an accident along Liberation Legacy Way (ordinarily known by many as Borrowdale Road), in Harare.
The Local showbiz and the generality of Zimbabweans plunged into shock which was followed by boundless intrigue, reflection and speculation about life.
Many theories surrounding the tragic demise that befell these four, culminated in various inquests into spiritual, cultural, traditional and to some extent technological interrogations where car manufacturers Honda and Rolls Royce were not spared.
A very concerning development around this fatal tragedy was the delay in the burial of Moana's remains which prolonged her rest, as family disputes escalated to the courts.
High Court Judge Justice Pisirai Kwenda aptly described it as "a unique case requiring more time to come up with an informed judgement."
The judge took time to hear oral evidence from the estranged couple over the burial dispute which saw the paternal family and maternal family at each other's throat on who must lead on the funeral and burial of the deceased.
Against the backdrop of the conversations around the court case which encouraged communities to "embrace Ubuntu, tolerance and compromises to avoid similar disputes which can burden the courts," I personally took time to reflect on the developments that surrounded the sad loss of these young lives.
With every new day fresh revelations came to the fore, different perspectives and varying angles were presented by the different parties involved.
I followed commentaries on various platforms as fellow Zimbabweans made conclusions, analyses, assumptions and deductions on the case – all based on the information that had been obtained at different points.
Needless to say, the case continued to unfold, bringing out "truths" and facts that were previously unknown by the general public. It was at this point that I conclusively agreed within myself that there is definitely danger in the one sided story.
Danger of a Single Story
Our lives, our cultures, are composed of many overlapping stories. Novelist Chimamanda Adichie tells the story of how she found her authentic cultural voice — and warns that if we hear only a single story about another person or country, we risk a critical misunderstanding.
In 2009 her twenty-minute TED Talk video, "Danger of a Single Story," Adichie describes the powerful impression the multitude of British stories made on her as a young girl growing up in Nigeria.
She argues that inherent in the power of stories, is a danger—the danger of only knowing one story about a group. "The single story creates stereotypes, and the problem with stereotypes is not that they are untrue, but that they are incomplete. They make one story become the only story."
Perspectives are Subjective
"There are actually three sides to every story. His, Hers, and the Truth." Those words come into mind often. People's life experiences are particular. Even when we live in the same four walls, we come out with different stories.
Somewhere in the midst of our stories the truth exists.
The saying "there are three sides to every story" literally means that things are never black and white, there are shades of grey in between.
It reminds people that their perspective is subjective and their opinion is not the whole truth, that reality lies somewhere between two opposing perspectives.
This is not a technically accurate way of looking at stories, as there are always many factors involved and there is rarely one absolutely true version, nor does anything come down to two opposing viewpoints.
This is just a reminder that people argue their side/opinion of something, and that reality is distinct from that opinion, and includes factors and perspectives which they might not like.
Perspectives are principled ways of making sense of the environment that are subjective in their very nature, but not private.
Are there really three sides to every story?
When we talk about an interpersonal dispute between two people, we commonly say there are two sides to every story – the other person's version of events and issues and our own. However, many say there are three sides.
I personally do not think that referring to the third side as the "truth" is altogether accurate.
For me, referring to there being a true side implies right and wrong of the other perspectives, and it seems that's not altogether the optimal approach.
That is, when we are in conflict, it is usual that we each believe our perceptions are truths. We believe in what we say and experience.
We might at some level of consciousness realise when and how our emotions interfere and drive our interpretation of the other person and their intent out of proportion.
Or, we may be aware our truth contains assumptions and views that are not based on fact. Or, we know we are exaggerating – even fabricating – to serve ourselves.
Conflict Mastery Questions
You could be reading this article and going through some nature of conflict in your own life, or perhaps someone close to you.
I would like to invite you to answer the following questions – to consider three sides of the story:
What is the situation? What is your side of the story?
How might the other person describe their side of the story?
What is true for you about the situation that the other person doesn't know or seem to acknowledge?
What don't you know or understand about the other person's version of their truth?
What is the truth about your contribution that you have some reluctance to share?
How might a third person observing the dispute describe what happened?
With what might that third person disagree that you said?
What is most challenging about facing the truths in this conflict?
What else occurs to you as you consider these questions?
What insights do you have?
I believe that it is important to consider embracing a multidimensional perspective in conflict resolution. This helps us to gain a clearer picture, see the details, capture a moment or to shift points of view, when needed.
Cynthia Chirinda is an Organisational and Personal Development Consultant, a Life Coach, Author, and Strategist. Her published books speak to matters that position individuals and leaders to achieve their significant goals. Looking at improving your career, personal effectiveness, communication skills, relationships, focus, faith and happiness? Wholeness Incorporated Coaching offers you strategies you can implement today to review your progress and achieve your goals. E-mail: [email protected]. LinkedIn: Cynthia Chirinda. Mobile: 263 717 013 206. Website:www.cynthiac.net.