President Mnangagwa exposed by Mupasiri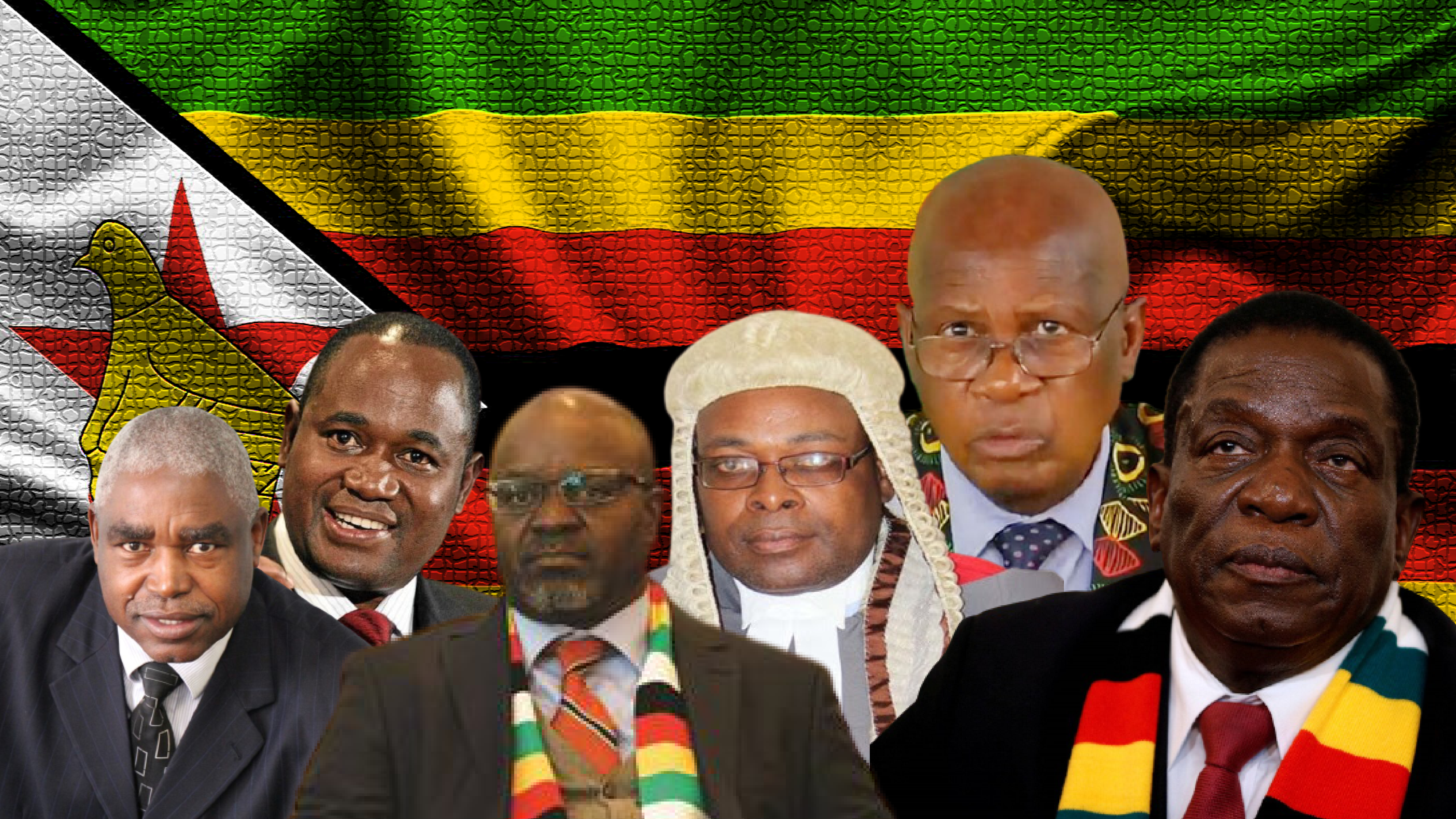 On 17 December 2021, Mr. Tichaona Mupasiri, launched an application against President Mnangagwa, in his official capacity, alleging a breach of duty when he refused and failed to take any next steps when on 9 November 2021, he was informed of the existence of Mr. Manikai's, his lawyer. malicious and scandalous allegations that he was knowingly and intentionally in the hijacking of SMM using the force of law to achieve this attack on the constitutional order.
Mr. Mupasiri said:
"My case is fundamentally premised on two foundational principles and values of our constitutional democracy – openness or transparency and accountability – as well as my quest as a citizen in terms of the provisions of s2(2) of the Constitution to play my party holding the powerful to account for their deeds.
My civic duty to speak truth to power is unfettered and not subject to instructions from anyone else.
It is trite that the ushering in of the 2013 Constitution introduced the role of the Constitutional Court in determining whether the failure and refusal of the President to investigate the serious allegations made by Manikai that the reconstruction of SMM was tainted corruption and fraud constitute a failure to fulfill his constitutional obligations.
For the last 43 years, concerns are galore on the lack of ethical state craftsmanship and our collective failure as citizens to ensure the existence of checks and balances that should underpin the institutionalization of good governance.
My application is also about the abuse of public power and funds with impunity.
It is my observation that the endemic corruption in Zimbabwe is a consequence of the systemic broken system whose effect has been an erosion of government integrity, transparency, and accountability that is necessary to provide the necessary checks and balances required for a functional and just system.
It is not in dispute that the President is bound by the supreme law of the country and is prohibited from exposing himself to any situation involving the risk of a conflict.
When I read the chat in the FOSMM group, I was shocked that President Mnangagwa, if he knew the legal and constitutional implications of what Manikai said his role was in the construction of the illegal reconstruction scheme, would still be close to him.
No one can doubt the reality of a conflict between President Mnangagwa's official duties and his private interests to be the successor to the late President Mugabe.
Having had the opportunity to learn from the facts generously shared in the FOSMM group, I was compelled to take the steps that I have taken to ensure that the truth is told especially in relation to the facts and circumstances of the unfortunate decisions and actions that led to the introduction of the Reconstruction of State-Indebted Insolvent Companies Regulations and after the fact, the enactment of the Act.
The foundational values of openness and accountability demand that I discharge my duty to the constitution by demanding that the secrecy that has characterized the prosecution of the Reconstruction affairs in relation to juristic entities in Zimbabwe be exposed without favor or prejudice.
I was confident that President Mnangagwa would never refuse to account for his alleged actions but my confidence in his innocence in this matter has been dampened.
Clearly, the opportunity for both Manikai and President Ramaphosa has been squandered and is being wasted in the court processes when all I wanted was for Manikai to bring the nation to his confidence on what happened in relation to the bizarre manner in which state power was deployed to introduce and use the reconstruction regulations and act in relation to Zimbabwe's corporate citizens.
The remarks that Manikai made and shared in the FOSMM groups confirm that the force of law was used to create the facts of state-indebtedness when no jurisdictional facts existed to support this allegation.
The misuse of public funds in prosecuting the reconstruction of SMM is unmistakable.
I am in receipt of correspondence from SMM's UK registered shareholder, SMM Holdings Limited (SMMH), Dr. Cleopus Sanangura in relation to the prosecution of the SA litigation matters, and TAP director in relation to the theft of about $5 million from the company and the role of DMH in the heist which fortifies my position that either President Mnangagwa was misinformed or he is part of the illegal corporate coup.
I am encouraged that the media is beginning to understand the true nature of my application and urge citizens to vigorously interrogate the facts inherent in this matter as it is clear that the Constitutional Court by directing outside the court that the President has no duty to respond to my serious allegations that are informed with facts, the outcome of my application seems to have already been determined and disposed of.
It is the duty of every citizen to be vigilant and to ensure that the rule of law is protected and promoted.
As a citizen, I am determined more than ever to expose the rot in any sphere of government as empowered by the constitution of this country.
I am determined to see this matter to its conclusion and I reiterate my position that I will never abdicate my constitutional responsibilities.
President Mnangagwa's ascendency to public office was steeped in fighting corruption. I did not expect him to suffer from the same inditement that his predecessor suffered when allegations were made against him that he was in truth and fact surrounded by a cabal of criminals.
President Mnangagwa must be held accountable for failing to report to law enforcement agencies the alleged plundering of public funds in the prosecution of the reconstruction affair and the unaccounted funds used in litigating matters related to the cause of divesting shareholders and directors of the control and management of their companies.
The Mnangagwa administration on the face of it appears to have a clear policy on fighting fraud and corruption. I was guided by this policy when I wrote the letter to him in November 2021 expecting him to join forces with me to make Manikai accountable for his remarks.
The people of Zimbabwe have legitimate expectations that the Constitutional Court will live up to its intended role in transforming this country especially having regard to the fact that even under Mugabe, the organs of state that could have stopped the attack on the rule of law were already captured by untouchable persons like Manikai.
I had to take it upon myself to ensure that all public funds that were used in the name of reconstruction accounted for to the cent allegedly spent on their behalf."
The alleged role of President Mnangagwa in the demise of SMM has been in the public domain from the onset.
It is President Mnangagwa who has imported us to spare no effort in exposing corruption to permit another narrative that compels him to conceal it using the Court.
He says he first heard the recording of Ramaphosa on 20 December, when Parliament had closed for the festive season.
My application was triggered by President Mnangagwa's refusal and failure to disclose what he knows when he knew, and from whom he knew about the affairs of SMM's reconstruction affair especially against the backdrop of his denial that he was not in his current position at the material time when the corporate coup was conceived and born.
The existence and veracity of the chats that are in my possession have not been denied which means that the contents are genuine and were generated by Manikai and should be as good as oral evidence given in person.
It is Manikai who created the cloud that has hung over President Mnangagwa's head since 2004 and his alleged role in the affairs of SMM is and has been in the public domain.
It is Manikai who has provided the link to him in a graphic and political context that ordinarily would be buried in secrecy.
Manikai in his answering affidavit does not dispute the authenticity of the utterances or the veracity of the serious allegations he made against President Mnangagwa.
Truth or integrity is after all at the heart of the Office of President of the Republic
particularly in relation to his or her constitutional obligations."
"Deciding to present a version known to be untrue to an organ of State whose constitutional duty it is to strengthen our democracy is conduct that is inconsistent with that high office and the obligations that the incumbent has – to uphold, defend and respect the Constitution as is happening in the Mupasiri case where the cause of complaint has been deliberately manipulated by the President's lawyers, DMH, who have instructed Advocate Thabani Mpofu to argue the matter, exposes the reality of a broken system involving not just corrupt judges but lawyers," said Mr. Frederick Kyle, a lawyer based in Finland who acted on one of the SA matters.
Mupasiri further stated that: "The impugned violation by the President is strictly limited to his refusal and failure, to tell the truth, and disclose his involvement in the birth and implementation of the Reconstruction Act and his true relationship with DMH, the law firm, and Manikai in particular in relation to the affairs of SMM and other related matters involving the application of a law that offends public policy.
It has nothing to do with the special and specific circumstances of SMM but it cannot be denied that what preceded the enactment of the Reconstruction Act was the hijacking of SMM using regulations that were extrajudicially introduced with no provision for parliament and the judiciary."
This is what President Mnangagwa stated under oath in his answering affidavit dated 24 December 2021: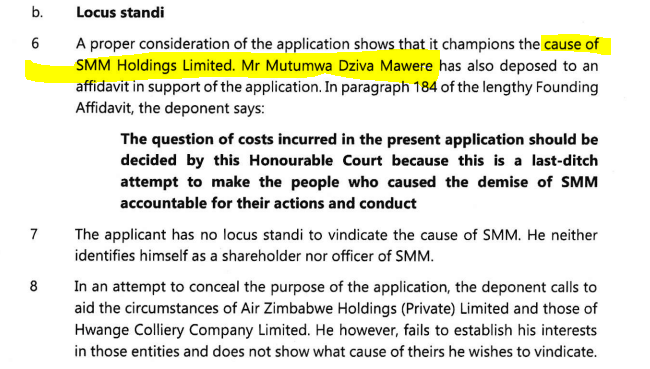 He further asserted as follows: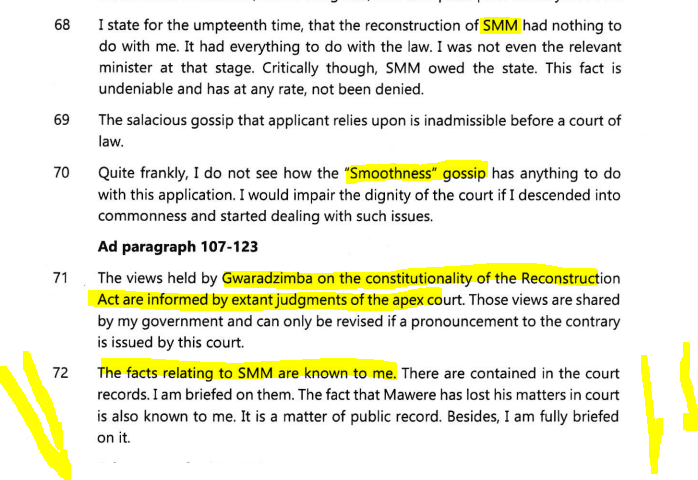 It is clear from the above that although on paragraph a(4) of his affidavit wherein he professed ignorance about the reconstruction of SMM, he confirms above that he was fully briefed without explaining in detail as to why, when, where, and by whom he was briefed. He fails to explain his interest in the matter at all to permit the alleged briefs.

It is against the above background that one can understand the context in which Advocate Thabani Mpofu concluded in his Heads of Argument as follows: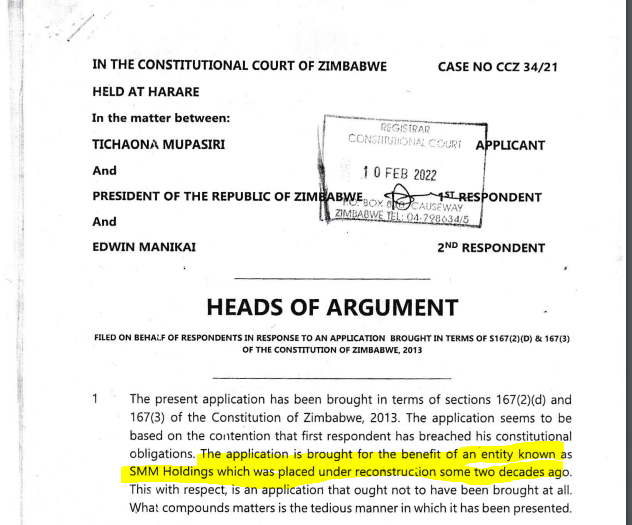 Below is the thread between Mupasiri and Mutanda that is a MUST TO READ:
MUPASIRI EXPOSES PRESIDENT MANGANGWA'S FAKE VERSION IN COURT – mmawere I Flip PDF Online | FlipBuilder
PRESIDENT CYRIL RAMAPHOSA OPENING REMARKS AT THE OCCASION OF THE REPUBLIC OF NAMIBIA STATE VISIT
Your Excellency and Dear Brother, President Dr Hage Geingob, Honourable Ministers, High Commissioners, Senior Officials, Ladies and Gentlemen, Good Morning. Allow me to begin by thanking you, Your Excellency, for honouring our invitation.
Too many years have passed since the last state visit to South Africa by the Republic of Namibia in November 2012.
A great many things have changed our world since then, including the global COVID-19 pandemic that wreaked havoc across the globe.
The pandemic had a devastating impact on human health, livelihoods and economic activity, and it will take us some time to fully recover. Therefore, as we further cement our strong bilateral relations, we need to work together for a swift economic and social recovery for our respective countries, for the region and for our continent.
It is gratifying that officials from our two countries continue to engage at various levels. The most recent structured engagement was the Senior Officials Meeting of the 3rd South Africa-Namibia Bi-National Commission that took place in Windhoek in March this year.
I am pleased with the work that has been done in preparation for the upcoming BNC, which is scheduled to take place in Namibia later this year.
Yesterday, Namibia's Minister in the Presidency and South Africa's Minister of International Relations and Cooperation had the opportunity to discuss issues of mutual interest. This engagement will be valuable for our discussions today.
As we sign new Agreements and Memoranda of Understanding during this visit, it is important that we conduct an audit of all existing legal instruments between our two countries in preparation for the upcoming BNC.
We need to be certain that they are fit-for-purpose and that they continue to serve our respective developmental goals.
As neighbours with deep historical ties, we share the same aspirations for our people – development, employment, equality and prosperity. We are therefore committed to deepen our cooperation, particularly in the area of trade and investment.
It is unfortunate that, due to other events taking place this week, we were not able to convene a Business Forum on the sidelines of this State Visit. However, we are determined that a South Africa-Namibia Business Forum should take place this year.
It is an opportunity to bring our respective private sectors together to promote investment, trade and potential new areas for cooperation.
Namibia is one of South Africa's top trading partners in the Southern African Customs Union (SACU) and the Southern Africa Development Community (SADC).
We must use our geographic proximity and the close ties between our respective economies for greater mutual benefit. One of the areas to expand cooperation is in energy investment. For example, how do we leverage the growing demand for new, clean technologies like green hydrogen to promote cross-border development?
Both our countries are planning massive hydrogen projects. Such projects are key to the energy security of South Africa and Namibia, and will catalyse economic growth and job creation in both our countries.
We need to look at how we collaborate, as our respective governments, state-owned enterprises and private companies, to seize this great opportunity.
Our shared history enjoins us to pursue a common future. It is imperative that we implement the African Continental Free Trade Area to deepen African economic integration, to develop our economies and to lessen our reliance on imports from outside Africa.
South Africa pledges to continue to work closely with Namibia as current chair of the SADC Organ on Politics, Defence and Security Cooperation to promote regional peace and stability.
Please be assured of our full support during your tenure, including with respect to regional anti-terrorism initiatives in northern Mozambique.
As we strive for peace and stability in our region, we must continue to support the struggle for self-determination and freedom of the Saharawi people.
The declaration and commitments of the SADC Solidarity Conference with Western Sahara, co-hosted by South Africa and Namibia in March 2019, should be fully implemented.
Similarly, all United Nations and African Union resolutions and decisions should be enforced. We must continue to mobilise regional, continental and international support for a sustainable resolution to the Western Sahara issue, and push for the Kingdom of Morocco and the Polisario Front to resume dialogue without preconditions.
At the same time, we should reaffirm our support for the Palestinian cause and for the two-state solution.
The conflict between Russia and Ukraine has exposed the frailties of international systems of governance. South Africa, like Namibia, maintains that the United Nations and the office of the Secretary-General should play an active role in resolving this conflict.
We also agree that the UN in its current configuration needs to be more responsive to the needs and aspirations of the majority of the world's people. We must step up our efforts to change the design of multilateral systems of governance.
One of the most pressing issues facing our respective countries and our region is climate change. L Like Namibia, South Africa is a water-scare country and is thus particularly vulnerable to climate change and its effects on food security, energy generation, and many other sectors.
We need to work together in pursuit of low-carbon, inclusive, climate resilient development, which is critical to the sustainability of our continent.
Your Excellency, I look forward to our deliberations on these and other important matters of mutual interest.
I thank you again for honouring our invitation and warmly welcome you and your delegation to South Africa.
PRESIDENT RAMAPHOSA TO HOST PRESIDENT NIINISTÖ FOR A STATE VISIT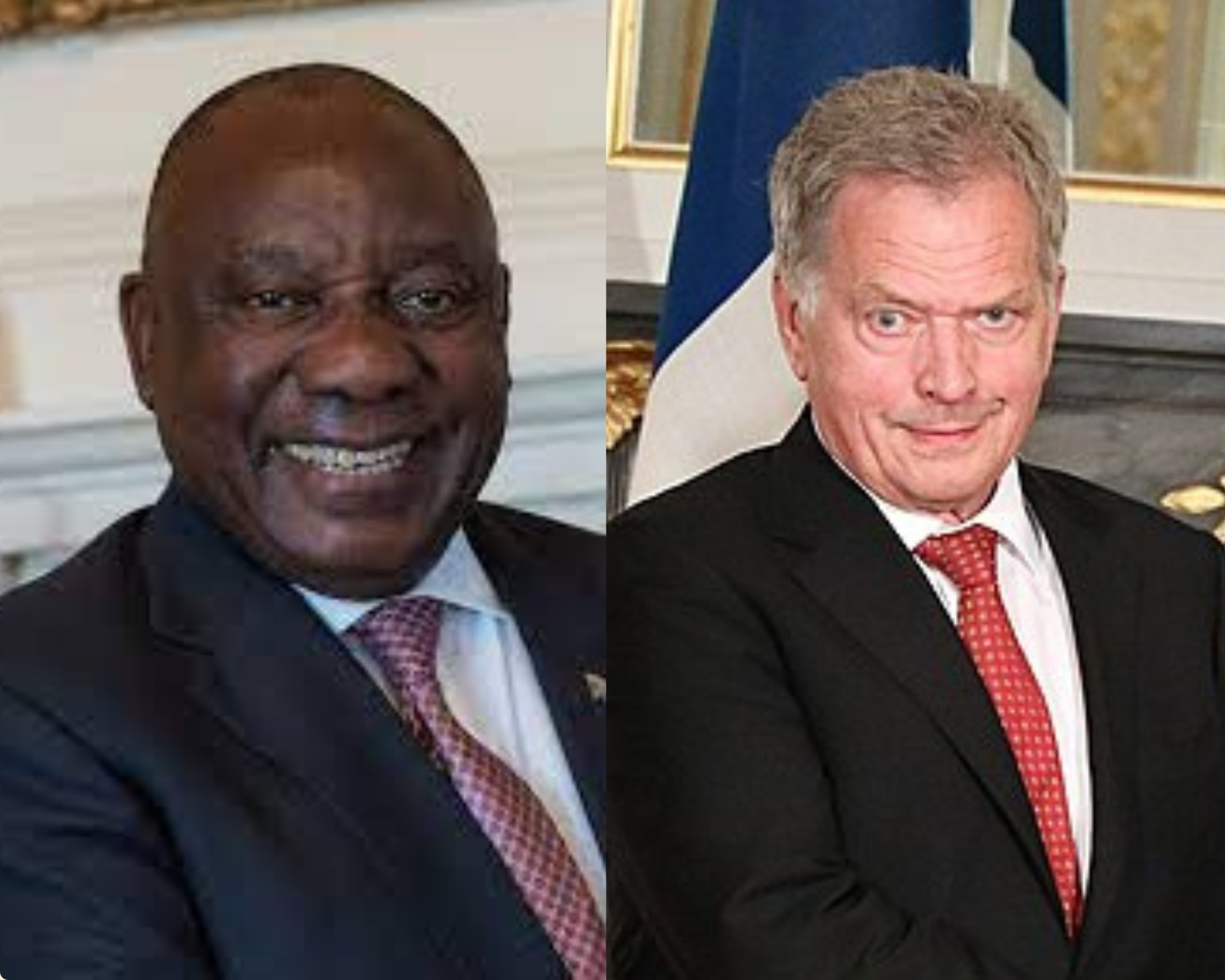 President Cyril Ramaphosa will host His Excellency President Sauli Väinämö Niinistö of the Republic of Finland on a State Visit to the Republic of South Africa.
President of Finland will undertake a State Visit to the republic, from 24 to 26 April 2023, at the invitation of President Ramaphosa. Initially the visit was planned in April 2020, but was postponed due to the Covid-19 pandemic.
The State Visit will be the first by a Finnish President to South Africa in more than twenty years. President Niinistö, however, visited South Africa in December 2013 to attend the funeral of former President Nelson Mandela.
Bilateral relations between Finland and South Africa are deep rooted due to Finnish support for the liberation movements in Southern Africa. Relations have grown since 1994 in all areas of bilateral engagement and Finnish investment is a major priority for both countries, with over R2 billion in new investments in the last 3 years.
President Niinistö will be accompanied by a delegation of Finnish business leaders and a Business RoundTable will be hosted in partnership with the Department of Trade, Industry and Cooperation held under the theme Building Smart, Secure, Sustainable Society Together.
The objective of the session is to strengthen trade and investment relations between South Africa and Finland through the mobilisation and facilitation of new investments, expansion and nurturing of existing Finnish investments in South Africa, as well as exploring opportunities for joint ventures in technology commercialisation in mutual sectors.
Most of the discussions will centre on possible opportunities in renewable energy; Information and Communication Technology; mining technology; packaging and food hygiene, construction and finance, that the South African and Finnish companies can work together in exploring.
The Presidential Round Table will be preceded by a Business-to-Business Matchmaking engagement between the South Africa and Finnish companies. The outcome of the two interactions is expected to be an increase in trade and investment between South Africa and Finland.
Finland is an important partner to South Africa and, despite its small population and territory; it is amongst the most developed countries in the world and provides valuable trade, investment and development cooperation to South Africa. Like the other Nordics, they play an active role in global affairs, are strong advocates for multilateralism, have an excellent capacity and track record for peace and mediation efforts, and are global leaders in innovation.
Since 2010 Finland has been supportive of South Africa's national priorities and continues to be a reliable partner in various sectors including maritime, science and technology, ICT and digitalization, environment, energy, education, skills development, agriculture and water.
President Niinistö will also be conducting a State Visit to Namibia during his Southern Africa visit. Within the SADC context, the Finnish have supported several programmes on sustainable water management. The Finnish engagement with Africa forms part of its strategic objective of increasing partnerships with Africa, including expanding its diplomatic presence, its support for the African Agenda and expanding economic relations. In this regard, Finland has adopted an Africa Strategy.
Finland is also a strong international partner in areas of various global issues such as strengthening multilateralism, international law, peacebuilding and mediation, the advancement of gender and human rights as well as around issues of renewable energy.
PRESIDENT RAMAPHOSA TO HOST PRESIDENT GEINGOB OF NAMIBIA FOR A STATE VISIT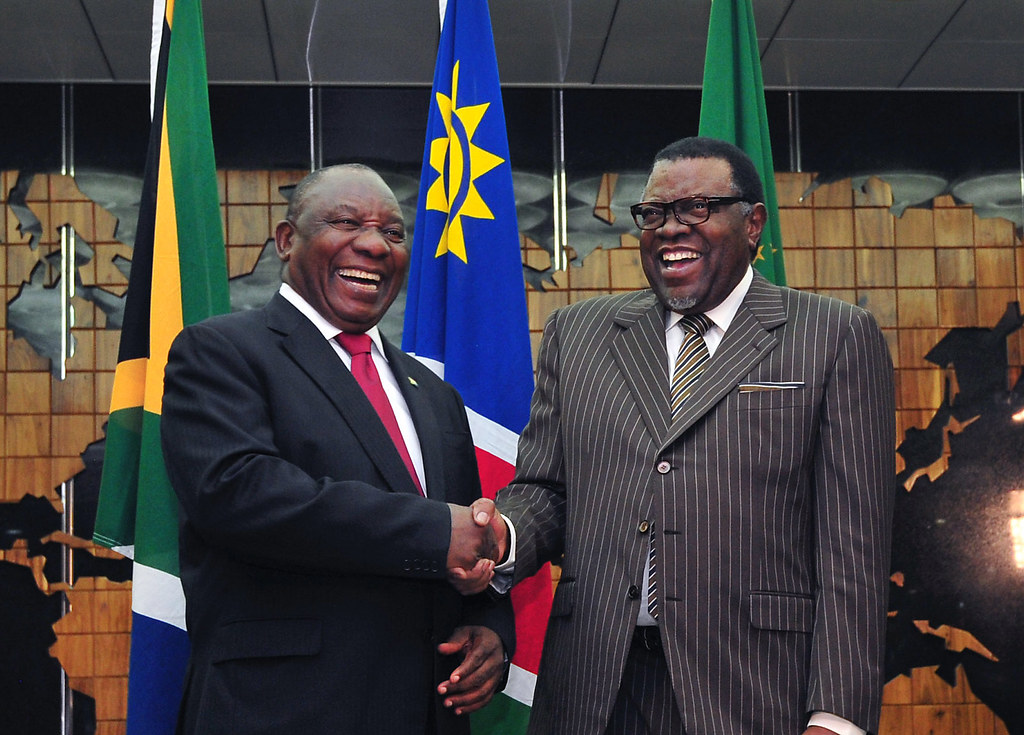 President Cyril Ramaphosa will host His Excellency President Hage Geingob of the Republic of Namibia who will undertake a State Visit to the Republic of South Africa on Thursday, 20 April 2023.
The visit aims to solidify bilateral relations between the two countries and it is expected that President Ramaphosa and President Geingob will discuss political and economic issues including regional, continental and international matters of mutual concern, including exchanging views on the political situation in Eswatini, conflict in Saharawi Arab Democratic Republic (SADR), Palestine and the Russia – Ukraine situation.
South Africa and Namibia enjoy close historic relations and the structural bilateral relations between the two countries is conducted under the framework of a Bi-National Commission (BNC) inaugurated in 2013.
The State Visit by President Geingob will afford the two countries an opportunity to solidify their bonds of friendship through assessing progress made in the implementation of the decisions of their BNC.
The visit will also afford the two countries an opportunity to enhance economic cooperation; explore trade and investment; and identify new areas of cooperation.
In 2022, South Africa imported R16.1 billion from Namibia and in turn South Africa exported R56.5 billion to Namibia.
The second session of the South Africa-Namibia BNC was held in South Africa in October of 2016. The third session is scheduled to be hosted by Namibia and meetings, at senior officials level, are underway planning for this meeting.
The State Visit will be preceded by a bilateral meeting between the Minister of International Relations and Cooperation (DIRCO) of South Africa, Dr Naledi Pandor and Ms Netumbo Nandi-Ndaitwah, Minister of International Relations and Cooperation of the Republic of Namibia on 19 April 2023.
Namibia is a member of the Southern African Customs Union (SACU) and President Geingob Chairs the Southern African Development Community (SADC) Organ on Politics, Defense and Security Cooperation.
The last State Visit to the Republic of South Africa by the Republic of Namibia took place in November of 2012, by former President Hifikepunye Pohamba.