Jonathan Ralph Kadurira – Don't Wait For A Conducive Environment To Start Your Business.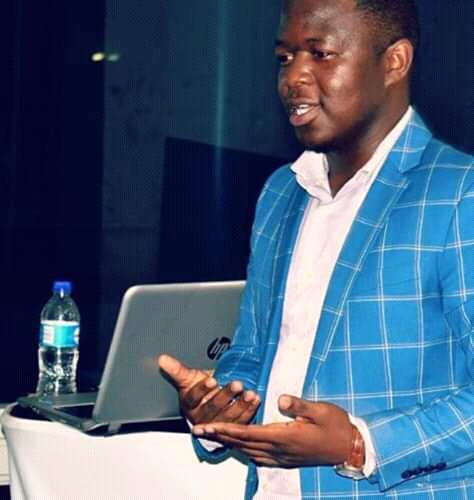 Jonathan Ralph Kadurira, founder of The Mesh, Springtide Consultancy and Springtide Cleaning Services has encouraged youths especially job seekers to start their own enterprises right now and bootstrap their way into the business world.
He advised them not to wait for a conducive business environment, or for loans and venture investment before putting their business ideas into practice.
An entrepreneur, author and speaker, Ralph, is the brains behind one of Zimbabwe's fastest growing talk show platforms, The Mesh.
The Mesh, is an engaging talk show where people, notably the youth, gather to discuss different important issues especially with invited guests who are knowledgeable in the subject matter in a fun filled environment under the banner Constructive Dialogue.
Since inception, the show has so far been graced by Dr Lance Mambondiani, CEO of BancABC, Trevor Ncube, the Chairman of Alpha Media Holdings and Simon Hammond, Managing Director of CABS Zimbabwe.
While speaking about his Springtide Cleaning business to zwnews24.com, Kadurira, author of the book, Fighting Ignorance, said that he started the cleaning business out of bootstrapping.
"I bootstrapped. That was the only efficient way to go about it especially in this economy we have. Don't wait for a conducive environment. Don't wait for loans or investment from venture capitalists or anyone. Don't wait. Start now. Bootstrap yourself up. It's possible" Said Jonathan
According to Investopedia, bootstrapping is: starting a business without external help or working capital. Entrepreneurs in the company survive through internal cash flow and are very cautious with their expenses.
He also added that he started offering cleaning services without much background in it but simply because he is an entrepreneur, he identified a need and devised solutions to address that need.

Below is the full interview between Jonathan Ralph Kadurira (JRK) and zwnews24's Brian Kazungu.

zwnews24: Would you briefly describe the background, nature and mandate of your Springtide Cleaning business?
JRK: Springtide Cleaning is a fully integrated cleaning services company that provides comprehensive, high quality, reliable cleaning solutions to commercial, corporate, industrial and residential clients. We are now in our 2nd year of operation since March 2019.
zwnews24: What is the main motivation and major push for you to engage in the business that you are involved in?
JRK: I am a techno-preneur, I use tech to offer solutions that communities face and build up a business from there. As such, because of the need of innovative solutions in that area of business especially in my home country, I saw it fit to engage myself in this business.
zwnews24: What are the different products and services that you are offering? Would you describe what each of these products and services is all about and the intended benefit of each of these to your targeted and actual clients?
JRK: We provide an extensive range of quality safe hygienic services. We help maintain high standards of hygiene by providing high quality air freshening, clinical, medical and sharps disposal, sanitary bag dispensers, sanitary disposal units, soap and hand sanitizing, Toilet seat & Urinal sanitizing, Washrooms Dispensers and many other services.
More so, we are a competent and fully integrated company that is also increasing the standards of cleaning through advanced cleaning practices including green-cleaning cleaning in Zimbabwe and beyond.
We also offer post construction cleaning, recurring cleaning, and one-time deep cleaning as well as move in/move out cleaning services.
On Products:
Chemicals: Our top of the range of chemical products provide a comprehensive, cost effective and environmentally friendly solution for all disinfection, cleaning, protection and maintenance requirements in commercial, corporate, industrial and residential establishments.
Detergents: Our detergents are best in quality and cover a wide range of applications; from stain and dirt removal to cleaning and sanitization. Our detergents are categorized as Commercial/Industrial Care, as well as Home and Personal Care
Cleaning accessories: Our home and office cleaning accessories provide a comprehensive cost effective and environmentally friendly solution that enables one to carry out a vast range of cleaning tasks in a cost saving and efficient manner.

zwnews24: How has the market responded to your products and services so far since inception and what can you attribute to such kind of a response?
JRK: The market has responded well. It is fair and I can attribute that to the business relations we have built and to the team I work with.
zwnews24: What is it that is unique about yourself, your team and your services which sets you apart and which also helps you to stand out among various service providers who are in the same category with you?
JRK: As Springtide Cleaning, we take pride in being efficient, reliable and thorough with our work.
zwnews24: What do you believe and understand are the main advantages to your clients when they make use of your company products and services in addressing their cleaning and hygiene issues?
JRK: The main advantage is Satisfaction! That's what one gets when they hire us. We always provide excellent customer service. We are thorough and efficient, and we clean to high standards.
zwnews24: Do you have any background in this industry? If yes, could that have helped you in identifying the business opportunities behind your entrepreneurial drive?
JRK: The only background which I have in this regard is entrepreneurship, which is the ability to see a problem and then giving out a business solution.
zwnews24: What can you look back at and say that, so far, this has been your major achievements as an enterprise and what do you believe has greatly contributed towards such achievements?
JRK: As of today, our major achievement has been our ability to push ourselves and stand our ground in a congested market. It is because of the faith that we have in our products and services.
zwnews24: In a world where most people, especially the youth are failing to start and run their own enterprises because of lack of capital, how have you managed to launch and operate this initiative?
JRK: I bootstrapped. That was the only efficient way to go about it especially in this economy we have.
zwnews24: It is a fact that the current economic situation globally is challenging. As such, what is it that has helped you as a business to continue operating under some difficult conditions that you have encountered?
JRK: I can safely say that our work ethic and thoroughness in what we do has helped us to maintain our customers, get repeated jobs and also get referrals. This has kept us operational.
zwnews24: What are and what has been some of the operational challenges that you have encountered so far in the pursuit of your entrepreneurship vision and how have you dribbled past them?
JRK: The exponential rise in the number of cleaning companies operating within the industry has, of course, led to some great competition in the industry. However we are to remain favourites because of our agility in our work process.
zwnews24: Based on your experience, what advice can you give to unemployed youths and many other job seekers concerning entrepreneurship as a way of creating employment for themselves and others?
JRK: Don't wait for a conducive environment. Don't wait for loans or investment from venture capitalists or anyone. Don't wait. Start now. Bootstrap yourself up. It's possible
zwnews24: What are the current challenges happening in your industry or country which is affecting the viability of your business? In that regard, what are the strategies that you are putting in place for you to achieve your goals?
JRK: One challenge has been of labour, which is finding and keeping the right employees. To curb this, we did set up a formal recognition system that acknowledges employees who go above and beyond in providing quality service. We have also created a system for collecting employee feedback and making changes based on this feedback for a better work environment. Lastly, investing in new training programs that allow employees to learn new skills and expand their knowledge of the industry.
zwnews24: Where do you foresee your business in the future and what legacy do you want it to leave on earth?
JRK: We seek to be the leading and go-to cleaning company within the cleaning industry in Africa and beyond by consistently providing high quality services through maintaining and upgrading cleaning standards and upholding excellence in our provision of services to exceed the expectations of our clients. We can do all this because we have the drive, we have the tenacity and we have the faith.

https://springtidecleaning.co.zw
https://www.linkedin.com/company/20141250/admin/
https://twitter.com/Springtideclean
The questions in this interview are adapted from the book, The SME HANDBOOK written by Brian Kazungu: https://amzn.to/32hZSlb
IDC's Tshepo Ramodibe Cornered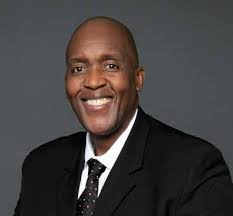 In a remarkable development, IDC's spokesperson, Mr. Tshepo Ramodibe, who was quoted in an article published by the Sunday World in relation to a judgement granted by Judge Motsamai Makume on 23 March 2022, in which he confirmed that, it was the IDC, a public institution, that had initiated the the litigation.
In a new twist, when Ramodibe was confronted to provide evidence that the litigation was authorized by the IDC and the use of public funds was justified, he threatened this publication, was evasive, abusive, refused and failed to provide the basis of the authority relied upon to prosecute the claim.
A dispute was registered as to whether a presiding judge could discuss a rescinding application without dealing with the challenge of IDC, Plaintiff's authority to litigate in the case 13276/14.
The suit was instituted by IDC in the high court of South Africa South Gauteng Local Division. In relation to this challenge on authority, it would appear it has taken IDC eight years to furnish the resolution binding this public institution to this litigation.
Mr. Peter Smith said, "what is puzzling about this matter is that IDC commented about a judgement in which Mr. Tshepo Ramodibe could not supply the impugned resolution. This raises a question of how public funds can be used for litigating a matter without the public institution, obeying the law. Rule 7 (seven) is a rule of court that provides for a litigant to challenge authority and therefore place a bar or any next step be taken prior to a court of law granting leave or being satisfied that the challenging authority does exist. Having looked at the record of exchanges between the reporters of IniAfrica.com with Mr. Tshepo Ramodibe, the inescapable conclusion is that IDC and its attorneys Werksmans, clearly have no obligation to observe the law and rules of court because after seven years, IDC has failed, refused and neglected to play its part in complying with this requirement."
Ms. Lara Geach said, she found the exchange between Mr. Tshepo Ramodibe and Mr. Peter Smith not only interesting, but thought provoking if not classic and below is the said exchange:
Tshepo Ramodibe
Mon, 4 Apr, 17:47 (20 hours ago)
to [email protected], me, [email protected], [email protected], [email protected], [email protected], [email protected], Media, Chimwemwe, Tebatso
---
Mr Smith,

Please note that I have no concerns about the call made which was intended to get clarity on what was unclear in the emailed responses. All that is on record is a summation of the court ruling that confirmed the ruling court against the applicant.

The media is well aware of the matter and related court rulings. I suggest that any further enquiries in this regard be directed to appropriate legal platforms. The Judge and court that made the ruling is best placed to address any queries you may have.

I take confidence in the responses furnished by the IDC, as a public institution. Our Legal team and attorneys in the matter will guide any further interactions with your publication.

Regards,
Tshepo


Tshepo Ramodibe

[email protected]

011 269 3106Head: Corporate Affairswww.idc.co.za0829910851Corporate Affairs




—–Original Message—–
From:

[email protected]

<

[email protected]

>
Sent: Monday, 04 April 2022 17:17
To: Tinashe Mpasiri <

[email protected]

>
Cc: Tshepo Ramodibe <

[email protected]

>;

[email protected]

;

[email protected]

;

[email protected]

;

[email protected]

;

[email protected]

; Media <

[email protected]

>; Chimwemwe Mwanza <

[email protected]

>; Tebatso Mokgoro <

[email protected]

>
Subject: Re: [External Sender] Re: IDC V MAWERE & OTHERS

Dear Mr. Ramodibe,

Good afternoon,

I have been briefed by Mr. Mpasiri and I have listened to the audio of the conversation.
I am astonished that you refused to provide the required information for us to complete our work in the public interest.
Your comments are in the public domain about a judgment on a dispute that the IDC is being called upon to provide as required by the Constitution.
I need not remind you of the provisions of PAIA that provide for the open and unfettered disclosure of information in your possession when requested to provide it.
I need not remind you that s9(a) of PAIA gives effect to our constitutional right to access any information held by the State subject to the limitation in terms of s(9)(b)(i)(ii).
I am sure you will agree that s9(d) provides for the establishment and mandatory mechanisms or procedures to effect our right to access the requested information in a manner that enables our media platform to obtain access to records of a public body like the UDC swiftly, inexpensively and effortlessly as reasonably possible.
As you correctly stated, the judgment is in the public domain and such
s9(e) is instructive in that the requested information is beneficial to promote transparency, accountability, and effective government of public institutions by including but not limited to empowering the public and raising literacy on civics so that victims of injustice can exercise their rights in relation to public bodies like the IDC.
You will not doubt appreciate that our staff as citizens are under pressure to interpret the import of the judgment especially when regard is had to the fact that IDC does not advance credit to the retail public especially persons of foreign nationality.
We are at pains to understand the relationship between the IDC and the person of Mr. Mawere.
We also need to understand the functions and operation of IDC, especially with regard to the burning issue of authority so that the public can effectively scrutinize, and participate in, decision-making by public bodies like the IDC that affect their rights.
One of the questions that have been raised is whether persons of Zimbabwean heritage who are not eligible for BEE status can borrow from the IDC. This question is of significance because we have 28-year-old South Africans who were born in South Africa and are desirous of accessing credit facilities from development finance institutions.
Your tone in the conversation with Mr. Mpasiri was not only condescending but arrogance as if to suggest that a judgment granted in IDC's favor should only be subjected to scrutiny in the courts when you were at liberty commending on the same.
I find it strange that when provided with the information regarding why Mr. Mawere could not have attended two hearings at the same time, you chose to attack Mr. Mpasiri's bona fides and effectively the integrity of our platform.
I am writing this letter if you know where we are coming from as we believe in using the media to promote a culture of accountability and transparency.
I am still not sure why you called Mr. Mpasiri rather than respond to the questions that are critical for any reasonable person to establish whether the impugned judgment was tainted by fraud or not.
I have attached a letter addressed to Dr. Sanangaura dated 1 March 2021 seeking the same information that we sought from you today. Surely, logic dictates that it would not take more than a year for you to answer a simple question on behalf of a public body whether the IDC had authority to institute proceedings that relate to the Makume J judgment or not.

I look forward to your urgent response.
President Mnangagwa exposed by Mupasiri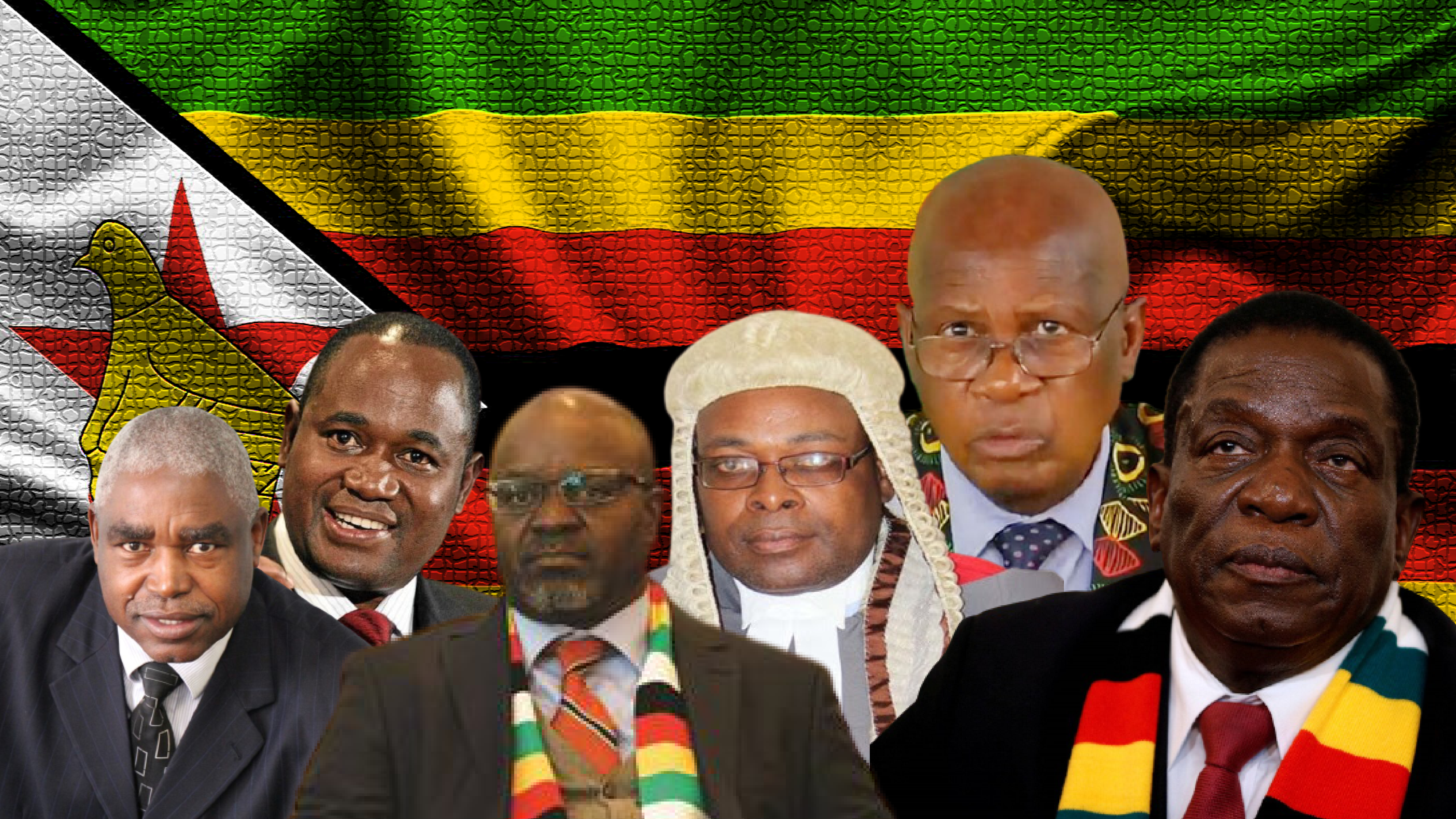 On 17 December 2021, Mr. Tichaona Mupasiri, launched an application against President Mnangagwa, in his official capacity, alleging a breach of duty when he refused and failed to take any next steps when on 9 November 2021, he was informed of the existence of Mr. Manikai's, his lawyer. malicious and scandalous allegations that he was knowingly and intentionally in the hijacking of SMM using the force of law to achieve this attack on the constitutional order.
Mr. Mupasiri said:
"My case is fundamentally premised on two foundational principles and values of our constitutional democracy – openness or transparency and accountability – as well as my quest as a citizen in terms of the provisions of s2(2) of the Constitution to play my party holding the powerful to account for their deeds.
My civic duty to speak truth to power is unfettered and not subject to instructions from anyone else.
It is trite that the ushering in of the 2013 Constitution introduced the role of the Constitutional Court in determining whether the failure and refusal of the President to investigate the serious allegations made by Manikai that the reconstruction of SMM was tainted corruption and fraud constitute a failure to fulfill his constitutional obligations.
For the last 43 years, concerns are galore on the lack of ethical state craftsmanship and our collective failure as citizens to ensure the existence of checks and balances that should underpin the institutionalization of good governance.
My application is also about the abuse of public power and funds with impunity.
It is my observation that the endemic corruption in Zimbabwe is a consequence of the systemic broken system whose effect has been an erosion of government integrity, transparency, and accountability that is necessary to provide the necessary checks and balances required for a functional and just system.
It is not in dispute that the President is bound by the supreme law of the country and is prohibited from exposing himself to any situation involving the risk of a conflict.
When I read the chat in the FOSMM group, I was shocked that President Mnangagwa, if he knew the legal and constitutional implications of what Manikai said his role was in the construction of the illegal reconstruction scheme, would still be close to him.
No one can doubt the reality of a conflict between President Mnangagwa's official duties and his private interests to be the successor to the late President Mugabe.
Having had the opportunity to learn from the facts generously shared in the FOSMM group, I was compelled to take the steps that I have taken to ensure that the truth is told especially in relation to the facts and circumstances of the unfortunate decisions and actions that led to the introduction of the Reconstruction of State-Indebted Insolvent Companies Regulations and after the fact, the enactment of the Act.
The foundational values of openness and accountability demand that I discharge my duty to the constitution by demanding that the secrecy that has characterized the prosecution of the Reconstruction affairs in relation to juristic entities in Zimbabwe be exposed without favor or prejudice.
I was confident that President Mnangagwa would never refuse to account for his alleged actions but my confidence in his innocence in this matter has been dampened.
Clearly, the opportunity for both Manikai and President Ramaphosa has been squandered and is being wasted in the court processes when all I wanted was for Manikai to bring the nation to his confidence on what happened in relation to the bizarre manner in which state power was deployed to introduce and use the reconstruction regulations and act in relation to Zimbabwe's corporate citizens.
The remarks that Manikai made and shared in the FOSMM groups confirm that the force of law was used to create the facts of state-indebtedness when no jurisdictional facts existed to support this allegation.
The misuse of public funds in prosecuting the reconstruction of SMM is unmistakable.
I am in receipt of correspondence from SMM's UK registered shareholder, SMM Holdings Limited (SMMH), Dr. Cleopus Sanangura in relation to the prosecution of the SA litigation matters, and TAP director in relation to the theft of about $5 million from the company and the role of DMH in the heist which fortifies my position that either President Mnangagwa was misinformed or he is part of the illegal corporate coup.
I am encouraged that the media is beginning to understand the true nature of my application and urge citizens to vigorously interrogate the facts inherent in this matter as it is clear that the Constitutional Court by directing outside the court that the President has no duty to respond to my serious allegations that are informed with facts, the outcome of my application seems to have already been determined and disposed of.
It is the duty of every citizen to be vigilant and to ensure that the rule of law is protected and promoted.
As a citizen, I am determined more than ever to expose the rot in any sphere of government as empowered by the constitution of this country.
I am determined to see this matter to its conclusion and I reiterate my position that I will never abdicate my constitutional responsibilities.
President Mnangagwa's ascendency to public office was steeped in fighting corruption. I did not expect him to suffer from the same inditement that his predecessor suffered when allegations were made against him that he was in truth and fact surrounded by a cabal of criminals.
President Mnangagwa must be held accountable for failing to report to law enforcement agencies the alleged plundering of public funds in the prosecution of the reconstruction affair and the unaccounted funds used in litigating matters related to the cause of divesting shareholders and directors of the control and management of their companies.
The Mnangagwa administration on the face of it appears to have a clear policy on fighting fraud and corruption. I was guided by this policy when I wrote the letter to him in November 2021 expecting him to join forces with me to make Manikai accountable for his remarks.
The people of Zimbabwe have legitimate expectations that the Constitutional Court will live up to its intended role in transforming this country especially having regard to the fact that even under Mugabe, the organs of state that could have stopped the attack on the rule of law were already captured by untouchable persons like Manikai.
I had to take it upon myself to ensure that all public funds that were used in the name of reconstruction accounted for to the cent allegedly spent on their behalf."
The alleged role of President Mnangagwa in the demise of SMM has been in the public domain from the onset.
It is President Mnangagwa who has imported us to spare no effort in exposing corruption to permit another narrative that compels him to conceal it using the Court.
He says he first heard the recording of Ramaphosa on 20 December, when Parliament had closed for the festive season.
My application was triggered by President Mnangagwa's refusal and failure to disclose what he knows when he knew, and from whom he knew about the affairs of SMM's reconstruction affair especially against the backdrop of his denial that he was not in his current position at the material time when the corporate coup was conceived and born.
The existence and veracity of the chats that are in my possession have not been denied which means that the contents are genuine and were generated by Manikai and should be as good as oral evidence given in person.
It is Manikai who created the cloud that has hung over President Mnangagwa's head since 2004 and his alleged role in the affairs of SMM is and has been in the public domain.
It is Manikai who has provided the link to him in a graphic and political context that ordinarily would be buried in secrecy.
Manikai in his answering affidavit does not dispute the authenticity of the utterances or the veracity of the serious allegations he made against President Mnangagwa.
Truth or integrity is after all at the heart of the Office of President of the Republic
particularly in relation to his or her constitutional obligations."
"Deciding to present a version known to be untrue to an organ of State whose constitutional duty it is to strengthen our democracy is conduct that is inconsistent with that high office and the obligations that the incumbent has – to uphold, defend and respect the Constitution as is happening in the Mupasiri case where the cause of complaint has been deliberately manipulated by the President's lawyers, DMH, who have instructed Advocate Thabani Mpofu to argue the matter, exposes the reality of a broken system involving not just corrupt judges but lawyers," said Mr. Frederick Kyle, a lawyer based in Finland who acted on one of the SA matters.
Mupasiri further stated that: "The impugned violation by the President is strictly limited to his refusal and failure, to tell the truth, and disclose his involvement in the birth and implementation of the Reconstruction Act and his true relationship with DMH, the law firm, and Manikai in particular in relation to the affairs of SMM and other related matters involving the application of a law that offends public policy.
It has nothing to do with the special and specific circumstances of SMM but it cannot be denied that what preceded the enactment of the Reconstruction Act was the hijacking of SMM using regulations that were extrajudicially introduced with no provision for parliament and the judiciary."
This is what President Mnangagwa stated under oath in his answering affidavit dated 24 December 2021: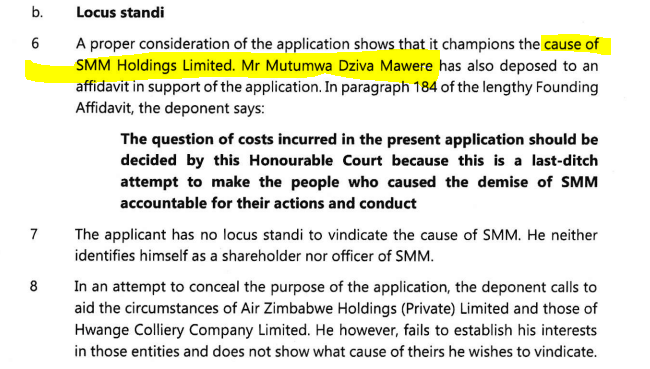 He further asserted as follows: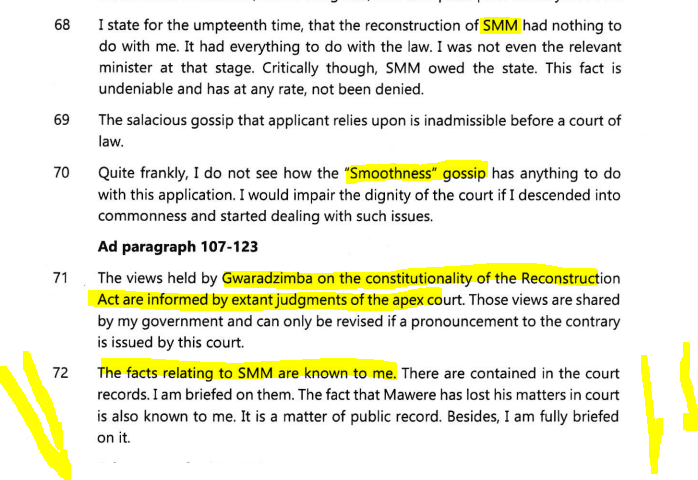 It is clear from the above that although on paragraph a(4) of his affidavit wherein he professed ignorance about the reconstruction of SMM, he confirms above that he was fully briefed without explaining in detail as to why, when, where, and by whom he was briefed. He fails to explain his interest in the matter at all to permit the alleged briefs.

It is against the above background that one can understand the context in which Advocate Thabani Mpofu concluded in his Heads of Argument as follows: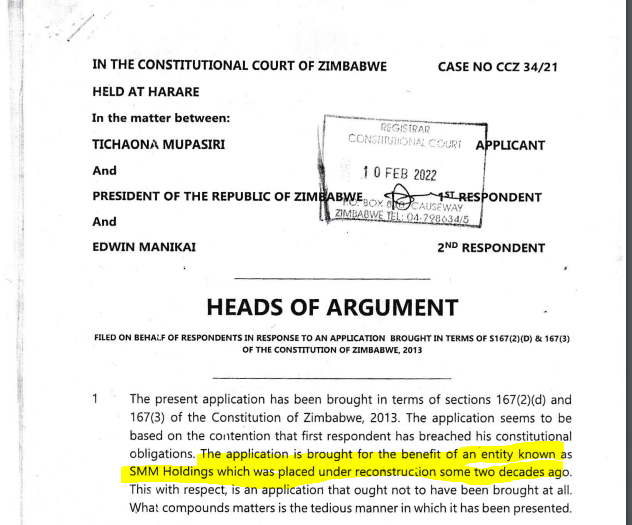 Below is the thread between Mupasiri and Mutanda that is a MUST TO READ:
MUPASIRI EXPOSES PRESIDENT MANGANGWA'S FAKE VERSION IN COURT – mmawere I Flip PDF Online | FlipBuilder