Former President, Jacob Zuma and Former Public Protector, Thuli Madonsela: Which One Had the Power to Form the Zondo Commission?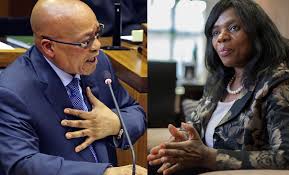 Mutumwa Mawere, 07/02/2021
Legal and constitutional questions that are inherent in the establishment of the state capture commission of inquiry are largely masked by the reality that former President Zuma acquiesced to the order by the former Public Protector, Ms. Thuli Madonsrla.
The former Public Protector, masterminded the establishment and appointment of a Commission headed by the Deputy Chief Justice Zondo.
In the C2C Civics and Legal Literacy group where this matter is heavily contested, a dispute is raging as to whether the Madonsela order passed the constitutional muster.
There is a strong view being expressed that in terms of s84(2)(f) , it is the President who is vested with the power to appoint a Commission of Inquiry and as such the order by Ms. Madonsela was ultra vires the Constitution.
If this view is accepted, then the dispute regarding the alleged defiance by President Zuma that he was a victim of state capture in relation to the appointment that he was forced to make by Ms. Madonsela with the complicity and constructive involvement of the judiciary will be justified.
In November 2016, the former public protector, Ms. Madonsela ordered that a commission of inquiry be instituted to establish the true facts in relation to state capture allegations.
This came after she had investigated allegations that the Gupta family wielded influence over Zuma and that cabinet ministers with links to this family were also subsequently appointed by Zuma,.
Zuma applied for an urgent interdict to stop the release of Madonsela's report just a day before Madonsela was to release it, on her last day in office but his lawyers were only forced to withdraw the application in the North Gauteng High Court after establishing that the High Court had already ordered that the report be released.
This 335-page report informed the decision to set aside the limitation imposed in the Constitution that only the President in his discretion possessed the legal right to establish a commission of inquiry.
Ms. Madonsela substituted the President with the Chief Justice as a party clothed with the power to identify the Chair of the Commission leaving Zuma with the residual power to rubber stamp the process.
Some have argued that in relation to Trump who was also impeached, at no stage was he stripped of his powers based on untested allegations.
Although Ms. Madonsela was confident that she had uncovered evidence of corruption that justified the unprecedented decision to strip Zuma of powers reserved to him, there can be no legal and constitutional justification of the pathway chosen.
The involvement of the Chief Justice in a scheme that was patently unconstitutional, the judiciary cannot escape being accountable for this decision and prosecuting it.
A precedent had been set of judicial interference with executive decisions to permit any rational mind to conclude that Zuma had no grounds to challenge the process and outcome of a fatally defective scheme.
While commenting on the issue, Mr Chitambo said, "It is the role of journalists to unravel the mysteries behind what Zuma is alleging and the truth.
The same judiciary system prosecuted and convicted Mandela. So the onus is now on all progressive democratic forces to point towards the Truth. This should be a wake-up call to all Africans that we need a radical shift towards setting our own narrative of what it is the meaning of justice."
Is judicial capture reality in Zimbabwe under President Mnangagwa's watch?
Is judicial capture reality in Zimbabwe under President Mnangagwa's watch a question that top jurists who are reported to have been in Zimbabwe on a fact-finding mission are seized with?
Below is an article that is informed by the conduct of Makarau JCC who presided over an application for leave of court to intervene in an application launched by Mr. Tichaona Mupasiri under Case Number 34/21 in December 2021.
Below is an article that speaks to the response of the SADC LAWYERS ASSOCIATION to concerns that Zimbabwean judges are not independent and impartial.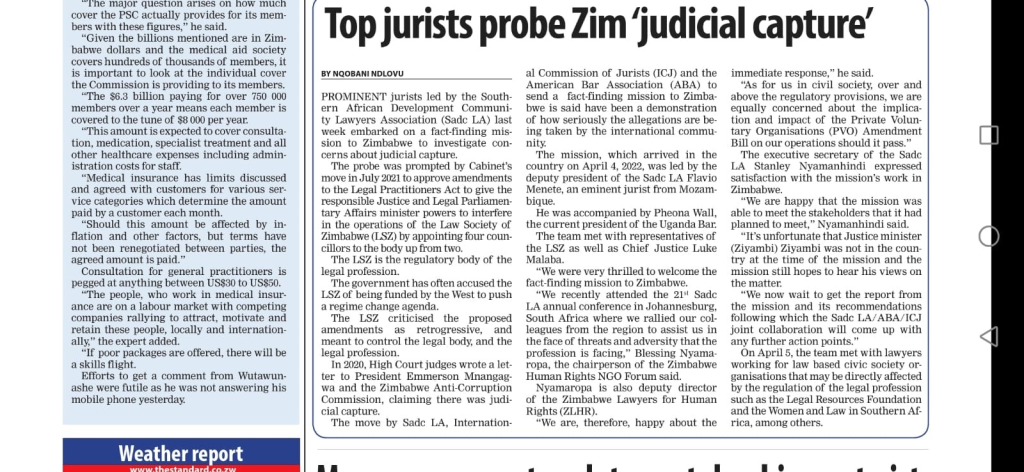 Now turning to PART ONE of the constitutional questions that arise from Makarau JCC, a specification order was issued in relation to untested allegations of corruption creates a legal disability that has the effect on a person so specified to have unfettered access to courts of law.
In the above-mentioned matter, a crooked Minister of Justice in the name of Patrick Chinamasa invoked the Presidential Powers that are reserved to deal with national emergencies to deal with the affairs of a private company, SMM Holdings Private Limited (SMM), falling what a prominent Zimbabwean lawyer, Mr. Edwin Manikai describes as a major political fallout that caused Chinamasa to invent a nexus between all companies deemed to be under the control of SMM's ultimate beneficial shareholder, Mr. Mutumwa Mawere.
Chinamasa promulgated a decree on a Friday or 3 September 2004 under the title: RECONSTRUCTION OF STATE-INDEBTED INSOLVENT COMPANIES regulations and in conflict with the DOCTRINE OF SEPARATION POWERS gave himself exclusive jurisdiction to hijack the control and management of all the targeted companies without the involvement of parliament and the judiciary.
Set out below is an extract of Chinamasa's affidavit in support of an application to sanitize his extrajudicial order with a veneer of a court's blessing.
This application was made after the hijack was executed: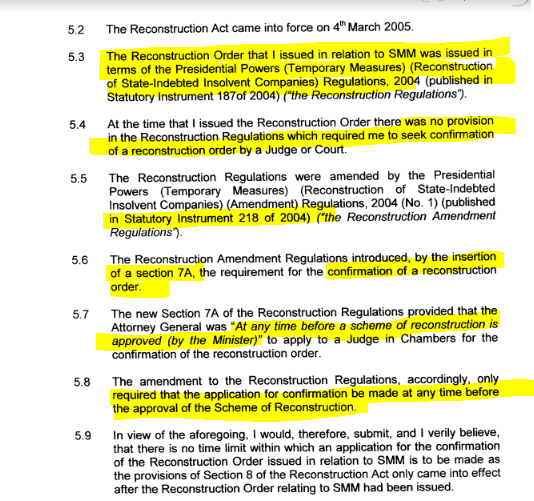 The control and management of SMM were placed under Chinamasa's appointee on 6 September 2004 even though the Administrator's official appointment letter was dated 14 September 2004, he dismissed the board on 6 September 2004 before his appointment.
The question that arises is the audacity that informed Chinamasa to prosecute this hijack without any concern about the possible non-cooperation of the judiciary.
This drama happened under the watch of the late President Mugabe. It is worth highlighting that Chinamasa's application for confirmation was not handled by the Attorney General but by a private law firm, DMH Attorneys, that is acting for President Mnangagwa in the Mupasiri constitution challenge.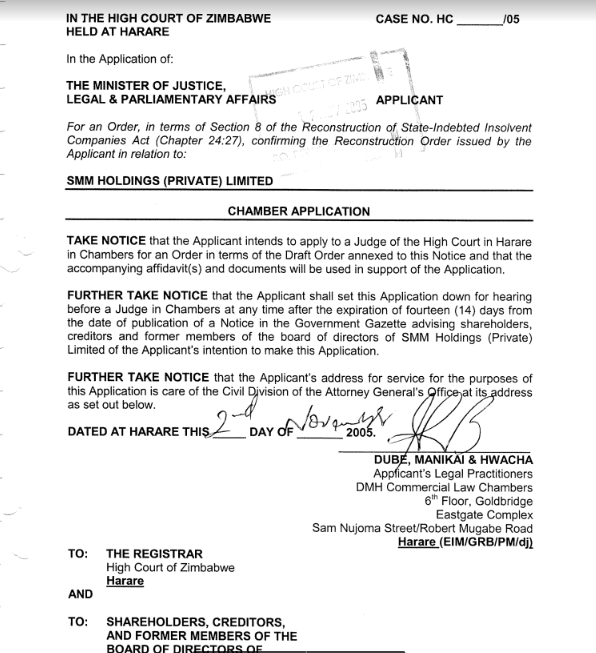 The address of service in respect of this application was not a government address or the Attorney General's address but that of DMH Attorneys. What does this say about state capture?
Notwithstanding, the application for confirmation was granted without any judicial resistance notwithstanding the significant constitutional questions that this precedent suggests.
The facts in relation to the ZHL matter referred to above go as follows:
THZ Holdings Limited had a direct and substantial interest in the affairs of its wholly-owned subsidiary, Endurite Properties Private Limited (Endurite), and had a direct and indirect interest in ZHL of 46.55% making it the largest single shareholder of ZHL, a listed company on the Zimbabwe Stock Exchange (ZSE)

2. On August 24, 2004, Chinamasa declared both THZH subsidiaries to be specified in terms of s6 of the Preventions of Corruption Act solely to ensure that access to justice was denied before this was called for. This all happened before the reconstruction decree was promulgated.
3. Mr. Reggie Saruchera, Chinamasa's ally was appointed as the investigator in respect of the two companies.

4. As described by Makarau in her judgment, on 28 January 2005, ZHL held an EGM at which shareholders were to approve or disapprove of a proposed rights issue in the company at a time when the control of the affairs of THZH's two subsidiary companies was placed under the control of Mr. Saruchera who had no power, right or capacity to substitute the rights of the affected companies as shareholders. Ordinarily, a specification order is an asset preservation order and rarely has a company's control and management be divested using public power under the guise of fighting against corruption.

5. The constitutional question that arises is whether a company whose control and management had been divested by an act of state can concurrently be placed under reconstruction pursuant to the use of public power to achieve both conflicting objectives.
6. The effect of a specification order in relation to a juristic entity has not been sufficient to allow for any definitive conclusion to be drawn on whether it was part of an organized and orchestrated scheme to use this novel route to achieve what expropriation of property rights delivers in relation totalitarian regimes.
7. What is clear is that there was no judicial resistance to the abuse of state power in divesting THZH of the control of its subsidiary companies. The specification order issued against Endurite and UKI was anticipatory and predatory as the events that unfolded confirmed Makarau JCC's enabling role in delivering the promise of using state power for ulterior banking on a compliant and compromised judiciary.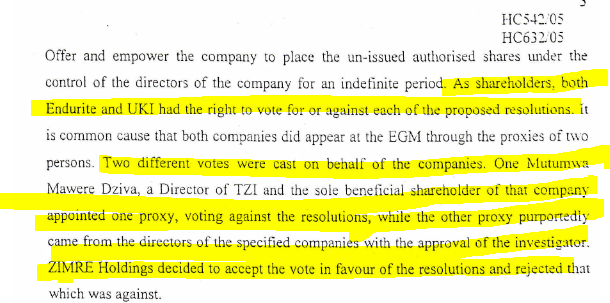 8. THZH believing the rule of law was applicable in Zimbabwe approached the Court in Case Number HC 542/05 seeking an order setting aside as invalid, the resolutions both special and ordinary on the legitimate grounds that such resolution would be dead absent the abuse of public power sanctioned by Makarau JCC.

9. Makarau JCC knew that Gwaradzimba was a creature of statute and permitting his application to be joined in the proceedings constituted an abuse of court processes in that an organ of state would assume with judicial tolerance rights that were directly derived from the abuse of public power to infringe on the rights and freedoms of bona fide shareholders.

10. It is significant that Makarau JCC was alive to the fact that Chinamasa's extrajudicial notice did not refer to ZHL specifically but was intentionally manipulated outside the regulations to apply to this listed company by her.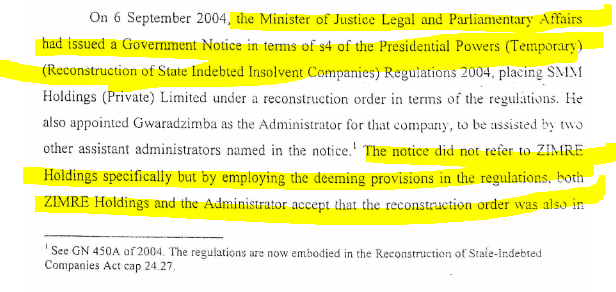 11. Makarau JCC made an astonishing finding: "I am of the view that the acceptance of the situation by both ZHL and the state-appointed hijacker is proper and accordingly accept that ZHL is under reconstruction order issued by the Minister."

12. If anyone had any doubt about judicial capture, what Makarau JCC said below is decisive and instructive: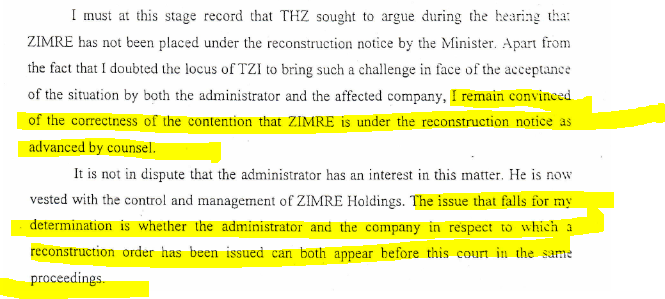 IDC's Tshepo Ramodibe Cornered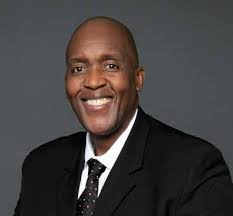 In a remarkable development, IDC's spokesperson, Mr. Tshepo Ramodibe, who was quoted in an article published by the Sunday World in relation to a judgement granted by Judge Motsamai Makume on 23 March 2022, in which he confirmed that, it was the IDC, a public institution, that had initiated the the litigation.
In a new twist, when Ramodibe was confronted to provide evidence that the litigation was authorized by the IDC and the use of public funds was justified, he threatened this publication, was evasive, abusive, refused and failed to provide the basis of the authority relied upon to prosecute the claim.
A dispute was registered as to whether a presiding judge could discuss a rescinding application without dealing with the challenge of IDC, Plaintiff's authority to litigate in the case 13276/14.
The suit was instituted by IDC in the high court of South Africa South Gauteng Local Division. In relation to this challenge on authority, it would appear it has taken IDC eight years to furnish the resolution binding this public institution to this litigation.
Mr. Peter Smith said, "what is puzzling about this matter is that IDC commented about a judgement in which Mr. Tshepo Ramodibe could not supply the impugned resolution. This raises a question of how public funds can be used for litigating a matter without the public institution, obeying the law. Rule 7 (seven) is a rule of court that provides for a litigant to challenge authority and therefore place a bar or any next step be taken prior to a court of law granting leave or being satisfied that the challenging authority does exist. Having looked at the record of exchanges between the reporters of IniAfrica.com with Mr. Tshepo Ramodibe, the inescapable conclusion is that IDC and its attorneys Werksmans, clearly have no obligation to observe the law and rules of court because after seven years, IDC has failed, refused and neglected to play its part in complying with this requirement."
Ms. Lara Geach said, she found the exchange between Mr. Tshepo Ramodibe and Mr. Peter Smith not only interesting, but thought provoking if not classic and below is the said exchange:
Tshepo Ramodibe
Mon, 4 Apr, 17:47 (20 hours ago)
to editor@iniafrica.com, me, psmith@iniafrica.com, tmpasiri@iniafrica.com, lovemorec@gmail.com, alugumigiven@gmail.com, cleopas@dawnholdings.com, Media, Chimwemwe, Tebatso
---
Mr Smith,

Please note that I have no concerns about the call made which was intended to get clarity on what was unclear in the emailed responses. All that is on record is a summation of the court ruling that confirmed the ruling court against the applicant.

The media is well aware of the matter and related court rulings. I suggest that any further enquiries in this regard be directed to appropriate legal platforms. The Judge and court that made the ruling is best placed to address any queries you may have.

I take confidence in the responses furnished by the IDC, as a public institution. Our Legal team and attorneys in the matter will guide any further interactions with your publication.

Regards,
Tshepo


Tshepo RamodibeTshepoR@idc.co.za011 269 3106Head: Corporate Affairswww.idc.co.za0829910851Corporate Affairs




—–Original Message—–
From: editor@iniafrica.com <editor@iniafrica.com>
Sent: Monday, 04 April 2022 17:17
To: Tinashe Mpasiri <tmpasiri@gmail.com>
Cc: Tshepo Ramodibe <TshepoR@idc.co.za>; psmith@iniafrica.com; tmpasiri@iniafrica.com; lovemorec@gmail.com; alugumigiven@gmail.com; cleopas@dawnholdings.com; Media <Media@idc.co.za>; Chimwemwe Mwanza <ChimwemweM@idc.co.za>; Tebatso Mokgoro <TebatsoM@idc.co.za>
Subject: Re: [External Sender] Re: IDC V MAWERE & OTHERS

Dear Mr. Ramodibe,

Good afternoon,

I have been briefed by Mr. Mpasiri and I have listened to the audio of the conversation.
I am astonished that you refused to provide the required information for us to complete our work in the public interest.
Your comments are in the public domain about a judgment on a dispute that the IDC is being called upon to provide as required by the Constitution.
I need not remind you of the provisions of PAIA that provide for the open and unfettered disclosure of information in your possession when requested to provide it.
I need not remind you that s9(a) of PAIA gives effect to our constitutional right to access any information held by the State subject to the limitation in terms of s(9)(b)(i)(ii).
I am sure you will agree that s9(d) provides for the establishment and mandatory mechanisms or procedures to effect our right to access the requested information in a manner that enables our media platform to obtain access to records of a public body like the UDC swiftly, inexpensively and effortlessly as reasonably possible.
As you correctly stated, the judgment is in the public domain and such
s9(e) is instructive in that the requested information is beneficial to promote transparency, accountability, and effective government of public institutions by including but not limited to empowering the public and raising literacy on civics so that victims of injustice can exercise their rights in relation to public bodies like the IDC.
You will not doubt appreciate that our staff as citizens are under pressure to interpret the import of the judgment especially when regard is had to the fact that IDC does not advance credit to the retail public especially persons of foreign nationality.
We are at pains to understand the relationship between the IDC and the person of Mr. Mawere.
We also need to understand the functions and operation of IDC, especially with regard to the burning issue of authority so that the public can effectively scrutinize, and participate in, decision-making by public bodies like the IDC that affect their rights.
One of the questions that have been raised is whether persons of Zimbabwean heritage who are not eligible for BEE status can borrow from the IDC. This question is of significance because we have 28-year-old South Africans who were born in South Africa and are desirous of accessing credit facilities from development finance institutions.
Your tone in the conversation with Mr. Mpasiri was not only condescending but arrogance as if to suggest that a judgment granted in IDC's favor should only be subjected to scrutiny in the courts when you were at liberty commending on the same.
I find it strange that when provided with the information regarding why Mr. Mawere could not have attended two hearings at the same time, you chose to attack Mr. Mpasiri's bona fides and effectively the integrity of our platform.
I am writing this letter if you know where we are coming from as we believe in using the media to promote a culture of accountability and transparency.
I am still not sure why you called Mr. Mpasiri rather than respond to the questions that are critical for any reasonable person to establish whether the impugned judgment was tainted by fraud or not.
I have attached a letter addressed to Dr. Sanangaura dated 1 March 2021 seeking the same information that we sought from you today. Surely, logic dictates that it would not take more than a year for you to answer a simple question on behalf of a public body whether the IDC had authority to institute proceedings that relate to the Makume J judgment or not.

I look forward to your urgent response.
JUROL#3 – Dangers of an Imperial President – Musariri with Mawere on the Rule of Law Conundrum
This is the third installment of the continuing conversations between Mr. Mawere and Mr. Goodman Musariri aimed at building a bank of hope on the foundational prerequisites or building blocks of a nation-state that speaks to the indomitable human spirit.
The architects of the 2013 Constitution understood the importance of having a faithful President as the head of the executive branch of government and head of state.
The framers of this constitution foresaw that a faithless President could destroy their 33-year experiment in building an open, transparent and accountable system of government.
The first country to build on the basis of a constitution was the United States of America and one of the founding fathers of this noble project, George Mason, warned at the Constitutional Convention, held in Philadelphia in 1787, "if we do not provide against corruption, our government will soon be at an end."
Mason evoked a well-known historical truth: when corrupt motives take root, they drive an endless thirst for power and contempt for checks and balances.
It is then only the smallest of steps toward acts of oppression and assaults on free and fair elections.
It cannot be disputed that: "A President faithful only to himself–who will sell out democracy and national security for his own personal advantage–is a danger to every Zimbabwean. Indeed, he threatens Zimbabwe itself," said Mr. Tichaona Mupasiri, Director of Public Policy at JUROL.
Mr. Mawere poignantly remarked: "Impeachment is the Constitution's final answer to a President who mistakes himself for a monarch."
Mr. Brian Manyati, a member of the C2C Initiative said: "Aware that power corrupts, our authors of the 2013 Constitution built other guardrails against that error.
The Constitution thus separates governmental powers, imposes an oath of faithful execution, prohibits profiting from office, and guarantees accountability through regular elections."
Mr. Musariri said: "I know the framers of the Constitution were not naive. They knew, and feared, that someday a corrupt executive might claim he could do anything he wanted as President as was the case in the 33 years of post-colonial experiences.
Determined to protect our democracy, the authors built a safety valve into the Constitution:
A President can be removed from office if Parliament approves articles of impeachment charging him with "Treason, Bribery, or other high Crimes and Misdemeanors," and if two-thirds of the Senate votes to find the President guilty of such misconduct after a trial.
It is for this reason that the significance of the s167(2)(d) as read with s167(3) of the Constitution has yet to be understood.
The Mupasiri challenge that he has so far prosecuted is a self-actor is a landmark and a pathfinder that no crowd is required to hold the most powerful citizen of Zimbabwe to account for what he knows and his conduct before the Constitutional Court.
This weapon ensures that no one is above the law but subject to it was exclusively given to the Constitutional Court.
Concerns have been expressed about the independence and impartiality of this apex court to discharge the obligation that is vested in it to determine if the President has fulfilled his oath of office.
It is trite that the President holds the ultimate public trust for he is vested with powers so great that they frightened any ordinary citizen.
We expect the President in exchange for the trust bestowed upon him by the people, he swears an oath to faithfully execute the laws that hold those powers in check.
This oath is no formality.
"The power of impeachment is not one expected in any government to be in constant or frequent exercise," yet in terms of s2(2) of the Constitution, this power is vested in all citizens.
When faced with credible evidence of extraordinary wrongdoing, however, it is incumbent on us the citizens to investigate and determine whether impeachment is warranted.
It is the apex Court that is enjoined to inquire "into whether sufficient grounds exist for it to exercise its Constitutional power to conclude whether the President's conduct constitutes a breach of his oath."