Towards a Borderless Africa – H.E. Mr. Sakaria KONE welcomes a BOAF team led by Architect Mr. Paidamoyo Hlambelo, CEO & Founder of Vavaki Achitects to visit Cote d'Ivoire in early September 2022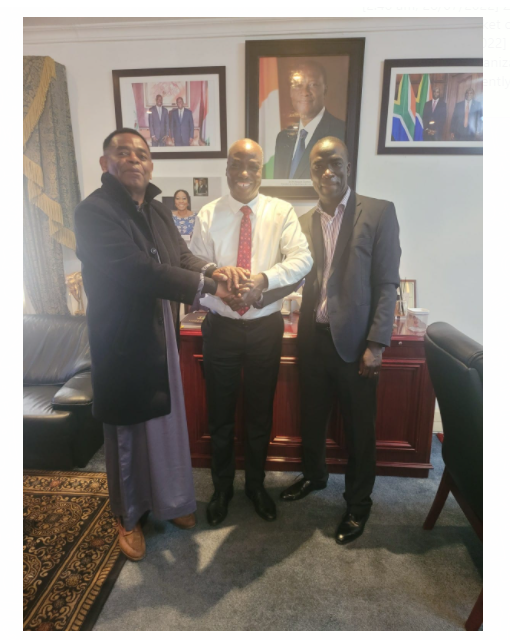 H.E. Mr. Sakaria KONE, Ambassador of Cote d'Ivoire to South Africa, on the back of President Quattara's state visit to South Africa, met with a delegation representing the Banking on Africa's Future (BOAF) comprising Messrs. Mutumwa Mawere, the Chairman of BOAF-10,000 Points of Light (POL), and Mr. Paidamoyo Hlambelo, CEO & Founder of Vavaki Achitects, as part of an initiative to build an inclusive, prosperous, and forward leaning continent.
The meeting was organized by Mr. Adama Toure, the CEO of Pan African Middle East Vision Pty Limited, who could not attend the meeting.
Ambassador KONE said: "I have been in South Africa for only a year and I have been privileged to accompany President Ramaphosa on his first state-visit to my country and in turn host my President on his recent state-visit to South Africa.
During my tenure 17 bilateral agreements have been concluded between South Africa and my country.
Against this backdrop of excellent bilateral relations between my country and SA, I am encouraged by the presentations made today that speak to the urgency and importance of bridging SA investment to my country and vice versa.
I am an action man and I am excited that your value propositions are what is needed to move my country forward.
I would propose that your visit to my country be organized for early September and I would also encourage you to cast your net wider so that we can accelerate the process of converting ideas into concrete processes and outcomes."
Ambassador KONE accepted the nomination to the 10,000 POL Hall of Fame being a community of men and women who share a common belief that aggregation, optimizing and acceleration speaks to the Africa that is missing because of Identity Politics among a myriad factors that has seen the building of walls as a preferred route towards the future that is open for Africans.
Mr. Hlambelo said: "I am very encouraged by the reception that we received at such a short notice courtesy of Mr. Toure. The Ambassador was not only welcoming but understood the need for Africans to take ownership for the task of defining and shaping the personality and character of this continent.
As a POL myself, I will do my part to not only share my experiences in doing amazing business in Rwanda, Uganda and Kenya with fellow Africans and hopefully by working together we will deliver the promise of world class structures needed to make Africa an attractive destination for investment.
I am optimistic that through BOAF as a bridge, we will inspire, provoke and ignite others to join us on the trip to Cote d'Ivoire."
Mr. Mawere said, "It is refreshing to visit an Ambassador who understands his mandate and knows what time it is in his country. It is time to convert ideas into action. I will do my part to share this opportunity so that a diverse group of adventurous Africans can be part of this project to build an integrated continent based on shared values and principles."