AFRICA – COUNTING THE NUMBER OF COUPS
BY THE NUMBERS
COUPS
IN AFRICA
A recent rise in the overthrow of governments on the African continent prompts a closer look at the phenomenon.
By Megan Duzor and Brian Williamson | VOA News
Last updated: February 2, 2022
The African continent saw a significant increase in coups in the last year-and-a-half, with military figures carrying out takeovers in Burkina Faso, Sudan, Guinea, Chad and Mali. After Sudan's coup in October 2021, United Nations Secretary-General Antonio Guterres spoke of "an epidemic" of coups, including the events in Africa and a February 2021 coup in Myanmar. He described an "environment in which some military leaders feel they have total impunity" and "can do whatever they want because nothing will happen to them."
Coups in Africa had been declining for much of the past two decades. In the 10 years before 2021, there had been on average less than one successful coup per year, according to U.S. researchers Jonathan Powell and Clayton Thyne at the University of Central Florida and the University of Kentucky, respectively, who consolidated their findings on their Arrested Dictatorship website.
The latest power grabs in Africa have raised concerns that the region could be backsliding from its progress toward greater democracy.
Coups per year in Africa
Select a coup to learn more.
Successful coups
Failed coups
1950
1960
1970
1980
1990
2000
2010
2020
Sources: Powell and Thyne; Cline Center University of Illinois; VOA research; 1950 – Jan. 25, 2022
Compared to the world
Of 486 attempted or successful coups carried out around the world since 1950, Africa has seen 214, the most of any region, with 106 of them successful, Powell and Thyne's data show.
Region Coup attempts Failed
Africa 214 108
Latin America 146 76
East Asia 49 22
Middle East 44 23
Europe 17 9
South Asia 16 6
Global 486 244
Powell told VOA this is because Africa tends to have many of the conditions that are normally associated with coups.
"Coups have become increasingly limited to the poorest countries in the world, and the recent wave of coups fits into that," he said.
Burkina Faso, Guinea, Mali and Chad all had less than $20 billion in GDP in 2020, according to a World Bank estimate, while Sudan had a GDP of just over $21 billion. By comparison, the United States' GDP was worth $20 trillion in 2020, ranking it the highest in the world.
Countries experiencing ongoing terrorism campaigns and insurgency are also disproportionately more likely to see coups, according to Powell, as well as those nations whose leaders lack legitimacy in the eyes of their citizens or armed forces.
Powell said that while most of Africa no longer sees coups as a threat, the Sahel region, which includes Burkina Faso, Mali, Chad and Sudan, still experience many of the most common factors that lead to coups.
African nations
Out of 54 countries on the African continent, 45 have had at least one coup attempt since 1950, according to data collected by Powell and Thyne. Narrowing the focus to only those countries that have experienced a successful takeover, one in which perpetrators hold power for at least seven days, that number drops to 36, or two-thirds of nations on the continent.
Atlantic Ocean
Leaflet
What is a coup?
A coup is an "illegal and overt attempts by the military or other elites within the state apparatus to unseat the sitting executive," Powell and Thyne wrote in a 2011 article published in the Journal of Peace Research. A successful coup, they determined, lasts at least one week.
According to this definition, the target of a coup must be a sitting executive, and the perpetrators must have formal ties to the national government. Movements that attempt to overthrow an entire government and which are led by those not connected to power, such as rebellions or mass protests, are not included.
While some definitions of coups limit the perpetrators to only military figures, Powell and Thyne said doing so would likely bias the data toward successful coups.
"The initial instigation of a coup attempt frequently involves civilian members of the government alone, with the military playing a later role in deciding whether the putsch will be successful," the researchers wrote. They cite the example of a 1962 coup attempt led by Senegalese Prime Minister Mamadou Dia that failed because he was unable to gain the military's support.
Coup perpetrators must also be "within the state apparatus," which excludes takeovers largely directed by foreign governments. Powell and Thyne cite the example of the fall of Ugandan President Idi Amin in 1979 at the hands of the Tanzanian military, saying the action "does not constitute a coup because foreign powers were the primary actors."
Countries with the most coups
Sudan tops the list as the African country with the most coups — attempted and successful — since 1950, with 17, Powell and Thyne's data show. Of those takeover efforts, six were successful, including the most recent one in October. While Burkina Faso has had fewer total coups attempts in the same period, it has the highest number of successful coups, with eight, including January's coup. In addition to the most recent putsch, coups were successfully carried out in Burkina Faso in 1966, 1974, 1980, 1982, 1983, 1987 and 2014. A coup was also attempted in 2015.
Nigeria, Africa's most populous nation, had a long history of coups following independence in 1960, with eight coup attempts — six of them successful. Since 1999, the country has transferred power through democratic elections and helped usher in an era of greater stability in West Africa and the continent as a whole.
Coups per country since 1950
Successful coups Total attempts
Sudan
17
6
Burundi
11
5
Ghana
10
5
Sierra Leone
10
5
Burkina Faso
9
8
Comoros
9
4
Benin
8
6
Nigeria
8
6
Mali
8
5
Guinea-Bissau
8
4
Togo
7
3
Rep. of Congo
7
2
Niger
7
4
Chad
7
2
Mauritania
7
5
Guinea
6
3
Ethiopia
5
2
CAR
5
3
Uganda
5
3
Egypt
4
4
DRC
4
2
Algeria
4
2
Madagascar
4
1
Liberia
4
1
Lesotho
4
3
Ivory Coast
4
1
Somalia
Libya
Zambia
The Gambia
Gabon
Eq. Guinea
Morocco
Rwanda
São Tomé
Senegal
Mozambique
Angola
Seychelles
Kenya
Eswatini
Cameroon
Tunisia
Djibouti
Zimbabwe
What factors lead to coups?
The African Union Peace and Security Council said in 2014 ​​that unconstitutional changes of government often originate from "deficiencies in governance" along with "greed, selfishness, mismanagement of diversity, mismanagement of opportunity, marginalization, abuse of human rights, refusal to accept electoral defeat, manipulation of constitution[s], as well as unconstitutional review of constitution[s] to serve narrow interests and corruption."
U.S. researchers Aaron Belkin and Evan Schofer have found that the strength of a country's civil society, the legitimacy conferred on a government by its population, and a nation's coup history are strong predictors of coups.
Powell told VOA that a recent coup can "signal a breakdown of politics-as-usual, a change in power dynamics that prompts future counter-coups" as a result of rivalries within the army. He said that some countries fall into what is known as a "coup trap" in which a large number of coups can occur in quick succession. An example is Mali, where four coup attempts took place in the past decade after the country did not experience any in the prior 20 years.
Assimi Goita
Mali's 2020 coup leader Assimi Goita cited widespread popular dissatisfaction toward those in power when he seized control. However, when he carried out a coup less than a year later in May 2021, overthrowing a transitional government that he helped set up, he cited a Cabinet reshuffle that excluded two key military leaders. Goita claimed the move violated the terms of the new government. French President Emmaneul Macron called the action "a coup within a coup."
In Guinea, coup leaders said concerns about corruption and a failing economy motivated their takeover in September 2021, as well as the fact that deposed President Alpha Conde had been serving a third term after changing the constitution to allow it.
Countries that are poorer and whose democracies are less stable have historically been more prone to takeovers. Fifteen of the 20 countries topping the 2021 Fragile States Index created by the Fund for Peace are in Africa. Of those, 12 have had at least one successful coup in their history. They include Somalia, the Democratic Republic of the Congo, Central African Republic, Chad, Sudan and Zimbabwe. Conversely, there have been no successful coups in richer African countries with strong institutions, such as South Africa and Botswana.
Coup success rate
Powell and Thyne's research shows that coup attempts in the past decade have had a far higher success rate than those of previous decades. So, while coups are becoming less frequent, they are also becoming more effective.
Decade Total coup
attempts Success rate
1950-1959 6 50%
1960-1969 41 61%
1970-1979 42 42.9%
1980-1989 39 56.4%
1990-1999 39 41%
2000-2009 22 36.4%
2010-2019 17 47.1%
2020-2022 8 75%
The greatest number of successful coups in Africa took place near the midpoint of the U.S.-Soviet Cold War rivalry stretching from 1946 to 1991. Coups were most prevalent in 1966, when seven took place. The next most-tumultuous year was 1980, when five were staged.
"During the Cold War in particular, there was effectively an unwritten rule saying if you controlled the capital, you were recognized as legitimate," said Powell. Following that time, and especially since 2000, he said, the international community has been far less tolerant of coups. As a result, coup leaders are more likely to wait for circumstances in which the "status quo itself is terrible" or when they feel they can survive any negative responses to a coup, including sanctions.
Deposed leaders in Africa
1952
1954
1958
1960
1963
1963
1963
1965
1965
1965
1965
1966
1966
1966
1966
1966
1966
1966
1967
1967
1967
1968
1968
1968
1969
1969
1969
1969
1971
1972
1972
1973
1974
1974
1974
1975
1975
1975
1976
1977
1977
1978
1978
1978
1979
1979
1980
1980
1980
1980
1980
1981
1981
1982
1983
1983
1983
1984
1984
1985
1985
1985
1986
1987
1987
1987
1989
1989
1991
1991
1992
1992
1993
1994
1994
1994
1996
1996
1996
1997
1999
1999
1999
1999
2003
2003
2003
2005
2008
2009
2010
2011
2012
2012
2013
2014
2017
2019
2020
2021
2021
2021
2022
A look ahead
In October, the U.N.'s Guterres cited three main reasons for the increase in coups in 2021: strong geopolitical divides between nations; the COVID-19 pandemic's economic and social impact on countries; and, finally, the U.N. Security Council's inability to take strong measures in response to coups. For instance, Russia and China, both veto-holding members of the council, in late 2021 blocked it from imposing fresh sanctions on Mali's coup leaders after those leaders announced delays in elections that would return the West African country to civilian rule.
The COVID-19 pandemic not only negatively affected countries most prone to coups by straining already tight budgets and placing further restrictions on populations already skeptical of their government, it also impacted world powers, which often take actions to help prevent coups. As a result, the high number of overthrow attempts during the pandemic years could prove to be an anomaly when the stressors of COVID-19 ease.
Powell said that while it would be surprising to see such high levels of coups continuing, "I am certain the coming years will see coups in higher numbers than what we had become accustomed to."
He added, "The underlying causes of coups are present and worsening. Until these domestic dynamics improve, or regional or global actors can provide a solution, there is no reason to think coups should go away."
When President Mnangagwa signed a document purporting to be his mate, see the reality?
Hopewell Chin'ono's Hypocrisy Exposed by Mr. Tinashe Mpasiri
On 24 November 2022, Mr. Hopewell Chin'ono shared this tweet on his wall: https://twitter.com/daddyhope/status/1595758807392534528?s=20&t=YflO7bnB-32EN89x_0fPfQ with the following message directed to nameless and faceless South Africans:
"What we ask from South African citizens is for your President to STOP sanitizing Corrupt Rule in Zimbabwe and to STOP lying that our economy was destroyed by sanctions Listen to our President speak about the LOOTING in 1996.
Why doesn't your president speak about free elections?"
The above mentioned tweet led to a conversation between Mr. Mpasiri, a member of the Justice Under Rule of Law (JUROL) and Mr. Chin'ono as set out on this link: https://heyzine.com/flip-book/d47b109920.html.
When asked why he had chosen to share a video of 1996 in support of his narrative that President Ramaphosa was guilty of sanitizing the corrupt practices by President Mnangagwa and his administration, Mr. Chin'ono responded as follows:
"ZPF leading Public officials operate with criminal business partners to loot public resources. For all intents and purposes sanctions are not the cause of Zim economic quagmire but ZPF looting public purse thru its puppet business partners from as far back as 1996?"
Advocate Matiza, a member of the Justice Under Rule of Law made the following observations and also a participant in the Banking on Africa's Future (BOAF) – Legal Literacy WhatsApp group, commended as follows: "It is clear from the above that by importing the video in which Mr. Mawere was featured with Minister Mnangagwa as he was known then, Mr. Chin'ono was openly alleging that Mr. Mawere was Mnangagwa's then criminal business partner who was his accomplice in looting public resources of Zimbabwe.
However, when exposed by Mr. Mpasiri, a member of JUROL and BOAF, Mr. Chin'ono backtracked as set out below:
TINASHE MPASIRI v HOPEWELL CHIN'ONO
TM: Good morning Mr Chin'ono.
My name is Tinashe Mpasiri and I am a member of the Justice Under Rule Of Law (JUROL).
I am an avid follower of your posts and exposé and certainly wish that there were more
Zimbabweans like you, working towards a diverse, inclusive, progressive and prosperous future
for all.
I just wanted to greet you and share with you a post that was shared in a group I am a part of,
that you may be able to shed more light on it.
https://twitter.com/daddyhope/status/1595758807392534528?s=08
HC: Thank you. I did an interview last night on the issue. Feel free to share it in your group
Find it here;
https://twitter.com/daddyhope/status/1595853417355784192?s=46&t=6iHx7x2V4i8IiLZyIobk_g
TM: Thank you very much sir.
Just for your information, I belong to a group with officials from Wits University and questions
arose yesterday after your sharing of the video.
I have been asked to communicate with you so I get clarity, so we can share with a proper
context.
Your narrative on the tweet is about president Ramaphosa's failure to act on corruption in
Zimbabwe, but the content of the video, appears nothing to do with the corruption angle.
Kindly assist with the link between the two.
HC: Good morning. Thank you for the question and you can share this audio in your group, you have my permission.
President Ramophosa has been at the forefront of saying incorrectly that the economic crisis in Zimbabwe has been caused by sanctions, which is not true.
The video that you are referencing, is meant to show that the economic crisis in Zimbabwe
started way before sanctions were imposed by western countries.
The economic crisis was authored by looting of public funds by ZANU PF elites and their business surrogates and the plunder of the country's natural resources.
That video shows president Mnangagwa when he was Finance Minister in 1996, speaking at an event in Washington explaining how public funds have been looted.
So my point is that the president of South Africa, Cyril Ramaphosa shouldn't be going around
misleading unsuspecting audiences, by saying that the economic crisis in Zimbabwe is being
caused by sanctions.
So for instance, president Ramaphosa talks about the social services pressures that are exerted by Zimbabweans coming into South Africa to use things like public services like health care. And all hospitals in Zimbabwe, all central hospitals in Zimbabwe, five of them, they only require 50 million to run without any shortages and that will make sure that Zimbabweans don't have to cross the border into South Africa to seek public services that are provided through hospitals but these hospitals in Zimbabwe don't have paracetamol.
The biggest hospital in Zimbabwe, Sally Mugabe hospital does not even have paracetamol, it
doesn't have basic things like bandages and 50 million is only, that's all we need to run our
central hospitals, but it's not being availed to these central hospitals.
Now, ZANU PF by its own admission, says that 150 million USD worth of gold is being smuggled by ZANU PF elites and their surrogates every month. Which means what they steal in one month can run our central hospitals for 3 years.
That is the point that I making that president Ramaphosa is misleading unsuspecting audiences by saying that the crisis in Zimbabwe which is over spilling into South Africa, is being caused by sanctions, it's not true it's caused by sanctions. It's caused by mis-governance. Thank you.
TM: Thank you very much Mr. Chin'ono.
This is very helpful and I believe we can build a shared understanding of only when we engage.
I will share your insights in my circles and beyond.
A number of questions emerge from your audio. By surrogates and having had the benefit to watch the video, who would be the surrogates and especially having regard to the fact that Minister Mnangagwa (as he were then), was speaking to a different subject matter involving empowerment and the role of government in financing it.
I could be wrong, but it is self-evident that he was talking about government programs whose
execution resulted in financial support being diverted to personal use.
Your response to the above would greatly assist.
HC: Surrogates were people like Mutumwa Mawere who was his front until they fell out.
Today surrogates refers to people like Kuda Tagwirei who has been a front for State looting
using his myriad of companies.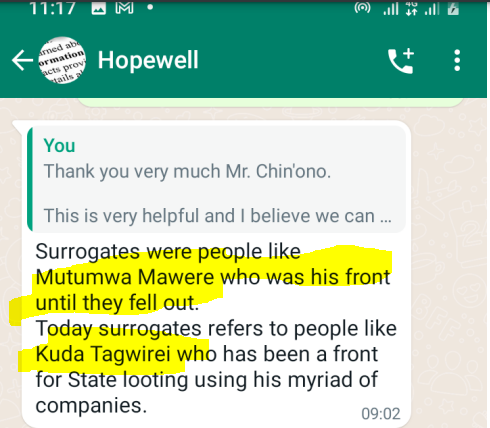 This narrative is similar to the one peddled by Chin'ono's friend and President Mnangagwa's confidante and lawyer, Mr. Edwin Manikai as follows: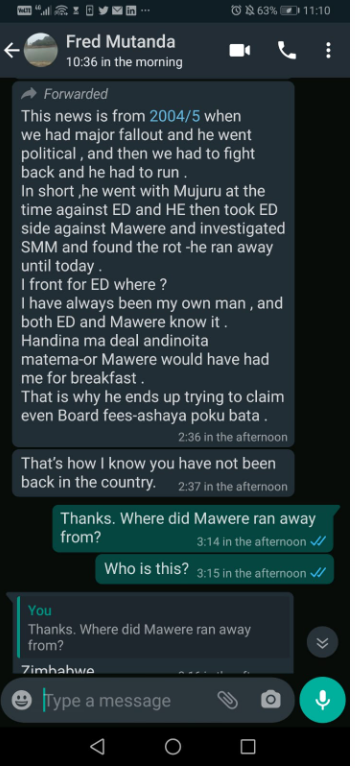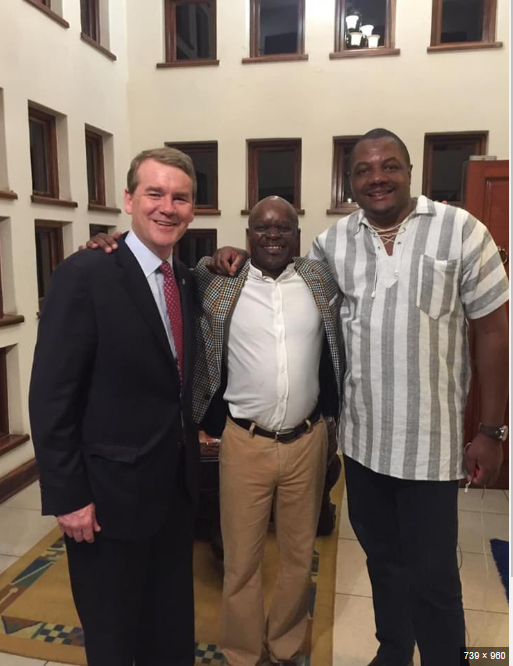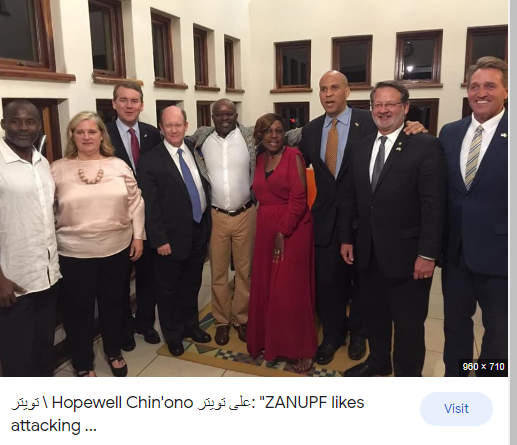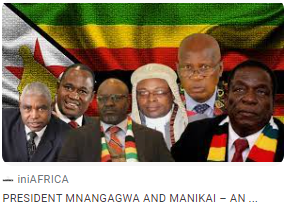 TM: Thank you for the honest response and obviously when I watched the video, I could not make the link between Mutumwa Mawere and the looting.
Perhaps you can share evidence supporting the allegation of surrogacy and the corruption
therefore in, so that I can afford both president Mnangagwa and Mawere to give their own
account of the precise nature of the alleged link between public power and private benefit.
Unfortunately, the video's content does not establish the causal link which is vital in determining any dispute in an Independent and impartial manner.
HC: I didn't say Mutumwa was corrupt.
I said that there were public funds that were doled out which amounted to looting.
You are misinterpreting what I said.
The video has nothing to do with Mutumwa being corrupt, it was meant to illustrate how public funds were looted way before sanctions.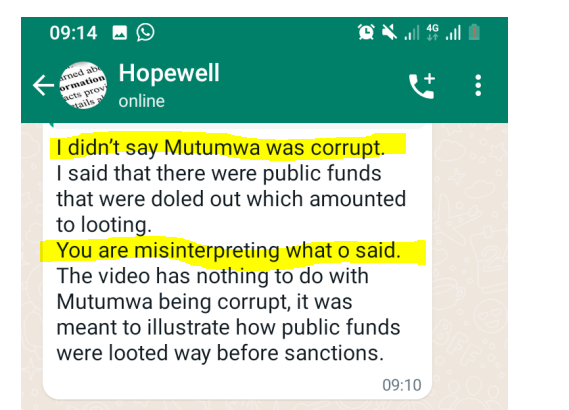 TM: Thank you for clarifying and I am intrigued by your response.
You have asserted as true and fact that Mawere was Mnangagwa front and this aspect is not
evident in the video, suggesting that evidence exists that the alleged fronting you are talking
about, is supported by concrete evidence which is required in any bona fide process, seeking to hold people accountable for their conduct or misconduct. I would be grateful if you can identify in precise terms what Mawere front for Mnangagwa.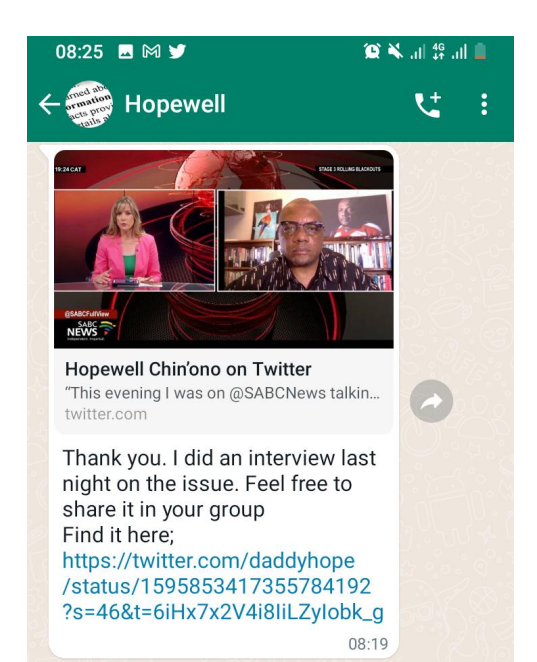 Advocate Jack Matiza who was incensed by Mr. Chin'ono's utterances remarked asked: "How can he be held responsible and accountable for social media post that damage another person reputation? My take is Hopewell is also guilty of selective amnesia he is accusing Ramaphosa of when it comes to sanctions, by stating that Mutumwa Mawere was an front of ED without providing any proof to that. Our self acclaimed award winning journalist and human right defender…ought to know that he who alleges must prove, is he not using or abusing social media or public media platforms to make unfounded statements without allowing the accused an opportunity to air their side of the story is itself an abuse of that person's basic human rights?
To which Mr. Mawere responded as follows: "What if there exists no shared understanding on what are the obligations and rights of citizenship? What Hopewell could be saying is that information that he may possess is true and fact unless proved otherwise because he holds a privileged position in society as a journalist. In this case, affinity politics would compel him to conclude that because I shared the same platform with the current President of Zimbabwe this reality confirms a generally corrupt relationship. You can imagine what the true import of state capture and the legal consequences arising for its existence."
Advocate Matiza by stating as follows: "There is certainly need to actively contribute to development of such shared understanding and common standards."
Mr. Mawere commended as follows: "If asked to explain why the conversation is intriguing, what would be your response?
Mr Chin'ono genuinely believes that CORRUPTION is the elephant in the room.
He hold the view that he occupies a special and exceptional position in relation to the affairs of Zimbabwe.
He has a view on the 1996 video."

When asked by Mr. Mawere, what identified questions arise from the hypocrisy inherent in Mr. Chin'ono's open attack against Mawere and when confronted by Mr. Manikai, he quickly denied what he had stated as true and fact, Advocate Matiza responded as follows:
1. Abuse of the profession of journalism by an acclaimed journalist who has no respect for the truth in his narratives.
2.How should one define a human rights defender especially having exposed Mr. Chin'ono's embarrassing performance by first alleging that Mnangagwa was using Mawere as a front only to backtrack and deny his own bold assertions.

3.In the face of hypocrites masquerading as award-winning journalists, what should be the best response to deal with divisive characters who have captured the profession and are using it as a weapon to advance their ulterior motives?
4. Section 2 of the Constitution of Zimbabwe imposes a binding obligation on every person to ensure that the rule of law is promoted, protected and upheld and in this case, what should be done by ordinary citizens to ensure that people like Mr. Chin'ono are accountable for their conduct which is inimical to the rule of law?

5. Does a person like Mr. Chin'ono know that he is also subject to the constitution and possesses no title or authority to maliciously defame other people. How best can he be held accountable for his reckless and dangerous assertions he makes under the cover that he is a journalist par excellence?
6. Does his conduct based on Mpasiri's excellent interrogation not fall within conduct that is inconsistent with the constitution of Zimbabwe?
Please take notice of this announcement by ZIMRA