An Exposed Mind On How To Get Rich: 8 Fundamental Keys To Success – Morgan Mandaza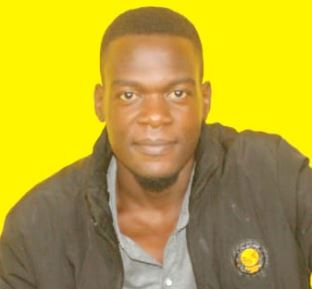 Morgan Mandaza – inspired entrepreneur passionate about development
Just like so many other people on earth, I cherish the beauty of success and this has inspired me to follow the entrepreneurship route while continuously exposing my mind to the tried and tested fundamental success principles which have been applied by great people from across the world.
In my journey of self-discovery and business adventures, I have seen that the combination lock on the door to success also needs a combination of different keys that must always be applied as shown in the eight principles that I have listed below.
The Power of Goal Setting
The brain is the goal-setting organ of any person no matter where you come from. All the amazing things that you see in the marketplace today started off as an idea in somebody's mind and it was worked upon until it became a reality.
As such, once your subconscious mind gets soaked with what you want to achieve, you must quickly set clear and well defined short and long term goals detailing what must be done, when it must be done and how it must be done.
This means that you must be specific as much as possible with all aspects of your goals and remember that vague goals produce vague results. You cannot reach your desired destination when you are not even sure of where you are going. Your specific goals must be measurable along the way so that you can see if you are making progress or not.
Know The Reason of Your Existence
God created you to be on earth for a very special reason. He did put in you a great mission/assignment that can transform the world and thus, all what you need to do is to discover that secret reason for your existence and nothing will derail you.
If you know your purpose and its meaning to God and the world at large, you become a powerful force that can withstand anything.
If truly the reason of your existence is strong enough, you can certainly survive anyhow, and everything you need including the resources, the people and opportunities will naturally gravitate towards you.
If you want to develop your life and make yourself relevant, then you have to update your mind through continuous learning.
The world is moving and evolving so fast in such a way that if you don't update your mind new knowledge, then everything you have learnt at school won't be enough to adapt and succeed.
If you read biographies the world's great people, you will discover that their success came from continuous learning and through the application of new ideas and technologies. Knowledge is power and it is the way to success.
Everything you want is just outside your comfort zone and thus you must be willing to sacrifice some wasteful habits now so that you can achieve your goals. Behind every great achievement, the story of sacrifice always leads.
The ability to sacrifice adds an extra dimension on your success. You must always be ready to come out of your comfort zone no matter the circumstances and be willing to suffer temporary pain in order for you to enjoy in the long run.
You need to consistently work on your goals in order for you to improve and become efficient and profitable.
Successful people know how to yield to the principle of consistency and hence, they lead a life of endless accomplishment and satisfaction.
You must learn to listen to other people in such a way that they will love and be open to talk to you. Always be ready to listen to feedback, criticism and suggestions that will help you to constantly adjust and move forward.
Be open to listen to great teachers, friends, family and business colleagues so that you can continuously improve yourself in business and in life. Be humble enough to take negative feedback as an opportunity for improvement.
It is the most single common quality of high achievers; they simply refuse to quit. No matter how hard it seems, the longer you persist the greater the chances of your success. Life is not it hands you but how you respond to it mentally and physically. Develop the grit and determination to keep going when it seems impossible. It's not always going to be easy, life will throw you challenges! but rather turn everything around by applying the lessons and grew from the failures.
Risk taking is one of the most powerful tool for success. You cannot expect to achieve great things if you are not willing to push yourself to great limits with great risks. Unlike the unsuccessful for they want to play it safe, therefore never live a better standard of living. every successful person adapted some form of risk taking to achieve whatever they want in life so as they obtain great rewards.
Morgan Mandaza is an inspired entrepreneur who is passionate about personal and community development. He loves to share life transforming information gathered from personal experiences as well as from reading and doing business with companies such as Electro Africa and Bream Harvest etc.
Dr Bahadur Bahadur To Inspire Africa Towards Heaven on Earth living In Partnership With The Royal India Restaurant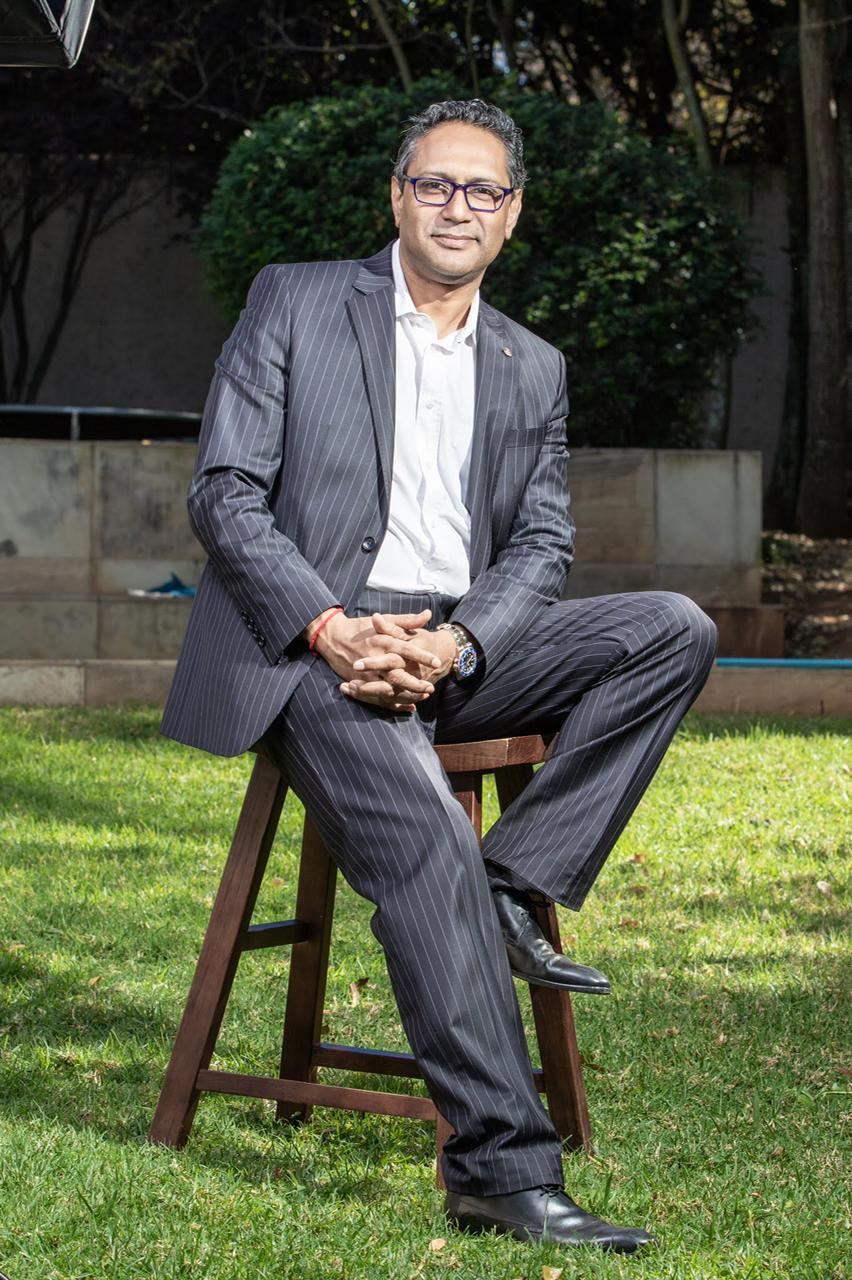 Dr Bahadur Bahadur, Heaven on Earth Living Training Series
The Institute 4 Success's Dr Bahadur Bahadur is set to inspire the African continent towards a Heaven on Earth type of living through a personal development training project focused on financial freedom, mental and physical health, love, luck, and abundance.
Dr Bahadur's Heaven on Earth training series to be held in partnership with The Royal India Restaurant situated in Sandton, Johannesburg, South Africa will start from the 2nd of October 2022.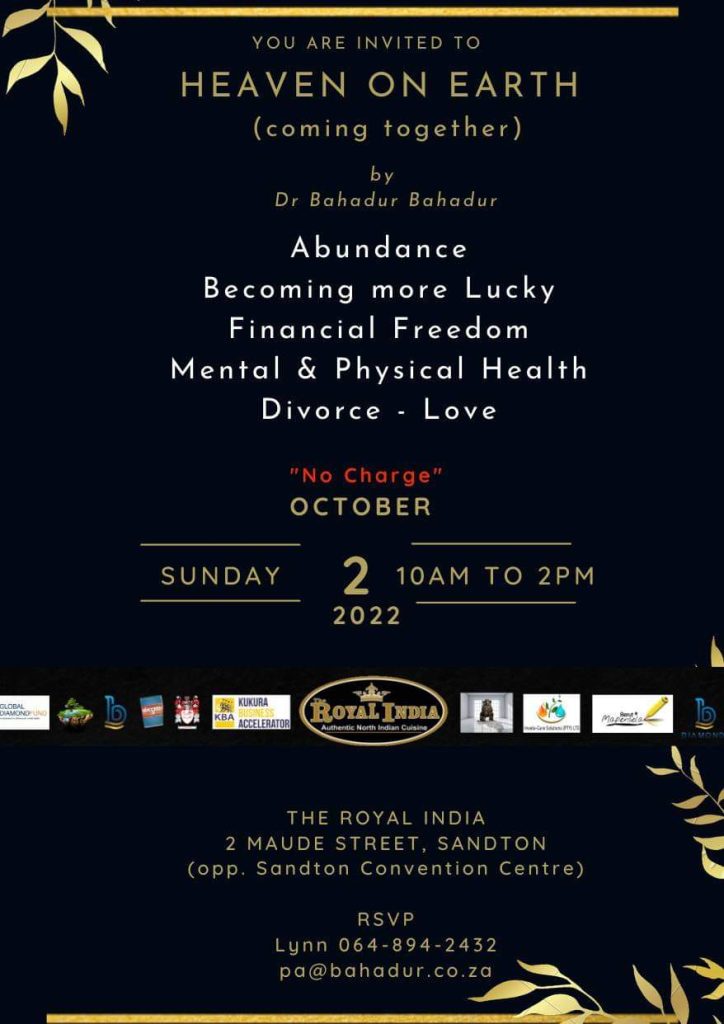 Through the program, Dr. Bahadur touches on self-development by placing individuals in the driving seat of their lives so that they can be vibrationally aligned towards mental and physical well-being, financial abundance, and healthy relationships.
Dr Bahadur helps the African child pursue his dream of unlimited success using techniques such as mindfulness and spirituality focusing the mind on a particular object, thought, or activity towards developing attentiveness, awareness, and mental clarity.
The tried and tested training program which has already been carried out on behalf of governments, corporates, and non-profits is premised on innovative developmental methodologies that focusses on psychologically driving the potential of individuals.
According to Dr Bahadur, the man behind the 'Heaven on Earth Program', through the wholesome living teachings, he is simply responding to the urgent call by millions of people around the African continent who need assistance towards a healthy success filled life.
Dr Bahudur, a global entrepreneur, speaker, author, researcher, and lecturer believes that the first port of call when it comes to a positively transformed life is the right conscious and sub-conscious programming of the mind.
His teachings are based on the need to answer the following questions which have been bothering humanity for generations and generations: Why is life so had? How come people around me are succeeding and am not going anywhere? Why does it seem so impossible? Who can assist me? Is there a secret to making life easier?
This program was created to make an immediate impact on an individual's mental, physical, financial, and relationship well-being in order to achieve a Heaven on Earth living.
The Heaven on Earth program was inspired by the need to inspire the African child towards prosperity and become a land of champions in their diversity.
IDC's Tshepo Ramodibe Cornered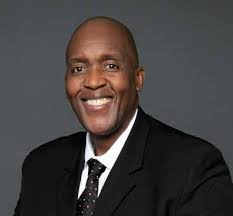 In a remarkable development, IDC's spokesperson, Mr. Tshepo Ramodibe, who was quoted in an article published by the Sunday World in relation to a judgement granted by Judge Motsamai Makume on 23 March 2022, in which he confirmed that, it was the IDC, a public institution, that had initiated the the litigation.
In a new twist, when Ramodibe was confronted to provide evidence that the litigation was authorized by the IDC and the use of public funds was justified, he threatened this publication, was evasive, abusive, refused and failed to provide the basis of the authority relied upon to prosecute the claim.
A dispute was registered as to whether a presiding judge could discuss a rescinding application without dealing with the challenge of IDC, Plaintiff's authority to litigate in the case 13276/14.
The suit was instituted by IDC in the high court of South Africa South Gauteng Local Division. In relation to this challenge on authority, it would appear it has taken IDC eight years to furnish the resolution binding this public institution to this litigation.
Mr. Peter Smith said, "what is puzzling about this matter is that IDC commented about a judgement in which Mr. Tshepo Ramodibe could not supply the impugned resolution. This raises a question of how public funds can be used for litigating a matter without the public institution, obeying the law. Rule 7 (seven) is a rule of court that provides for a litigant to challenge authority and therefore place a bar or any next step be taken prior to a court of law granting leave or being satisfied that the challenging authority does exist. Having looked at the record of exchanges between the reporters of IniAfrica.com with Mr. Tshepo Ramodibe, the inescapable conclusion is that IDC and its attorneys Werksmans, clearly have no obligation to observe the law and rules of court because after seven years, IDC has failed, refused and neglected to play its part in complying with this requirement."
Ms. Lara Geach said, she found the exchange between Mr. Tshepo Ramodibe and Mr. Peter Smith not only interesting, but thought provoking if not classic and below is the said exchange:
Tshepo Ramodibe
Mon, 4 Apr, 17:47 (20 hours ago)
to [email protected], me, [email protected], [email protected], [email protected], [email protected], [email protected], Media, Chimwemwe, Tebatso
---
Mr Smith,

Please note that I have no concerns about the call made which was intended to get clarity on what was unclear in the emailed responses. All that is on record is a summation of the court ruling that confirmed the ruling court against the applicant.

The media is well aware of the matter and related court rulings. I suggest that any further enquiries in this regard be directed to appropriate legal platforms. The Judge and court that made the ruling is best placed to address any queries you may have.

I take confidence in the responses furnished by the IDC, as a public institution. Our Legal team and attorneys in the matter will guide any further interactions with your publication.

Regards,
Tshepo


Tshepo Ramodibe

[email protected]

011 269 3106Head: Corporate Affairswww.idc.co.za0829910851Corporate Affairs




—–Original Message—–
From:

[email protected]

<

[email protected]

>
Sent: Monday, 04 April 2022 17:17
To: Tinashe Mpasiri <

[email protected]

>
Cc: Tshepo Ramodibe <

[email protected]

>;

[email protected]

;

[email protected]

;

[email protected]

;

[email protected]

;

[email protected]

; Media <

[email protected]

>; Chimwemwe Mwanza <

[email protected]

>; Tebatso Mokgoro <

[email protected]

.co.za>
Subject: Re: [External Sender] Re: IDC V MAWERE & OTHERS

Dear Mr. Ramodibe,

Good afternoon,

I have been briefed by Mr. Mpasiri and I have listened to the audio of the conversation.
I am astonished that you refused to provide the required information for us to complete our work in the public interest.
Your comments are in the public domain about a judgment on a dispute that the IDC is being called upon to provide as required by the Constitution.
I need not remind you of the provisions of PAIA that provide for the open and unfettered disclosure of information in your possession when requested to provide it.
I need not remind you that s9(a) of PAIA gives effect to our constitutional right to access any information held by the State subject to the limitation in terms of s(9)(b)(i)(ii).
I am sure you will agree that s9(d) provides for the establishment and mandatory mechanisms or procedures to effect our right to access the requested information in a manner that enables our media platform to obtain access to records of a public body like the UDC swiftly, inexpensively and effortlessly as reasonably possible.
As you correctly stated, the judgment is in the public domain and such
s9(e) is instructive in that the requested information is beneficial to promote transparency, accountability, and effective government of public institutions by including but not limited to empowering the public and raising literacy on civics so that victims of injustice can exercise their rights in relation to public bodies like the IDC.
You will not doubt appreciate that our staff as citizens are under pressure to interpret the import of the judgment especially when regard is had to the fact that IDC does not advance credit to the retail public especially persons of foreign nationality.
We are at pains to understand the relationship between the IDC and the person of Mr. Mawere.
We also need to understand the functions and operation of IDC, especially with regard to the burning issue of authority so that the public can effectively scrutinize, and participate in, decision-making by public bodies like the IDC that affect their rights.
One of the questions that have been raised is whether persons of Zimbabwean heritage who are not eligible for BEE status can borrow from the IDC. This question is of significance because we have 28-year-old South Africans who were born in South Africa and are desirous of accessing credit facilities from development finance institutions.
Your tone in the conversation with Mr. Mpasiri was not only condescending but arrogance as if to suggest that a judgment granted in IDC's favor should only be subjected to scrutiny in the courts when you were at liberty commending on the same.
I find it strange that when provided with the information regarding why Mr. Mawere could not have attended two hearings at the same time, you chose to attack Mr. Mpasiri's bona fides and effectively the integrity of our platform.
I am writing this letter if you know where we are coming from as we believe in using the media to promote a culture of accountability and transparency.
I am still not sure why you called Mr. Mpasiri rather than respond to the questions that are critical for any reasonable person to establish whether the impugned judgment was tainted by fraud or not.
I have attached a letter addressed to Dr. Sanangaura dated 1 March 2021 seeking the same information that we sought from you today. Surely, logic dictates that it would not take more than a year for you to answer a simple question on behalf of a public body whether the IDC had authority to institute proceedings that relate to the Makume J judgment or not.

I look forward to your urgent response.
10 Lessons From The Hen – Bawinile Nyembe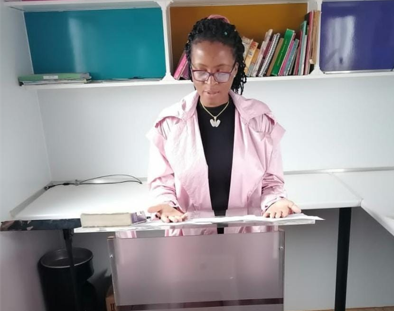 I believe the Bible is a book of principles, as pastor Morgan always says, "The word BIBLE stands for Basic Instructions Before Leaving Earth". Taking this note into account our Topic for today's intercession is 10 Lessons from the Hen.
Lesson Number 1: GOOD PLANNING
The Hen First Lays enough Eggs before she sits on them
The Book of Proverbs 21:5 reads (New Living Translation) "Good planning and hard work lead to prosperity, but hasty shortcuts lead to poverty"
Lesson Number 2: DISCIPLINE
When the Hen starts sitting on her eggs, she minimizes movement.
The Book of 1st Timothy 4:7 reads, "Have nothing to do with irreverent, silly myths. Rather train yourself for godliness"
Lesson Number 3: SACRIFICE & SELF DENIAL
The Hen Physically Loses weight while sitting on her eggs due to decreased feeding.
The Book of Colossians 2:23 says (New Living Translation), "These rules may seem wise because they require strong devotion, pious self-denial, and severe bodily discipline. But they provide no help in conquering a person's evil desires."
Lesson Number 4: INDISCRIMINATION & GENEROUSITY
A Hen can sit on eggs from another Hen.
The Book of Proverbs 22:9 says (New Living Translation), "Blessed are those who are generous, because they feed the poor."
Lesson Number 5: FAITH, HOPE & COURAGE
The Hen sits on her eggs for 21 days, patiently waiting and even if they do not hatch, she will lay eggs again.
The Book of Romans 8:24 says, "For in this hope we were saved; but hope that is seen is no hope at all. Who hopes for what he can already see?"
Lesson Number 6: SENSITIVE & DISCERNING
The Hen can detect unfertilized eggs and rolls them out.
The Book of Job 34:4 says, "Let us discern for ourselves what is right; let us learn together what is good"
Lesson Number 7: WISE, COURAGEOUS & REALISTIC
The Hen abandons the rotten eggs and starts caring for the hatched chicks, even if it is only 1.
The Book of Mark 12:34 says, When Jesus saw that the man answered wisely, He said to him, "You are not far from the kingdom of God." But after that no one dared question Him.
Lesson Number 8: PROTECTIVE LOVE
No one can touch the Hen's Chick.
The Book of Psalms 121:5-6 says, "The LORD is your keeper; the LORD is the shade on your right hand. The sun will not strike you by day, nor the moon by night"
Lesson Number 9: UNITY of PURPOSE
The Hen gathers all her Chicks together.
The Book of Romans 15:5 says, "May the God of endurance and encouragement grant you to live in such harmony with one another, in accord with Christ Jesus"
Lesson Number 10: MENTORING
The Hen Never abandons her chicks before they Mature.
The Book of Titus 2:6-8 says, "Likewise urge the young men to be sensible; in all things show yourself to be an example of good deeds, with purity in doctrine, dignified, sound in speech, which is beyond reproach, so that the opponent will be put to shame, having nothing bad to say about us"
The book of Luke 13:34 (Good News Translation) says "Jerusalem, Jerusalem! You kill the prophets; you stone the messengers God has sent you! How many times I wanted to put my arms around all your people, just as a hen gathers her chicks under her wings, but you would not let me!
I believe from today going forward into the Easters we will all not only learn from the HEN, but we will apply these lessons such that we can allow God to put his hand amongst us all just like the hen gathers her chicken under her wings.
CREDITS
Sermon Script Writer: Bawinile Nyembe
Proof Reader: Pastor Morgan Lekgetho Mogagabe
Address: Chiawelo Ext3, Soweto, South Africa
Ministry: IHPMI, © 2022 Bawinile Nyembe