BOAF 10,000 Points of Light are human beings who stand on their feet as problem solver and not on the knees.
By Brian Tawanda Manyati
20 April 2022
Everyday conversations with communities are loads of fun and learning. There is no knowing what to expect in advance. Last Friday, 15 April 2022, up until day end time on Tuesday, 19 April 2022, I engaged on a mini BOAF 10000 Points of Light selection exercise by my peers who excluded family or friends, after being tasked to check out on the following questions for myself. BOAF stands for Building on Africa's Future initiative.
[04/15, 08:14] Entrepreneurship vaMutumwa Mawere: Can one conclude that you are a point of light to the people who surround you?
Is this light visible to your circle?
If so, how?
Personally, I had with confidence responded swiftly and asap as follows:
[04/15, 08:40] briantawandamanyati at African Development Associates: Yes I am a Point of Light to people around me. It is visible light in my circle/s.
The above impromptu question and answer session arose following my penning and publicising the article entitled "https://iniafrica.com/index.php/2022/04/14/good-things-come-in-small-packages-introducing-pasi-flooring-pty-ltd/"
Below is how I fared with the BOAF PoL peer ratings:
1. [04/15, 10:28] AC: It's a 6 or 7
2. [04/15, 10:56] R: How are u sir! I would rate you 8/10. Besides being enlightened, you are enlightening in as far as business & corporate literacy is concerned. A source of inspiration! My take!
3. [04/15, 10:28] GFL: I am good my brother and yourself.
I would rate at 7
4. [04/15, 10:26] M: With no hesitation 8.
5. [04/15, 13:20] AZ: I'm well here…umm 8.9
6. [04/15, 13:08] Trelawney KEIG: 6 and Bloomberg 7
7. [04/15, 13:28] N: I must be honest and say l would rate you at 9/10
8. [04/15, 11:06] CM: Good morning sir. Without taking away anything from you, let me say that you are principled , cultured,read to listen to others, mentor, helpful,team leader and above all very humble. It's 10/10.
9. [04/17, 20:25] MV: sorry sir, have been having challenges with my foni on whatsup data.
8,5
What the above results meant end of all was that I had failed to make it as at least 10 successful ratings were sought out; a choice of that minimum number was freewillingly my own. In other words, achieving 9 out of 10 successful respondents was just not enough.
All the sample surveying took place in response to further community questions below which had taken me by surprise:
[04/15, 08:42] Entrepreneurship vaMutumwa Mawere: Who can give testimonials to attest to this?
[04/15, 09:01] Entrepreneurship vaMutumwa Mawere: Share the testimonials
[04/15, 09:39] Entrepreneurship vaMutumwa Mawere: You can ask them to rate you on a scale of 1 to 10. In terms of POL barometer.
Therefore, I were keen to find out for myself on what the reality was. In a couple of places I have been rated and scored with results sometimes being withheld by the instigators assessing service delivery or carrying out reviews be it for mentorship or facilitation or lecturing or performance management appraisals. Best was to find out from my random sample circle of close friends and acquaintances. A people with whom I have always shared out BOAF related material both solicitedly and unsolicitedly or with express or implicit permission over time.
I extracted my participants from various WhatsApp groups and inboxed 28 colleagues impromptuly, almost all are my fellow professionals. As tasked I asked them to score me as a Point of Light to them on a rating scale of up to ten points. 10 being the highest possible score, with 1 the lowest. I used a similarly structured question in each one's inbox as follows:
[04/15, 09:51] briantawandamanyati at African Development Associates: Hi. Kindly on a scale of 1 to 10, how do you rate me as a Point of Light to you?
[04/15, 09:52] Charles Kaseke WIAC Morgan: Hie. Define "Point of Light" for avoidance of doubt.
[04/15, 10:34] briantawandamanyati at African Development Associates: Point of Light to me in ordinary meaning would stand for a ready source of enlightenment. A ready source of light bulb moments for a particular cause, in my case, business and corporate literacy and rule of law civic education.
Point of Light (PoL) in terms of business and corporate literacy, knowledge sharing and community building and focus on rule of law in and outside Zimbabwe. Kindly do not consider Poetry, Art and Music on your rating scale of me.
Interestingly, the results were end of day not favourable for not meeting the desired minimum number of 10 successful respondents. What I had contemplated from my own head without asking peers first was that coming up with ten heads in favour of the hypothesis that I am a PoL to them would not be a difficult task. However, only 10 people (36%) out of the random sample size of 28 successfully responded. One of those ten frankly responded that they were not able to place a score or rating. Thus only 9 colleagues successfuly scored or rated me favourably and on time, the lowest score being 6 and the highest being 10. On a simple average basis I achieved a score of approximately 8 points out of 10 at being a Point of Light and did not ace out a complete ten from an ample 28 potential votes for. Another colleague sharing on Meta through Messenger app but belatedly, could not score me out but on Wed, 20 April @ 09:17 commented as follows: "I rate you as one of the best Pro in whatever you do cause you do things right at the first time and perfectly". I were both charmed and humbled and say glory be to Jehovah #always.Over all, the low response rate made my sample results less or virtually not reliable. The rest (18 participants) abstained from commenting or chose to keep their silence it is why.
What led to the low level of active participation was assumably the coincidence of the conduct of my sample survey with the busier Easter and Zimbabwe Independence holidays, a potentially unconvincing response of mine when asked to define what a Point of Light (PoL) is by a colleague who emerged from the "What is a Company?" WIAC WhatsApp group, and the general conservativeness or high confidentiality levels of most professionals in the accounting, commerce and finance fraternity, to which I belong.
Another thing that came out was that my attempted approach towards earning the BOAF Point of Light (PoL) status was just not it, it did not make the grade for the following reasons:
[04/15, 10:30] Entrepreneurship vaMutumwa Mawere: #1 Meat suffers no duty to invite flies to it. Flies will always follow the meat. What does this mean? If you are the best problem solver, people with problems will always gravitate towards the address where relief is possible.
[04/15, 10:45] Entrepreneurship vaMutumwa Mawere: #2 What if the light is darkness? I am sure you will agree that the POL initiative is about provoking, igniting and inspiring people who have experienced God's genius through the generosity and creative genius of his creatures, human beings in motion, to share their appreciation of his grace. A doctor with no patients is no doctor. A lawyer with no clients, is no lawyer. Life is about identifying a human problem and solving. Problem solvers are known for solving problems of humans who never forget the difference God makes using human actors as vessels. There are many people who focus on self and look at problems as if they own them. There are others who appreciate the concept of family, clan, tribe, nation etc and know their limitations are popstars but their strength as a community of shared interests. There are many who would salute you after death and in life would never say anything. Knowledge like time has value. Those who have it when they refuse to share it, it becomes a weapon that lacks potency. If you are a thinker but your thoughts have no practical relevance to the problems that stand to be solved, then you are no thinker at all. There are many people who live in glass houses and end up thinking that the universe is some glass house. The 10,000 Points of Light are human beings who stand on their feet as problem solver and not on the knees begging for someone to give them courage to walk to where they wish to go. Life is about motion. Humans are constantly moving forward and not backwards yet every step made forward is a precedent. Life absent memories of problems solved holds a better promise to the future that is possible when human beings realize that their purpose is not ordained but lived in the service of mankind.
[04/15, 10:58] Entrepreneurship vaMutumwa Mawere: #3 Who should be the judge of a point of light (POL) when there is no one who needs light? If you excel, your excellence is the judge. If you solve a human problem and bring joy to the person whose problem is resolved, the problem that is solved is the judge of your effectiveness and efficiency. If you were a doctor and someone had shared with you the ARL letter to the Master of the High Court, how would you assist the Master of the High Court to appreciate that the promise of the Rule of Law is the real problem in the matter. Where would you start as a citizen who understands and appreciates your civic duties? Assume that the Master has no idea of your existence and you have no duty to tell him but by testing the facts with the law, then you can be of value to a system that is never subjected to any checks and balances.
[04/15, 11:41] Entrepreneurship vaMutumwa Mawere: So how many testimonials do you need to be a POL?
[04/15, 11:52] briantawandamanyati at African Development Associates: 10 is a fair number. Hopefully I score on that.
[04/15, 11:58] Entrepreneurship vaMutumwa Mawere: Do you agree that your approach is contrary to the POL idea?
[04/15, 12:04] briantawandamanyati at African Development Associates: I agree. I heard you above emphasize that flies attract themselves uninvited if at all any value is being offered by meat to them.
Then that aside I made sure respondents are aware that my mentor put up the request for me to find from them their voluntary rating of me on corporate literacy, rule of law, community building and knowledge sharing as per the attempted definition of a PoL.
[04/15, 12:07] Entrepreneurship vaMutumwa Mawere: You only forwarded their responses and not the outbound messages
[04/15, 12:07] briantawandamanyati at African Development Associates: The outbound message is one
My original answer that I am a PoL had come from personal thought that since I ensure to share out with my circles almost everything, every article, every small step since day one of getting engaged in Civic Education in 2020, it highly likely is so. Colleagues too numerous to mention have by and large witnessed it all to date and onward. For instance, my former high school mates at one point enquired on how I made this turnaround from an individual they knew in times past as a horse for course type, a no shape shifter type which thing they also admired of course, as in how I would do it, and I explained it to them how things started turning around with my learning, unlearning, and relearning under C2C civic education at first, before I got introduced to BOAF, FoSMM, JUROL and more initiatives.
Of course, others have barred me from not understanding Connections to Communities (C2C) at first, for example, the small circle of my fellow qualified professionals whom I nearly lost back then. However, with the colleague, fellow professional who believed in the notion from day one we have remained together on course almost in everything to do with BOAF. I admire his strong faith that fellow professional of mine. I have not left out all my professional students from learning on what I am involved with, though I make sure not to infringe protocols of professional engagement when facilitating classes.
On my social media handles, be it LinkedIn, Twitter, Facebook, I have made it a point since late 2020 to share out BOAF material and correspondences. I believe even without commenting people out there read, one way I have observed this happen is how my LinkedIn legal network has grown, though to be true, other things I do such as Poetry and Art also contribute follower heads/numbers. I have loved hearing relatives and friends at times, in physical meetings, commenting impromptuly like, "see we make no comments but follow on".
[04/15, 14:26] Entrepreneurship vaMutumwa Mawere: Great. Is this not great to be peer reviewed.
[04/15, 14:32] briantawandamanyati at African Development Associates: Just that most in my circle are not for such peer review process, they eestemed-ly love their peace and quiet. So this genuinely is foreign to them
[04/15, 17:15] Entrepreneurship vaMutumwa Mawere: Can you prepare a summary with the names of the people?
[04/15, 17:19] briantawandamanyati at African Development Associates: I informed you on the kind of persons involved.
[04/15, 17:19] Entrepreneurship vaMutumwa Mawere: It is not for me but for you to decide to pass Matric in a closet.
[04/15, 17:20] briantawandamanyati at African Development Associates: Is it possible to do so trusting that the evidence is full proof
[04/15, 17:21] briantawandamanyati at African Development Associates: Just confidentiality maintained
[04/15, 17:21] Entrepreneurship vaMutumwa Mawere: If it helps to illuminate your name, you have to choose how you want to deal with it.
[04/15, 17:21] Entrepreneurship vaMutumwa Mawere: Then call it POD. POINT OF SECRECY
[04/15, 17:22] briantawandamanyati at African Development Associates: It can be said ten verified entries rated this individual as follows
[04/15, 17:22] Entrepreneurship vaMutumwa Mawere: Unless they are lying.
[04/15, 17:23] Entrepreneurship vaMutumwa Mawere: They can't claim confidentiality when you are the subject and POL is about promoting openness and transparency.
[04/15, 17:25] briantawandamanyati at African Development Associates: With all due respect, you may yet to be fully understanding professionals Sire. Most are ethically sworn to conservativeness and have no choice.
[04/15, 17:26] briantawandamanyati at African Development Associates: So it is not about me but preserving what matters most to their professional lives.
[04/15, 17:27] Entrepreneurship vaMutumwa Mawere: Then POL is not for a person like you. You can seek comfort in professionalism.
[04/15, 17:29] briantawandamanyati at African Development Associates: Will accept my fate, not only me matters, my colleagues professional roles also matter, there are livelihoods of their families on them upkeeping the confidentiality.
[04/15, 17:30] Entrepreneurship vaMutumwa Mawere: You don't have to sacrifice what you hold dear.
[04/15, 17:32] Entrepreneurship vaMutumwa Mawere: No one is asking you to do anything that is contrary to what you believe in but with 10,000 persons of similar approach, there would be no need for points of light.
[04/15, 17:33] briantawandamanyati at African Development Associates: Noted Sire. Not of my own making either if say I score ten noding heads but preferring their privacy is kept intact.
[04/15, 17:34] Entrepreneurship vaMutumwa Mawere: Why have openness only to claim privacy? What is private in acknowledging you in public.
[04/15, 17:35] briantawandamanyati at African Development Associates: Let's kindly remember I asked them in their inboxes.
[04/15, 17:36] briantawandamanyati at African Development Associates: It is not like they came out in public or on a public group and commented or rated me.
[04/15, 17:36] Entrepreneurship vaMutumwa Mawere: It is not my name that is a POL but yours.
[04/15, 17:36] Entrepreneurship vaMutumwa Mawere: Why should they lie
[04/15, 17:37] briantawandamanyati at African Development Associates: None is lying. Only they preserve their privacy. Not even easy to get them sharing out sentiment.
[04/15, 17:38] Entrepreneurship vaMutumwa Mawere: Are you speaking on their behalf?
[04/15, 17:38] briantawandamanyati at African Development Associates: Only as far as parading their names out is concerned.
When President Mnangagwa signed a document purporting to be his mate, see the reality?
Hopewell Chin'ono's Hypocrisy Exposed by Mr. Tinashe Mpasiri
On 24 November 2022, Mr. Hopewell Chin'ono shared this tweet on his wall: https://twitter.com/daddyhope/status/1595758807392534528?s=20&t=YflO7bnB-32EN89x_0fPfQ with the following message directed to nameless and faceless South Africans:
"What we ask from South African citizens is for your President to STOP sanitizing Corrupt Rule in Zimbabwe and to STOP lying that our economy was destroyed by sanctions Listen to our President speak about the LOOTING in 1996.
Why doesn't your president speak about free elections?"
The above mentioned tweet led to a conversation between Mr. Mpasiri, a member of the Justice Under Rule of Law (JUROL) and Mr. Chin'ono as set out on this link: https://heyzine.com/flip-book/d47b109920.html.
When asked why he had chosen to share a video of 1996 in support of his narrative that President Ramaphosa was guilty of sanitizing the corrupt practices by President Mnangagwa and his administration, Mr. Chin'ono responded as follows:
"ZPF leading Public officials operate with criminal business partners to loot public resources. For all intents and purposes sanctions are not the cause of Zim economic quagmire but ZPF looting public purse thru its puppet business partners from as far back as 1996?"
Advocate Matiza, a member of the Justice Under Rule of Law made the following observations and also a participant in the Banking on Africa's Future (BOAF) – Legal Literacy WhatsApp group, commended as follows: "It is clear from the above that by importing the video in which Mr. Mawere was featured with Minister Mnangagwa as he was known then, Mr. Chin'ono was openly alleging that Mr. Mawere was Mnangagwa's then criminal business partner who was his accomplice in looting public resources of Zimbabwe.
However, when exposed by Mr. Mpasiri, a member of JUROL and BOAF, Mr. Chin'ono backtracked as set out below:
TINASHE MPASIRI v HOPEWELL CHIN'ONO
TM: Good morning Mr Chin'ono.
My name is Tinashe Mpasiri and I am a member of the Justice Under Rule Of Law (JUROL).
I am an avid follower of your posts and exposé and certainly wish that there were more
Zimbabweans like you, working towards a diverse, inclusive, progressive and prosperous future
for all.
I just wanted to greet you and share with you a post that was shared in a group I am a part of,
that you may be able to shed more light on it.
https://twitter.com/daddyhope/status/1595758807392534528?s=08
HC: Thank you. I did an interview last night on the issue. Feel free to share it in your group
Find it here;
https://twitter.com/daddyhope/status/1595853417355784192?s=46&t=6iHx7x2V4i8IiLZyIobk_g
TM: Thank you very much sir.
Just for your information, I belong to a group with officials from Wits University and questions
arose yesterday after your sharing of the video.
I have been asked to communicate with you so I get clarity, so we can share with a proper
context.
Your narrative on the tweet is about president Ramaphosa's failure to act on corruption in
Zimbabwe, but the content of the video, appears nothing to do with the corruption angle.
Kindly assist with the link between the two.
HC: Good morning. Thank you for the question and you can share this audio in your group, you have my permission.
President Ramophosa has been at the forefront of saying incorrectly that the economic crisis in Zimbabwe has been caused by sanctions, which is not true.
The video that you are referencing, is meant to show that the economic crisis in Zimbabwe
started way before sanctions were imposed by western countries.
The economic crisis was authored by looting of public funds by ZANU PF elites and their business surrogates and the plunder of the country's natural resources.
That video shows president Mnangagwa when he was Finance Minister in 1996, speaking at an event in Washington explaining how public funds have been looted.
So my point is that the president of South Africa, Cyril Ramaphosa shouldn't be going around
misleading unsuspecting audiences, by saying that the economic crisis in Zimbabwe is being
caused by sanctions.
So for instance, president Ramaphosa talks about the social services pressures that are exerted by Zimbabweans coming into South Africa to use things like public services like health care. And all hospitals in Zimbabwe, all central hospitals in Zimbabwe, five of them, they only require 50 million to run without any shortages and that will make sure that Zimbabweans don't have to cross the border into South Africa to seek public services that are provided through hospitals but these hospitals in Zimbabwe don't have paracetamol.
The biggest hospital in Zimbabwe, Sally Mugabe hospital does not even have paracetamol, it
doesn't have basic things like bandages and 50 million is only, that's all we need to run our
central hospitals, but it's not being availed to these central hospitals.
Now, ZANU PF by its own admission, says that 150 million USD worth of gold is being smuggled by ZANU PF elites and their surrogates every month. Which means what they steal in one month can run our central hospitals for 3 years.
That is the point that I making that president Ramaphosa is misleading unsuspecting audiences by saying that the crisis in Zimbabwe which is over spilling into South Africa, is being caused by sanctions, it's not true it's caused by sanctions. It's caused by mis-governance. Thank you.
TM: Thank you very much Mr. Chin'ono.
This is very helpful and I believe we can build a shared understanding of only when we engage.
I will share your insights in my circles and beyond.
A number of questions emerge from your audio. By surrogates and having had the benefit to watch the video, who would be the surrogates and especially having regard to the fact that Minister Mnangagwa (as he were then), was speaking to a different subject matter involving empowerment and the role of government in financing it.
I could be wrong, but it is self-evident that he was talking about government programs whose
execution resulted in financial support being diverted to personal use.
Your response to the above would greatly assist.
HC: Surrogates were people like Mutumwa Mawere who was his front until they fell out.
Today surrogates refers to people like Kuda Tagwirei who has been a front for State looting
using his myriad of companies.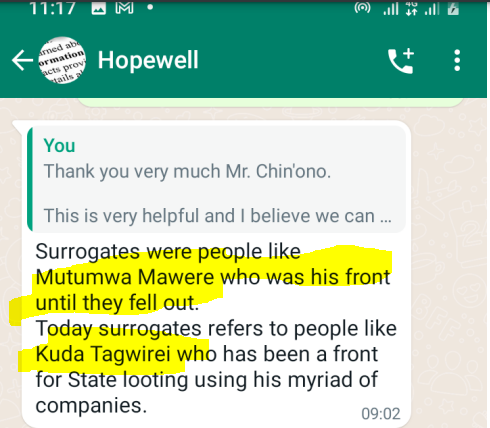 This narrative is similar to the one peddled by Chin'ono's friend and President Mnangagwa's confidante and lawyer, Mr. Edwin Manikai as follows: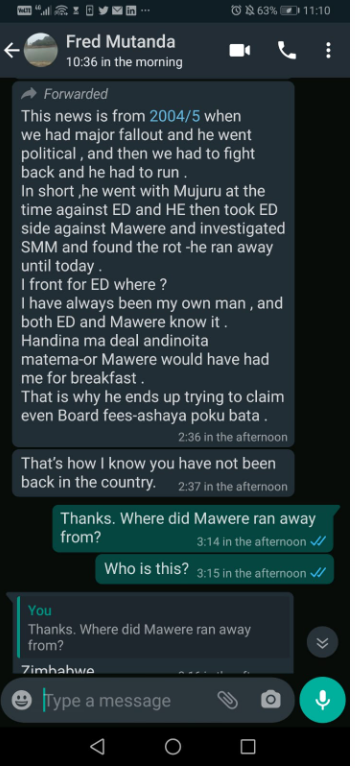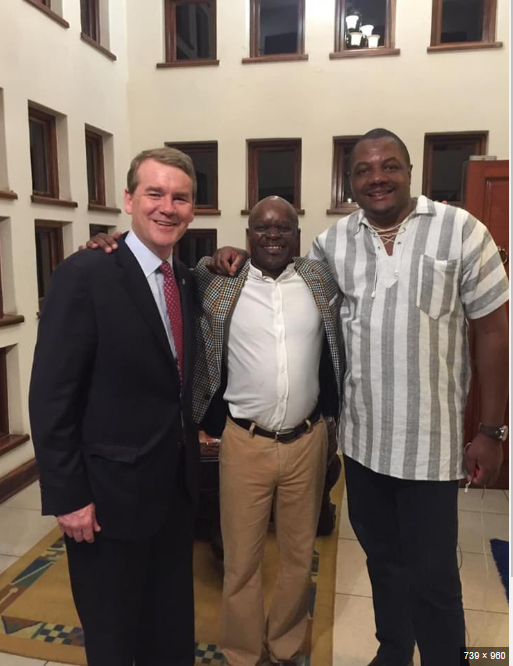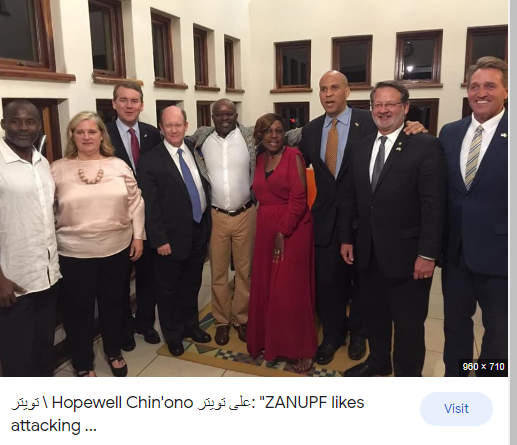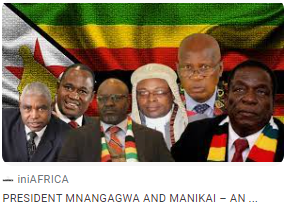 TM: Thank you for the honest response and obviously when I watched the video, I could not make the link between Mutumwa Mawere and the looting.
Perhaps you can share evidence supporting the allegation of surrogacy and the corruption
therefore in, so that I can afford both president Mnangagwa and Mawere to give their own
account of the precise nature of the alleged link between public power and private benefit.
Unfortunately, the video's content does not establish the causal link which is vital in determining any dispute in an Independent and impartial manner.
HC: I didn't say Mutumwa was corrupt.
I said that there were public funds that were doled out which amounted to looting.
You are misinterpreting what I said.
The video has nothing to do with Mutumwa being corrupt, it was meant to illustrate how public funds were looted way before sanctions.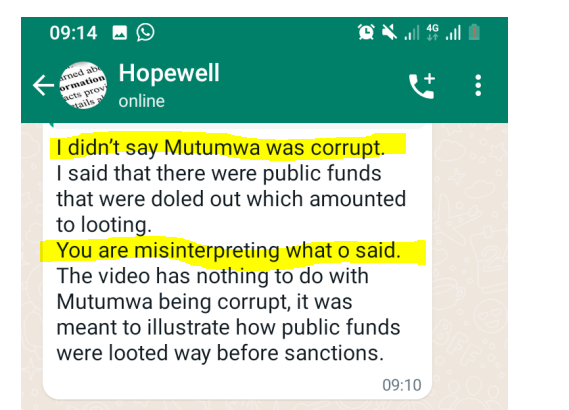 TM: Thank you for clarifying and I am intrigued by your response.
You have asserted as true and fact that Mawere was Mnangagwa front and this aspect is not
evident in the video, suggesting that evidence exists that the alleged fronting you are talking
about, is supported by concrete evidence which is required in any bona fide process, seeking to hold people accountable for their conduct or misconduct. I would be grateful if you can identify in precise terms what Mawere front for Mnangagwa.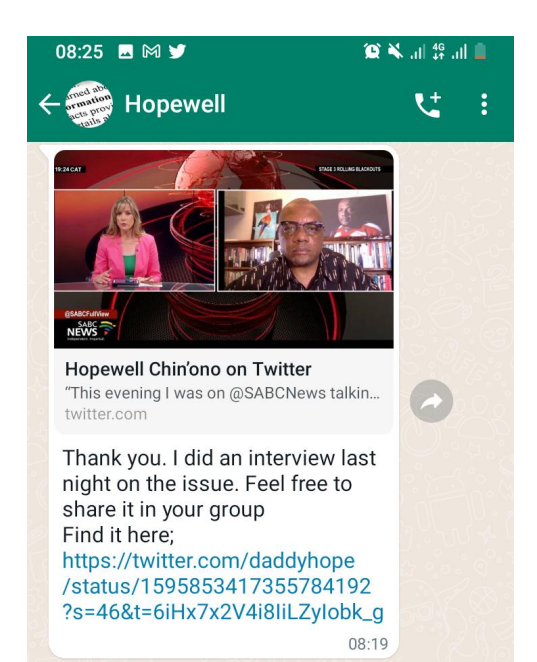 Advocate Jack Matiza who was incensed by Mr. Chin'ono's utterances remarked asked: "How can he be held responsible and accountable for social media post that damage another person reputation? My take is Hopewell is also guilty of selective amnesia he is accusing Ramaphosa of when it comes to sanctions, by stating that Mutumwa Mawere was an front of ED without providing any proof to that. Our self acclaimed award winning journalist and human right defender…ought to know that he who alleges must prove, is he not using or abusing social media or public media platforms to make unfounded statements without allowing the accused an opportunity to air their side of the story is itself an abuse of that person's basic human rights?
To which Mr. Mawere responded as follows: "What if there exists no shared understanding on what are the obligations and rights of citizenship? What Hopewell could be saying is that information that he may possess is true and fact unless proved otherwise because he holds a privileged position in society as a journalist. In this case, affinity politics would compel him to conclude that because I shared the same platform with the current President of Zimbabwe this reality confirms a generally corrupt relationship. You can imagine what the true import of state capture and the legal consequences arising for its existence."
Advocate Matiza by stating as follows: "There is certainly need to actively contribute to development of such shared understanding and common standards."
Mr. Mawere commended as follows: "If asked to explain why the conversation is intriguing, what would be your response?
Mr Chin'ono genuinely believes that CORRUPTION is the elephant in the room.
He hold the view that he occupies a special and exceptional position in relation to the affairs of Zimbabwe.
He has a view on the 1996 video."

When asked by Mr. Mawere, what identified questions arise from the hypocrisy inherent in Mr. Chin'ono's open attack against Mawere and when confronted by Mr. Manikai, he quickly denied what he had stated as true and fact, Advocate Matiza responded as follows:
1. Abuse of the profession of journalism by an acclaimed journalist who has no respect for the truth in his narratives.
2.How should one define a human rights defender especially having exposed Mr. Chin'ono's embarrassing performance by first alleging that Mnangagwa was using Mawere as a front only to backtrack and deny his own bold assertions.

3.In the face of hypocrites masquerading as award-winning journalists, what should be the best response to deal with divisive characters who have captured the profession and are using it as a weapon to advance their ulterior motives?
4. Section 2 of the Constitution of Zimbabwe imposes a binding obligation on every person to ensure that the rule of law is promoted, protected and upheld and in this case, what should be done by ordinary citizens to ensure that people like Mr. Chin'ono are accountable for their conduct which is inimical to the rule of law?

5. Does a person like Mr. Chin'ono know that he is also subject to the constitution and possesses no title or authority to maliciously defame other people. How best can he be held accountable for his reckless and dangerous assertions he makes under the cover that he is a journalist par excellence?
6. Does his conduct based on Mpasiri's excellent interrogation not fall within conduct that is inconsistent with the constitution of Zimbabwe?
Please take notice of this announcement by ZIMRA