Watch ED: If the people of Kuwadzana are behind the drought; I will order a military attack on them.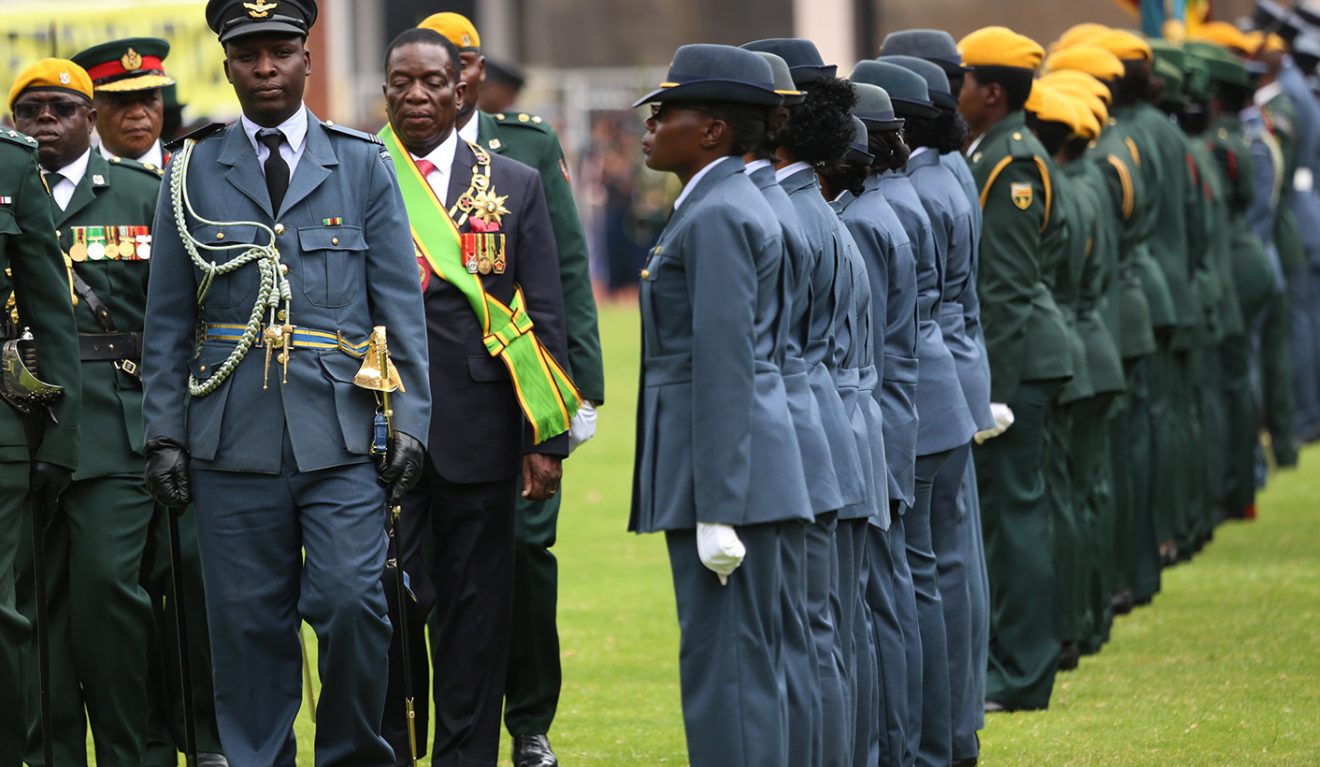 President Emmerson Dambudzo Mnangagwa, "Asi o ka deno taiziva kuti e-e-h vanhu vo Kuwadzana vasingadi kuti mvura inaye a-a-h taingoti Army kombai tirove".
Mari idzodzo ndo dzototora-a-a kuno tenga chikafu kuMexico ku Ukraine kuno kuSouth Africa tichiunza muno
The Truth behind Solomon Chanengeta's intimidation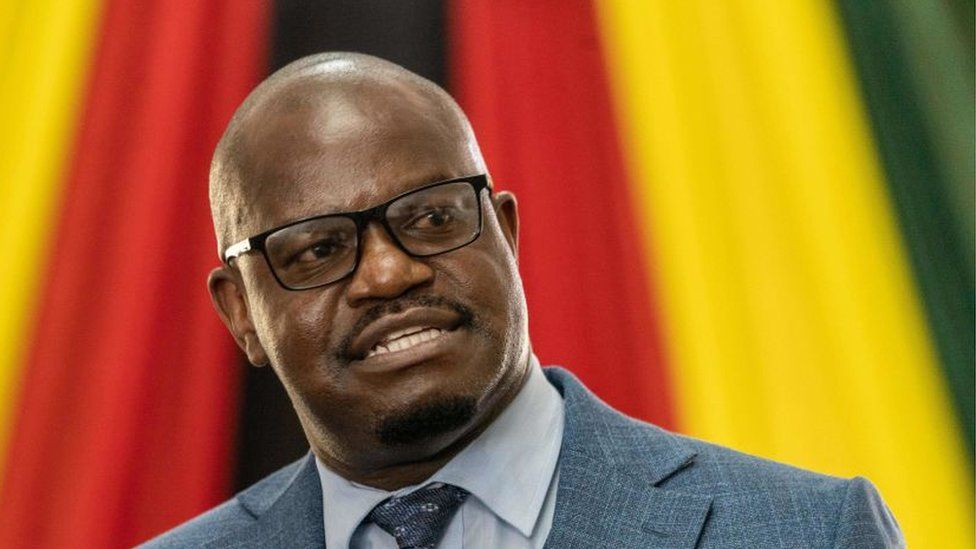 My name is Lovemore Chanengeta, and I am Solomon Chanengeta's younger brother. A false narrative about Solomon's situation is being peddled on Twitter by the handle @nickmangwana, and other faceless Twitter accounts, sharing a fake news article by a nameless reporter from an online publication called Tateguru TV which claims that Solomon is an army deserter. This is false.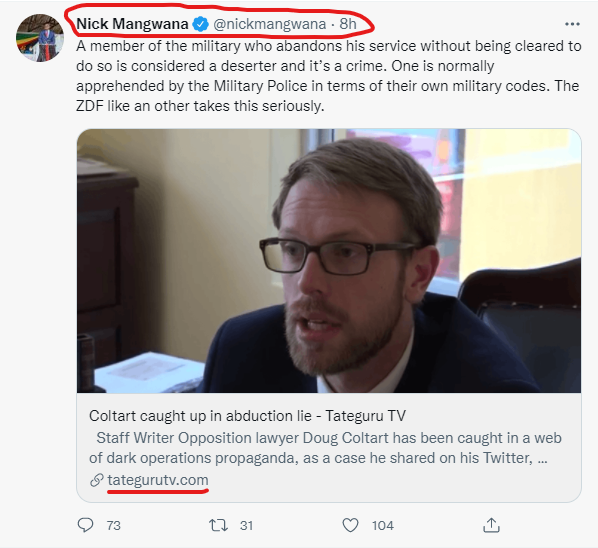 It is shocking and painful to see your brother degraded in this manner based on lies spread by the government instead of protecting its own citizens. When the government spreads fake news, we as citizens become concerned and lose trust because those in positions of power are too lazy to check their facts before speaking or acting rashly and fail to treat citizens as humans who have rights protected by our Constitution.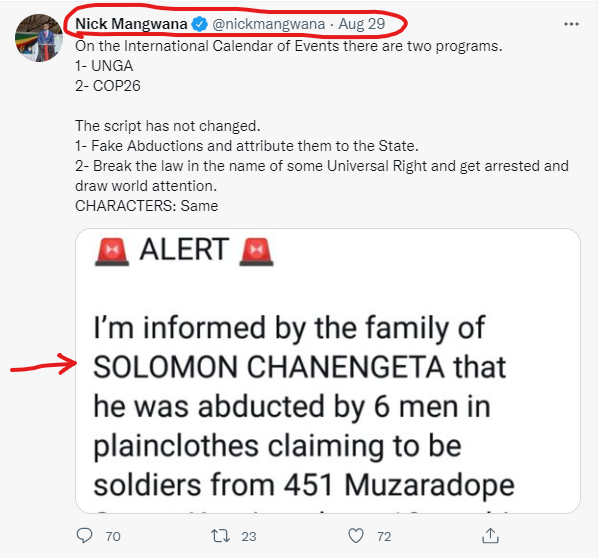 I'd like to set the record straight and to provide facts of the matter in trying to ensure Solomon's safe return home. Solomon is the victim of an unscrupulous and greedy individual who is manipulating our security services for his own personal gain. Solomon is now being held by the military even though he has done nothing wrong.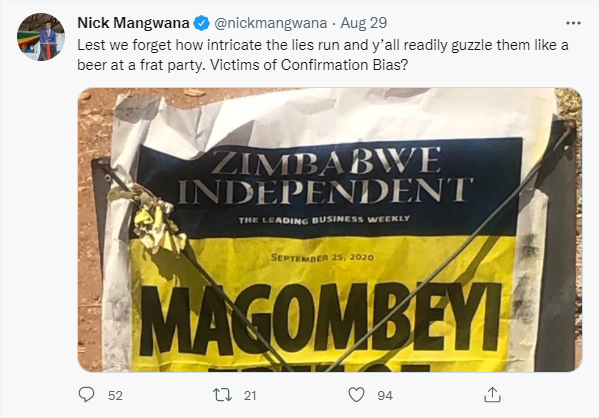 Solomon, like every Zimbabwean, has human rights which are protected by the Constitution of Zimbabwe. Yet for Solomon, it seems his rights are non-existent as evidenced by the horrific manner he was apprehended, on a charge which is not real, based on the malevolence of conniving criminals using law enforcement agencies and the military to terrorize and torment a law-abiding citizen.
Here's a quick rundown of Solomon's history
Solomon joined the ZNA in 2000 and trained at the All Arms Battle 13 Platoon. He was deployed to Masvingo 4th Brigade after training and served his probation period, during which he trained as a Bomb Technician at Pomona Barracks north of Harare. He left the military in 2003 after his probation period following proper procedures and has been a civilian citizen ever since. He is not and has never been, an army deserter.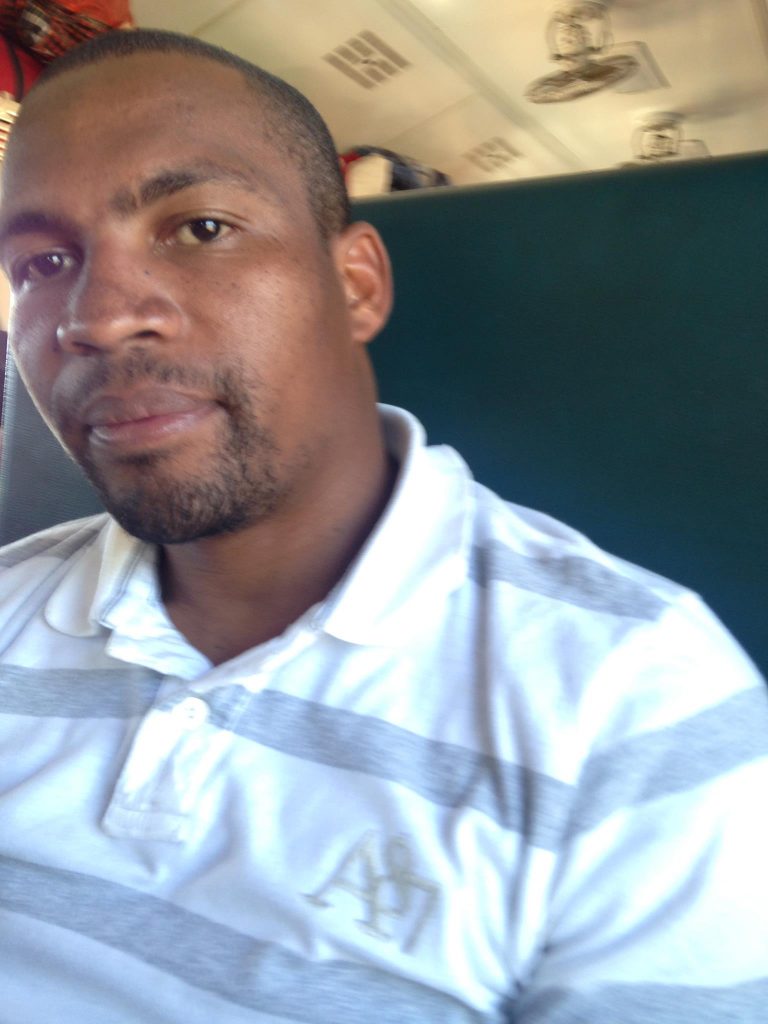 In fact, his status with the military was recently verified just over a year ago. Sometime last year a dispute arose between Solomon and his neighbors at Solomon's plot, and the neighbors called the military, claiming that there is a soldier who deserted within their community. the ZNA Military Police from 2.3 brigade picked him up and released him after validating his status and advising him he was a civilian citizen. That is why it is so shocking that he is being put through this ordeal again so soon after having his status verified. Are all ex-soldiers who leave the ZNA legitimately and in good standing expected to live the rest of their days wondering when next will be that they are bundled into a vehicle and accused of deserting? 
How did Solomon end up in military custody?
Solomon's estranged father, Kenneth Chanengeta (original surname Manyika) is trying to snatch Solomon's home from him and sell it to someone else and. He has threatened to get him out of the house at any cost (more of that later).
His father laid spurious charges against Solomon of malicious damage to property at Solomon's house (which his father claims is his) over an allegedly broken toilet seat (in his own home)!
On Friday, August 27, 2021, ZRP Karoi summoned Solomon to the station to discuss his estranged father's sale of the family home. When he arrived at the station, he was informed that he was being charged with malicious damage to property, and he was immediately locked up and detained overnight.
The alleged buyer of the house and Solomon's estranged father demanded that damages be paid in order for Solomon to be released. After paying the damages for the allegedly broken toilet seat, he was released at around 11am on Saturday, August 28, 2021, and he returned to his residence in Karoi.
Later on Saturday night, Solomon received a call from a good Samaritan (Solomon's ex-wife) inquiring as to what was going on as she had received a call from Solomon's father asking if she was aware of any crimes that Solomon may have committed while serving in the military as he would like to report Solomon to the Military Police.
At around 22:12 that night, while Solomon was still on the phone with her, he received a knock at the door. There was a group of six men in plainclothes who stated that they were military personnel who had come to pick up Solomon. The men entered the house and handcuffed him in his pants and vest with no shoes and asked him to leave his cellphone behind. They bundled him into a Honda Fit and sped off so fast that his wife could not even take note of the registration number.
A relative from the neighborhood informed me that Solomon had been picked up by a group of soldiers in a Honda Fit and that his wife is distraught and terrified for her life as Solomon's father's threats to get Solomon out of the house at any cost had come true.
I called human rights lawyer Doug Coltart and advised him of the situation. At my request, he agreed to put out an alert in the hope that it might save Solomon's life and that we would send people to the police station first thing in the morning to make a report if he was still missing.
The following morning, Solomon was found at Karoi police station. The police refused to give the names of the people who had brought him to the police station. Solomon was not charged with any offence but the police refused to let him go. They said that the people who had brought him to the police station would come and get him. Solomon spent another night in police custody, still without any charges, although his docket had been labeled "Defence Act".
On Monday 30 August 2021, soldiers came to collect him from the police station and took him to 2.3 Brigade in Magunje. He is still in military custody at 2.3 Brigade as the military says that they are still verifying his status.
So what is really going on?
Solomon's father is trying to get Solomon out of his residence because his father "sold" the house to someone else and is now under pressure from the alleged buyer to deliver the house.
In the few hours Solomon spent out of detention prior to the frivolous case of malicious damage to property was when he tried to cool off after a night in the holding cells over fake charges by his father in a bid to keep him away from the property, Solomon was preparing to meet with legal counsel over the property.
The property in question is the house Solomon's mother fought tooth and nail to acquire during a time when Solomon's father was not only an absent father but also a wanted criminal.
After Solomon's father was imprisoned for trading in rhino horns, he became absent when Solomon was an infant. In the absence of Solomon's father, she managed to secure a decent home for the family and settled happily with her children. As a jailbird, Solomon's father spent most of his time in and out of prison for very gruesome and unimaginable acts; hence his recent mental instability prompting him to put up a house on sale that does not belong to him.
When Solomon's father returned from his wanderings, a year or so later, he got lost and went to the old house, where he was directed to the property he is now attempting to sell.
She accepted him back, hoping he'd changed, not realizing she'd become the next victim. She stocked up on cement and dug a foundation as she began a renovation project to expand the property's size and add more space. Solomon's father, the unashamed criminal of a father, decided to sell the cement quickly and vanish.
Solomon's father beat Solomon's mother to a pulp, breaking her ribs, back, teeth, and fracturing her head; she was hospitalized for a while and immediately filed for divorce, which dragged on for years, keeping Solomon's mother in and out of court until the judgement was reached stating that the house was finally placed under Solomon's mother and her children; Solomon's father was banished from this property by the courts.
Solomon's mother died in 2003, and his father did not attend her funeral or any of the processions.
Solomon's father began to show visible signs of mental illness in 1998, when he falsely accused Floyd, Solomon's brother, of stealing an engine that did not exist. Floyd was immediately released after it was discovered that Solomon's father was using the police to intimidate Floyd because he was the stumbling block in selling the property at the time, and now it is Solomon who is the stumbling block.
Solomon's father's mental health issues cause him to take money from people in exchange for a house, despite the fact that he knows he can't sell the house and it doesn't belong to him.
Solomon's father is a war veteran with fake credentials and a member of ZANU PF in Karoi who is now trying to abuse his proximity to power to fight his own personal battles using the military and the police. Our military and police should not be drawn into these unstable and greedy individuals' personal issues.
Conclusion
What we have here is a mentally ill person who is allowed to torture his victims for the rest of their lives using the law, taking advantage of how complicit the government is when it comes to the welfare of its citizens, as evidenced in this case where people act rashly based on word of mouth from those better placed politically to make the decision that can land you in prison without a charge. With their clout, they can entice the military to the party.
Unlike the fake news being peddled by @nickmangwana through Tateguru TV, I spoke with Solomon today, August 31, 2021, and he is still at Magunje 2.3. It's frightening to see how the government's mouthpiece is promoting lies and fake news at the expense of its own citizens.
Because the government lacked due diligence by first verifying his status, a simple matter that requires basic comprehension has taken the entire government, its trolls, and its security services, to direct resources towards assisting a mentally ill ex-convict to harass a law-abiding citizen.
Solomon deserves to be freed now.
OPEN LETTER TO COMMISSIONER-GENERAL OF ZIMBABWE REPUBLIC POLICE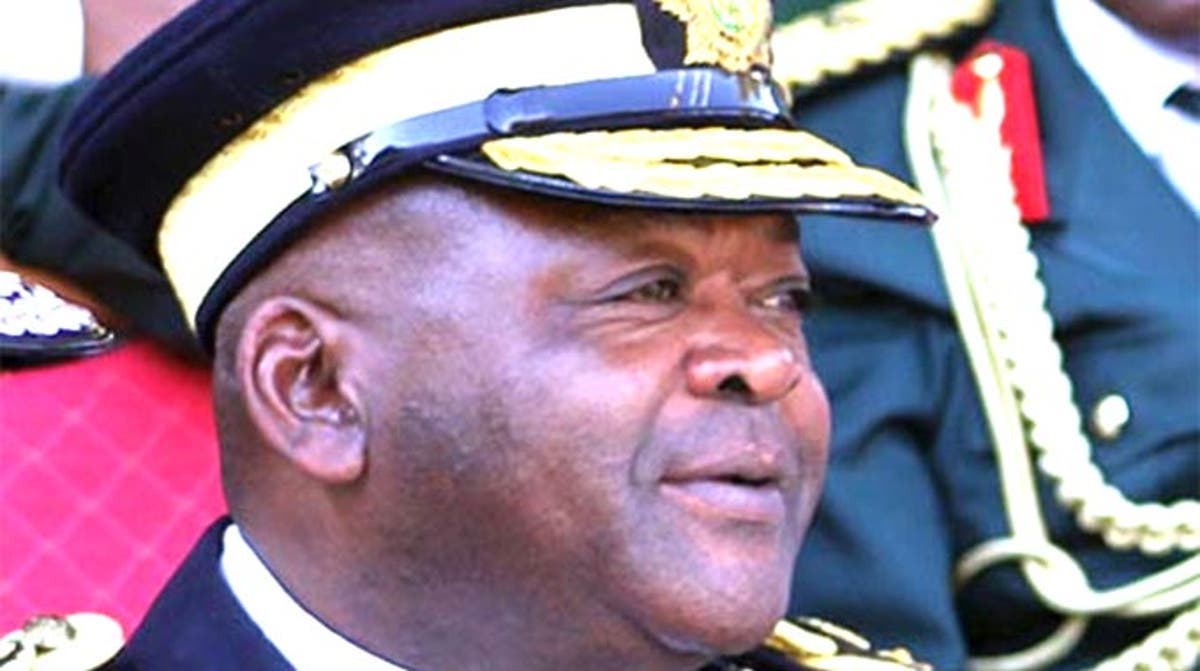 Dear CGP Godwin Matanga Sir,
I address you, not because I am a former policeman but as a patriotic and peace-loving Zimbabwean. I have decided not to use the proper channel to address you since I am in pain and a great shock. As enshrined in the Constitution of Zimbabwe, the Police Service must protect and secure the lives of people living in the country. And it should also maintain law and order.
I have read the gruesome murder of an innocent civilian Paul Munakopa by our police officers from Hillside Police Station in Bulawayo. Mr. Munakopa died of injuries after officers opened fire at his vehicle on Saturday 23 May 2020. It pains me to see this kind of police brutality happening daily to my fellow citizens.
Chapter 4 of the Constitution of Zimbabwe is loud and clear 'RIGHT TO LIFE'. As told by Mr. Munakopa's wife he was not armed or possession of any weapon. It's now over a week you have done nothing to bring the culprit to book. Look at what is happening in Minneapolis, Minnesota in the United States of America last week, a policeman killed an unarmed man, George Floyd. In less than 48 hours the cop was fired from police service and arrested for third-degree murder. The same should happen to the late Paul case here in Zimbabwe.
A fortnight ago three female opposition activists were arrested for staging an illegal demonstration in Harare. The activists were abducted and sexually assaulted whilst in police custody. As a former policeman, I am aware sir, every accused person in police custody is subject to booking and every occurrence at a police station is recorded in the Occurrence Book. What happened to these three ladies? I am praying for your immediate resignation from the Police Service since you do not deserve to lead such a vital government department. It's far much better to concentrate on farming at your farm. We are sick and of human abuse by Zimbabwe security agents.
Yours in pain
Bloom Tizora (Author of 2 books, blogger, writer and former Zimbabwe policeman)